On Friday at Glen Helen Raceway, refugee supercross champion Ryan Villopoto put the finishing touches on what will one of his last testing days before packing it all up and flying over to Europe next week. Atop what will be his 2015 MXGP motorcycle, RV, along with Kawasaki teammate Tyla Rattray, put in numerous laps on the high speed, rough and chopped up Glen Helen circuit. Pushing at a very fast and aggressive pace, America's hope in the fast approaching FIM World Motocross Championship looked very quick and comfortable on the works KX450F, and all who were present at the test—Kawasaki team technicians, family members and those close to the overall RV racing program—were quite pleased by the form Ryan is showing a month shy of the opening round in Qatar.
Shortly after completing a 30-minute-plus-two-lap moto, RV was ready to take breather and assumed a spot on the tailgate of his pickup truck. And that's precisely where Racer X caught up with him to get one last interview begins his great globetrotting odyssey.
Racer X: Ryan, throughout your career, you've certainly put in a hell of a lot of laps around Glen Helen. How do both you and the bike feel out there today?
Ryan Villopoto: I think it's good. Obviously I've ridden here my whole life, and then I've been at factory Kawasaki for four or five years now and everything has been pretty similar, setup-wise there. I had an open mind going into the team and I wanted to try what they had to offer. And they had some good things, but then there were also some other things that I kind of had to switch over to my settings, so to say, just to get me comfortable. Also, it's like you don't want to teach an old dog new tricks this last year. I'm trying to just run what I'm comfortable with and with what I know I'll be the best with.
Are you where you want to be with your riding before heading off to Europe?
Yeah, I think so. I think we're close. We're still six weeks away and I'll keep riding. Once we get over there we'll kind of switch gears to doing some last minute testing with the team because we'll be with them and we'll start riding the European tracks. As far as the tracks go, a track is a track. Obviously, I'd also like to get onto Lommel to see how that is because I've always heard about it but I've never actually been there. I want to spin some laps and kind of get used to it.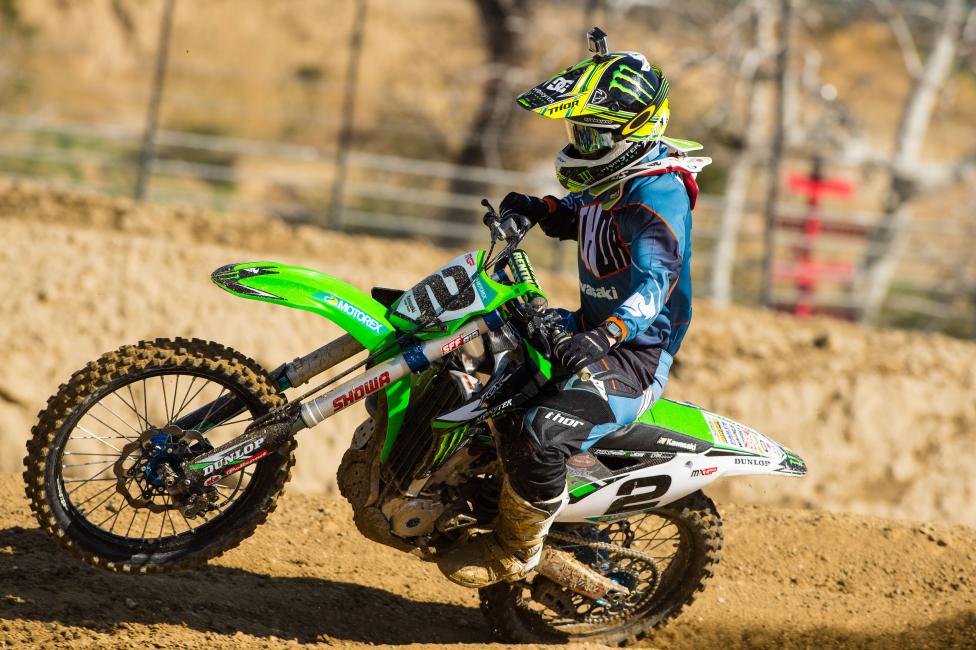 I've spoken with a few former world champions recently and asked them how they think you'll do this approaching season. All of them said they believe you'll do really well, but the one concern they all seemed to share is how well you'll adjust to how different the GP tracks actually are. Will you be able to adjust quickly?
I think the biggest difference is, and where an American rider doesn't struggle with the tracks, is because we show up at every race and the track is always different and in a different condition. We're built and made to adjust to all of this with only one free practice and then a 10-minute timed practice and another 10-minute timed practice. So that's about 25 minutes and you have to go to the gate and race. You have to learn all the combinations with the jumps and the whoops and everything in 25 minutes. In Europe you have two 30-minute practices and then and a qualifying race and then you don't race until Sunday. So getting used to the actual tracks is going to be, in my opinion, no problem. I will have to get used to some of the conditions are going to be different than what I'm kind of used to. As for the tracks themselves, I'm not really that worried about it because I have gone over to the Motocross des Nations and raced on tracks that were current and in the series that same year, so I know the tracks aren't that much different.
The first two supercross events have run and you weren't out there. How was that for you?
I didn't know how I was going to feel, I guess… I didn't know how I was going to feel about the whole situation emotionally. I didn't know if I was going to get up there in the box and think, 'Man, I wish I was out there.' I didn't really know. To be honest, I didn't really have any emotion with it at all with it. The only thing I can say is that my decision to race MXGP was correct.
You've been over to Europe a few times now to test and train. Tyla Rattray told me you seem to be enjoying it and getting the European vibe down pretty well. True?
To be honest, it's pretty easygoing, especially over there with the team and the way the culture is. Everybody is pretty laid back. For me, it's a different world over there and you just kind of have to accept that and know that going in. You can't expect leave the U.S. and go over there and get the same thing because you're not going to. I'm okay with that. You know, eat the food that you like and stay away from the stuff you don't. I like the majority of the food over there and you drink bottled water in the places you need to—like in Mexico or Thailand or places like that. I'm not necessarily worried about that kind of stuff.
The first three races will run at Qatar, Thailand and Argentina, respectively. These events are a little bit more off the beaten path and anomalies on the 2015 schedule. Will all this be of help to you come the beginning season?
From what I've heard Qatar is kind of like an American style track. That'll be good and it's only a five-hour flight from Europe, so that's like flying from West to East here in the states. That'll be good. Thailand is farther away and Argentina is the farthest trip of the year. To be honest, I'm just going with the flow. I'm not really worried about it.
Aldon Baker, your longtime trainer, is out here today.
This is actually the first day he's seen me ride since I came back and I think he thinks things are in a pretty good spot. So that's good for him to just show up and see where I'm at and be okay with that. Obviously, we can always do better and we'll keep working. You know, to just show up out of the blue and see where we're at and think we're pretty good is good.
Mentally, are you in that same championship mode as you would be if you were doing supercross?
I am, but I'm more relaxed going into this deal and accepting that whatever happens, happens. Yeah, I mean, I'd like to win—I'm not doing the work now not to. I've been putting in the work. I'm going in there wanting to win, but I'm not carrying a weight around knowing that it's a do or die sort of thing. In the years past that's how I've put some of that pressure on myself.
I know you want the American fans to follow you on this journey you're about to embark upon and push you along, correct?
Yeah, I think it's going to be cool. Obviously, the last two rounds will be in Mexico and one will be here at Glen Helen, one of the meccas of American motocross, so I'm sure a lot of people will show up here at this race. Mexico is not too far away so I'm sure we'll see some Americans down there. Yeah, I think the cool thing about all this is, yeah, we'll be 4,000 miles away on any given day but the racing is shown, technically, the same day, so the recording will be going on so the fans here can see it all. I'd say it's just like watching anything. If you don't have a player you either like or know in basketball or football or golf or a driver in NASCAR, you don't really follow it unless you grew up following it as a little kid. You're born into it. So I think now having all these people who have watched me race the last nine years, they'll now actually have somebody to watch and relate to. I think that will bring a lot of people and bring a lot of eyes wanting to see what's going on. I've had a lot of people tell me, "Yeah, I keep up on the GPs about once a month and check to see what's going on. Now, we're going to be watching it and checking it all out every Sunday." I think it's going to be good both ways.
As far as the grudge match with Antonio Cairoli, are you approaching it like he is just another guy you have to beat?
I mean, as another top rider, you just have to think of him as another rider, but you can look at his track record and see what he's done. He hasn't done what he has for nothing. He's a consistent rider. He's fit, fast – he has the package over there. It's going to be a tough series to race against him and all I can do is go racing. I know he's going to have good weekends and I'm going to have good weekends. He might have a better one and I might have a bad weekend or whatever. It's going to come down to consistency. It's a long season, you know? It's going to be like a supercross season here, but I think in the end the cream always kind of rises to the top and I think there will be two or three guys who will be, I don't want to say always there, but that you can see will be there and he's going to be one of them. If everything goes well, I'll be one of those guys. [Clement] Desalle seems like he is one of those guys, and so is [Kevin] Strijbos and Gautier Paulin. There are a lot of guys that we go racing against at des Nations and they're all fast. Now it's going to be a bit different just because instead of being just the des Nations in one race, it's going to be a whole series. It's time to go racing.