You probably first heard the name AJ Catanzaro back in 2013. It was then, as a privateer in Indianapolis, that Catanzaro toppled some factory guys with a shocking fourth-place finish. He ended the year with two more top-tens in the East Region, validating the result. Then, a year ago while with Factory Metal Works/Club MX, Catanzaro broke out again, this time in St. Louis, with a fifth-place finish. Again, validation.
Catanzaro will again turn his focus to the 250SX East Region this year. But with a short series, and the first round not until February, Catanzaro has decided to race 450SX on the West Coast. We caught up with the Connecticut native earlier today to talk about his great starts, the East Region, how he overcame arm pump, and much more.
Racer X: I know the 250SX East Region is your main focus this year, but you have to be happy with last weekends result.
AJ Catanzaro: Yeah, 250 East is my main focus. The whole goal of the 450 class is to try and get warmed up and try and build some confidence if I can. As you know, it's tough to just hop into the East Coast. It's a very short series, and I'm the type of rider that builds race after race. So I think this is only going to help. As bad as I felt last weekend, I somehow made it to the main. It was a goal I wanted to accomplish at A1, but I'm glad I made it happen at the second round.
Starts were the key for you last weekend. I don't think many people expect a privateer bike to beat the factory guys off the line. What's the key behind that?
I don't know. I'm not one to be known for getting good starts. That bike's as stock as it gets. It has a Yosh pipe, but besides that I think they put the little white chip in there that Suzuki gives you. It even has stock bars, stock grip, stock chain—the whole deal. I think it's just I'm light on the bike and I have that confidence. On the 250, I'm always like, "Man, I'm up against these PC bikes and I don't know if it's as fast." But on the 450 I line up and no matter where I am on the gate, I have that confidence that I can make it to the first turn first and that's all the difference.
Do you think a little bit of that is because the 450 class isn't your main focus? In the 250 class, are you maybe putting more pressure on yourself? This is where you expect yourself to do well.
Yeah, I think that does make a difference. I especially noticed it in first practice and the heat and the semi at A1. Normally if that were the first East Coast round I would have been riding tight and not feeling as good.
What are the plans once the East Region starts? Are you staying on a Suzuki?
I'll be on a Suzuki 250. I have some support from Suzuki for the East Coast. I think I'll be one of the only guys on a Suzuki 250. I know there aren't any on the West Coast, and as far as I know, no one on the East. I think I'll make them happy if I can be consistently top-five and try and get on the podium. I will ride the 450 class up until Dallas.
What's your program like this year?
It's basically my friend Jeff. I met him years ago and he gave me a call earlier this year and wanted to put something together. He's been great. He has done anything for me—taken the stress off as far as financial goes. I'm running out of Team Gus this year and I like it. It's a cool environment, no pressure. I put enough pressure on myself as is; I don't need a team telling me what to do. I love the environment, and that's when I ride my best. That's when my best results came, in 2013, when I was out of Team Gus.
We bring this up with a lot of privateers, but I don't think I've ever heard anyone speak negatively about Team Gus. It seems like it's a team atmosphere without the team.
It is. Gus and his whole crew are the coolest dudes in the world. If you need anything, they treat you like you're a factory rider. They do anything they possibly can to make you comfortable and give you what you need to succeed. It really doesn't get much better. I may not have the best bikes, I may not have the best program, but I'm comfortable and happy where I'm at.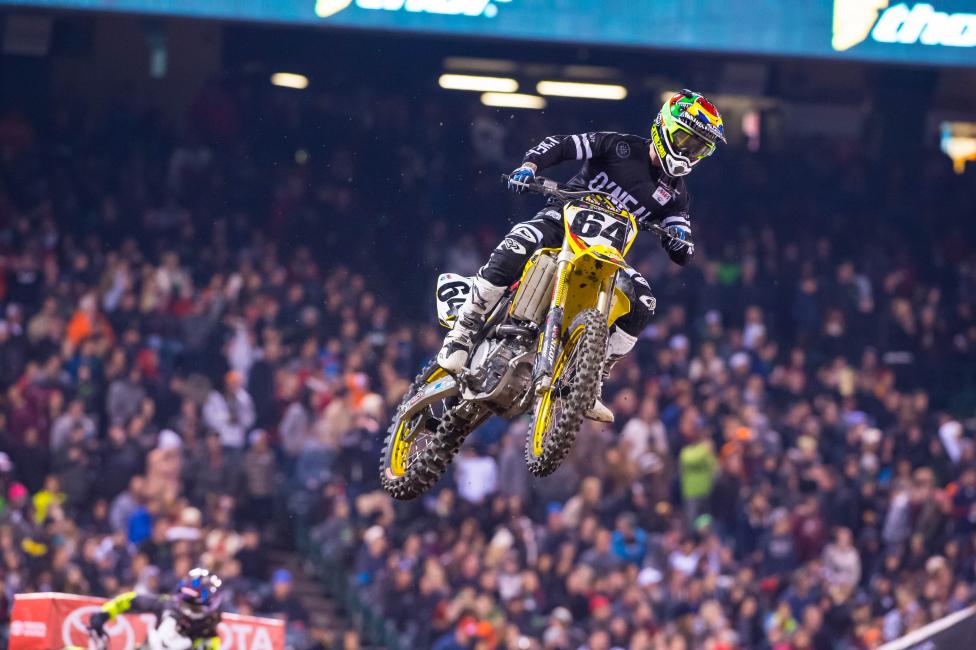 Last year was a breakout year for you. What's the key to doing that again this year?
I think last year heat races were the key. It was good starts in the heat; I would run out front... I struggled a lot last year with arm pump, and thank God I got that figured out. That was what held me back in the mains. I started to figure that out toward the end of the season—I think I finished ninth in Toronto and fifth in St. Louis. Starts are going to be big [this year]. I know if I can get a start, I know I can run the fifteen laps no problem this year. Last year that was a bit of an issue.
If you can, expand on the arm pump issue a little. I think fans are kind of surprised when they hear a pro say they got arm pump. Their initial reaction is, "You're a pro, why are you getting arm pump?" Can you let us in on why sometimes it does happen?
It's tough, you know? I wish I knew the exact answer to it. The best way I can explain it is, everyone is different. A lot of times you hop into a program where it's not really specific to each rider; it's generalized and you have twenty riders in one training group. That doesn't work for me. Last year I was twenty-five pounds heavier than I am now and I was lifting weights. I mean, not heavy weights, but I was constantly doing push-ups, pull-ups, that kind of thing. I was just way too big upper body, and I think that hurt me. I think in some situations I would hold on too much with my upper body, whether I thought I was doing it or not. This year I've totally transitioned to mountain biking and road biking. I haven't done a push-up in a year. It seems to have paid off so far. When I get sketchy in the whoops, my first reaction is to grab with my knees and not muscle it out with my arms. For me, I think that was the solution.
Is a lot of it muscle memory? I think everyone's first intent is to grab the hell out of the bars. Is it really focusing in practice sessions on grabbing with your knees and once the race comes you automatically do it?
Absolutely. This summer, the few times I did get to ride, I never focused on speed. I would roll around the track and focus on technique. I even did laps where I would sit down and not put my feet out, and would focus on griping with my knees. As simple as that sounds, you're right—you get a little sketchy in the whoops, you get sketchy in a turn, the first thing you want to do is hold on as tight as you can with your hands. I did a lot of lessons with kids this summer, and I think going back to the basics helped a lot as well.
You see a lot or riders giving back with schools. What has it taught you? Has it taught you patience, working with kids?
It's taught me a lot. Patience is something it's definitely taught me, especially working with younger kids. But I enjoy it. I have a track ten minutes from my house, and during the summer it's my livelihood. It's what keeps me going financially, but I enjoy it. I'm there four or five days a week working with kids anywhere from 4 years old to 55 years old. It keeps me on my toes during the summer when I'm not getting as much seat time as I like.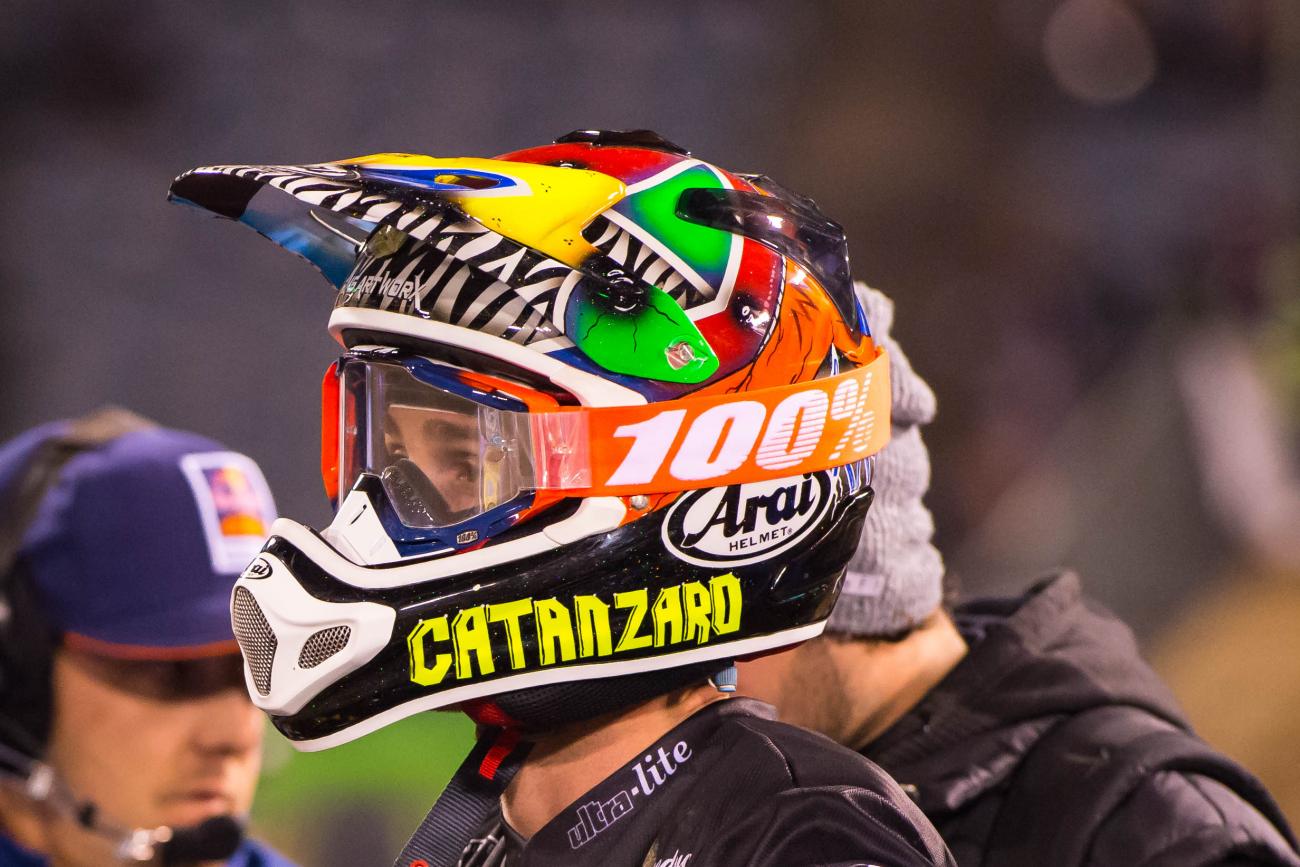 You're an East Coast-based guy, but currently on the West Coast [during 450 races]. What's your set-up out there? Are you able to get a lot of riding in?
For the first few, I flew back and forth. I'm still based out of Club MX in South Carolina. That flight every Friday and Sunday gets old quick. We decided to stay out here [California] this week. We're in Valencia staying at Travis Fant's house trying to get a week of recovery and stay away from the plane travel. Sunday, I'll be headed right back to the East Coast. So we'll be doing that flight back and forth again. The traveling sucks, but I don't think there is a better place to be than Club MX and getting my training in there.
Over the years, a lot of you guys have spoken highly of Club MX. Has anything changed down there recently?
Every year I go down there it's something different, something new. That's why it's so great—they put their money right back into it. There is a great group of riders to work with. I was living with [Phil] Nicoletti the month and a half I was there. Being around a guy that works that hard, it's impossible to slack off. I try and take a day off and Phil is there yelling at me. It's just a great group of people to be around and they make you work that much harder.
It seems everyone has a good Filthy Phil story. You got one for us?
[Laughs] Oh, man, too many to mention. He's a grumpy old man, but he has a huge heart and will do anything for you.
Thanks, AJ. Anyone you want to thank?
JMR Racing, Pickett Weaponry, Phoenix Lube, Club MX, 139 Designs, Spectro, Factory Connection, EVS Sports, Surface Sun Systems, Alpinestars, Arai Helmets, Tirestickers.com, Amped Apparel, 100% Goggles, and Team Gus.