Chase Field
Phoenix

,

AZ
Phoenix
Monster Energy AMA Supercross Championship
By Aaron Hansel, Steve Matthes, Jason Weigandt
Aaron Plessinger, Yamalube/Star Racing Yamaha, Fifth in 250SX
Two fifths, two weekends in a row. I'm pretty stoked on that. I'm exceeding my expectations and I couldn't be happier.
At one point you had the podium in sight.
I was half a second behind. I had third place in sights and almost passed for third, but kind of messed up in a section. [Tyler] Bowers got by me for fourth, so I ended up fifth, but I'm more than happy.
You haven't even had starts in the mains at least. You're moving forward; it's not like you're just lucking into it. You have to feel good about your speed. You're passing dudes.
Yeah. I just need to work on my starts. If I got a start, I'd be up there for sure. Work on my starts this week, go home and do some homework and get on that podium.
How much experience did you really have in supercross?
I did a little bit before. I went into arenacross in February. I went before Monster Cup and practiced it for about a month, and then after that I actually broke my ankle and was off for five weeks, and then came back in December and had all of that whole month to get ready.
That's not a lot of time.
If I had more time I'd like to say I'd be up there with Cooper [Webb] winning.
How much did arenacross make a difference? Do you feel it helped in any way, shape, or form?
I think it did. I think it just got me ready for the aggression, racing in front of a crowd, all the cameras in front of your face, the fans coming up to you asking for autographs, and the tight racing. I think it got me ready for sure.
So you're glad you did it?
Yeah, I'm pretty glad I did it.
You're smiling more than anyone here, even the dudes that won.
It's awesome. I love it.
What about getting nervous or tight or pumped up? That's what you're supposed to do when you're first getting started with this. Not a problem?
Not really. I got a little pumped up in the beginning of the race, but I just told myself to breathe and relax and catch these guys. – Jason Weigandt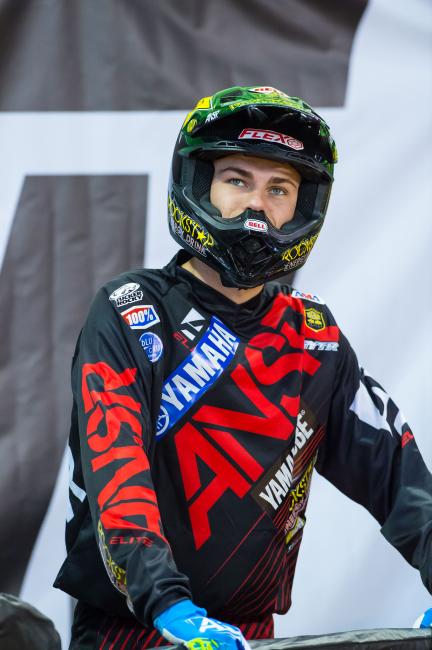 Jessy Nelson, Lucas Oil/Troy Lee Designs KTM, Third in 250SX
[Laughs] It was all right. To come out with third and keep the points lead, considering it was a bad night for me, it was pretty good.
Did you almost go down in the first turn?
I almost did crash in the first turn! It was hectic; there were some sketchy moments out there on the first few laps. All you hear are four-strokes just panic revving. It takes your heart rate up pretty fast! I just rode super tight. Malcolm [Stewart] and I got close over a couple jumps, and I was like, I don't want to get too close. I'm trying to win a championship here and I didn't want us both to go down. I also got a really bad side ache at one point and was having a tough time breathing. I managed to pull off third, but Plessinger got close—he was riding really good! – Steve Matthes
Mitch Payton, Monster Energy/Pro Circuit Kawasaki team owner, (Tyler Bowers Fourth and Chris Alldredge Fifteenth)
Bowers put in a nice charge and Alldredge, in his first main event, was okay.
That was better than last week. Last week was just a lot of crashes and maybe rookie stuff or whatever, and then even in the first practice he [Alldredge] fell down twice in the first lap. Had to come in, broke the front brake off. So that was done. So I think he was just behind the whole night. I think he rode good, and then in the main event he had a decent start, but first time, I think he wasn't used to the pace of what those guys were doing and that was the problem. Then at the last lap he crashed, and then he finished way back at the very end. He was in eighth I think.
And Bowers?
Rode good, got a holeshot in his heat. That was great. Main event, he said he thought he had a pretty good start, but he said everybody from the inside was banging around and he got tangled up on the inside.
A Tuff Block went flying every first turn. And it was a Suzuki one too.
And it got the Suzuki guy, so that was bad. That put us in the back and he did pass a lot of guys. That was great, and he rode a good main event. Wished he could have been farther up. If he'd had a good start I think he could have done something really well.
At times he was the fastest guy on the track
He was. We're hoping to go to Anaheim, fix that, and we'll be all right. We're still in it, so I love it. –Steve Matthes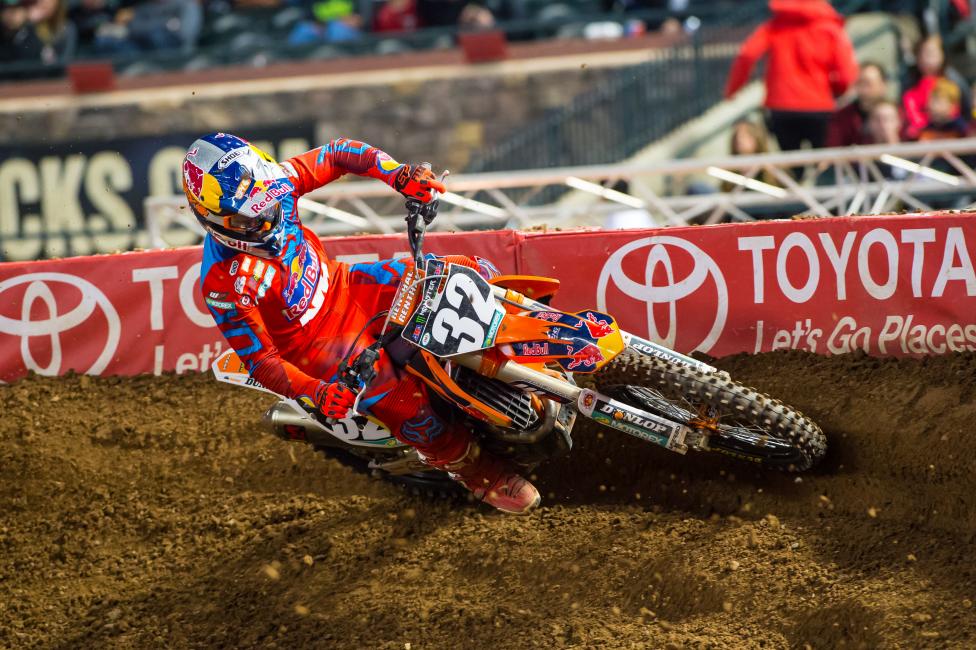 Justin Hill, Red Bull KTM, Sixth in 250SX
Are you sick? How long has this been an issue? Did you have this last week too?
It kind of started around the last race, so it's been for a little bit.
Is it affecting your riding?
Yeah, this weekend bad. Last weekend I didn't notice it so much; I just didn't ride good. Now, it made it pretty hard. I wound up pretty fatigued from the main. It's been easy to show myself in the six-lap races, really. With the heats I can go sprint and show my speed, but I'm just not myself. I'm just so weak. Those long races… It's frustrating because I felt like I did my preparation the best this year; my training was good. And then now I've just been sick. It's so frustrating. But I just need to get healthy and try to gain back to where I was. – Jason Weigandt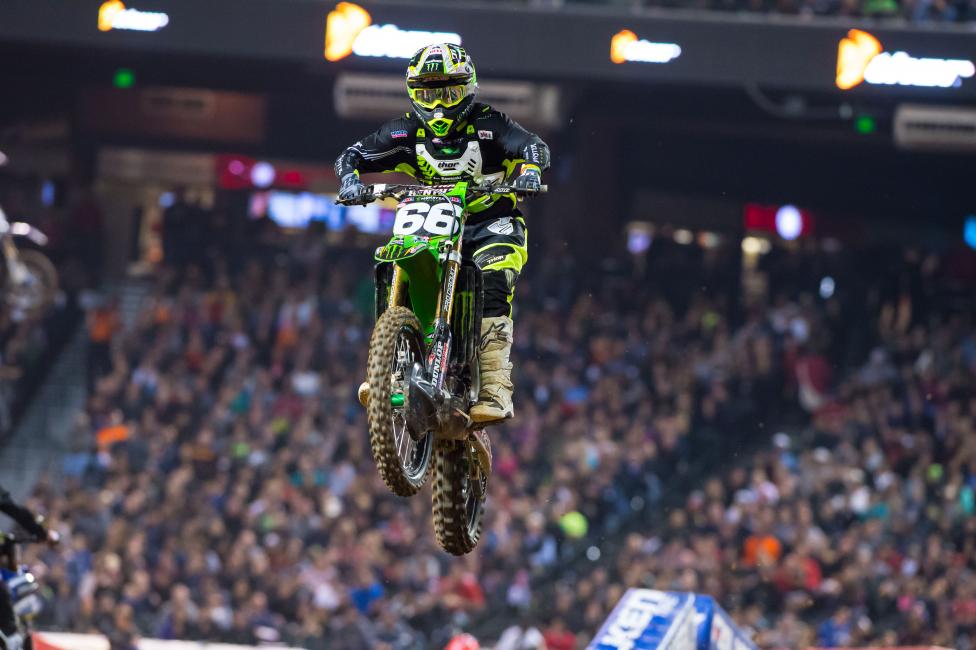 Chris Alldredge, Monster Energy/Pro Circuit Kawasaki, Fifteenth in 250SX
It was nice to make it in this week. We pushed really hard this past week trying to get training in, and we tried to focus more mentally on what I needed to do. It was a good day—we qualified eighth, had fourth gate pick in the second heat, and came around the first corner in fifth from one of the outside gates in the main. Just tried to ride the best I could—this is a tough sport! These guys are the best in the world at what they do and hats off to all of them. They're amazing riders and I didn't have it for them today. I was there in fifth for five or so laps and I tried to do the best I could. Things just didn't go my way, but we'll take it to next week and try to be better.
You've been to two of these things now. How is it for you so far?
Supercross is awesome, man! I didn't have any nerves and just tried to do the best I could. Obviously you ride a little tight when you're in the stadium if you've never done that before, but it's fun. Supercross is awesome. It can be a little nerve wracking, but once you're on the gate for the main you just breathe a sigh of relief knowing you're just going out there to race with your buddies and have a good time.
Hard to make passes out there?
Not tonight, not compared to last week. A lot of people were saying it was tight, but it's only my second one, so I'm pretty pumped to ride whatever they build out there. I didn't have much of a problem making passes when I did—you just had to be aggressive. Rubbing elbows and laying in on people—that's the way it should be. It's good for the crowd and this is a consumer-driven sport. The better it is to watch the better the sport will be. –Aaron Hansel