By Jason Weigandt and Chase Stallo
The night before the opening round of the 2013 Monster Energy AMA Supercross, an FIM World Championship, Muscle Milk and Honda hosted a movie premiere a few miles from the stadium. The movie was a documentary on Trey Canard, who had broken his back in a hellacious crash a year earlier but vowed to return to racing at the 2013 Anaheim opener. The movie began with a shot of Canard standing in the Angel Stadium parking lot wearing a back brace, staring at the building, and planning a return.
The entire season revolved around riders making comebacks.
If you've been reading our stories outlining each year of supercross history, you know full well that underdogs often rule the opening round. But even those underdog wins are usually just solo efforts, with one man pulling ahead. The 2013 opener featured two unexpected heroes, as Canard, fifty weeks out from his last race, battled for the win. On his tail? Not Ryan Villopoto, Ryan Dungey, James Stewart, or Chad Reed, but Davi Millsaps. Millsaps had finished second in the injury-plagued 2012 standings, but no one knew he was about to take "the leap" into elite status. Heck, he wasn't even on a factory team, riding instead on the underdog (there's that word again) Rockstar Energy Racing squad, which had never competed in the 450 class before. There was Millsaps, once maligned as having great talent but not enough heart, digging deep and keeping Canard in sight. Everyone else was gone. Ryan Dungey was there but crashed. James Stewart was struggling with a knee injury from practice. Chad Reed was off the pace. And biggest of all, Ryan Villopoto suffered a huge crash and finished a lowly sixteenth.
As the white flag came out, Canard appeared to have victory in hand, but Millsaps didn't give up. Mounted on his new Suzuki RM-Z450, he charged hard through the final two laps and stuck a sweet pass through a set of whoops. Canard tried to counter and they collided, with Canard careening off the track and Millsaps hanging on. The crowd erupted as Millsaps took his first win since 2010, a completely unexpected result.
"Coming in here I wasn't on any polls. I wasn't up there talking in the press conference. Even though I got second last year, I wasn't in anything," said Millsaps. "I was pushed aside. I think that maybe because everyone thinks that me going to the team I'm on now, they think it's all a B team, but I think our team is definitely an A team and is just as good as any team out there, if not better."
He would soon prove that was true. Here's the Anaheim footage.
The drama continued the next weekend, when Team Honda Muscle Milk rookie Justin Barcia holeshot and checked out to win Phoenix, just his second-ever 450SX start. The previous week, Barcia stalked Canard and Millsaps for a while until he got nervous and tight, and crashed back to seventh. He was looser for round two, and he dominated.
Canard was winning a battle for second against Reed, Villopoto, and Millsaps until the last lap failed him again, as he crashed back to fourth. He would have left with the points lead, but instead Millsaps stole it again with a solid third. Villopoto took second, but something was amiss with the champ.
Or was it? At Anaheim 3, Villopoto dominated, slicing from seventh to first in a matter of a few laps. Canard, Reed, and Millsaps followed. For Villopoto and others, the early season story centered on new pneumatic spring front forks, replacing the traditional coil-spring units. Everyone was struggling to find the right setup, and it took two races for the champion to find his.
The other big news was the sudden retirement of the legendary Kevin Windham. A perennial contender and all-time fan favorite, Windham planned to race until the 2014 season, which would have been his twentieth as a pro, but a series of crashes had taken the fun out of racing. He spoke about struggling at the first two rounds (even though he, while literally contemplating retirement during the races, finished tenth and eleventh) before finally pulling the plug Saturday morning at round three. He was saluted all night long and would still attend the rest of the rounds to pull off his patented transfer jumps during opening ceremonies. Here's Anaheim 3.
Barcia's season took a tumble at round three when he came up short on a triple jump and smashed his face on his handlebars. With blood all over his face and in his eyes, he was not able to finish.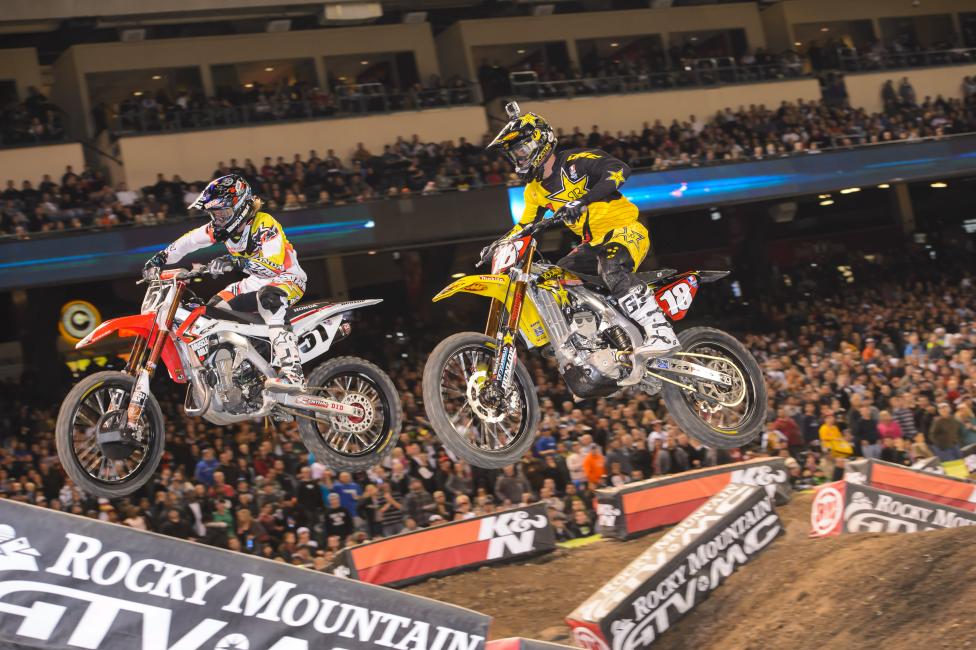 Villopoto's sixteenth at the opener left him in a big points hole, but he got a ton of them back at Oakland. Reed got together with another rider in the whoops, went sideways, and would cause carnage to ensue, with himself, Canard, Barcia, and James Stewart going down hard. Barcia would DNF again, and Stewart, still riding with a bad knee, was hobbling. Villopoto won with ease and Millsaps was solid again in second, continuing to hold the points lead over Canard and now Villopoto. Here's Oakland.
It seemed obvious now that Villopoto was on a roll, but not so fast. Anaheim 3 was just nuts. While other teams were testing pneumatic front forks, KTM was testing a similar idea for their rear shock. Then, in a heat race, the place backfired as Ryan Dungey's 450SX-F suddenly started sinking, the shock losing air. He was forced into the LCQ for the second time that season and then crashed in the first turn. He barely, barely got in when Phil Nicoletti bobbled on the last lap and Dungey was able to steal the twentieth and final gate pick. Then, of course, he holeshot the main event from that gate and led all twenty laps to win the race in a remarkable turnaround.
"That LCQ, that was as nervous as I've ever been," said Dungey's team manager, Roger DeCoster. "More nervous than I've been for a championship—even more nervous than championships I've won myself!"
Reed managed an instant replay of Oakland by crashing again on the third turn of the first lap, this time catching Villopoto and JGR Yamaha's Justin Brayton, who had taken the holeshot. Villopoto had another crash and would struggle to eighth. Behind Dungey on the podium came, you guessed it, Millsaps, ahead of Barcia. Here is the Anaheim 3 coverage.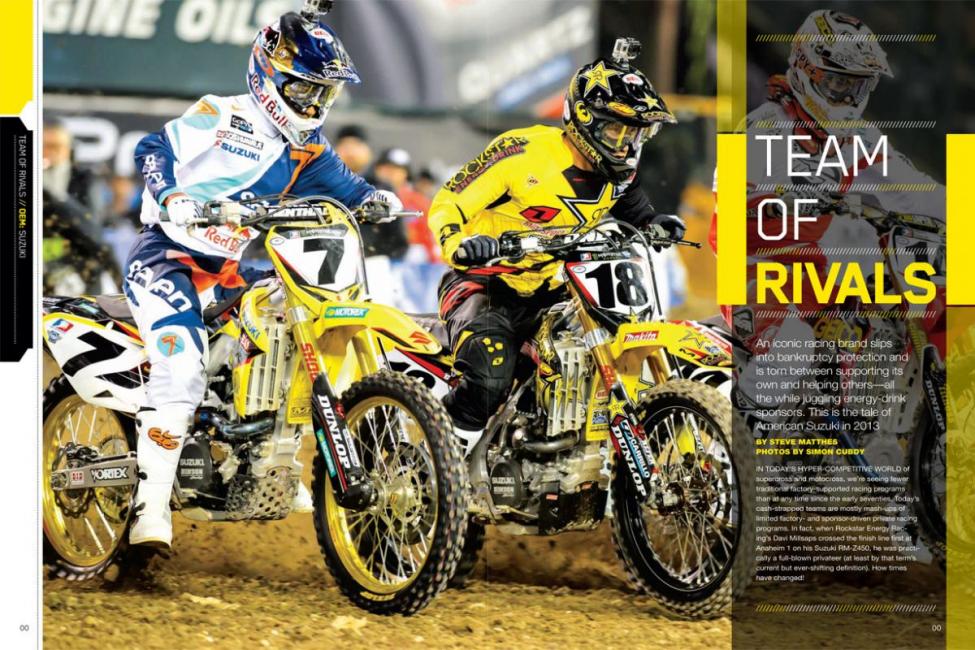 Now Millsaps held a 14-point lead, and buzz was building. Many were just trying to understand the makeup of his team, which was once supported by factory Suzuki, but was now telling everyone to only call them Rockstar Energy Racing and not mention the bike brand at all. They were not getting parts or bikes from the brand, even as Millsaps began to look like the championship favorite.
Such talk reached a peak in San Diego, where Millsaps captured his second win of the season. He led early ahead of San Diego Supercross King Chad Reed, and while Reed was struggling with his bike (and those darned pneumatic forks), he was good as usual at Qualcomm Stadium, challenging for the lead. Then he washed out in a turn and fell, and Millsaps rolled away. Barcia and Dungey came through next, and Villopoto had another crash-filled night and took sixth. Talk of the new forks popped up again, and Villopoto found himself in a 27-point hole.
After winning San Diego in 2010, Millsaps would suffer. He crashed late that season and nearly lost a kidney. He tried to rebuild with the JGR/Toyota Yamaha team, but the process was long. Even before that 2010 season Millsaps would show signs of speed to match his prodigious talent, but he could never capture it consistently. In his seventh year in the class, he'd righted the ship and reached his potential. Many riders peak in their third or fourth year in the class. No one had ever seen a rider hit that next level in year seven.
Villopoto got a start and a much-needed win in Dallas, but Millsaps was second again. In Atlanta, Stewart finally—wait for it—turned things around with a win. There was much hype on Stewart in 2013 as he switched from the much-maligned Yamaha YZ450F to a Suzuki RM-Z450, but his knee injury at the opener turned out to be a torn ACL. He kept racing on it and by Atlanta was strong enough to hold Villopoto at bay the entire twenty laps. Millsaps was on the podium again.
St. Louis provided its usual wild action. JGR Yamaha's Kyle Chisholm suffered a huge crash early, which led to a red flag and a restart—but since three laps had been completed, the rules dictated a single-file restart down the start stretch. No one had ever seen that before in a 450 supercross main event. More flag controversy followed as red and yellow flags came out in a section just as Villopoto was passing Stewart. Did the champion pass in a no-passing zone? "Ryan rode awesome, but that was some red flag racing," said Stewart. Villopoto was not penalized. (And to make matters worse, he'd also made a pass after the Chisholm red flag came out, and was given his three-position penalty for that before the single-file restart, which he made up for by simply passing three riders immediately. Normally, that penalty comes in the final race results.) You can watch St. Louis here.
Villopoto's win was big especially since Millsaps finally had an off night and finished sixth. The champion won Daytona again, and Millsaps again struggled to tenth. By now word was trickling out that Millsaps had hurt his knee and was riding in pain, and Villopoto was erasing the points lead in a hurry. After Villopoto won a big battle in Houston and then won Toronto, too, he'd taken five of six and the points lead was his.
Dungey had something ready at his home race in Minneapolis, though. The Ryans battled spectacularly, but Dungey gave the Metrodome faithful what they wanted. Here's that race.
Villopoto's Seattle homecoming was spoiled by Barcia, who grabbed a holeshot and won on a muddy track for the second victory of his rookie year. Villopoto was second and now had a chance at clinching the title at Salt Lake City, which was an amazing (yes) turnaround considering how far back in the points he was after San Diego.
Millsaps, injured and all, wouldn't go down without a fight, and he and Dungey put heat on the champ for all twenty laps. It was an amazing race, but Villopoto held on to win the event and ice his third straight title. Watch these guys go at it here.
Villopoto ended the year with a Las Vegas win. Millsaps was third behind Dungey in the race, and finished second in points for the second year in a row. It wasn't the title, but it was an amazing season that established the rep for Davi and his team at a completely different level than it had been before. Villopoto, though, was just on a different level from everyone else.
In the 250SX West Region, Ken Roczen and Eli Tomac had an epic duel. Tomac started the season on fire, winning the first three rounds; Roczen was runner-up at all three. Roczen stole the spotlight in Oakland, picking up 24 points on Tomac after he crashed in the main. Roczen won again at A3 and looked like the favorite after another win in Seattle. But then he failed to qualify in Salt Lake City! This led to an epic final in which Tomac won, but Roczen was able to hold onto the title with a second place finish. It was Roczen's first major title in America.
The East Region provided just as much drama, as Wil Hahn and Marvin Musquin took it all the way to Vegas. But it was Dean Wilson who looked like the early title favorite, after going 1-2-2 at the opening rounds. But at round five in Indianapolis, Wilson had a huge crash and would miss the remainder of the season. This left the door open for Hahn, who won twice early in the season in Atlanta and St. Louis. But he would face a strong challenge from Musquin. The Frenchman caught fire late, winning four of five heading into Vegas. He trailed Hahn by 5 points coming into the finale, and then disaster struck for Hahn, as he broke his hand in practice. He would solider on to the main, but Musquin had an opening. Arenacross transplant Tyler Bowers stole the show, winning the main. Musquin made a late charge to catch Bowers but couldn't take the win or the title, giving Hahn his first career tile with a third-place finish.
2013 Supercross Standings
Ryan Villopoto 371
Davi Millsaps 338
Ryan Dungey 337
Justin Barcia 277
Chad Reed 239
Trey Canard 221
Andrew Short 214
Justin Brayton 190
Broc Tickle 176
James Stewart 174
250SX East Standings
Wil Hahn 198
Marvin Musquin 195
Blake Wharton 171
Vince Friese 118
Gavin Faith 116
250SX West Standings
Ken Roczen 185
Eli Tomac 183
Cole Seely 148
Jason Anderson 139
Martin Davalos 133