No better man to check in on for some pre-Anaheim chat than the greatest supercross rider ever, Jeremy McGrath. MC even has some news of his own to share with his new job at Kawasaki. We talked to him last week at the Monster Energy Kawasaki team intro.
Racer X: For a lot of us that was a surprising press release. All of a sudden Jeremy's at Kawasaki. You don't see press releases about retired racers switching brands very often.
Jeremy McGrath: Obviously it's flattering to still have an impact like I do. I think that just says a lot about my relationships. My records and stuff are there, but it's really about relationships and the impact I've had on making friends and being involved. I'm grateful for sure, but definitely kept it under wraps for a while. We were working on it for a while, and it was something that makes sense. I'm happy that it made sense for Kawi. It's kind of right up their alley, especially with Team Green. I've been actively wanting to get a little more involved. I was doing testing before, but I was kind of phasing out of that. I don't really want to be a test rider anymore, although I think some of my experience and expertise certainly can help in that department.
Is it one of those things where on occasion I'm "All right, I just don't want it to be my job?"
Yeah. I still feel like I can ride and sort of help when it comes to that department, but as far as trying to be the guy, testing and stuff, it just doesn't make a lot of sense. I can't ride as fast as these guys do these days, nor do I want to. So I can use my expertise in other areas. I think as far as being in this case a brand ambassador, I do enjoy the PR part of it and the functions that some of the racers don't have time for, mentoring the riders, and doing some stuff for the Team Green. It's sort of a perfect two-way street.
You've always been good with media, good with fans. A lot of times guys that are winning a lot are a little more standoffish because there's more demands on their time. But you've always been really good about all that stuff. What about that end of it? Can you almost coach current racers?
I think as far as that aspect goes, I've always had this kind of mentality that it's easier to just hang out and do it and not have to think about it anymore than let something like that bother you. And press to me is like you guys have all been my friends. You guys are all doing good things for me; I want to do good things back. I've often kind of shaken my head a little bit at guys that raise a fuss about it. But it's not for me to worry about. I just do what I do. PR and press for me is me being around these guys and maybe seeing how I act, how I do it, can help. The cool thing is I can fill in some of the holes where needed, and I like that role.
But regardless of whether you're at the test track with these guys, there's not a supercross racer around that doesn't respect Jeremy McGrath. That just comes with it. So that has to help.
It certainly, as we say, opens doors. These guys, they're young men; they're paying attention. My favorite part is going to be at the track and at the races and stuff like that, but you have to learn to enjoy all of it because otherwise you'll have a headache all the time of doing the stuff. Unfortunately, when you get to be better, you get less time to yourself. It's a double-edged sword. You want to be successful, you want to make more money, you want to be more popular, you want to do all these things, but then you don't want to do all the rest that goes with it. So I'm excited. I did win my first supercross at Kawi. I almost won a title. It's really cool to come full-circle. Everyone here at Kawi I've known for twenty years. They're all my friends. Dana Wiggins and I used to ride in 1986. Dana and I grew up riding together. It's pretty crazy. It's not only full-circle on the Kawi, but it's full-circle with all these dudes here. I've known all of them my whole life. So it really feels like family. Reid [Nordin] and the whole team, the whole staff of everyone, has welcomed me with open arms. It's just bitchin'. I'm enjoying my bike. Riding's become fun again. It's awesome.
That's always been something in my experience with people with Kawasaki. That's always been their thing as a company is to talk about family and to be a family and be close-knit.
And it rings true. You come hang around a little bit and you know. Their slogan's cool. It's true. Let the good times roll.
How much factory stuff do you actually get?
I get whatever I need when I need it. I'm not riding supercross a whole lot, so I don't need that stuff. When I'm going to do a photo shoot or something cool with big jumps and all that, then I'll get some parts and put them on my bike, but for the most part I'm riding just like you are at the local track, and a stock bike's awesome.
What do you think about all the stuff going down with James and WADA and FIM and everything?
Obviously I don't know enough about it to probably draw some super-awesome, accurate conclusion to what's going on, but as a fan my basic thoughts are that I'm really bummed for James. I think it's a shame that regardless of if he committed a foul or broke a rule, he's paid the penalty already. He's labeled or whatever. It just sucks. In my mind he should be racing, period. I don't know who's trying to have a contest with who about who's going to penalize one of the biggest names in the sport, but to me as a fan I don't think it's cool. I don't think it's good for the sport.
Back in the day, twenty years ago, there was the Vegas Supercross thing where the lights when out and several riders sat out. I keep seeing people online talking about how the riders should just organize and do this and that. One guy specifically said riders should decide not to ride in order to make a point for James. But I say, "Yeah, that never works."
It's funny you say that, because the night the lights went out everyone accused me of trying to unionize the riders. That's what I got labeled with. I couldn't care less. The lights were out. I was like, "I'm not racing. I'm out of here." I left [because of the lights]. But it was this big thing that I was trying to unionize. For one it would be nearly impossible to do that. The manufacturers are tied to the riders, but the manufacturers are also tied to the promoters. It's a three-way deal.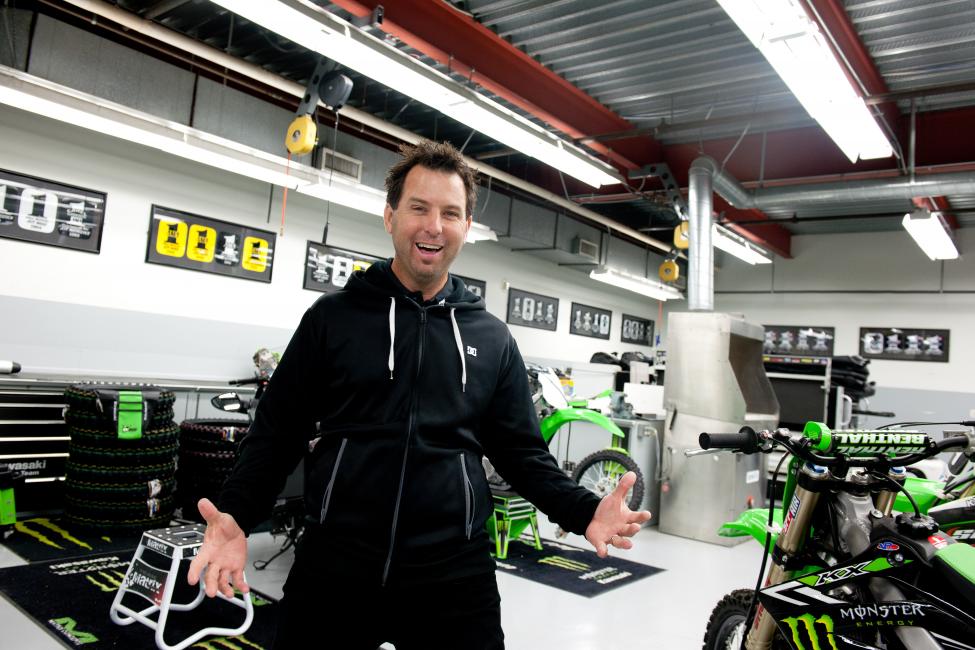 As racers your contracts say that you race AMA Supercross and AMA Motocross.
It's just a thought that is ridiculous. The format that's working, it works. Everyone has a good relationship. They all get along. I think it's a little strange that AMA got forced into the FIM when all that stuff went down. Again, as a fan, I love the sport so much. I agree with rules, but he's been on probation. There's never been an infraction forever, so he's been under probation for how long? And they're going to let him get ready and do his thing and then announce two weeks before that he's not going to ride? To me it's just BS.
As a racer, I would assume if you were going to win a title you would want all the guys out there. All the guys that could be out there, you want to beat them to win a championship.
I'm sure that if you interviewed all the racers one by one they want James Stewart out there. So do us fans.
Early on in your negotiation with these guys, knowing that maybe Villopoto was going overseas when he wasn't going to be around, did you just think he was on a one-year round because they have a bunch of #2s laying around and they had to use them for something?
If he was going to stay around here I might have to switch back to 125 or something, because that's what I won with on Team Green.
Who's going to take it next?
Someone has to win a title to get it? I think it's strange that Baggett has Carmichael's number. It looks really odd. If I was Blake I would have wanted a different number, just because of that.
I think people said the same thing about Ryan when he took 2.
If we were all sitting here and we all said we want to keep our numbers for our life, every badass rider would be a three-digit number, and we can't have that. We as veterans have to get over it. That's just how it is. I still run 2. People know me as 2, and I'm okay with it. Ryan needs to have 2, too. Is he going to run 2 in Europe? I'm sure he is.