BTOSports is your number one source for all of your motocross parts, gear, accessories, and apparel. BTOSports.com is a motocross company that is truly dedicated to the sport and to the customer. Proud sponsor of your Racer X Podcasts and the BTOSports.com KTM race team.
The Bercy Supercross, a staple in the off-season supercross race schedule since 1984, was moved this year to a town called Lille, about an hour and a half north of Paris. The Bercy Arena is undergoing renovations, and the race will be here in Lille for the next two years, and maybe longer if the rumors are to be believed.
I've been lucky enough to come to this race for a while now. I did it once as a mechanic for Nick Wey in 2002, and as a media member for, I think, six years in a row. Bercy was special—no doubt about it—but it's sort of the Fenway Park of European supercross races. In other words, it's got what they call "charm," which really means "pretty old and not that great of a facility."
The new stadium in Lille is pretty impressive; it reminded me of a mini version of the stadium that the NFL's Arizona Cardinals play in. Half of it was cut off with a giant black sheet, as the promoters couldn't use the whole floor due to a tennis match coming up. But even cut in half, the floor was bigger than Bercy and held a lot more people. Bercy Supercross has been three nights for a long time. Lille was two nights, and even still, there were more total fans than Bercy had. Bercy draws fans from the Lille region—the northern part of France being a little more motorsports-crazy (Belgium is just ten miles away).
Without the tunnels underneath the stands that Bercy was known for, the track in Lille ended up being a little shorter than Bercy, but again, all the action was in front of the fans and the track itself was pretty good. The dirt was a lot like the spongy, rutted-up dirt of Bercy, which made life a little more miserable for the riders. The obstacles themselves were okay; there wasn't a lot to separate the top guys. The whoops were decent size, but the American riders were getting through them pretty much the same (nothing separates the Americans from the European riders like the whoops), and there was one rhythm lane with an option on it to go three onto a table, then off and two into the corner; or some guys would go outside, quad over the table and triple out if they hit it right.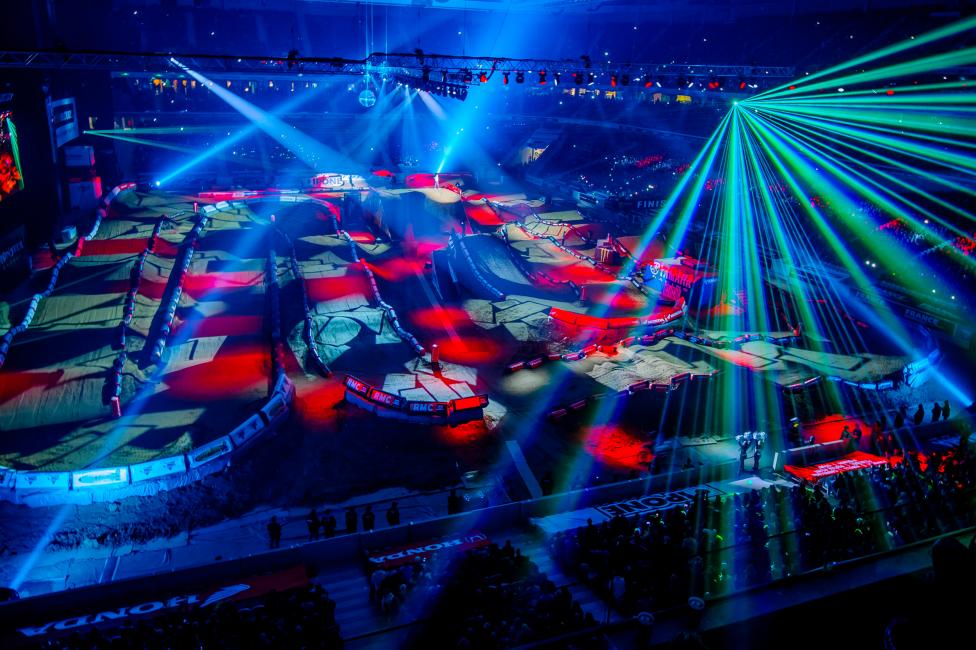 That last way looked faster, but it actually wasn't—at least not by my stubby fingers. I had the on-off way a fifth of a second faster if not more. The takeoff was lower on the left-hand side than on the right side, which needed the extra lift to go over the tabletop. And riders could go inside and cut some valuable real estate off by sticking to that.
I was pretty excited coming into this race to see some great racing. We had the reigning King of Bercy, Justin Barcia, who always hauls at this race. Then there was past King of Bercy, Justin Brayton, who's the modern-day Larry Ward (really elevates his game overseas). Josh Hill has been winning in Sweden and South Africa this off-season and looks to be on his game. Weston Peick has shown that he's emerging, and now he's on the Toyota/JGR Yamaha team and is interesting to watch. And then there was Eli Tomac, who's been in this race two other times, has always been fast, has won some mains, but has also had a few crashes here and there. Apart from Peick, all the American racers had won main events at Bercy before, and it looked to be a really competitive weekend of racing.
I say "looked to be" because once the racing actually started, Tomac made everyone else look like they were racing with an invisible bear on their backs. Tomac won all four main events, both of the one-lap Superpole contests, and all six of the elimination races (two-lap races with the bottom finishers eliminated and just a couple of guys left). He was also fastest in the two timed practices. The only flaws Tomac showed were letting Brayton lead a couple of laps in the first main on Sunday and not being the fastest rider in the very first untimed practice of the weekend. Other than that, he won everything.
He looked great and at times was going half a second faster than anyone else, best lap to best lap. And that's a lot on a forty-second track. At the end of one of the mains Tomac had a seventeen-second lead on Barcia. Seventeen seconds on a forty-second track in just fifteen laps!
Tomac got nearly every start, which was key, but I think he could have won even if he hadn't started in the top five. He was that good. Side note: Tomac started all his ten races (four mains, six elimination races) from the exact same gate. It seemed to work. Tomac just looked so good out there. He was wheeling up the dragon-back, getting in and out of the ruts better than anyone, and hanging it out yet seemingly being in total control. Eli Tomac ruined what I thought was going to be a pretty good weekend of racing. What a jerk.
Tomac switched to the KYB suspension (like Trey Canard) for the Monster Energy Cup, and he credits this suspension swap (hopefully the last one for Tomac after going through Showa air stuff, A-Kit spring stuff, works spring stuff, and now KYB) with his comfort level on the CRF450R. And there's no denying that he looks great. Anaheim is still a long way away, but I'd be lying if I said that after watching him this weekend that I don't think of him as a favorite (pending James Stewart's punishment for this FIM thing).
Justin Barcia was there, but he's still not quite…there, if you know what I mean. And "there" is his old level in 2013 when he was winning supercrosses on a Honda. He may be as good as he was this past year, but as we saw, that wasn't nearly good enough for a guy like Justin. At the Monster Cup he got some starts but didn't look that great, and he admitted afterwards that maybe, coming off ankle surgery, he wasn't as ready as he thought he was. He's had a month more prep since then, so this weekend I thought he would be better than he was in Las Vegas.
And he was a bit better on Sunday after the team gave him a bit more power with a cam change (the team had been de-tuning the bike since Monster Cup when they discovered the setting was not ideal for Bam-Bam) and that helped his starts. He went 2-2 on Sunday, but Tomac walked away from him. This is not something that we've really ever seen from Barcia. There's still more work to be done with the #51, but it's still early.
But when does "It's still early" become "Oh crap, it's too late"? There's a race this weekend in Genoa, Italy, where Barcia is going to get another shot at Tomac. If it goes like Lille this weekend, I'd really start to wonder what's up. It's a big year for Barcia and the Toyota/JGR Yamaha guys (who dipped their toe back into the "We're going to sign a high-dollar guy and take over the motocross world" pool with this signing), and Barcia's second overall is nothing to be ashamed of, but watching it live, he was simply the "best of the rest."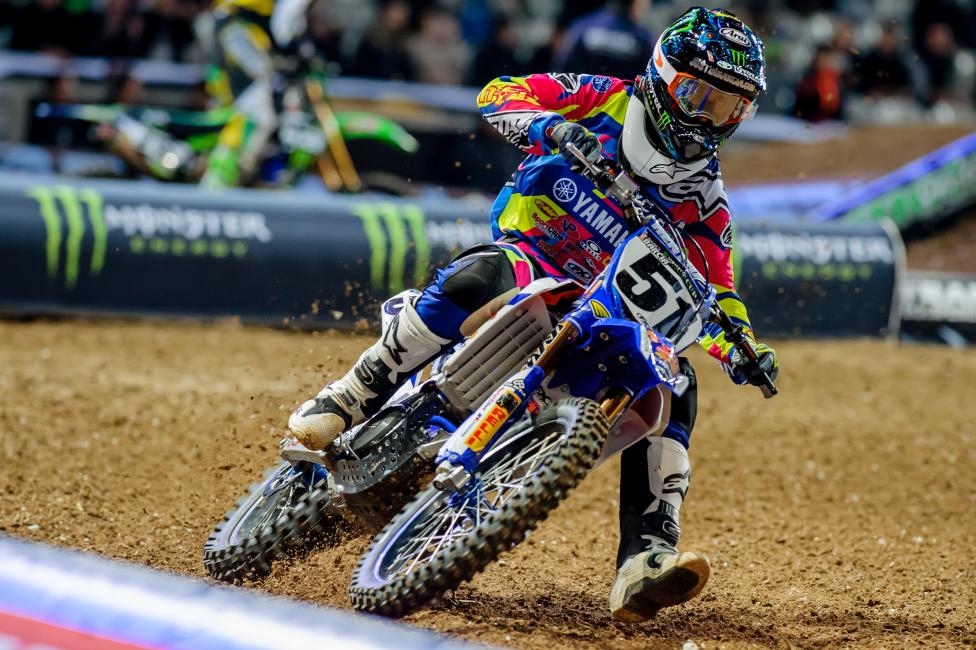 Barcia's teammate Weston Peick didn't start the weekend well, as he was barely in the top ten (not that timed practice has ever been Peick's specialty) and visibly off the pace. For example, not to disparage Josh Hill, who was consistent all weekend and finished fifth overall, but Peick was right around Hill in practice and both of the mains on Saturday (before he crashed in both mains anyways). He was good, not great. At some point on Saturday he looked at me and said, "I just don't know how these guys get in and out of these little corners so fast," and then took a bite out of a dinosaur-sized chicken leg. I might have made that last part up.
Anyway, Peick started to figure it out for himself on Sunday, and the Viking Warrior known as Weston suddenly picked up speed. He was way better on Sunday than Saturday, going 3-3, and was much better than Hill. Again, this isn't to disparage Hill at all but to give an indication of the jump that Weston made.
As far as Hill, he rode consistent all weekend, and his highlight was probably holding onto the Superpole, errr, pole for a while until Tomac smashed his time by 1.5 seconds. Hill has been on a roll this off-season racing anywhere he can to make a buck and hone his skills. On a Monster Energy/Pro Circuit Kawasaki 450, Hill won in South Africa and Sweden before coming to Lille. While he wasn't a podium guy, he wasn't too bad. And Hill did Lille the old-school way and brought suspension, bars, and a pipe for stock Kawasaki KX450, while Tomac and the JGR guys shipped full bikes over. No doubt Hill was down some HP to the top guys.
Malcolm Stewart, fresh off signinga GEICO Honda 250SX ride for 2015, showed up at Bercy on a privateer Seven CRF450R and was also consistent each night—something that proved to be hard to do at Bercy. Tomac won with a total of 4 points, while Barcia, the next guy, had 15, and two more guys after that were almost double of Barcia's score. Stewart was third overall and battled arm pump most of the weekend, but he still had a nice showing. I really think he'll be a championship contender in the 250SX West Region.
Christophe Pourcel showed up on a Bud Racing Kawasaki. We haven't seen CP377 on a supercross track since he crashed out in Bercy on the second day two years ago. He's still got supercross skills and showed them in the first main when he rode great to catch and pass Stewart and take the runner-up spot. It looked like we were in for a real eye-opening weekend from Pourcel.
Unfortunately, he crashed in the next main event and shut it down from there. Pourcel wanted nothing to do with any real racing in the other two main events and simply went through the motions. I'm not the only one who noticed, as @directmotocross tweeted, "Pourcel got a terrible start and didn't seem to be trying at all afterwards," which is true. For a guy looking for an American supercross ride in the 450 Class, it wasn't much of a showing. Come to think of it, he sort of did what he's always done.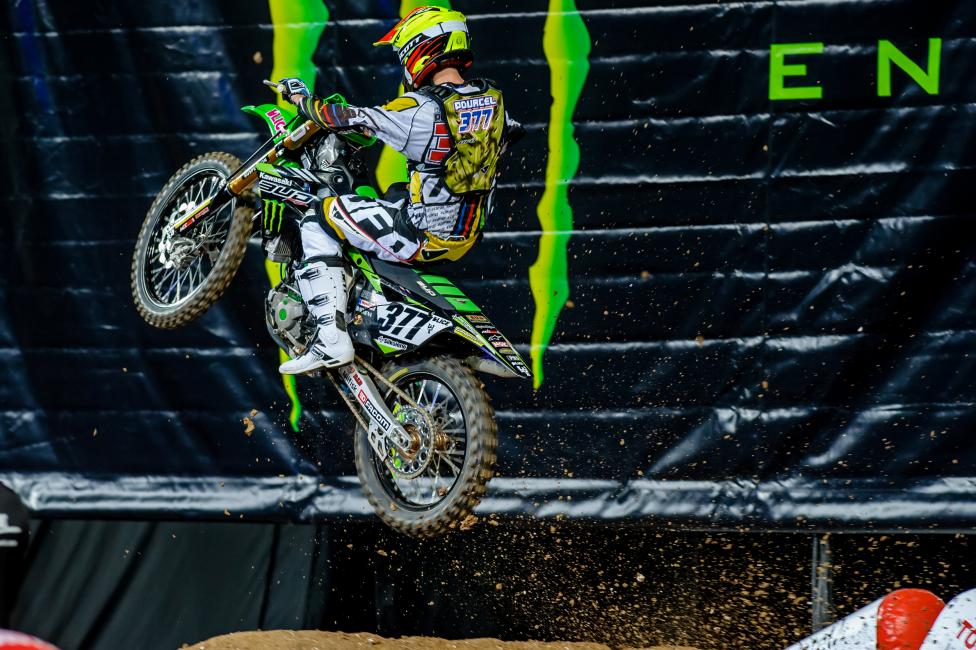 Let's take a look at the results, shall we?
King of Lille Overall Standings
1. Eli Tomac, 1-1-1-1 - Yeah you may have won the MXoN, France, but take this Lille crushing and shove it! Yeah! #merica #thesecolorsdontrun
2. Justin Barcia 8-3-2-2 - Barcia passed Mookie with a yellow flag waving on Saturday and was going to get penalized for it, but Barcia was a bit confused on the rules because there was no riders' meeting. I guess someone gave Mookie a trophy as if he actually got third to try and make him happy? The trophy even said first place on it. Not sure what the deal was, but maybe everyone was happy with the resolution?
3. Malcolm Stewart 3-4-4-5 - Mookie had an issue with his hair all weekend long. As in, the officials didn't like the length of it. I guess as the officials thought it could get caught up in a sprocket or something? Anyway, Mookie had to tuck his hair into his helmet or jersey, and inevitability it would fall out and flow in the wind.
4. Fabien Izoird 10-5-5-6 - Remember Izoird? He filled in at Monster Energy Kawasaki a few years back (he holeshot Toronto and threw a fist pump over the first jump!), and he's a staple at the Euro off-season supercross races. Something got into Fabulous Fabien this year, as he was better than ever. His good starts and speed gave the American guys fits on Sunday afternoon.
5. Josh Hill 6-7-7-8 - I think Hill got a kick out of having to use "Golden Tyres" on his Kawasaki this weekend.
6. Weston Peick 12-11-3-3
7. Jordi Tixier 7-6-6-12 - Tixier's not a great supercross rider. He normally rides 250F and was on his new CLS Kawasaki 450 this weekend. So, yeah, it didn't go real smoothly for him. He missed the Joker Lane in one of Saturday's main events, and then his bike wouldn't start on the line for the fourth and final main event.
8. Dylan Ferrandis 12-5-14-4 - Ferrandis was better than his results indicated and was by far the fastest foreign rider on the weekend, but he couldn't keep it on two wheels. Remember this guy. He rode the Monster Cup pretty well, won the MXoN for France, and now acquitted himself pretty well at a real supercross.
9. Christophe Pourcel 2-14-9-10
10. Cedric Soubeyras 9-8-12-7 - Going off the last couple of years at this race, Soubeyras might have been faster when he was on the KTM 250 two-stroke.
Well, that's it from France, although I'm staying in Europe all week to grab more bear claws. Oh, and I'll meet up with JT (Jason Thomas) in a few days while he races over here. Bonjour, Paris!