IRVINE, Cal. – Factory Beta and Stillwell Performance-backed Cody Webb took the win tonight at a frigid Ford Idaho Center in Nampa. Webb now sits in control with one round remaining in the 2014 GEICO AMA EnduroCross season.
The win (his third of the year) gives GEICO-backed Webb a comfortable 13-point cushion ahead of hard-charging Rockstar/JCRHonda/Lucas Oil's Colton Haaker and 15 points ahead of Factory Red Bull KTM's defending and five-time EnduroCross champion, Taddy Blazusiak. The final round of 2014 will be held in Ontario California on November 22nd and a new champion seems likely.
With Webb's momentum at a high and his laps being ultimately consistent, it's going to take something unpredictable to slow him down. However, as we've seen at almost every race, unpredictability is something EnduroCross has an abundance of.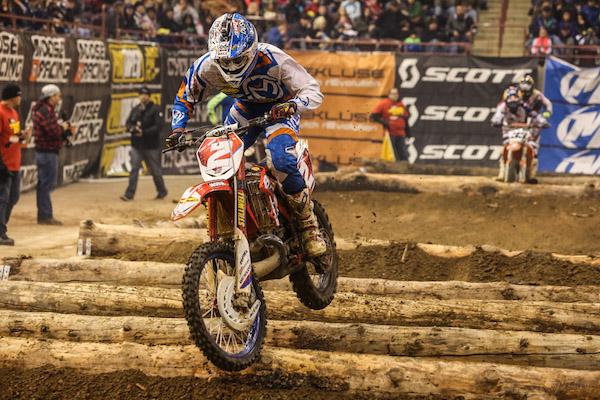 The race tonight in Idaho was no different.
As the gate dropped Christini AWD rider Wally Palmer pushed his two-stroke to the Nexen Tire Holeshot award line and into the early lead. Chaos reigned in the first turn behind Palmer—a 180-degree left—with Webb and Factory FMF/KTM's Taylor Robert squeezing through a wave of riders in second and third respectively. Webb quickly moved around Palmer with Robert following shortly. Meanwhile Cory Graffunder and Geoff Aaron rounded out the top five. Haaker came through the first lap back in sixth with Blazusiak buried in 11th after the mayhem of a start. Fastest hot-lap winner, Husqvarna's Mike Brown, was pushed to the ground in the first turn and came through the first lap in 9th.
After the dust settled for a couple laps it became clear that the Honda of Colton Haaker was not satisfied with being behind. He grabbed two spots by the second lap, moving into fourth, and was in third looking ahead by the third lap. Following a couple spots back was Blazusiak, moving into fourth by lap five. Robert had settled into second in the opening laps, a couple seconds behind Webb every lap.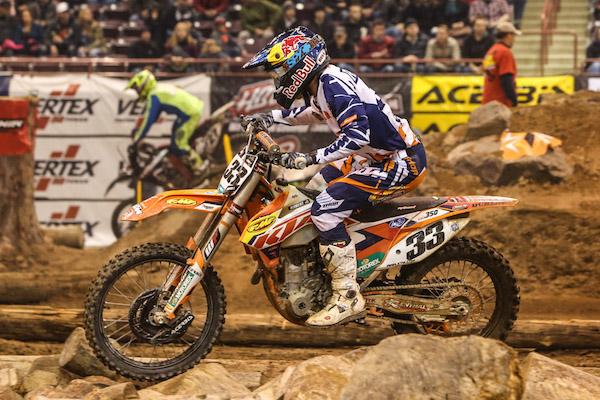 From here, the real mover on the night was Haaker as Webb put down consistent lap-after-lap. Haaker put his head down and passed Robert for second, twice actually (after getting stuck behind a lapped rider), and continued a charge to the lead. At this point, Webb had stretched his advantage to upwards of seven seconds. The near-capacity crowd saw Haaker on-the-move and got behind him with a roar.
Haaker had cut the lead to three seconds with two laps to go and was going all-out into the first woodpile almost alongside the leader in the last corner of the last lap. His attempt was ultimately for not as his Honda hit the deck in the loose wood and his impressive sprint came to an end, yards from the finish.
In the end, it was Webb with the win, Robert getting around the downed Haaker for second and Haaker finishing third.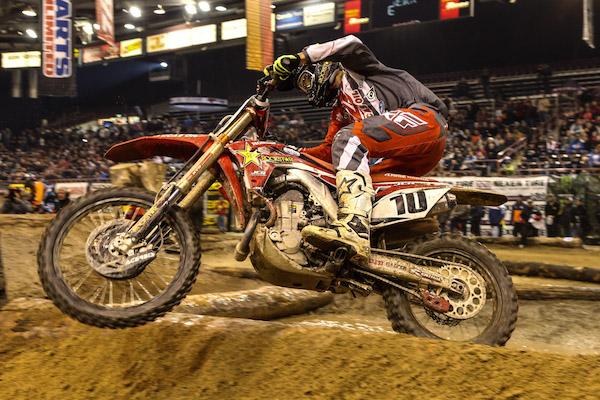 Webb was happy with the win.
"After the start I came out in second and got by Wally pretty quickly," Webb said. "After I got into the lead I wanted to race just like I did in the heat race, do lap-after-lap consistently with nothing crazy and that's what I did. I heard Colton coming on strong there at the end and he was on it. It's hard to push that hard at the end of the race and when he went down I knew it was good for me. I'm happy to get the win in Idaho since I haven't won here before."
Robert was glad to come in second after a crazy start.
"I honestly have no idea how I came out of that so well," Robert said. "I was dabbing on the outside of the turn, fully leaning to the outside about to fall and someone ran into me from the outside and knocked me back upright. I came out third and we (Cody, Colton and I) were able to get up front. Colton got around me and I made a few mistakes that dropped me back a bit. His fall in the nasty firewood let me get a spot back again. I couldn't really see what happened but I think Colton was the fastest guy tonight, he just had to come from behind. It's EnduroCross for you! I want to keep mixing it up with these guys and now that I'm up here I feel great."
Haaker was disappointed after his surge didn't pay off.
"I don't even know what happened on the start but I didn't get a good jump and tangled with a lot of guys that kept me upright," Haaker said. "I came out quite a ways back but got into third pretty quickly, into second, had to re-pass for second after a lapper fell in my line—typical EnduroCross where I lose 10 seconds instantly. From there, I had four or maybe five laps to get to the front and I was giving it everything I had. I thought if I could jump the first firewood pile in front of Webb I would have him and, dang it, EnduroCross' luck of the draw didn't work out for me tonight."
Nampa, Idaho GEICO AMA EnduroCross Expert Main Event results:
1. Cody Webb, Beta
2. Taylor Rober, KTM
3. Colton Haaker, Honda
4. Taddy Blazusiak KTM
5. Cory Graffunder, KTm
6. Max Gerston, Beta
7. Geoff Aaron, KTM
8. Mike Brown, Husqvarna
9. Kyle Redmond, KTM
10. Trystan Hart, KTM
11. Ty Tremaine, KTM
12. Kevin Rookstool, KTM
13. Wally Palmer, Christini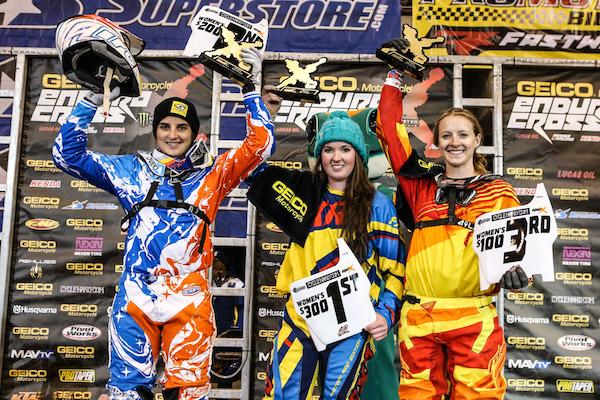 WOMEN'S CLASS The Cyclenano Women's class had the fans in Idaho on their feet as the race win went down to the very last corner, yet again, with Lexi Pechout and her Sherco taking her first win over Husqvarna's Sandra Gomez after Gomez got stuck in the woodpile. Shelby Turner came in third after returning to the series.
"I got a good start compared to the dead-last starts I usually get," Pechout said. "Then, the second log on the course had a huge pile-up where a lot of us had to stop. I saw a spot and went for it, racing in 4th. I saw the spotlight on me after going past Gomez and I thought 'Oh my gosh! I'm in the lead!'"
GEICO AMA EnduroCross Women's Main Event results:
1. Lexi Pechout, Sherco
2. Sandra Gomez, Husqvarna
3. Shelby Turner, KTM
4. Kacy Martinez, KTM
5. Melissa Harten, Gas Gas
6. Rachel Gutish, KTM
7. Chantelle Bykerk, KTM
8. Tarah Geiger, KTM
9. Nicole Bradford, KTM
10. Megan Blackburn, Kawasaki
11. Morgan Tanke, KTM
12. Veronica Whitesell, Beta
MAVTV's AMA Junior EnduroCross Championship (for riders 21 and under) was clinched by FMF/RPM/KTM Team Maxxis' Ty Tremaine on the evening and will be awarded to the young racer at the final round in California.
The final round of GEICO AMA EnduroCross will take over Ontario, California's Citizen's Business Bank Arena for an exciting weekend of EnduroCross action November 21st - 22nd. See the schedule below for all the details and to get tickets to the final round of 2014.
Friday, November 21st
EnduroCross racers can participate in the ever-popular Rookies Class on Friday afternoon. These one-hour, on-track instructional sessions, hosted by EnduroCross racing veteran and DA8 Training front man Destry Abbott, will take racers through a private EnduroCross training session. Abbott, along with guest instructors from the EX Pro class, will provide insight into the challenging obstacles and possibly give away some of their proven racing techniques to attendees.
The EnduroCross Rookies class is now open to any Amateur, Vet, Women's or TrialsCross class riders who have not made a main event as well as first-time racers. Riders can sign up online at https://secure.tracksideonlineresults.com/mmsx_ex/index.asp?event=33&l=1 and select the "Rookie (Beginner) class". Rookies Class participants will meet at Abbott's DA8 Training pit area at 3:00 PM
Also on Friday, EnduroCross promoters will be hosting an un-timed evening practice session for all riders attempting to qualify starting at 5:00 PM.
Saturday, November 22nd
The GEICO AMA EnduroCross Finals schedule gets rolling Saturday morning with a full slate of timed practice sessions, Qualifiers and Last Chance Qualifiers. All classes (Amateur, Trialscross, Vet, EX Pro and Women) will be on the track trying to set fast times and secure a spot into the night show. Practice sessions start at 9:00 AM
Tickets are on sale now at www.EnduroCross.com/buy-tickets/
Ontario, California GEICO EnduroCross Tickets are available at the following local dealers:
For more information, please visit www.EnduroCross.com
If you can't be there in person, use the FMF Live Timing & Scoring to keep up with the action: http://endurocross.escoremx.com/liveresults.asp
The Lucas Oil Productions team will again be producing one-hour shows for the eight AMA EnduroCross events that will air on MAVtv. Check out www.MAVtv.com for more information.
2014 GEICO AMA EnduroCross, fueled by Monster Energy Schedule
May 2, 2014 - Las Vegas, Nevada. Orleans Arena (Friday Night)
June 6, 2014 - Austin, Texas. X Games, Circuit of the America's
June 21, 2014 - Sacramento, California. Sleep Train Arena
August 23, 2014 - Atlanta, Georgia. Gwinnett Center
October 4, 2014 - Denver, Colorado. National Western Complex
October 11, 2014 - Salt Lake City, Utah. Energy Solutions Arena
October 18, 2014 - Everett, Washington. Comcast Arena
November 15, 2014 - Boise, Idaho. Ford Idaho Center
November 22, 2014 - Ontario, California. Citizens Business Bank Arena
For more information, please visit www.EnduroCross.com