GNCC Heads to Ironman for Season Finale
MORGANTOWN, W. Va. - The 2014 AMSOIL Grand National Cross Country Series presented by Maxxis, an AMA National Championship, heads into the final round of racing this Sunday, Oct. 26 with the 20th running of the AMSOIL Ironman GNCC. Held in Crawfordsville, Indiana, Ironman is expected to draw one of the largest crowds of the season with its festival-like atmosphere and pink livery in honor of October's Breast Cancer Awareness Month. With the XC1 Pro and XC2 Pro Lites Championships already wrapped up, round 13 will be less about points and more about pride as a deep field of talent is expected to compete in this year's highly anticipated season finale.
Josh Strang holds all the momentum from last round's victory heading into the finalePhoto: Hill
Recently crowned two-time GNCC National Champion Kailub Russell will once again try his hand in putting an underpowered KTM 150XC two-stroke into the center of the podium this Sunday, despite a highly competitive field equipped with 450-and 350cc four-strokes, as well as higher powered 250cc two-strokes in the XC1 Pro class. While it seems like a feat that couldn't easily be accomplished, Russell nearly pulled it off at the last round after an intense three-hour battle with Rocky Mountain ATV*MC/N-Fab AmPro Yamaha's Josh Strang. However, after a hard-fought come-from-behind performance, Strang prevailed with a big victory for the Yamaha brand, their first of the 2014 season. But perhaps even more important is the confidence boost that Strang has been searching for since his championship-defending season in 2011. The Australian native has thrown his name back into the ring of heavy hitters who will all be looking to claim the final victory of the season, whether it's for pride, points or even to seal the deal on a ride for next season.
Kailub Russell will attempt to put a KTM 150XC into the center of the podium Photo: Hill
One rider who has proven his merit this season is N-Fab/AmPro Yamaha's Jordan Ashburn, who has been a strong podium contender in the second half of the season. Ashburn has put forth one of the most consistent seasons of his pro career, where he currently sits third in the championship standings but the Tennessee native is looking for that first victory before the season is over.
Jordan Ashburn is gunning for his first career victory at the season finale Photo: Hill
In addition to the current heavy hitters and past GNCC Champions, the Ironman GNCC will welcome a full panel of notable riders to the XC1 Pro line this weekend. Previously injured Factory FMF/KTM riders Charlie Mullins and Steward Baylor have proven to be recovered and ready to challenge the front-runners, while XC2 Pro Lites Champion Grant Baylor will make his XC1 debut this Sunday. Additionally, World Enduro Champion and Italian native Alex Salvini will compete in his first-ever GNCC under the JCR/Honda tent, alongside his teammate for the weekend - Icelandic Enduro and Motocross Champion Kari Johnnson. Australian Enduro Champion Daniel Milner will also compete in his second GNCC of the season as N-Fab/AmPro Yamaha's newest addition, adding even more of an international flare to the front row.
Charlie Mullins is back into the swing of things after a double wrist injury earlier in the season Photo: Hill
After sitting out four rounds this season with injury, Mullins made an impressive return to racing last round with a solid fourth place overall. The 2011 champ even led a few laps early on, and is expected to be a big contender this weekend. Additionally, two-time GNCC Champ Paul Whibley will be looking to contest the win aboard his N-Fab/AmPro Yamaha ride. Whibley experienced a few setbacks at the beginning of the season but the New Zealand native has continued to garner strength as the season progresses.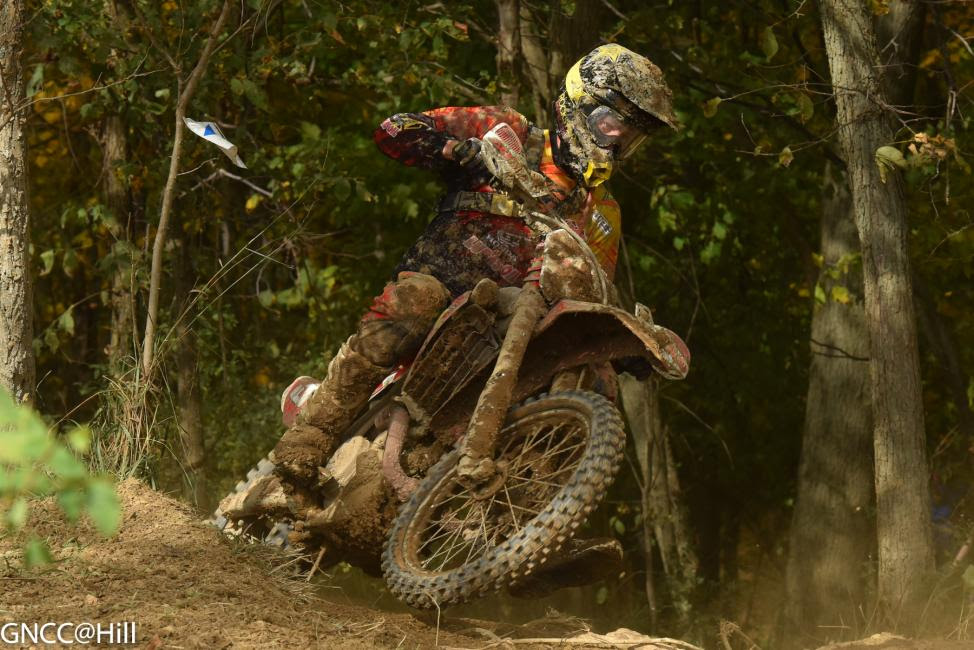 Chris Bach will look to impress the hometown crowd with a podium finish at Ironman Photo: Hill
As an Indiana native, JCR/Honda's Chris Bach heads into the weekend with a home state advantage over the rest of the field. With an all-new team and manufacturer behind him, Bach has put forth a solid effort despite a few unlucky issues along the way. Bach holds eighth place in the championship standings, just behind Factory Husqvarna's Andrew DeLong.
KTM Support rider Grant Baylor wrapped up the XC2 Pro Lites Championship at the last round and will shift his gears to the XC1 Pro class for the season finale, opening up a big spot in the center of the XC2 podium. With Raines Riding University/Atlas Cycles' Ricky Russell out with injury for the rest of the season, riders such as Trevor Bollinger and KR4 Arrive-N-Ride's Nick Davis will look to assume the position. Bollinger and Davis have been consistent podium finishers this season, while RideMPS.com/AMSOIL/Honda's Layne Michael has thrown himself into the mix several times.
After two XC2 Pro Lites championships, Grant Baylor will make the move into XC1Photo: Hill
With the 2014 WXC Championship in hand, Factory FMF/KTM's Kacy Martinez continues to battle for race wins in a highly competitive Women's class. KR4 Arrive-N-Ride's Sarah Baldwin and Brooke Cosner have upped their pace in the final stretch of the season, while N-Fab AmPro Yamaha teammates Becca Sheets and Jessica Patterson continue to battle for podium positions.
GNCC Racing encourages racers and spectators to show their support for Breast Cancer Awareness by dressing in pink all weekend long. The race facility will be adorned in pink, including pink-themed trophies, awards, t-shirts and plaques. Ridepg.com will also sell exclusive GNCC breast cancer awareness race stickers for a minimum $1 donation and pink wristbands will also be sold at the track for a $1 donation. Donations will go to the FAITH Alliance, a non-profit organization dedicated to providing support for those affected by breast cancer-serving as a breast cancer resource for Montgomery County.
Youth bike racing will take place Sunday at 8 a.m., followed by amateurs and Women at 10 a.m., while the top amateurs and pros race at 1 p.m.
Adult (12+) gate admission is $20 for the full weekend and $10 for kids (6-11). Kids five and under are free. Local racers are invited to compete at this event, as GNCC Racing offers classes for riders of all skill and experience levels. The amateur racer entry fee is $40 and riders can sign up at the track.
Tune into RacerTV.com on Saturday at 1 p.m. EST to catch LIVE coverage of the Pro Bike race at round 13. For more information on GNCC Live coverage, visit www.racertv.com.
Stay up-to-date with exclusive content from the AMSOIL GNCC Series by following the series Facebook, Twitter and Instagram.
Previous Round Results
ITP Powerline Park GNCC
St. Clairsville, Ohio
Round 12 of 13
Sunday, October 5
XC1 Event Results:
Josh Strang (YAM)
Kailub Russell (KTM)
Jordan Ashburn (YAM)
Charlie Mullins (KTM)
Steward Baylor Jr. (KTM)
Chris Bach (HON)
Daniel Milner (YAM)
Paul Whibley (YAM)
Takeshi Koikeda (HON)
Andrew Delong (HSQ)
*Overall National Championship Standings:
Kailub Russell (318)
Josh Strang (216)
Jordan Ashburn (208)
Charlie Mullins (198)
Grant Baylor (191)
Paul Whibley (164)
Andrew Delong (160)
Chris Bach (123)
Steward Baylor Jr. (118)
Ricky Russell (117)
*Indicates that the Overall National Championship Standings will determine the 2014 National Champion.
XC2 Event Results:
Grant Baylor (KTM)
Layne Michael (HON)
Nick Davis (KTM)
Scott Grills (KAW)
Trevor Bollinger (HON)
Craig DeLong (HSQ)
Callan May (YAM)
Michael McGinnis (KTM)
Ian Blythe (KTM)
Justin Sode (BET)
XC2 Series Standings:
Grant Baylor (322)
Trevor Bollinger (251)
Ricky Russell (233)
Layne Michael (152)
Callan May (142)
Nick Davis (132)
Sam Evans (125)
Jesse Groemm (119)
Shane Hufford Jr. (114)
Jed Haines (105)