Sam Boyd Stadium
Las Vegas

,

NV
Monster Energy Cup
Monster Energy Cup
By Aaron Hansel and Steve Matthes
Justin Barcia, Toyota/JGR Yamaha, 6-6-16 for Ninth Overall
Long day. It's been a while since I've raced! It started out good in practice; we were feeling good and comfortable. First race I was riding good—I was in third and making some ground on the leaders—but I crashed in a corner and got pretty tight. That wasn't good. In the second race, rode tight. It's tough for me, the team, and Johnny O [Barcia's trainer]; we're all pretty bummed. I haven't had a lot of time on the bike, but in practice I felt pretty good, so we didn't really have a lot to go off of. Clearly, we weren't where we want to be. Everyone's bummed, but this track isn't very good. It's actually terrible, for me anyway. I don't think anyone liked it, except if they had a good night like Trey [Canard] or Davi [Millsaps]. It's not like a normal supercross track, but it's still tough because I had some expectations coming in here.
What were those expectations?
Well, obviously you want to win, but I was thinking we'd be on the podium for sure. With my riding and training, I felt like I could do that, but things just didn't go my way. It's a learning process with the new team and me, but I know it was me today. Everything was good; there's just a learning curve of communicating with them and me learning the lingo. All dirt bikes are different, and there are things you can do to make them do different things. This Yamaha is extremely fast, and on a track like this you really don't need a lot of power. Dean, the motor guy, had an idea of what we should do, but he didn't want to just say, "Hey, this is what you need to do." I mentioned something before the last race, he made an adjustment and it was better. So in that third race the bike felt good—I got a good jump—but then [Dean] Wilson and I came together and I went off the track. I got back on and [Blake] Baggett and I came together and we went down pretty hard. It was just a tough night, and we're all bummed for sure, but we got it out of the way and we know what we need to work on now.
Does it mean anything for next year? You had a good year after winning this race in 2012.
It's a race, no matter how you look at it, and I'm not happy. It was a terrible day, the way I rode. But I'm not going to let it beat me down because I've probably only ridden my dirt bike ten times before this race. Nobody was even sure if I should race or not, but I felt good on press day and I rode good in practice today, but I guess I wasn't ready. But I'm not going to let it weigh on me and set the tone for the rest of the year. We've got a lot of time left to train, and I'm sure I'll get to ride my dirt bike more than ten times before A1! All in all it was a really bad day, but I haven't ridden much and I'm coming off ankle surgery. It is what it is.
How's the ankle?
It held up really good today. I was wary because it still swells up, but it held up really well today. We're going to go home, work hard and regroup. This was just a weird race. – Aaron Hansel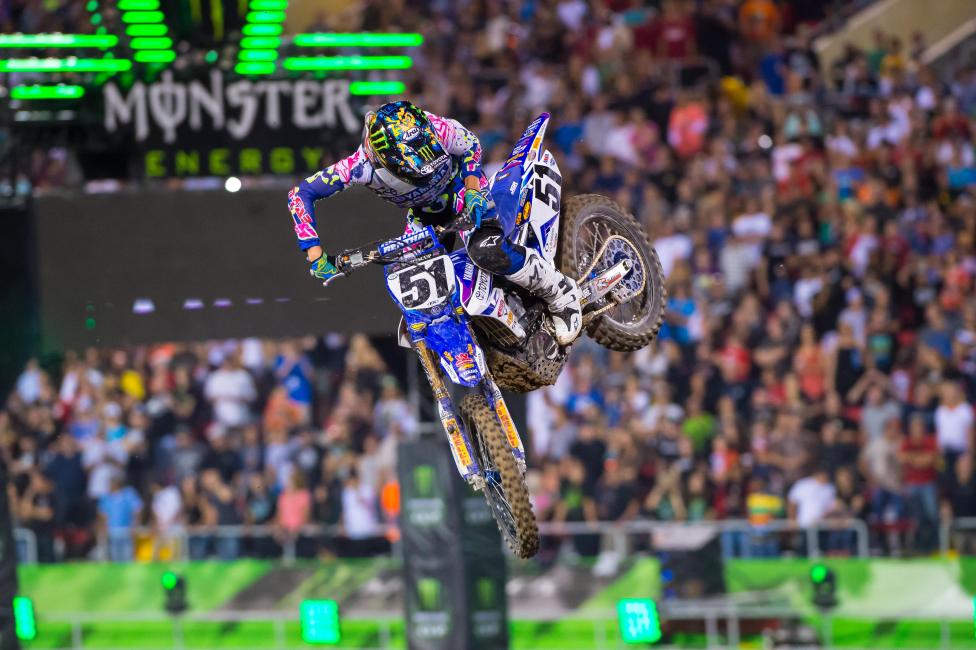 Malcolm Stewart, Seven, 7-9-5 for Fifth Overall
The day was great. We went out for practice and it went well. Then we went out for the first moto and it was a little muddy. They always overwater the track. But other than that it was good, and in the second moto I was doing well by myself until I washed the front-end in a corner. Made a couple mistakes and got shifted back to ninth. I was still happy, but I was upset because I washed it out with two laps to go. In the third moto there was some commotion on the start and that opened the doors up for me and I rode a solid race. I know Trey [Canard] fell behind me; I think he hit my rear tire, but I'm not 100 percent sure. I felt some heat coming, though! I didn't know what was going behind me; I was too busy focusing forward. I didn't mean to do it on purpose. I hope he's not mad at me.
I haven't heard any chatter about it.
I don't know if he thought I brake-checked him or anything, but I'd been hugging that corner all day and it was just a racing incident by both of us. Overall I'm happy, and I'm happy that, with me being a privateer, I was able to beat some of these factory guys. I'm going to keep trucking.
Are you going to be a privateer in 2015?
The way it's looking, yes. No matter if I'm racing an 80, 125, or a 500 like Travis Pastrana, I'm still going to be at A1. I'm not going to sit on the couch because I don't have a ride. I love this sport and I'll be racing no matter what. – Hansel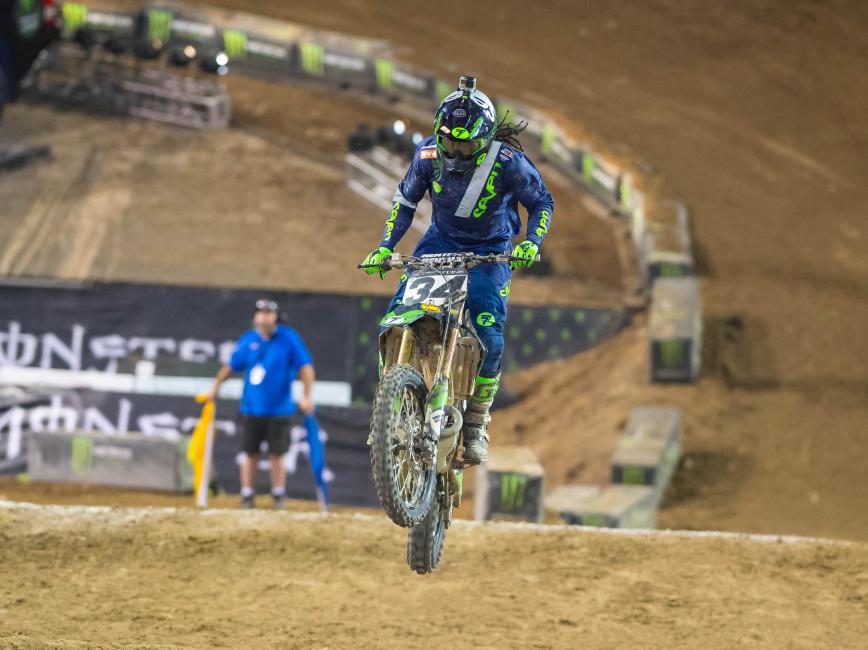 Eli Tomac, GEICO Honda, 4-3-2 for Second Overall
Second overall, and shocking but your starts were so-so tonight. Had to work your way up.
It was my starts. I was in decent positions, but honestly the top four or five of us were pretty darn close on speed. It was just tough to catch anyone anywhere. One thing that [Justin] Hill and [Davi] Millsaps were doing different was in the sand they were getting a triple. But Trey [Canard] wasn't ever doing it and he won the first two motos, so obviously it wasn't a whole lot. It was just tough to really make a lot of time up. But overall, happy on my bike, happy on how I felt. In a pretty good spot going into…[supercross] I guess.
I talked to some different guys and I got some different answers. Was one side of the gate better for you than the other?
I almost crashed in the first moto. Me and [Chad] Reed got together. That was on the right side, so that wasn't good for me. The left side spun to the moon. The pads were terrible in the back. No excuses, though, I just got beat there. If you were first or second, you had the position, which was good, but then after that some pads were good, some pads were junk. That's what separated the guys. I actually thought if you could get a good jump, the right side was better because the way the last moto worked I came out in second. Honestly, if I wouldn't have went deep down the straightaway, I think I could have almost squared Davi up, because he went in a little bit hot, too, but so did I. I was right there, but I just wasn't quite close enough.
Three ten-lappers and a Joker Lane. Could we take any of this to supercross? Would you like any of it? Do you think it's cool or is it all dumb?
I enjoy it. I know if I got starts I wouldn't mind it. I think it should stay a one-off race. It's really cool for one race. Maybe if you did a whole series it would get a little bit funky, so I'd say keep it for one race. Joker Lane's cool too. – Steve Matthes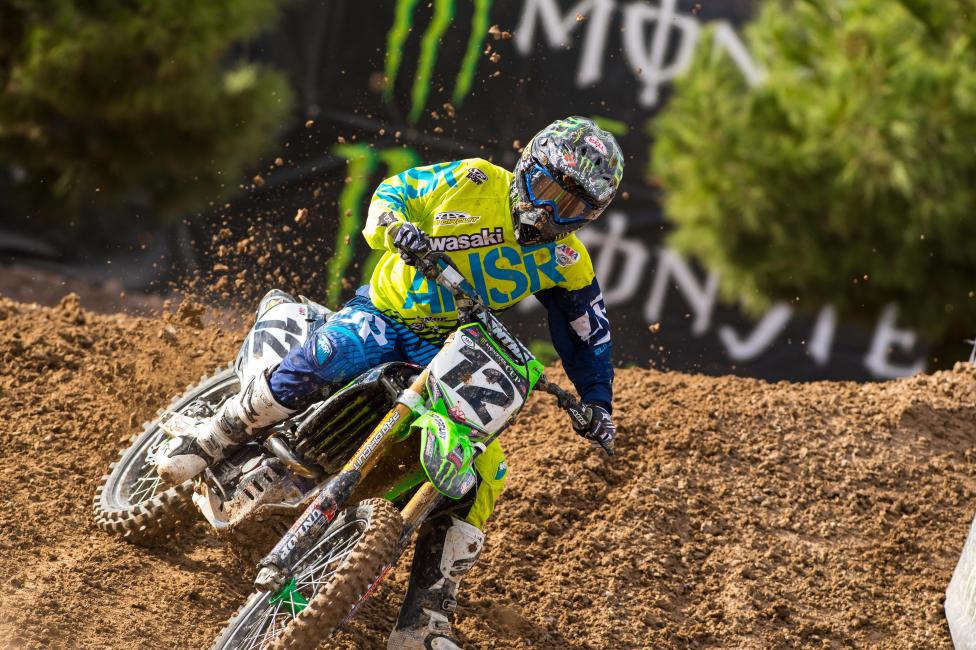 Jake Weimer, Monster Energy/Pro Circuit Kawasaki 10-10-6 for Eighth Overall
I was just talking to Mitch Payton. It's really cool; you rode for him, you won races, and won a title for him. Let's face it, you don't have much going on and he steps up and gives you a bike and a team. That's kind of cool.
It was really cool. Obviously he didn't have to do that for me. I went in and talked to him three or four weeks ago or whatever, and he said that he'd help me out. I'm thankful for that. I had an awesome bike tonight.
Good third moto.
Not bad. I actually felt like I rode halfway decent all day, just spun every single time off the gate, so that is frustrating. But I felt comfortable on the bike. I had fun and enjoyed it. It seemed like I got better and better every time I was out there so it was fun.
Wasn't much to separate the guys on the track, and if you didn't qualify that well, you didn't get a great gate pick, and therefore hard to make up time.
It was tough. The first two motos I was buried off the start. And I actually made some passes and passed some legitimate dudes.
You're legitimate.
Some might argue that.
Mitch let you keep your gear tonight.
That's what's cool about Mitch. He told me, "I'm helping you because I want to help you, so this is for you." All of my stuff that I wore is still under contract and whatnot, so I didn't really have much of a choice. I knew he was going to help me with a bike, but I'm like, "I don't know where I'm going to put the bike." He was like, "You're going to put it under the truck and show up." – Matthes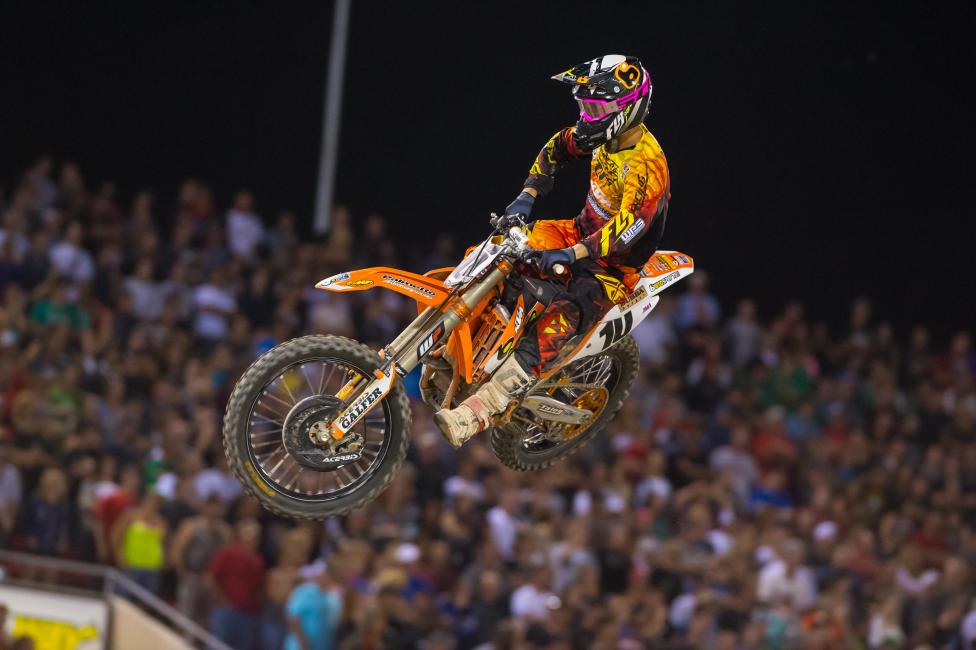 Justin Brayton, BTOSports.com KTM 17-17-7 for Thirteenth Overall
Your debut race. I don't know if Straight Rhythm's a race…your second race for the BTO Sports KTM team. Not a great night for you. It seemed like if you didn't qualify good, you didn't maybe get a good gate pick and then you didn't get a good start, so on and so forth. Probably not a lot out there to separate anybody.
You absolutely hit the nail on the head. Didn't qualify that well. The times were so close. If you look at the times, it's crazy how close they were. So bad gate pick, bad start, bad finishes. The last one I had [was] an okay finish. But me and the Monster Cup do not get along. If you look at my results, it's bad. To be completely honest, I'm not a big fan of this race, but it's a race and it's cool to be around the whole team. They were super cool, super positive. I think that's what we learned from here. We got to spend some time together and be ready for Anaheim.
Here's a question I've been asking a few guys: Joker Lane, three ten-lappers, anything that we can carry to supercross?
I think so. I'm not a huge fan of the Joker Lane, but I do think switching up the schedule because some guys are good sprinters, some guys are super fit. I think to kind of bring the best out in everybody would be cool. Like when I raced in Australia, every weekend was different. I thought it was pretty cool. It was something different. It's going to take probably a lot for them to change it up. It seems like every other sport, like now NASCAR's doing the knockout thing kind of like playoffs. – Matthes