Sam Boyd Stadium
Las Vegas

,

NV
Monster Energy Cup
Monster Energy Cup
With James Stewart, Ken Roczen, and Ryan Villopoto all out for the Monster Energy Cup, it was anyone's game this year in Sam Boyd Stadium. But even so, nobody expected Monster Energy Kawasaki's Davi Millsaps to come out and win the thing. After all, he'd been on the sidelines with various injuries for a year and a half, missing two seasons of Lucas Oil Pro Motocross and one season of Monster Energy Supercross. Jumping back into racing and winning immediately after being gone that long just doesn't happen! But it did, and Racer X was there to get Millsaps' reaction before he'd even gone back to his pits.
Racer X: Wow, how does it feel?
Davi Millsaps: Man, it's pretty amazing to come here and get a win! I don't think it was expected by anyone, not even my team or myself. I was just coming out here to get my feet wet again and just get a gauge for A1. But as the motos started going on, I started feeling better, like myself again. I was able to do it and it was pretty cool.
What was going through your mind in that last race?
Obviously Trey [Canard] had a million dollars on his mind, and I don't blame him. The mistakes that he made were just showing how bad he wanted that million and the win. But for me it was just about riding smooth, consistent, and fast at the same time. I think I accomplished that in the last moto. I felt really loose; the first two times I tightened up in the beginning and stayed tight until the end. I was a lot more comfortable in the third one.
Is this the biggest payday of your career?
No, but close! $100,000 in my bank account is extremely helpful. We don't make that much riding dirt bikes, so to get any kind of money is very much appreciated.
Did you know that Trey Canard had gone down?
I actually thought that he'd hit the Joker Lane. I thought he maybe was getting frustrated trying to pass or was over-riding the track and just took the Joker Lane because I saw [Eli] Tomac behind me, but then I didn't see him [Canard] on the board. When you come down Monster Alley you can see the board and he wasn't on there, so at that point I knew that he'd gone down. But I still had no clue that I was in a position to win the overall. So I'm pumped!
At what point did you realize you'd won?
When they told me up on the podium afterward! But Trey rode awesome tonight; you can't take anything away from him. He was really on his A game and he was stepping it up. It's so fun to race against him—he's clean and you know he'll run it in on you if he has to, but all in all he's one of the more fun guys to race against for sure.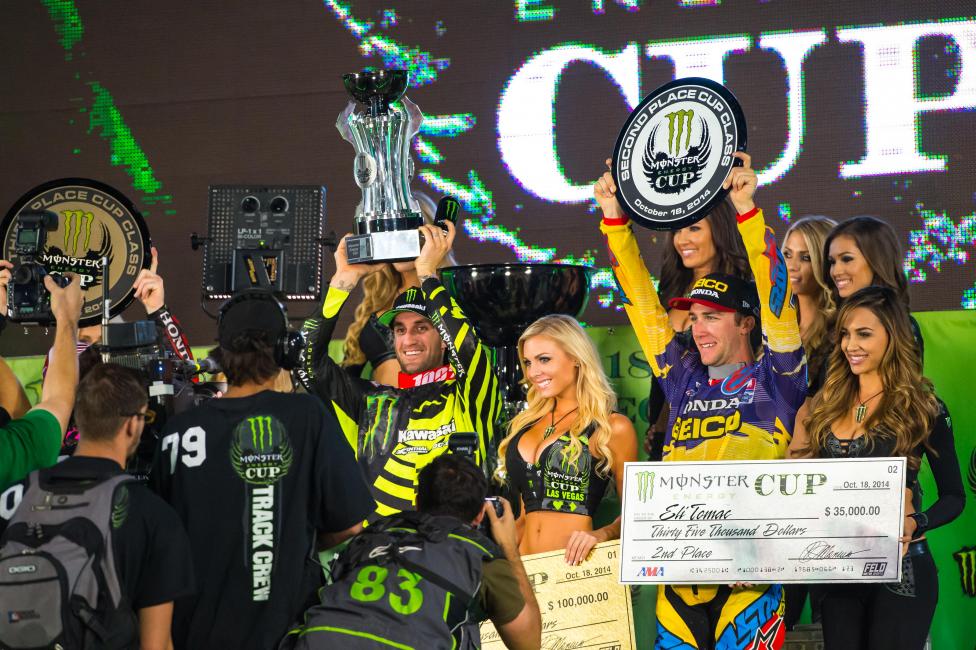 What does this win mean for 2015?
It's definitely confidence and motivation for A1, but this is a totally different track than what we'll race on at A1. Knowing that I can come here and win, it's pretty amazing, and now I can use this and just build and build all the way to A1. Hopefully I can do the same thing there!
It looked like A1 2013 out there a few times with you and Canard!
Yeah, that was actually at the back of my mind, it was just like Anaheim!
Congratulations on the win.
Thank you!