Matt Moss, Gavin Faith Complete Sweeps at Phillip Island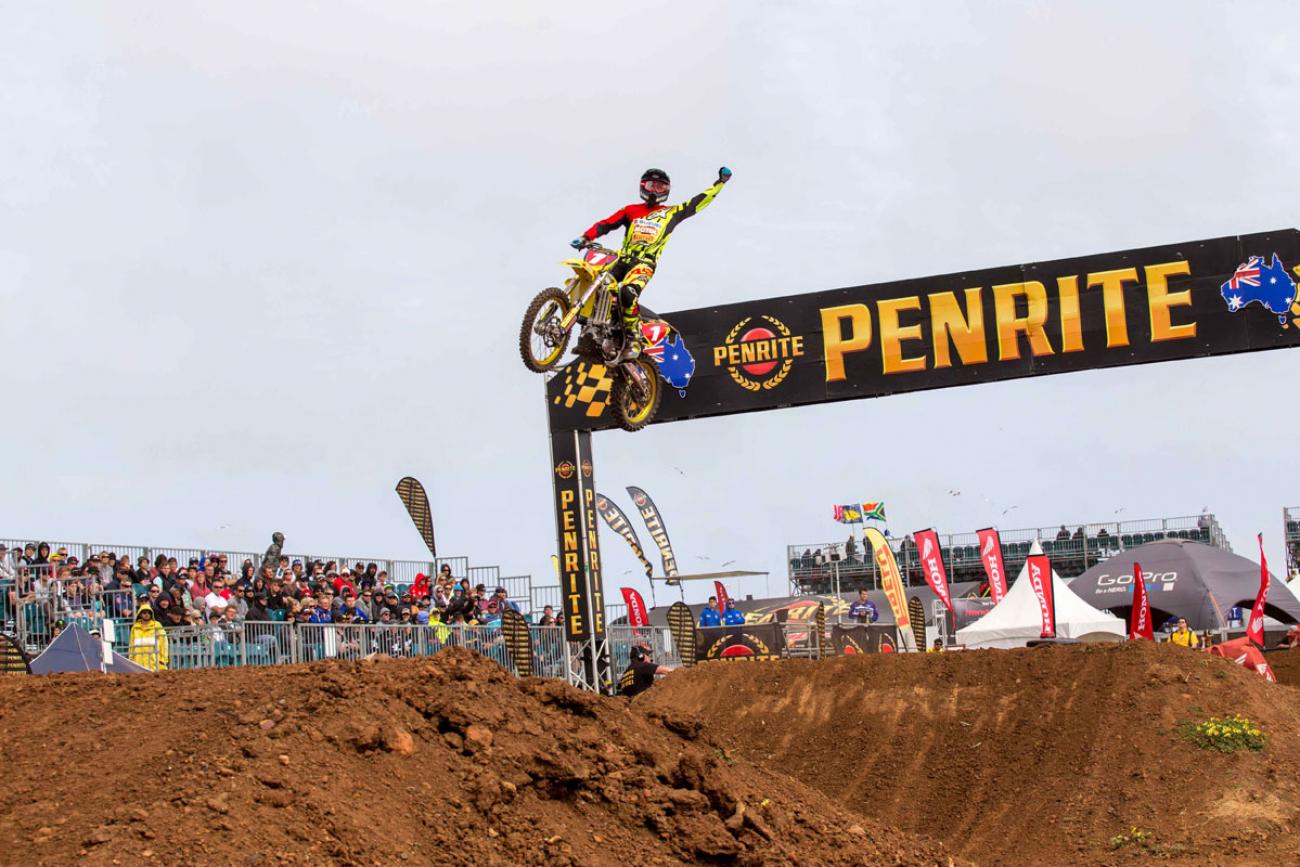 Motul Suzuki's Matt Moss keep his perfect start to the season alive last night on night two of the double-header at Phillip Island. The defending SX1 champion has won four straight to begin the 2014 Australian Supercross Championship. Jay Marmont and Kirk Gibbs would round out the podium. Moss now holds a twenty-two-point lead over Lawson Bopping through four rounds.
In SX2, American Gavin Faith extended his points lead with his second win in as many nights. It was Faith's third straight victory. Australians Taylor Potter and Hayden Mellross would finish second and third, respectively. Faith holds an eighteen point lead over fellow American Kyle Peters.
Our friends at MotoOnline.com.au have the full recap below.
Current Penrite Australian Supercross Champion Matt Moss has maintained his perfect season during Phillip Island's fourth round today, overcoming a disastrous double DNF in the heat races to win his fourth main event of the season.
The Team Motul Suzuki rider suffered a rare chain derailment in the first heat before it broke in the second, but he bounced back in the 20-lap main event to take victory by 4.554 seconds.
Moss won ahead of former champion Jay Marmont (Penrite Honda), who continued his upswing of form at the Island with a second podium, and Kirk Gibbs (KTM Motocross Racing Team) was comfortably in third.
Saturday podium placer Lawson Bopping (Team Motul Suzuki) had to settle for fourth today, one position ahead of Adam Monea (NPS Monster Energy Kawasaki), and the pair are now tied for second in the series – 22 points behind Moss.
Sixth place was the result for Jesse Dobson (KTM Motocross Racing Team) the second day in a row, as Kade Mosig (DPH Motorsport Yamaha), American Keith Tucker (Penrite Honda), Josh Cachia (Husqvarna Motocross Racing Team) and privateer James Booth-Elliott (Suzuki) completed the top 10.
Second NPS Monster Energy Kawasaki pilot Jake Moss had another disastrous day, ruled out of the race after a first-turn crash that also took involved Cachia, Mosig and more.
In the SX2 division American Gavin Faith (Penrite Honda) extended his lead with a third-straight win, by 8.889s over Australian rising stars Taylor Potter (Boardstix Motorsport Honda) and Hayden Mellross (Raceline Suzuki) in a popular podium.
Wilson MX Honda guest Kyle Peters was off the podium on Saturday, but still rode good enough for fourth, and retains second in the title chase 18 in arrears of Faith. Fifth was Luke Arbon (SD3 Husqvarna), edging out Saturday podium scorer Kale Makeham (Tunetech Racing KTM).
The SXD category was today won by Jack Simpson (Davey Motorsports KTM) by virtue of his final race victory, edging out races one and two winner Dylan Wills (KTM Newcastle) and Trent Wheatley (Penrite Honda) on the podium.
Simpson now leads the title over Wills, while previous red plate holder Brock McLeary (KTM Newcastle) has been demoted to third after finishing fifth today.
The Junior Lites class was again won by Jordan Hill (Yamaha Junior Racing) with 2-1-1 results in round four, followed by race one winner Lachlan Holroyd (Yamaha) and Travis Silk (KTM) – the trio also occupying the top three in the standings.
The series will now heat to the Brisbane Entertainment Centre on 8 November for the final stop of the five-round calendar.
2014 Penrite Australian Supercross Championship
Round four – Phillip Island, VIC
SX1 main event results:
1. Matt MOSS
2. Jay MARMONT
3. Kirk GIBBS
4. Lawson BOPPING
5. Adam MONEA
6. Jesse DOBSON
7. Kade MOSIG
8. Keith TUCKER
9. Josh CACHIA
10. James BOOTH-ELLIOT
11. Joel NEWTON
12. Justin CARAFA
13. Chris CAMILLERI
14. Kieren TISDALE
15. Jake MOSS
SX1 championship standings:
1 Matt MOSS 140
2 Lawson BOPPING 118
3 Adam MONEA 118
4 Kirk GIBBS 114
5 Jay MARMONT 104
6 Jesse DOBSON 95
7 Kade MOSIG 89
8 Josh CACHIA 88
9 Justin CARAFA 78
10 Sam MARTIN 74
11 Jake MOSS 68
12 Chris CAMILLERI 66
13 Kieren TISDALE 56
14 James BOOTH-ELLIOT 43
15 Keith TUCKER 42
16 Daniel McCOY 42
17 Joel NEWTON 36
18 Tim VARE 35
SX2 main event results:
1. Gavin FAITH
2. Taylor POTTER
3. Hayden MELLROSS
4. Kyle PETERS
5. Luke ARBON
6. Kale MAKEHAM
7. Ryan MARMONT
8. Brendan HARRISON
9. Jackson RICHARDSON
10. Dylan LONG
11. John PRUTTI
12. Luke WILSON
13. Geran STAPLETON
14. Tristan DUNCAN
15. Jake WILLIAMS
16. Boyd HOCKING
SX2 championship standings:
1. Gavin FAITH 135
2. Kyle PETERS 117
3. Brendan HARRISON 112
4. Taylor POTTER 109
5. Hayden MELLROSS 107
6. Kale MAKEHAM 104
7. Jackson RICHARDSON 96
8. Luke ARBON 95
9. Ryan MARMONT 93
10. Luke WILSON 77
11. Geran STAPLETON 77
12. John PRUTTI 73
13. Boyd HOCKING 62
14. Tristan DUNCAN 60
15. Jake WILLIAMS 58
16. Jake VELLA 50
17. Dylan LONG 43
18. Nick SUTHERLAND 43
19. Lewis WOODS 26
20. Tristan CACHIA 15
SXD overall results:
1. Jack SIMPSON 97
2. Dylan WILLS 96
3. Trent WHEATLEY 92
4. Tomas RAVENHORST 82
5. Brock McLEARY 76
6. Aaron TANTI 55
7. Izak MAULE 53
8. Tim O'BRIEN 48
SXD championship standings:
1. Jack SIMPSON 377
2. Dylan WILLS 373
3. Brock McLEARY 361
4. Tomas RAVENHORST 334
5. Aaron TANTI 308
6. Izak MAULE 304
7. Trent WHEATLEY 290
8. Blake SOLA 119
9. Tim O'BRIEN 118
Junior Lites overall results:
1. Jordan HILL 102
2. Lachlan HOLROYD 99
3. Travis SILK 88
4. Dylan DUKES 83
5. Drew CIGLIANO 80
6. Joel CIGLIANO 76
7. Bradley CAIN 72
8. Dylan WAKARTSCHUK 69
Junior Lites championship standings:
1. Jordan HILL 408
2. Lachlan HOLROYD 375
3. Travis SILK 354
4. Dylan DUKES 352
5. Drew CIGLIANO 303
6. Joel CIGLIANO 297
7. Kaleb GROTHUES 158
8. Bradley CAIN 144
9. Jimmy GRIFFIN 76
10. Dylan WAKARTSCHUK 69