Kegums, Latvia
Motocross of Nations
Motocross of Nations
For the second consecutive year, Minnesota native Alex Martin has represented Team Puerto Rico at the Motocross of Nations (yes, it's weird as he explains below). Behind Martin and 2014 CycleTrader.com/Rock River Yamaha teammate Ben LaMay, Puerto Rico made the A Final for the first time since 2010, when Kyle Regal and Zach Osborne led the team to a seventh-overall finish. Having to balance rooting for Team USA (his home country) and the team he is riding for (Puerto Rico) can be tough—especially when your younger brother is representing Team USA—as Martin explains. We caught up with Martin earlier today as he was trying to track down some lost luggage.
Racer X: This is the second year in a row that you've represented your "home country," and this year you made it into the A Final for the first time since 2010.
Alex Martin: Yeah, home country. [Laughs] With the performance we had in Germany in 2013, I was kind of on a mission to come back and prove to the people and to myself that we could get it into the show and have a good performance. I think we did that for the most part. Saturday was probably my highlight of the weekend. I got seventh in the MX2 quailifer and ran up in the top three for four or five laps. I had some good speed and the Bike it Yamaha Cosworth was really fast, so I was excited to be on a quick bike. Ben LaMay had some tough luck in his qualifier and finished nineteenth, so we really needed to perform going into my qualifier to get us into the main on Sunday. A little bit of pressure, but it ended up working out okay. I had some bad luck on Sunday and had a first-turn crash and was down for nearly a minute because they wouldn't let me up until they were sure I wasn't going to be able to get up on my own. Ben had another flat tire—a front one—so that affected our overall score. As a team, we were thirteenth overall, and his flat tire moved us down a bit. All in all, it was a great experience and a great opportunity and exciting to check out another country and looking forward to maybe doing it again if I have the chance.
The Puerto Rico team brings some confusion for fans. Explain how a kid from Minnesota ends up riding for the team?
Yeah, I get people commenting on my Instagram and Facebook all the time asking, "How can you ride for Puerto Rico?" I used to be the same way, actually, when [Zach] Osborne was riding. I was like, "How does he get to do that?" But, it's pretty simple, actually. Puerto Rico is a U.S. territory, and that allows them to pick two U.S. riders to represent the country. The third guy has to be a Puerto Rican, though. Obviously that affects our overall scores a little bit, but as far as getting into the main show, it's up to myself and the other U.S. rider. With LaMay being from Alaska and me being from Minnesota, it does seem kind of weird, but they are a U.S. territory and then can pick two guys.
I'm sure growing up you had dreams of riding for the U.S. How different is it riding for Puerto Rico?
Well, I think the main thing is that it's a great opportunity to go over and race in a different country. It's a little bit of a weird feeling because Team USA is there and they are the main guys and you are kind of cheering for them in the back of your mind. We're kind of, I don't know if you want to call us the B team…but we get the opportunity to go over there, so why not take it and race against some different names and different countries? The main dream growing up is to ride for Team USA, but this is a great opportunity.
I'm sure it was even more difficult with your brother Jeremy riding for Team USA. Was it tough to root for yourself and your team, but also for him as well?
On Saturday, I was definitely just rooting for myself, and that's it. [Laughs] Because Saturday is every man for himself in the MX2 qualifier and you're just racing against 250s that day. I was ahead of him for the majority of the race. He had passed me two or three laps before he had his spectacular get-off. But the big brother was ahead of little brother for the majority of the race, putting it to him. [Laughs] Sunday is a little bit of a different story because that's more of the team deal. I was definitely rooting for him, but probably more concerned than anything. I knew how bad his foot was. They were trying to keep it under wraps with how bad it was, but he had two broken toes and he couldn't get his shoe on; he couldn't get his foot in his boot. They really had to numb him up quite a bit so he could race, so I was concerned for his health and his safety. I was actually very impressed he was able to ride as fast as he did with his injury.
The running joke was: If Jeremy wasn't able to ride, would you have stepped in and would anyone have noticed?
That actually crossed my mind a little bit. And people were talking about it as well. Someone had told me at Friday at 6:30 they have a meeting or something and after that you can't pick another rider. So kind of in a tight spot there.
How tough was it to watch him struggle with the injury and Team USA as well? As you said, you're kind of rooting for them as well.
It's amazing to me just to see how big the entourage is for Team USA. There is so many people that come over, and I think it's tough on the riders because there is so much pressure. Just hanging out with Jeremy and seeing the way he was acting throughout the weekend, you could tell he definitely had a lot of pressure on his shoulders and was stressed out. For Team USA, if you're not first you're last. I think Ryan [Dungey] did a good job making it fun for those guys and making sure they had fun. I just think there is so much pressure on those guys that it's hard for them to ride like they do over here.
A lot of people say the travel is tough; the change in food is difficult. This is your second year going to Europe to race. What are some of the challenges going over there?
The travel definitely comes into effect. You are flying fourteen hours or whatever it is—depending on how many layovers you have. The food, I think, is better over there. It's easier to find healthier food. You don't necessarily know what it is, but it is healthier. [Laughs] The one thing that was weird is that they didn't have breakfast over there. We were trying to get some one morning and everything was closed. Alpinestars has a great setup and serve breakfast, lunch, and dinner to Team USA. I was able to get in on that this year.
Not many Americans probably know much about Latvia. How was the experience over there?
I was reading up on the history of Riga and stuff before I went over trying to find somewhere cool to go, and to be honest I couldn't find much. It's an old city, but it wasn't like we were in France and going to Paris, or in Germany and going to Berlin. Latvia was exactly a hotspot for a tourist place. We stayed after on Monday, and went and saw some cool stuff, though.
Let's transition to next year. October is when most announcements for next year are made. No official announcement for you yet, but do you have a feeling of where you are going next year?
I have a pretty good idea of where I'll be and where I'll end up, I just can't say yet. It looks like I'll kind of be staying in the same program and same people, but just changing up a little bit. They want to do West Coast this year and then outdoors on a 250, as well. That's a little bit different for me; I haven't raced West Coast since my first year in 2009. But I'm looking forward to it.
Really no rest for you, either. You went from outdoors to des Nations, and now supercross is about three months away. How much does des Nations affect off-season training and will you go straight into training?
I really can't take any time off. With East Coast, you're maybe able to take a month off or something because you don't race until mid-February. Now that I'm doing West that is right away in January, and then you have Monster Cup coming up and the team wants me to race that [on a 450]. I'm finding out that you really can't take much time off if you want to be competitive.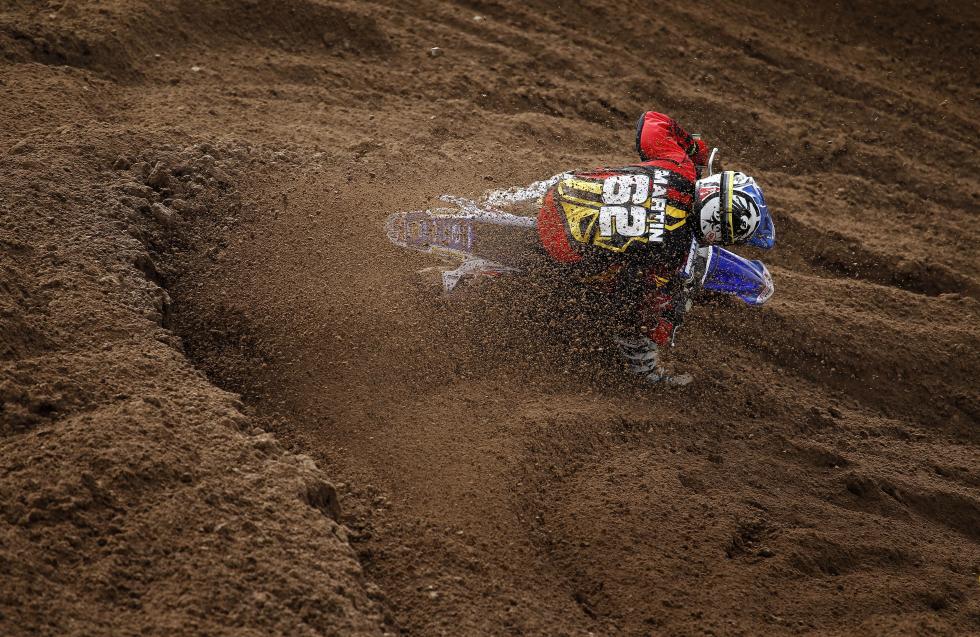 Speak to the wear and tear of what twelve months of hardcore training does? How do you not burnout?
For me, I just try to find the positive things in life. Why I'm doing this and just live a healthy lifestyle, so I'm not getting too burnt out. Because if you feel good your body feels good and that allows you to be happy. Staying injury free is a big deal as well. It's not like any other sport. When you're doing it twelve months out of the year you have to be focused and motivated.
Last year was a consistent year for you. Does that change your mentality coming into 2015?
For me, it was a good, solid year. I think I'm capable of a lot more. I expect a lot more out of myself. I don't just want to be a top-ten guy. I knew that before Jeremy's success, but with him having a lot of success this year, it just really, really makes me want to get further up. Really going to take 2014 as a building year and go into next year confident.
Are you able to feed off Jeremy's success?
I think a little bit. At the same time I'm just trying to focus on my program. Some people may be like, "Jeremy can be successful; why can't the older brother?" It's not that easy. I could live with him, and eat and sleep, and do everything the same as him, I'm still not going to get the same results. It's just not that easy. I know what he's doing to make himself successful, and I'm trying my hardest to do the same. But it's a long road.