By Chase Stallo and Jason Weigandt
Leading up to the 2014 Motocross of Nations, the French Motorcycle Federation (FFM) was heavily criticized for their selection of Gautier Paulin, Steven Frossard, and Dylan Ferrandis. With former world champions Marvin Musquin and Christophe Pourcel left off, and eventual 2014 MX2 World Champion Jordi Tixier also not selected, the FFM came under fire from a number of people including David Vuillemin, who was a member of the 2001 winning French team. It's also a little strange, or coincidental, that all three French selections—Paulin, Frossard, Ferrandis—are Kawasaki riders. Well, question them no more. Led by Paulin's 1-1 performance, France won the event for just the second time in their history, and the criticism was not lost on Paulin. "Sometimes people speak shit about us and the selection. We show everyone that we are the team leader," he said on MXGP-TV.com following the race. Vuillemin tweeted during the race: "After 2 laps, it's over... Engrave "France" on the trophy guys... I couldn't have been more wrong about this before the race! Hahaha" Don't worry, David, we were all wrong!
The Motocross of Nations is unique in that it allows riders that typically compete on 450s to drop down and help their team on a 250F. The most notable name this year was Italy's Antonio Cairoli. The eight-time world champion had won two straight times in the MX1 Class (Germany and Belgium), and was again one of the fastest riders on the track… on a 250. Italy was hopeful of a second straight podium, as Cairoli charged to the front in Race 1 (MXGP + MX2). But a big crash left him clutching his knee and Italy hanging by a thread for the podium. "I was the one who always has to try and pull the pin. I was feeling great and not getting tired. I was pushing and pushing," he told Racer X's Adam Wheeler following the race. "I was close to [Max] Nagl and had some roost coming up to the last tabletop before the waves. I didn't go for a tear-off and my vision was not so clear. I went into the ruts and I hit one with my left foot and it took it away from the pegs. I tried to save it and almost did but then came up to the next wave and started to fly." Cairoli returned for Race 2 (MX2 + Open) but was in noticeable pain and finished nineteenth. Italy finished sixth overall.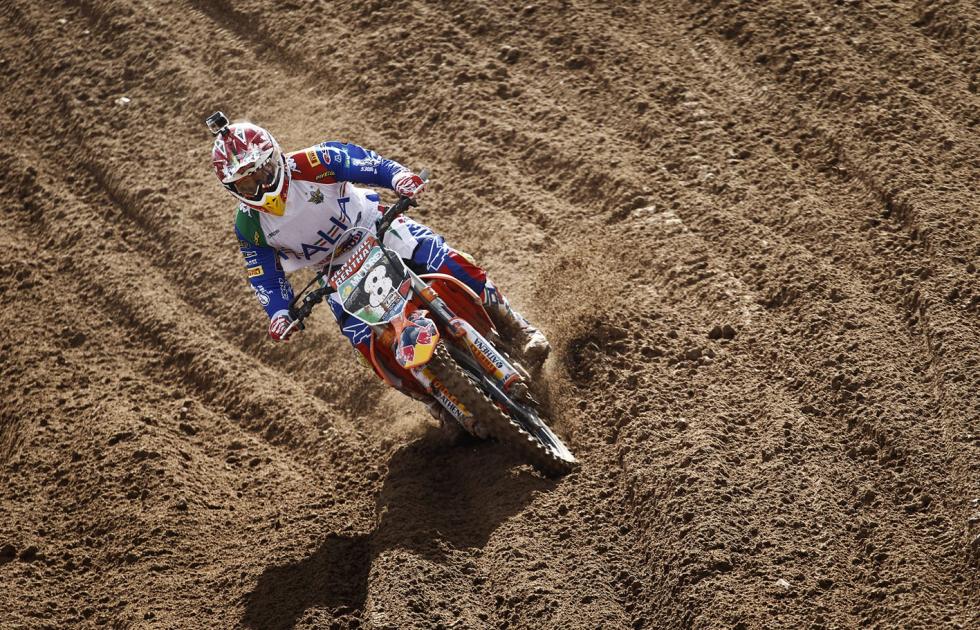 With Cairoli out, Great Britain's Tommy Searle, who also dropped down to the 250, led the charge in MX2. Searle, who struggled with injuries in MXGP this season, was fantastic in his first ride on a 250 at the 'Nations since 2009. Coupled with Dean Wilson's 3-5 performances, Great Britain was primed for their first podium since 1997 before Shaun Simpson's chain snapped in Race 3 (MXGP + Open). "It's just super unfortunate. Everyone's pretty just bummed out," Wilson told Racer X's Steve Matthes after the race. Simpson added: "Take my hat off to Dean and Tommy, they done a great job; they really did. Held the team strong, and it's just a shame that with this little bit of bad luck, tying on points I think even makes it worse. We'll always be back to give it a shot again next year."
Although they were without the services of Clement Desalle and Ken De Dycker, who raced for last year's victorious team but were out with injuries this year, Belgium made a valiant run at their second straight Chamberlain Trophy. Kevin Strijbos, who replaced De Dycker in the Open class, put the Belgians in contention with a win in Race 2, following a fourth from Jeremy Van Horebeek in Race 1 . "The first race felt pretty easy. I pushed in the beginning but then had some arm-pump and had to slow but I was still ahead of Frossard," Strijbos said in a Rockstar Energy press release. "It felt like being at the front of a GP, but the fans were amazing. It was a great feeling actually." Belgium's hopes hinged much on MX2 entrant Julien Lieber, who was a rookie at the event and finished only eleventh in this year's MX2 championship. Lieber finished fifteenth in his first moto and took eleventh in moto two. Trailing France by 10 points entering the final race, Belgium needed everything to fall their way. After Strijbos got off to a bad start, and Gautier Paulin and Steven Frossard were up front for France, things went from bad to worse when Strijbos stalled his bike and then crashed. "I didn't have a great start in the second moto and came back to eighth but then stalled the bike, then crashed," he said. "My leg was stuck under the bike and I lost many positions. To come back to ninth was really good and I was happy with my speed and my ride…just not with the second place!" Belgium would finish second overall behind France.
We told you before the start of the 'Nations to keep your eye on Tanel Leok—the one man wrecking crew from Estonia. Well, Leok's impressive run at the Motocross of Nations continued in Latvia as he led Estonia to their fourth straight top-ten finish. With his 7-7 performances in the Open class, Leok now has five top-tens in the last six motos at the 'Nations.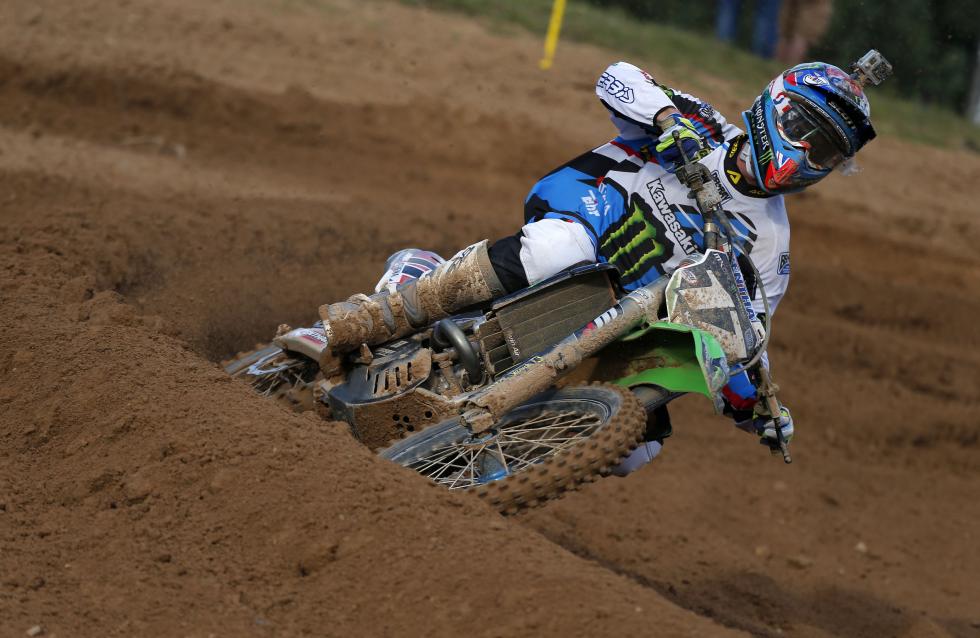 Canada has produced its fair share of talented riders over the years, but the nation is still lacking a breakout performance on the MXoN stage. After a few on and off years merely battling in the B final (for teams outside of the overall top twenty in qualifying), the Maple Leaf was firmly into the A mains this time, and finished seventeenth. "Everything was awesome this year; Gualdy [Ryan Gauld] has been working his butt off to get this program to where it needs to be," said Colton Facciotti, Canada's MX1 National Champion to our (fellow Canadian) Steve Matthes. "Couldn't be happier with the team and how everybody rode. The results don't really show our speed or how well we can do, but it's something to build on and we made the final."
Let's take a look at the lap charts!
Race 1 (MXGP + MX2)
| | | | | | |
| --- | --- | --- | --- | --- | --- |
| Lap Rank | Finish | Best Lap | In Lap | Rider | Country |
| 1 | 1 | 1:49.600 | 1 | Gautier Paulin | France |
| 2 | 2 | 1:49.629 | 1 | Ryan Dungey | USA |
| 3 | 5 | 1:50.177 | 2 | Aleksandr Tonkov | Russia |
| 4 | 4 | 1:50.327 | 1 | Jeremy Van Horebeek | Belgium |
| 5 | 40 | 1:50.383 | 1 | Antonio Cairoli | Italy |
| 6 | 3 | 1:51.276 | 4 | Max Nagl | Germay |
| 7 | 6 | 1:51.287 | 2 | Filip Bengtsson | Sweden |
| 8 | 8 | 1:51.987 | 2 | Tommy Searle | Great Britain |
| 9 | 7 | 1:52.709 | 4 | Glenn Coldenhoff | Netherlands |
| 10 | 12 | 1:52.820 | 2 | Rui Goncalves | Portugal |
Nice work by a gaggle of 250F riders, like Cairoli, Coldenhoff, and Searle, to get up into this mix.
Race 2 (MX2 + Open)
| | | | | | |
| --- | --- | --- | --- | --- | --- |
| Lap Rank | Finish | Best Lap | In Lap | Rider | Country |
| 1 | 6 | 1:51.479 | 4 | Eli Tomac | USA |
| 2 | 1 | 1:51.492 | 4 | Kevin Strijbos | Belgium |
| 3 | 4 | 1:52.034 | 4 | Tommy Searle | Great Britain |
| 4 | 3 | 1:52.132 | 5 | Dean Wilson | Great Britain |
| 5 | 2 | 1:52.135 | 4 | Steven Frossard | France |
| 6 | 8 | 1:52.752 | 11 | Glenn Coldenhoff | Netherlands |
| 7 | 5 | 1:52.865 | 4 | Fredrik Noren | Sweden |
| 8 | 7 | 1:52.928 | 6 | Tanel Leok | Estonia |
| 9 | 11 | 1:53.337 | 4 | Julien Lieber | Belgium |
| 10 | 10 | 1:53.697 | 5 | Marc de Reuver | Netherlands |
Oh, starts, starts, starts where the story for Eli Tomac. See below:
Race 3 (MXGP + OPEN)
| | | | | | |
| --- | --- | --- | --- | --- | --- |
| Lap Rank | Finish | Best Lap | In Lap | Rider | Country |
| 1 | 3 | 1:51.949 | 3 | Eli Tomac | USA |
| 2 | 12 | 1:52.953 | 3 | Max Nagl | Germany |
| 3 | 4 | 1:53.287 | 3 | Steven Frossard | France |
| 4 | 2 | 1:53.618 | 2 | Jeremy Van Horebeek | Belgium |
| 5 | 6 | 1:53.776 | 2 | Alexksandr Tonkov | Russia |
| 6 | 1 | 1:53.805 | 2 | Gautier Paulin | France |
| 7 | 5 | 1:54.010 | 8 | Dean Wilson | Great Britain |
| 8 | 8 | 1:54.334 | 9 | Kevin Strijbos | Belgium |
| 9 | 9 | 1:54.436 | 5 | Tanel Leok | Estonia |
| 10 | 8 | 1:55.162 | 3 | Arnaud Tonus | Switzerland |
Disheartened American fans can dry their tears by printing out these lap sheets. Tomac was ridiculous in Race 3, saying he switched forks between motos, and it made a night and day difference. As for those starts, Tomac tells us the start procedure is much different in Europe, with the backstop well behind the gate, allowing riders to attempt rolling starts. Tomac tried to go from a dead start, like he would in the U.S. and got huge wheel-spin. And when you enter turn one mid pack, there's always the chance of a first-turn crash. Ouch.
More news and notes:
Was Latvia the last time we will see Chad Reed ride for Australia? He hinted at the fact to our Steve Matthes following 14-38 performances that included a brutal crash in Race 3. "But sitting here today, I can tell you right now, the conversation I just had with Ellie [Reed's wife], I don't know if I'm going to be in France as a rider." Reed's wife, Ellie, agreed with him on Instagram: "This guy tries to sell me a family trip to France next year so he can ride mxdn again... Let's focus on getting back to the US and winning again. This is not what I have in mind for playing in the sand on a family holiday ! besides holidays are supposed to be relaxing?!" I think we speak for everyone in that we hope Reed will return to the team in France.
The ever-confusing role of Team Puerto Rico at the Motocross of Nations continues to confuse. Any rider with a U.S. passport is eligible to race for the team because Puerto Rico is a U.S. territory. Alex Martin rode for the team again, alongside his CycleTrader.com Rock River Yamaha teammate Ben LaMay (of Alaska, AKA as far from Puerto Rico in the U.S.) and the "Genurican" Ulises Velasco. Team PR made the A motos as well, thanks to some impressive riding in qualifying by A-Mart. A crash early in the first moto hurt his chances, though, and the team finished outside the top twenty in each moto, and took eighteenth overall. We'll have more from Alex Martin later this week. By the way, we can't imagine two brothers end up racing for two different nations teams at this race very often.
With team leader Evgeny Bobryshev out with injury, the onus for Russia shifted to MX2 GP rider Aleksandr Tonkov, who would be making the transition to the MX1 class. One problem: Tonkov wasn't even sure he would be able to race after suffering burns to his shoulder and arm at the final GP in Mexico. Tonkov was able to make the event and had a breakout performance—getting great starts and leading a number of laps throughout the weekend. "It has been a really amazing event, and I'm very pleased with the way I rode. After my shoulder and arm got burned when I crashed at the last GP, I wasn't sure if I would be able to race here, but I am so pleased that I did," Tonkov said in a Husqvarna press release. "To finish as well as I did on both motos is incredible. The first race was amazing—I got the holeshot and led the race for many laps. I made one or two small mistakes, which cost me some positions, but it was still a great result to finish fifth. The second moto was also really good. Finishing sixth and getting third overall first time out on a 350F in a major event is incredible." Russia would finish eighth overall.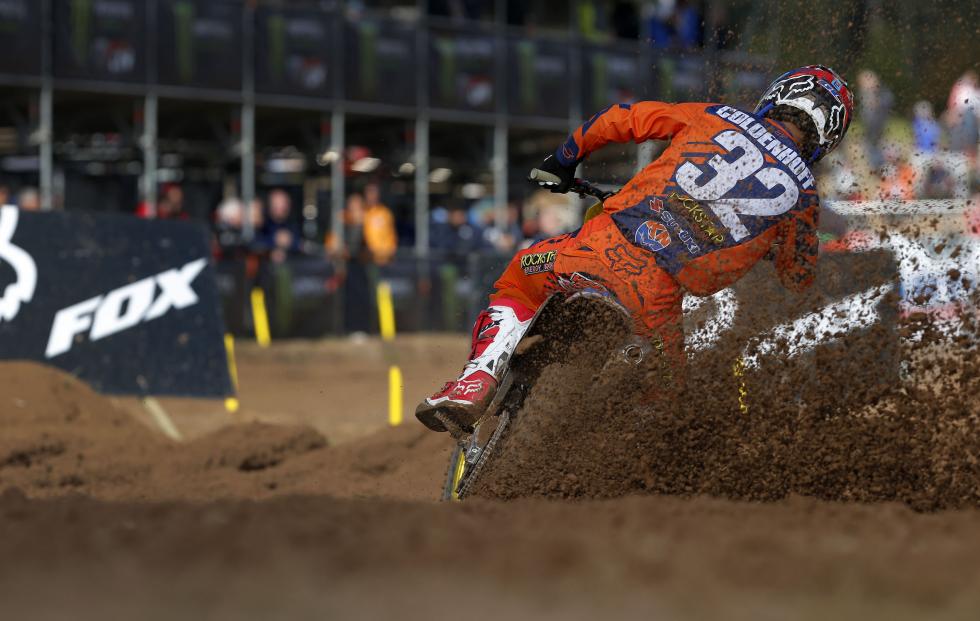 With Jeffrey Herlings sidelined due to a broken femur, the Netherlands' chances relied heavily on Glenn Coldenhoff and veteran Marc De Reuver. Coldenhoff rode well to finish second behind Tommy Searle in MX2, and if not for a big crash from De Reuver (following a tenth in Race 2), the Netherlands may have finished better than tenth. "It was a good day and my speed was pretty good all day-long. A shame about my starts. I won the first moto in the MX2 class and Tommy had a good start in the second," Coldenhoff said in a Rockstar Energy press release. "I could see him ahead and gave everything I could but it wasn't enough. It was nice to catch [Eli] Tomac, and I was charging-hard but he passed Leok and overtaking him is not so easy! In the end 7-8 and second in MX2…it is not a bad way to finish my MX2 career."
Sweden, a once-powerhouse nation, had some bright spots at the event. Filip Bengtsson grabbed great starts and ran up front a few times, and Fredrik Noren (remember him?) rode very well and scored fifth overall in the second moto. They were just edged out by the Dutch and ended up eleventh overall, but were definitely the first ranked team with two riders with the same last name (Bengtsson times deux).
Although we thought prior to the event that Switzerland might have been positioned for a breakout performance, they just missed. Seventh overall is solid, but the team's most established pilot, Arnaud Tonus, was beset by a few early crashes. Jeremy Seewer did lead a few laps in the MX2 qualifier on Saturday, though. The Swiss team is still pretty young and within a few years, expect them to be battling for MXoN podiums.
In 2012, Germany won the overall, after it was already announced they would be hosting the 2013 event. Now it's France's turn, as they've not only won the race, but will host it next year.