Entering his seventh professional season, Scott Champion is happy just to be ready for the upcoming season. Last year, just two weeks before the 250SX West Region opener in Anaheim, Champion secured a deal with Strikt Slaton Yamaha. While he didn't have much preparation time, the Southern California native had a career year, finishing thirteenth overall in a very deep field. Champion is all but locked in to return to Strikt Slaton Yamaha next year, but he still has a lot going on this off-season, including riding the Milestone straight rhythm practice day last weekend. We called him earlier this week to get an idea of what to expect for the upcoming Red Bull Straight Rhythm race, as well as his plans for 2015.
Racer X: You had the chance to ride the opening of the Straight Rhythm track at Milestone last weekend. What were your initial thoughts?
Scott Champion: It was cool. Obviously, the Straight Rhythm is all new to us. I heard that we're having the opening at Milestone, so I made sure I was there to check it out. It's just so different. You don't have to slow down for any corners, so it has a whole different vibe and feeling when you're going down that lane. You can get pretty creative with it—tripling or even quading some things. The possibilities are endless—I guess it just depends on how much you want to sacrifice [Laughs]. It's fun and I enjoyed riding out there. I'm trying to get into the Red Bull Straight Rhythm race right now—that's what I'm working on. I haven't heard back yet, so I'll see.
I'm sure there was some friendly competition on Saturday. Do you think it's going to provide close racing?
Oh, yeah! The racing is going to be super close! I think the whoops will definitely separate some people. I think staying low and whoever can get the power to the ground the best will pull away a little bit. It's definitely hard just to gain a couple seconds on a straight lane when you're doing the same obstacles. I think it's going to be good to watch. If I can't get in, I'm definitely going to watch.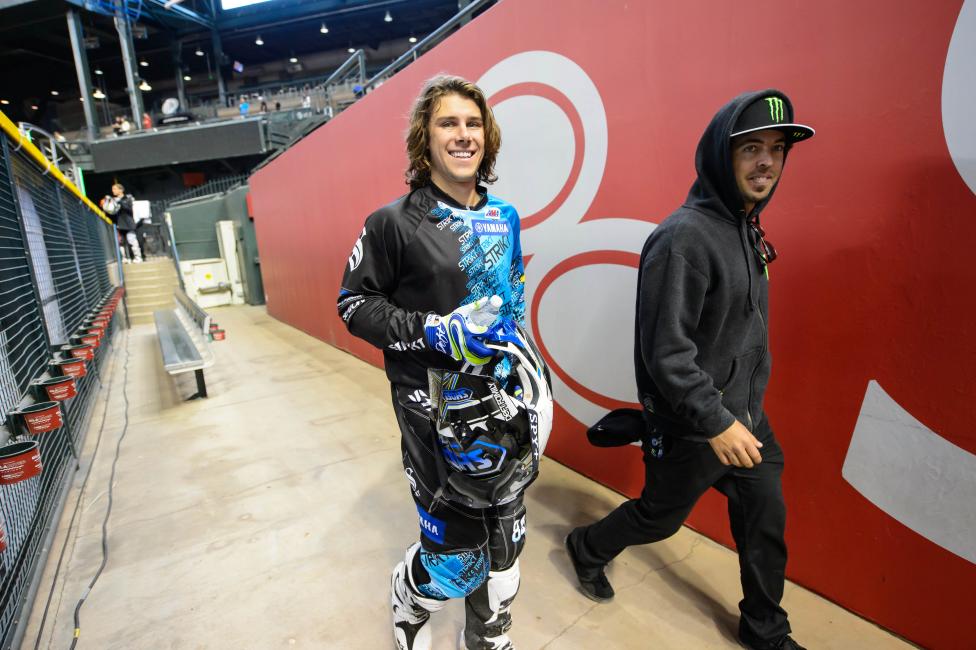 Do you think it provides a more even playing field, in regards to if you're not on the best equipment you can still compete?
Yeah, it will definitely give guys a better chance to show what they got going straight compared to having to slow down and what not. It's going to be close racing; that's for sure.
You mentioned the whoops would provide separation. Did you notice anything else that may play a factor? Were there certain obstacles or rhythms people were taking?
The lane that Milestone built I think was half the size of what the Red Bull Straight Rhythm is going to be on October 4. There were no whoops, for example. We were all kind of doing the same thing—we were pretty close. But it did give us a good idea of how it's going to feel and how close the racing is going to be. I think the Red Bull race will be a lot bigger. Obviously, it will have a couple sets of whoops, and it depends on how big those are.
With anything this different, no one really knows how it's going to turn out. Do you think this is something that stays in the future and brings another aspect of racing to the forefront?
Oh, yeah! Definitely. You have the Monster [Energy] Cup and that is kind of in the same category. The Monster Cup is a lot different, but it has a lot of the same obstacles and it makes for great racing, and that's what people want to see during the off-season. They want to see races that are different, and I think it keeps the fans excited.
Speaking of the off-season, there really isn't much of one anymore. What do you have planned this "off-season"?
I'm going to do the [Transworld] Slam this weekend. I'm trying to get into Straight Rhythm. I'm definitely doing Monster Cup, and I think I'm going to go over to Germany and do a couple races over there before Anaheim.
You only raced two races in Lucas Oil Pro Motocross. What have you been up to since?
Well, I did the first two outdoors, and then that was kind the end of that for me. I did the Spy Del Moto Derby and won that. Right after that I went to Mammoth. Brett [Hamilton] at Braap Shop Yamaha and Jonathan from Alliance Racing, they sponsored the Strikt Slaton Yamaha team I was on this season, and I raced those on a 450. I've just been staying busy. I went to Texas for a bit—I have some family out there. I did a few local races. I've been training some people and at the same time riding and training for 2015. Just ready to start buckling down for next year. I've never had a season in which I come into Anaheim 1 feeling ready. I'm always in shape and well, but I've never had a solid program a couple months before that where I could build and come out and feel good. That's what I've been focusing on. I'm pretty sure I'll be back with Strikt Slaton Yamaha next year, and I think it should be a good year for me.
Do you start training early because you don't have the wear and tear from a grueling twelve-round outdoors campaign?
Yeah. I'm definitely, what do they say, biting my teeth or itching to get out there racing while some guys are having a nice break right now. I can't wait to get out there again and I'm going to be ready this season. I'm pretty happy about it.
Strikt Slaton Racing really provided you a good opportunity last year. What are your thoughts on going back, if it does happen?
I've been talking with Marty Smith and Slaton and everyone on the team. I called them two weeks before Anaheim last season, and they didn't know if they were going to get a third guy onto the team. I was so thankful that I was able to get onto the team. It worked out really, really well. I had the best season of my career. They called me a couple weeks ago and said that I earned a spot on the team for 2015. I'm really happy about that. We are going to change some things for this upcoming season, just some things that I struggled with this year. I think I'll be able to get into the top ten almost every weekend.
What were you able to learn from Marty Smith last year?
Marty has been there, done that. He has a lot of positive things to help on the weekends. That was kind of the only time me and Marty got to get really close. He helped me with that a ton. For 2015, he's going to be coming to the test track with me during the week and critiquing everything that is going on with the riders that are on the Strikt Slaton Yamaha team. I think that will a huge positive that they are going to change for 2015.
Thanks, Scott. Good luck this off-season. Who would you like to thank for helping you out?
I would like to thank Strikt Slaton Yamaha, Braap Shop Yamaha, Jonathan at Alliance Racing, Marty Smith, HLTN, Spy, Shoei, Toyota of Escondido, Ohlins, dt1, Motopro Graphics, ODI, Rad Wheels, and everybody who has helped me this year!