Jordi Tixier earned the first FIM Motocross World Championship for France since Marvin Musquin in 2010 with a gripping and dramatic end to the 2014 season. The Red Bull KTM rider triumphed with a 1-3 scorecard at the Grand Prix of Leon in Mexico, ending just 4 points ahead of a weakened Jeffrey Herlings. Tixier had been 145 points behind his teammate with four rounds and just 200 points remaining. From meetings in Czech Republic, Belgium, Goias, and Mexico, he earned two wins, a second place and a fourth, to remarkably get the job done on the works 250 SX-F.
Racer X: What an immense performance. You mentioned wanting to do this for your brother [injured in a BMX crash last week and temporarily paralyzed], but were you riding with something extra this weekend?
Jordi Tixier: The feeling on the track was just amazing for me this weekend. I won the qualification heat, set the best lap in the warm-up, and won the first moto. In the second moto, I missed a gear just before the take-off, and I came up too short and Tonkov jumped on me. After that I was like "The championship is over." I saw Jeffrey [Herlings] in front of me and I knew I needed 6 points more than him. For sure my brother was on my mind, and when I was behind [Glenn] Coldenhoff, I knew I had to push with everything I had to overtake; if I died after the race, then I would not have cared! I made it to third, and the fact that I had managed to get my dream just hit me when I crossed the line. Jeffrey was injured, but I just did my best, and it feels so good to be another world champion for France.
The first moto was intense. Romain Febvre was right with you all the way. He said he was waiting for a mistake from you, but it did not come.
I am really happy about that race. If it had been last year or two years ago then I would have made a mistake under that pressure. When he was behind, I concentrated on keeping my rhythm and I knew he could not pass. In the last few laps, I pushed a little bit more. It was really nice.
When Jeffrey came into the paddock on Saturday morning, what effect did that have? Did you just try to block him out?
I tried to block him out totally, but it was pretty difficult because he was based only a few meters away! The doctors and people were around him all the time. His face was not so good and he looked nervous… but so was I, so much so before the second moto. I wanted to ride like I do in training, and I did it this weekend.
The second moto was just bedlam. Crashes, collisions, mistakes, and then victory.
It was completely crazy. After that moment with Tonkov, I thought, "Either I give up or give it my all." I went for it. I got really tired behind Coldenhoff, because I could not pass him. I found the power to do it from somewhere, and then I was fourth. My mechanic put on the board that I needed third for the title, so I went on the absolute limit to catch Lieber. My feet were off the pegs and it was wild. I had nothing to lose. Lieber was on the right and I jumped to the left and we almost crashed, but I got third and then decided that I couldn't make a mistake. It was my time.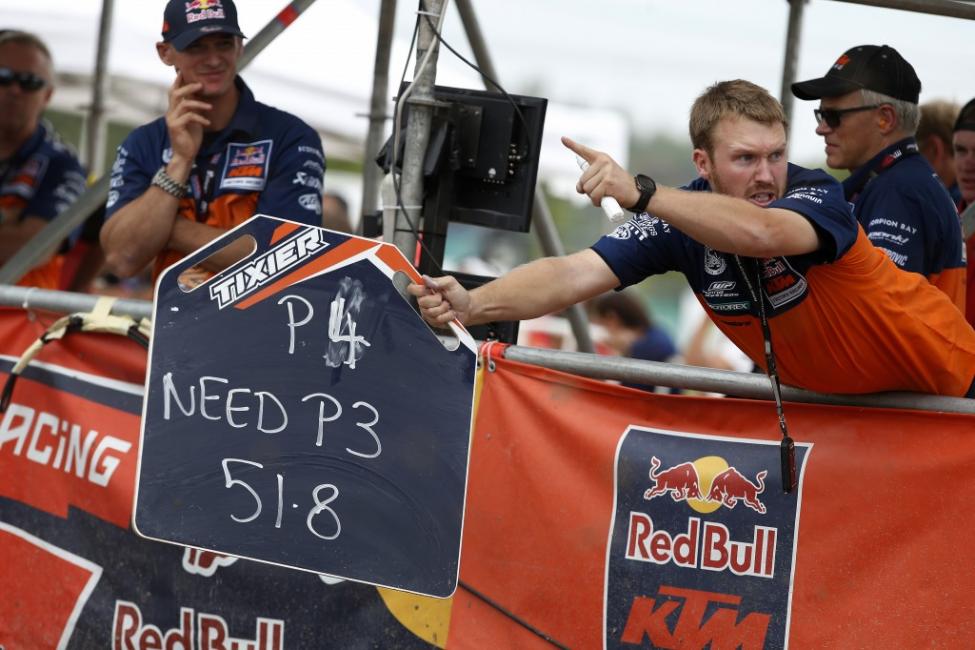 If we look at photos of your face from the Grands Prix in Qatar or Thailand at the beginning of the year, then it has been an incredible journey to arrive here.
For sure. It was bad time for me, as it was last year, and if someone had said then "You'll be world champion by the end," I would never have believed it. I just worked really hard every week, gave my best every week, and tried to get as many points as I could for the championship. To beat Jeffrey—even if he was injured—is such a big deal for me.
Dylan Ferrandis was icing his left ankle afterwards. If things turn around and he cannot make the Motocross of Nations, would you step in?
I don't think so. I achieved beyond my goal this year. I'm the world champion! I don't think I would go. I would leave that place to Romain Febvre because he has also improved a lot this season and was fighting every race. I had my chance at the Nations last year, and I don't think I am going to do it this time.
Will it take much to get you drunk tonight?
It will take more than a few beers! The championship is now over, and I will do what I want. I am going to enjoy it with my friends and my father, my girlfriend, and think of my brother and mother at home at France. This is the result of the hard work we have all done, and who have supported and pushed me even when I had bad moments. Being World Champion is a success for all of us.