Welcome to Racerhead. The test tracks are starting to get busy with guys switching brands and teams and coming back from short vacations. Chad Reed shared a shot of Josh Grant's new TwoTwo Motorsports Kawasaki KX450F, and we now know that Tyler Bowers is riding Monster Energy Supercross next year for Pro Circuit Kawasaki. And of course Team USA's Ryan Dungey, Eli Tomac, and newly crowned 250 Motocross Champion Jeremy Martin haven't exactly been partying, though they did have five weeks off between the last national and the upcoming Motocross of Nations in Latvia. Red Bull Straight Rhythm is coming up after that, and then the Monster Energy Cup, so even though this is the off-season, it's a busy period.
If you race motocross, chances are you've raced injured before. It's a part of our nature, for better or worse. You probably sawed a cast off early or kept your broken hand in a bucket of ice all week or taped up some cracked ribs to make it back out on the track just a little quicker than your doctors preferred. Jammin' Jimmy Weinert once won the Oakland Supercross wearing a neck brace!
This weekend in Mexico, Jeffrey Herlings is going to take "riding hurt" to a whole new level. He's been out for nearly two months in the MX2 World Championships with a snapped femur, but he's so fast (and the field so thin) that his massive points lead still holds, even after missing a total of four GP events. The Red Bull KTM factory rider is 23 points ahead of his teammate Jordi Tixier. The GPs use the same scoring system as the Lucas Oil Pro Motocross Championship, so if Tixier were to go 1-1 this weekend (which he has never done in his GP career), Herlings would have to go 7-8 or 8-7 to tie Tixier in points, even though Herlings won every race he entered this year (and last year!). (Note: Herlings owns the tiebreaker)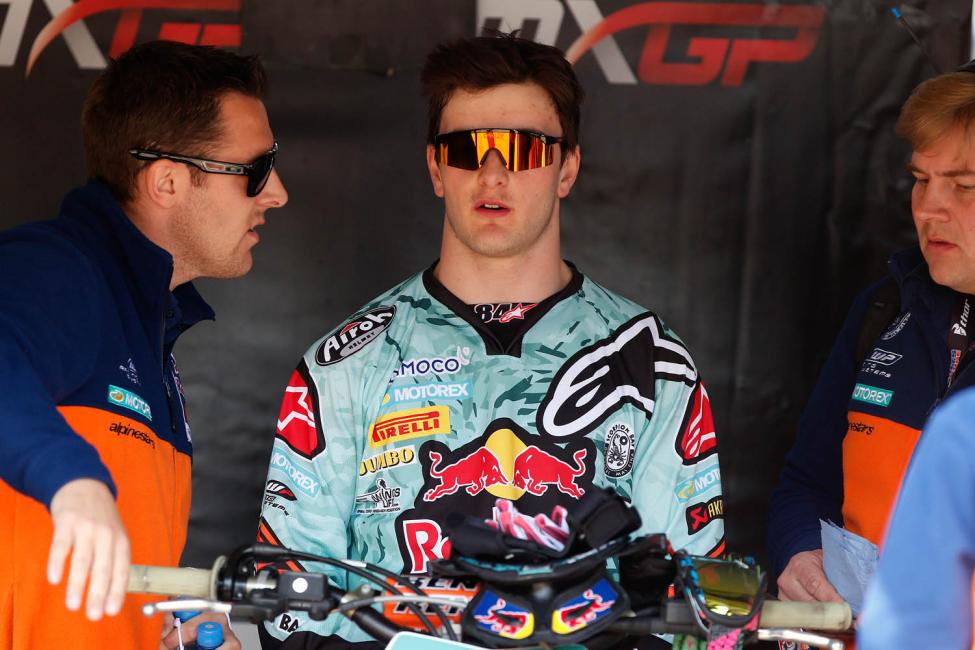 But after a several-weeks-long guessing game, Herlings feels that his thigh bone has healed sufficiently for him to at least line up in Mexico and make it a little harder for Tixier. He's taking a big gamble, though it won't be like racing a national—there could be as few as twenty riders on the gate, not all of them Grand Prix regulars. Herlings will get some points by simply lining up and riding around, but how hard can he go—and how hard can his femur go?
"We're cautiously pleased that Jeffrey's doctors have cleared him to race in Mexico, even though it will be difficult for him after some weeks of healing the fracture," said KTM boss Pit Beirer. "Of course he lacks race practice and doesn't have the same level of fitness he had before his accident, but we feel he deserves to have a fighting chance to wrap up the title."
The risk, of course, is even more damage to the leg. Herlings posted a short video of him riding a smooth track back in Europe, and he will go in with his eyes open. He will also no doubt be hoping his fate is different than that of one Corrado Maddii. Back in 1984, on the eve of the last 125 Grand Prix of the year in Luxembourg, Maddii had a comfortable lead over his countryman Michele Rinaldi. Maddii, who rode an Italy-made Cagiva, was going to be the brand's first champion and Italy's first FIM World Motocross Champion. But during Saturday's practice, Maddii came off the track just as another Italian, Michele Fanton, was practicing a start. In the head-on collision, Maddii shattered his leg. As a result, Rinaldi won the next day to himself become the first Italian MX world champ, and also extend Suzuki's winning streak to an unmatched ten straight years. (Eric Johnson wrote a Great Races piece called "To Have and Have Not" about that dramatic that you can read right here, with photos by Sir Jack Burnicle.) Maddii would never win a world title.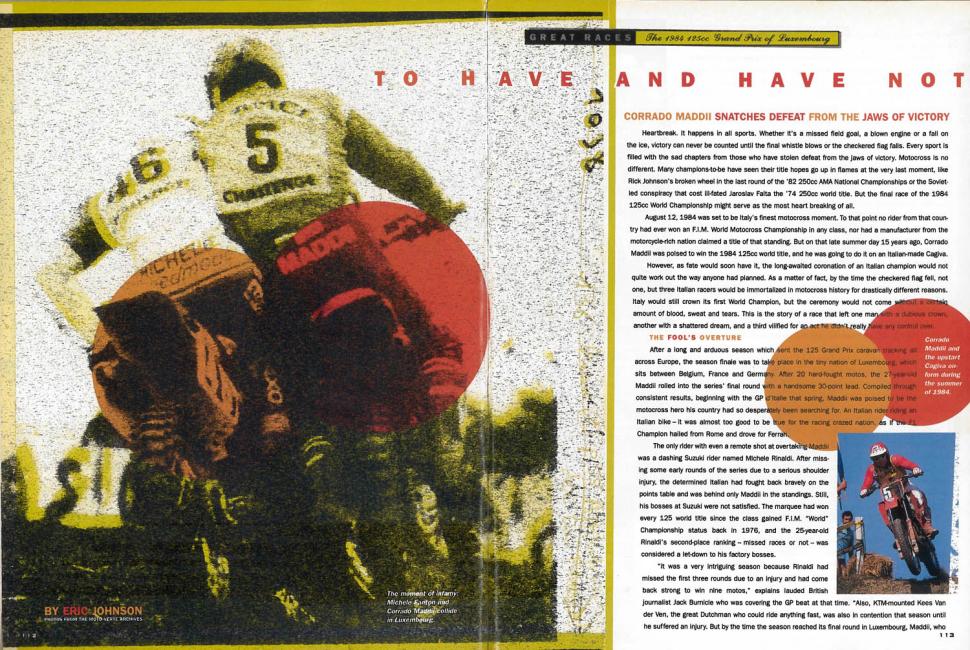 Either way, KTM's winning streak will reach seven years in this class, and it's five years in the MXGP class—all Tony Cairoli (no wonder they want RV so badly). Here's wishing luck to Jeffrey, who is a great kid and obviously incredibly competitive. (Check out this preview trailer of Wes Williams' upcoming Vurb Platinum video of Jeffrey Herlings right here.)
And good luck to Jordi too—he's in this position because he never gave up either. You can watch it all go down live on www.mxgp-tv.com which is also where you can watch the Motocross of Nations in two weeks.
RV GP (Steve Matthes)
It looks like the deal to bring nine-time supercross and motocross champion Ryan Villopoto to Europe is all but signed. And that signature could be done as soon as next week, after the MXGP of Mexico, when some of the main players head to Southern California to meet with Villopoto and his representatives.
We'll debate the whys and all that to this deal in the coming weeks, but just know that we, as fans of this great sport, are set up for a titanic battle next year as Villopoto tries to be the first American since Bobby Moore in 1994 to bring home a World Championship. Having been to the last six or seven Motocross of Nations and four or five Grands Prix in the last few years, I can attest to the newly crowned MXGP champion Antonio Cairoli's speed and skill. He's an amazing rider no matter what condition and if anyone out there reading this think's it's going to be a walk in the park for Ryan, think again. Not too mention we've seen Clement Desalle come over here with very little prep and run top five. I can't wait to see this battle next year!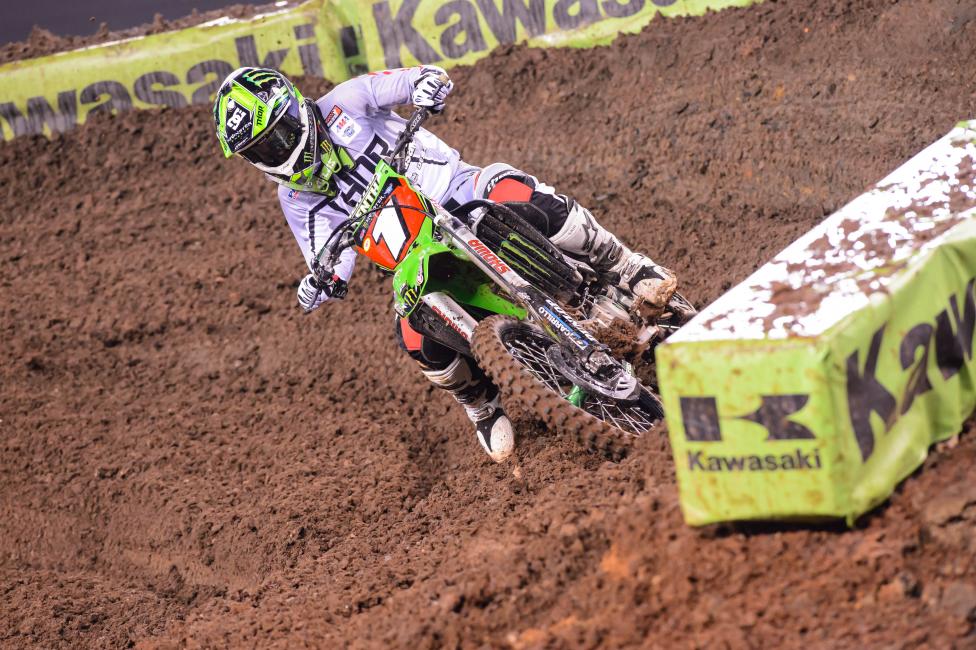 PRO PERSPECTIVE (Jason Thomas)
JT: Jeffrey Herlings has an incredibly tough decision to make this weekend in Mexico. His femur was broken less than two months ago, and most doctors would say that much more healing time is needed. The talk in these past eight weeks has been how would the points look when we arrived where we are now, at the final MXGP of the season. Had Jordi Tixier gone on a tear and won everything in sight, he would have made Herlings' decision to stay home easy because the title would be out of reach for the Dutch phenom and he could focus on healing properly and resting for 2015. On the other hand, had Tixier really struggled under the pressure, Herlings could have mathematically wrapped this title up last weekend in Brazil.
But the most interesting of possible scenarios is the one that actually played out: Tixier's results were a bit up-and-down, leaving this championship up for grabs. Determining whether 23 points is a lot right now really depends on Herlings' condition, and only he knows how he feels and what kind of pain and weakness he is dealing with.
The tricky part of an injury such as this is that Herlings can't be sure just how his leg will respond. He hasn't ridden much, if any, and jumping into a Grand Prix race situation is certainly not easing into the shallow end.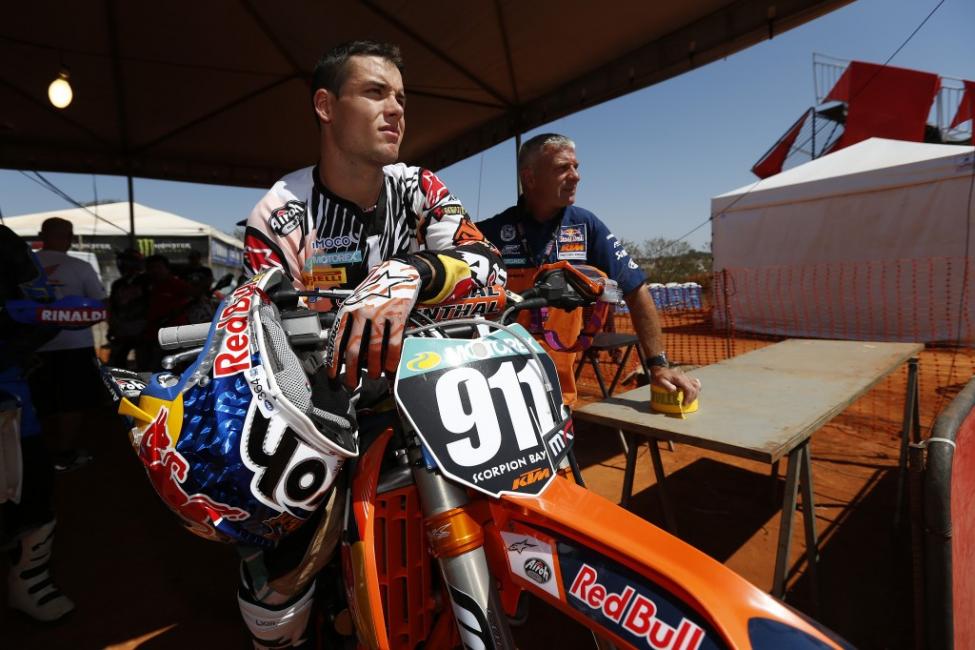 Simply put, if Herlings re-breaks his leg, it could cause career-long issues, if not career-ending ones. He is one of the brightest young European stars (one year younger than Ken Roczen) and will be winning races and titles for years to come. But there is a world championship at stake. He absolutely dominated this series up until his injury, and if there is a way to still make the title a reality, he has to pursue every avenue and possibility.
If this were me, I think I would be headed to Mexico too. I'm not sure if I would end up on the track on Sunday afternoon, though. I would feel it out on Saturday. Taking this one step at a time is the most logical. One thing I have learned from riding injured is this: less is more. If he finds on Saturday that he can indeed ride in some capacity, he needs to stay off the bike until absolutely necessary. Those leg muscles and still-tender tissue areas will only withstand so much at this point.
In theory, my weekend would consist of riding Saturday to make a decision, doing round-the-clock therapy all through Saturday evening, then waiting until absolutely necessary to put it under maximum stress. He doesn't have to win the race; he can choose the smoothest lines instead of the fastest. Find ways to save energy on the track, because after sitting around for eight weeks, every bit will be needed. Don't battle with riders who aren't relevant to this title. Do every equation and make sure every team member knows what position Tixier is in during the moto. In essence, cover every base both mentally and physically. Once that's done, he can just roll the proverbial dice and see what fate has in store.
Man, this is going to be interesting.
INJURED PERSPECTIVE (Andrew Fredrickson)
We all know it: most riders out there on the track are nursing some sort of injury. It has and always will be how motocross racers are. Breaking your femur and coming back earlier than expected, on the other hand, is not the norm. Seeing as Jeffrey Herlings is just under eight weeks out from his break and surgery, it's impressive to me. I broke my femur on October 20, 2013, and I distinctly remember walking up the stairs on Christmas morning for the very first time without holding onto the handrail. I was pumped! I'm sure Herlings has an intensive rehab program and has specialists who are the very best at what they do, and his doctor has cleared him to race, so maybe he's fine. Christmas was eight weeks after my femur break, and there was no way you'd see me trying to race a dirt bike at that time in my condition. Buy maybe I'm just a sissy.
Also, I checked out Jeffreyherlings.com, and on the main page he has some pretty funny answers to random questions (in Dutch, of course):
Jeffrey Herlings 12-09-1994
Favoriete eten : Friet
Favoriete drinken : Dr Foots
Favoriete fimster : Will Smith
Favoriete film : Rocky
Favoriete popgroep : Eminem
Favoriete parfum : Calvin Klein
Favoriete land : Amerika
Favoriete baan : Glen Helen
Favoriete schoenen :Nike
Favoriete haarkleur : Blond
Favoriete auto : Ferrari
Favoriete ondergoed : Bjorn Borg
Favoriete woord : No problem man
Favoriete hobby : Viertaktrijden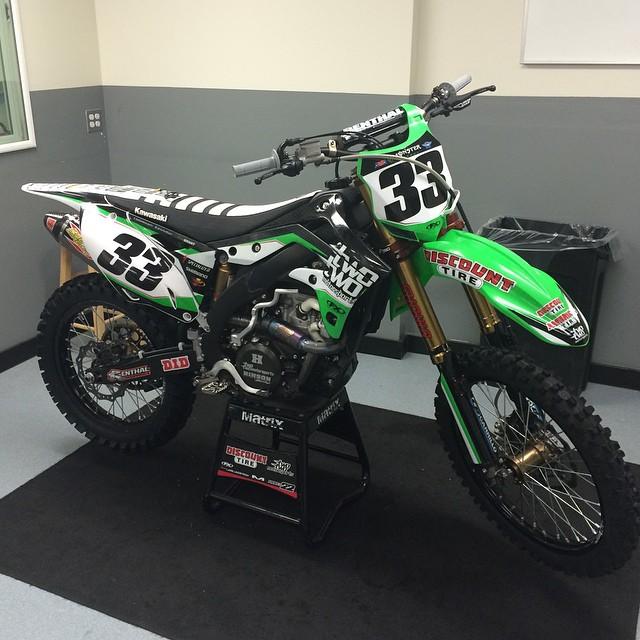 HERE COMES TRAVIS (DC)
USA Today ran an article earlier this week about the upcoming Red Bull Straight Rhythm contest, which will take place at Auto Club Raceway in Pomona, California, on October 4. The event will see riders race two at a time down a half-mile straight stretch filled with supercross-style obstacles: jumps, whoops, rollers, step-ons and step-offs, dragon tails—you get the picture. In fact, it's likely to have everything but turns (and doubtfully an over-under tunnel jump. Sorry, Matthes). Among the riders signed up for this unique event is none other than Travis Pastrana, the motocross prodigy-turned-action-sports icon who left professional motorcycle racing early to pursue rally car racing, NASCAR, and freestyle, as well as his Nitro Circus tour, MTV shows, and more. He's now a father as well. In other words, he's been busy!
While he was still racing, Pastrana became the poster boy for short attention spans. He was always on the go, mixing up adventures and stunts with his training. He also became notorious for the injuries he suffered, both on the track and on the ramps, and his results suffered because of them. But he did earn the 2000 AMA 125 National Motocross Championship, as well as the 2001 125cc East Region AMA Supercross title. He was much faster than the record book shows, especially from 2002 on. (You can see all of Pastrana's AMA Supercross and AMA Motocross results here in the Racer X Vault.)
Pastrana aside, Red Bull Straight Rhythm will include James Stewart, Ryan Dungey, Josh Hansen, Josh Hill, Brett Metcalfe, Cole Seely, and Dean Wilson. Look for more announcements soon.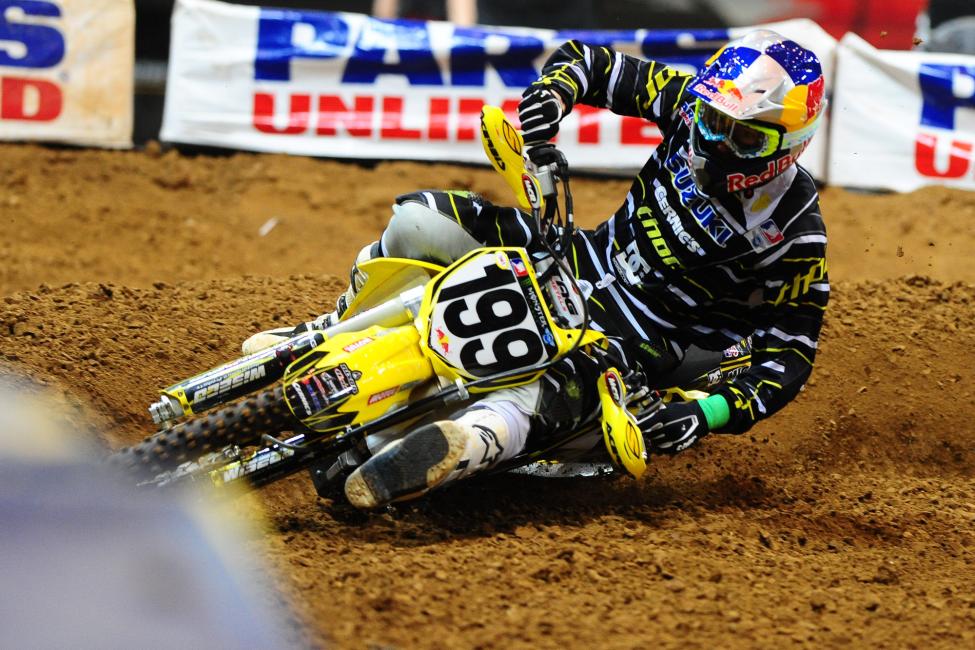 136 (Matthes)
That's the number of riders that "Fast" Freddie Noren passed this summer in his 24 motos in the Lucas Oil Pro Motocross Championships. What we did over on PulpMX is take the top twenty riders in the 450 Class standings and everyone in the 250 Class, chart their first lap positions and where they ended up, and see how many, if any, riders they passed. Out of the forty riders we looked into, Noren held the top spot with 136 passes. That's an average of six riders per moto. Of course, there were more passes made, and this can't account for a rider falling and passing someone back in the middle of a lap, but it's a fun little gauge of a rider's starts and finishes.
The rider with the highest number of passes that we calculated was Josh Grant in the first moto at Muddy Creek, when he passed an amazing twenty-nine riders to end up in eleventh place after a first-turn crash.
In the 250 Class, it was Lucas Oil/Troy Lee Design's Jessy Nelson with 123 passes, which was one more than Blake Baggett on the year. Third overall in number of passes was Dakota Tedder, which again shows you how something like adding this up can perhaps shine a light on an unknown rider. Good job on going North, Dakota! See what I did there?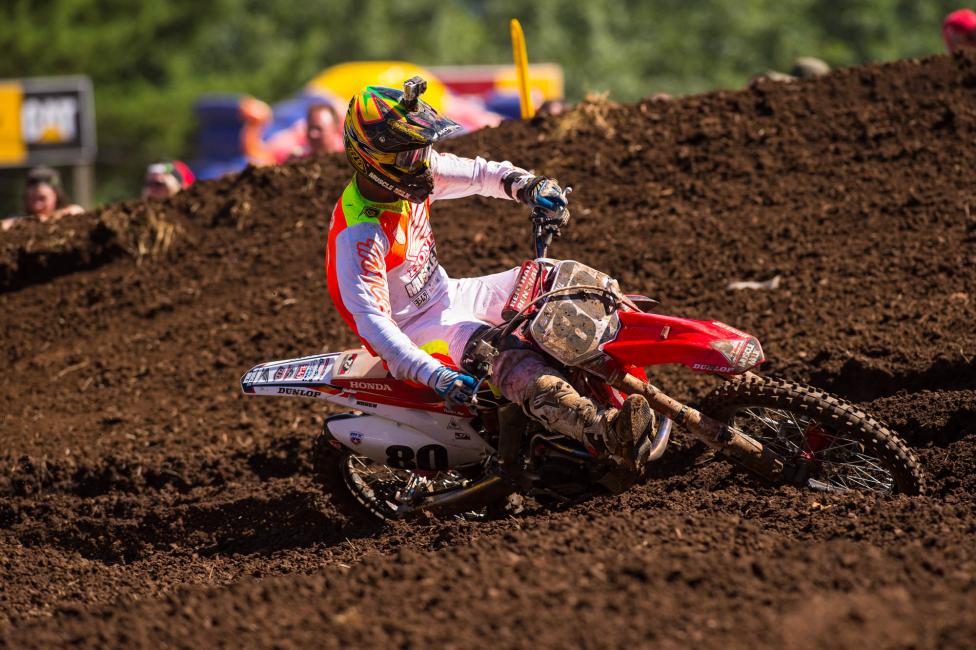 ANTONIO THE GREAT (Andras Hegyi)
The Italian legend Tony Cairoli clinched his eighth world title last weekend in Brazil. The Red Bull KTM rider can be compared only to the winningest rider in FIM World Championships, ten-time world champion Stefan Everts. In fact, Cairoli has overtaken the Belgian in some records. For instance, Cairoli arrived to his eighth world title sooner than Everts did. The Sicilian debuted in 2004, so this is his eleventh season in Everts debuted in 1989 and he was able to clinch his eighth world title in 2004, which was his fifteenth season.
Regarding age, Cairoli was younger than Everts. Cairoli is 29 this year, while Everts was 32 when he celebrated his eighth title. Also, Cairoli has equaled Everts in being able to win titles in six consecutive seasons. Everts was the champion continuously between 2001 and '06, while Cairoli has been on top since 2009. But the longest winning streak is held by Ricky Carmichael. The GOAT never lost an AMA motocross title between 1997 and 2006. That's ten straight titles! Next closest is Jeremy McGrath's and Ryan Villopoto's four straight AMA Supercross titles.
(Editor's note: Last week we made a small mistake in editing Andras' piece: Jordi Tixier has indeed won a GP this year, the Czech Grand Prix at Loket.)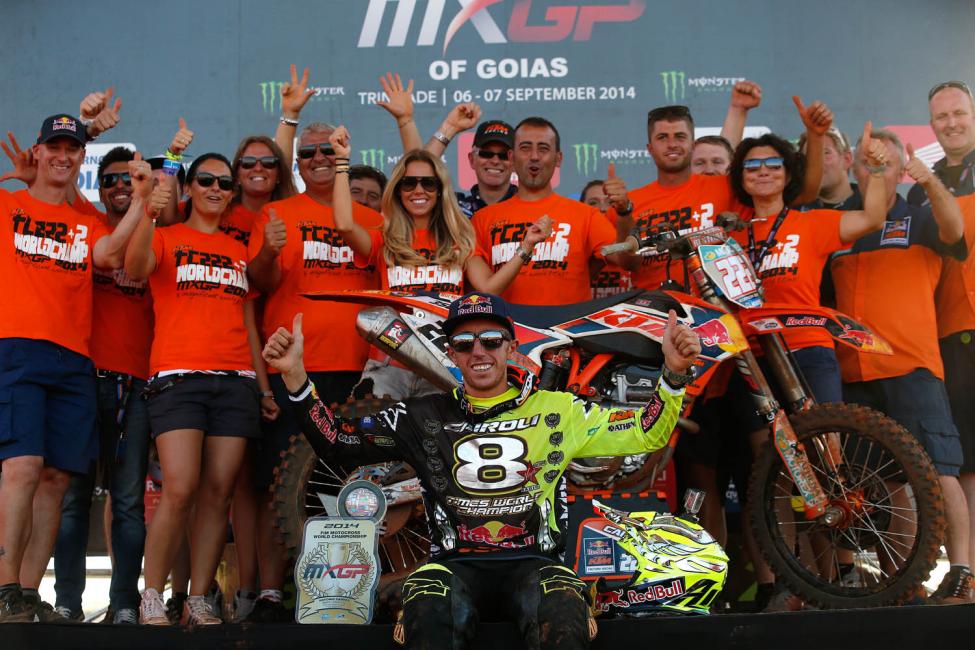 JESSE MASTERPOOL CHALLENGE (Chase Stallo)
This September 26-28, Jerry Masterpool's 956 Facility will hold the inaugural Jesse Masterpool Challenge, an SX/MX composite race. The race is sponsored by Fox Racing and will cost $10 a ticket (free admission for seniors and kids under 5). For those of you who don't know the Masterpools, Jesse was a promising young Suzuki rider who lost his life in a racing accident at Lake Whitney Cycle Park in Texas four years ago. His younger brothers Jake and Tye also race, and Jerry and Tara Masterpool have dedicated themselves to helping make motocross racing as safe and competitive as possible. Jerry comes to Loretta Lynn's every year to help keep an eye on the ever-evolving track and also to lend a hand or ear to anyone who needs a little help or advice down at the ranch. This should be a fun event, and you can bet Jerry will make a great track.
For more information, please visit masterpoolchallenge.com.
What: Jesse Masterpool Challenge
When: September 26-28
Where: His 956 Facility
573 County Road 3525 – Paradise, TX 76073
Cost: $10/Ticket - Free Admission for seniors and kids under 5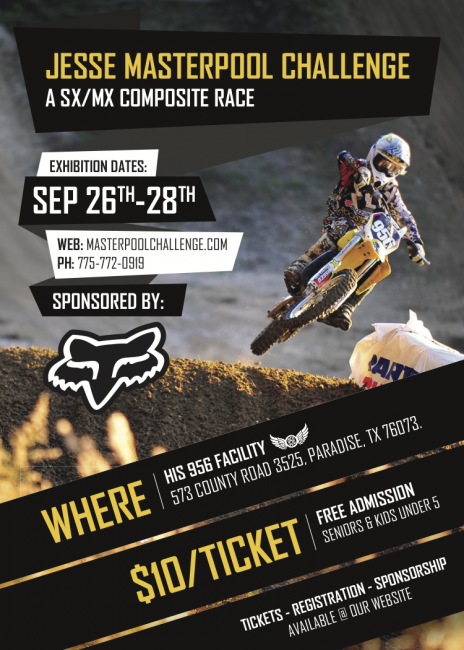 THE NUMBER: 155 (Andras Hegyi)
When Romain Febvre won last weekend's MX2 Grand Prix in Brazil, it marked the 155th win in the history of Husqvarna. The brand was born in Sweden but has undergone some big changes over the years. And ever since KTM bought Husqvarna, the Austrian brand has remained faithful to Husky's racing heritage and taken its racing program very seriously. The MX2 category has existed in GP motocross since 2004, but Febvre's moto and overall wins last weekend were the first for Husqvarna. Over the years, Husqvarna has won in all of old two-stroke classes—500, 250, 125—as well as in MX3.
Husqvarna's GP wins list:
500: 68 wins
250: 60 wins
125: 18 wins
MX3: 8 wins
MX2: 1 win
The last Husqvarna victory in America came in 2001, when Travis Preston won the Houston 125 SX. And if you want to see all of Husqvarna's results over the years in AMA Motocross and Supercross, check here.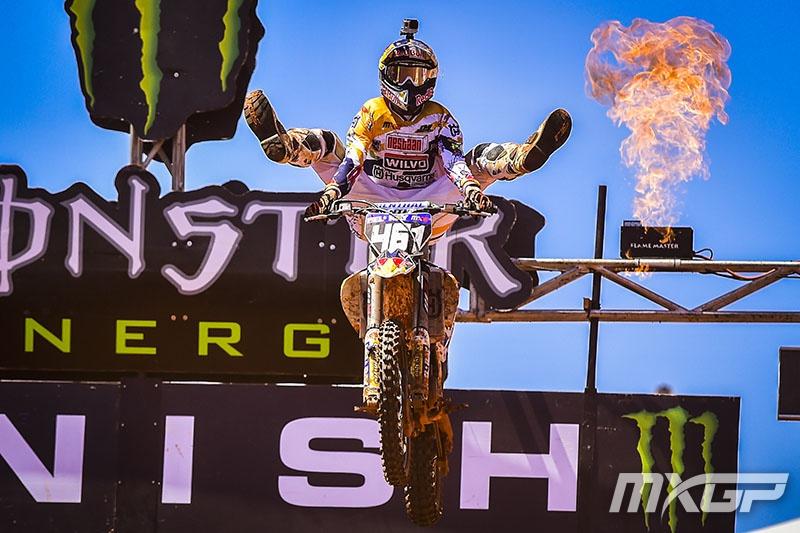 WOMEN'S MOTOCROSS (BDW)
Last Saturday, Glen Helen hosted the CALVMX 40 Years of Women's Motocross Celebration. Several past champions made it out, along with a few other honorees and some current top women racers. AMA Motorcycle Hall of Famer Sue Fish was on hand, as well as great 1980s rivals Mercedes Gonzalez and Lisa Akin Wagner. Also enjoying the celebration were Carey Steiner, Vicky Jackson Bell, Dede Cates, Steffi Laier, Tania Satchwell, Dee Wood, Mary McGee, Kristy Shealy, Gale Webb, Sayaka Kaneshiro, and Kaitlyn Morrow (who suffered a broken femur of her own while going after the 2014 Loretta Lynn's AMA Amateur National Championship).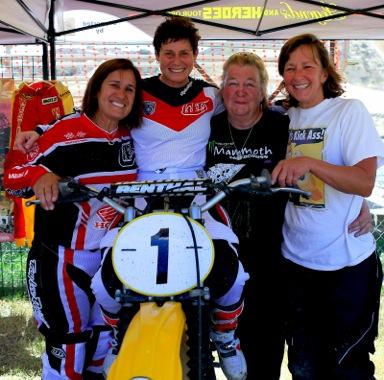 The event offered different women's classes, a parade lap with the past champions, then an open ride just after the parade lap so girls could get on the track with their heroes. There was a Women's Legends & Heroes display, autograph signings, a cool video that compiled forty years of women's race footage, and finally a formal introduction of the champions with the commemorative award. Sue Fish was guest speaker, and the whole idea was to celebrate the first Women's National held at Indian Dunes in 1974, which was promoted by Kasey Rogers and called the Powder Puff National.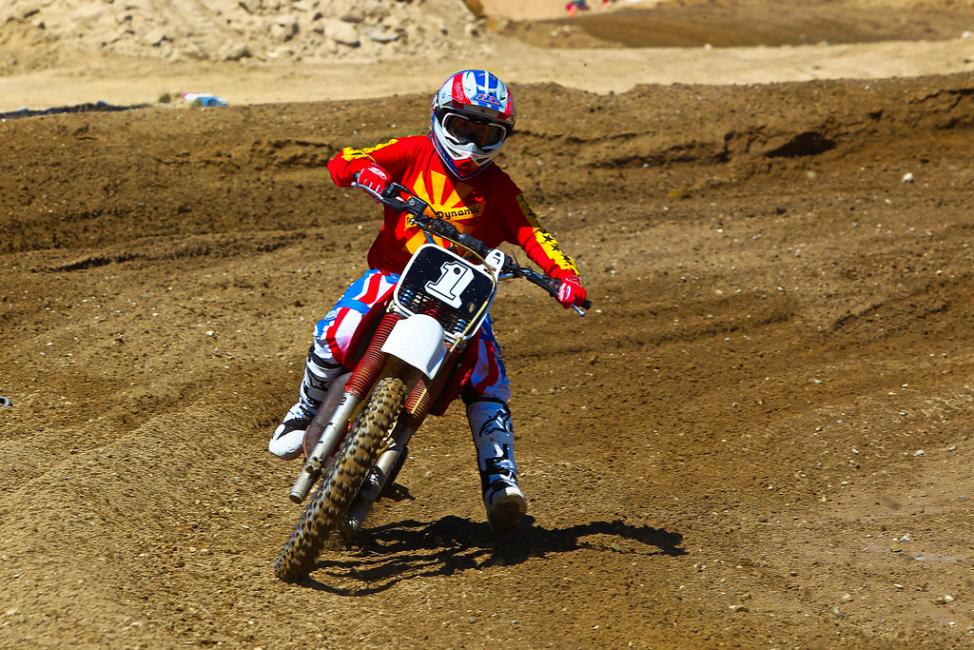 A Desperate Plea for Hits on PulpMX
I looked back at all the magazines shooting out the 1989 125's and compared notes here, and let's just say that Paul Malin has some explaining to do.
I'm restoring a 1990 KX250, and although I've run into a few snags here and there, I can now see the finish line. Thanks to the guys at Babbitt's Kawasaki for their help in this. You can read part four of the rebuild here.
HEADLINES OF THE WEEK
Travis Pastrana returns to motocross racing
ESPN
Travis Pastrana is returning to motocross in October
USA TODAY
RANDOM NOTES
Tune in to NBCSN on Sunday at 5:30 p.m. EDT to catch the Rocky Mountain ATV/MC Amateur National Motocross Championship highlights broadcast of 250 A, 450 A, and many more classes from Loretta Lynn Ranch.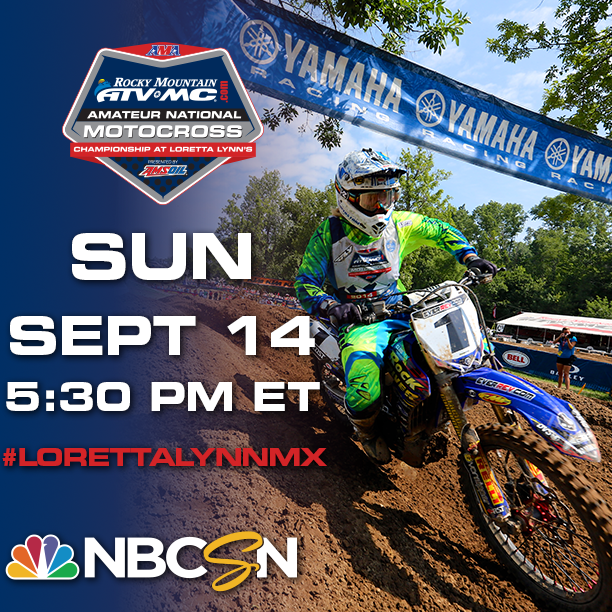 Remember last week when we mentioned the Unadilla GNCC and how it might be the biggest off-road racing event ever? They ended up having 2,076 individual racers for the weekend race, which was won by defending champion and current points leader Kailub Russell of the FMF KTM factory team. That's a whole bunch of AMA members gathered together at one track!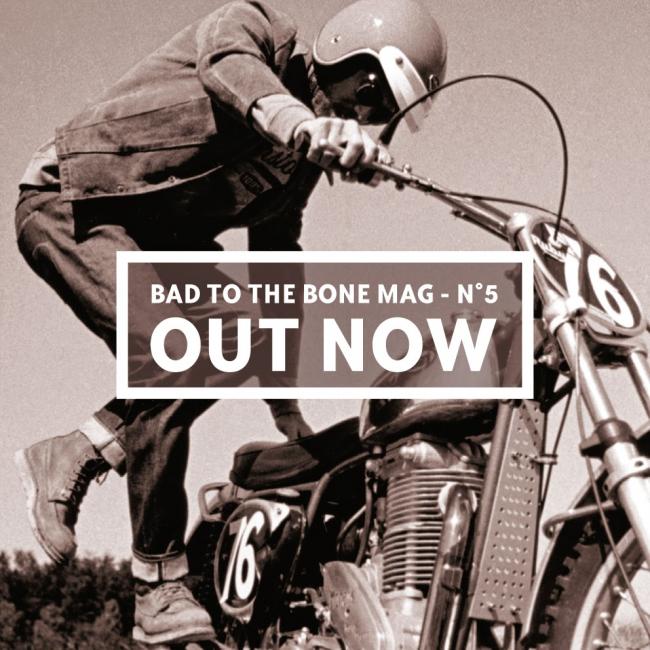 We spotted something very cool this week that involves one of our contributors, Dimitri Coste. It's Bad to the Bone Mag, "Photographic Revue Pioneering creativity and flawless realisation will make this magazine a unique media into contemporary photographic creation."
Check it out right here. And that's Dimitri "Motel" Coste on the cover! If you want to see some of his Racer X Illustrated work, check out the August 2014 issue's "Jean-Michel Bayle's Great Escape" photo feature.
Our friends at Holeshot Radio, New England's best-kept secret (just kidding, Davo) need your help:
Holeshot Radio needs your help for our good friend Doug Henry! You may or may not know, but Doug has a rare condition, one that needs to be addressed. The good news it that it is 100% curable! What is this condition you ask? Doug has a flip phone! I know right, horrible. His friends at Holeshot Radio are asking for your assistance to reach out to the moto community for help. We have started a GoFundMe campaign to raise money to purchase Doug a New iPhone (and subsequent data plan). The page has been live for just a day or so and we have already raised some money, but we need your help to reach our goal. Would you please help push this through your channels? We will be discussing this on our show weekly in an effort to educate the masses on flip phone-itis and how it can be cured.
More info at http://www.gofundme.com/e9rdrs
For the latest from Canada, check out DMX Frid'Eh Update #38.
Thanks for reading Racerhead. See you at the races.