If you've looked at Racer X Online in the past weeks, you've probably noticed quite a few posts titled "Company X is now accepting rider resumes." Sponsorship in our sport is not only beneficial to the rider, but to the company. It's more complex than giving away product, though. There are strategies behind every pair of gear, boots, gloves, helmet, etc., that are sent out. In part one of our mini-series "The Business of Motocross" we dove into the sponsorship aspect from the point of view of a smaller company. In part two we look at sponsorship from the side of energy drinks.
Action sports across the board rely heavily on energy drink sponsorships. From skate to surf to snow to moto, Rockstar Energy, Red Bull, and Monster Energy are very prevalent. In particular, in motocross these brands sponsor everything from teams to series. James Hanson has been with Rockstar Energy for nine years. Now serving as the global motocross manager, Hanson oversees a number of different aspects within the company. We spoke to him earlier this week to get more of a perspective on his job and what Rockstar Energy looks for in its athletes.
Just a few years ago, Rockstar Energy, along with Suzuki, had a big presence in the amateur ranks, sponsoring nearly thirty riders. For a variety of reasons that number has dwindled over the past few years. Hanson spent a majority of his time helping groom the younger stars of the sport into professional athletes with the team. It's an aspect he misses and thinks is different now, in regards to signing riders. How does Rockstar approach it?
Hanson: "I really miss our amateur team. Back in the day, three or four years ago, we have twenty-eights kids and the amateur team through Suzuki and the elite team with Bobby Hewitt [Rockstar Energy Racing team owner], also through Suzuki. We had that whole pipeline. We've always worked hand-in-hand with the team [signing riders]. We don't contact the riders directly. For example, we just had a meeting with Dave Gowland [Rockstar Energy Racing team manager] and Bobby and my boss Michael Kelso and Kenny Adams and myself, and we discussed what riders were available, and the pros and cons, and kind of educated Mike, because he is in the office all the time and not at the races. So we talk about the positives and negatives about each rider, and at the end of the call we can usually conclude if we want a certain rider or not.
"As far as the amateur program, what really hurt us was a couple years ago Congress came down on some things. It's never been our intention to market to kids; we were just building riders. Take Jeremy Martin for example. He started with us on 85cc and has been a Rockstar athlete ever since, and he just won a championship. It's kind of limited that now… It started with GEICO, where they go after the top two or three A or B riders and lock them down until they turn pro and give them a contract. I think that has changed the direction of things, to where you're not building a kid all the way up. We follow the specific guidelines of everything Congress has said, and we don't sponsor kids under-16. So that hurts. Jeremy was 16 on an 85cc, but that's not common. So it's hard to build kids up. But we will continue to follow the guidelines and play by the book. I'm hoping that with Husqvarna we will be able to have a couple more amateur kids that are older that we can work with."
Not holding as big a footprint in the amateur ranks has made Hanson and the team's role more difficult when looking for pro riders.
Hanson: "I almost feel a little bit out of the loop. I go online and study results and tapes and try and follow the amateur races as much as possible. But back then I went to every amateur race. My travel schedule was ridiculous—sometimes I would go from supercross to an amateur race, back to supercross and be gone for thirty days—but I knew who every kid was no matter who they rode for, and I knew how good they were. I still go to Loretta's every year, but I'm a little out of the loop. But there is still that connection. Jason Anderson, for example, he's been with us since he turned pro. I went down and stayed with him in California for two months—he's like my little brother. When he won the championship, it was like my best buddy winning the championship. But it didn't necessarily have the same tie as Jeremy's because that felt like my little kid had just won. I feel more of a sense of pride with Jeremy because I've been around him forever, and I grew up with him walking the track, talking about lines and stuff, so I felt I made more of an impact."
With the changes, how do Hanson and the team approach signing rides to the pro team?
Hanson: "Like I was saying, we having a meeting with the team and talk about it. I write a lot of the contracts, too, so I know that end of it as well. Initially it is a decision that we come to as a team. Obviously, I still know everyone, but it's starting to fade away a little with younger kids. I'm like, 'Man, who's that kid? He's fast.' The MEC [Monster Energy Cup] helps, because you can see who is already fast in supercross at a young age. I still follow and study and do my homework, and I feel they know who I am and they are cool so you get along, but it's different. Also, we have always felt it's important to have a team dynamic. You might have an option between two guys that are similar. Well, we are going to take the guy that gels with our riders better. The reason is, we all sit in the lounge and watch tape or whatever and crack jokes and have a good time, and it's not tense, so we want to keep that atmosphere. I think riders do better when they are in a happy atmosphere. So that comes in to play, as well in addition to talent and skill level.
"Another thing that comes up is maybe a rider needs help with the mental side. I've always been good at helping guys with that side because I was very mental when I was racing. I'm able to recognize the signs and tell what they are thinking and help with that aspect. Then you have the other side, where you can't teach speed. So you may have a kid that's blazing fast but can't stay off the ground, or is fast in practice but can put it together in races, but sometimes you may take that guy over someone that is solid and steady—and it's a gamble. But with the other guy you're going to get a guy that's ninth every race, and you're not going to be able to get him to go faster. He's going to be solid and never get hurt. or you can take the gamble on the guy that may get hurt but is winning heat races and getting on the podium if he does stay healthy. That comes in to play as well—the gamble. You have the solid and steady guy, or you take the wildcard."
As we touched on last week, social media plays a big role in today's society. With certain companies, social media requirements are built into the contract, as Hanson explains.
Hanson: "We have requirements built into everyone's contracts, whether team contracts or a PSA, but every contract that we do has social requirements built in, and it's a very powerful tool. And you have guys like Nick Wey. He's a fan favorite no matter what he does. He is funny. He has a following. Whether he has a bad day or not, he has a following. It's a really important tool. Most of the guys are good on Instagram, and I actually think Twitter has fallen off quite a bit. But, for example, with Facebook and fan pages, I actually have built a fan page for each rider, and I manage them all and try to get them to at least go on and answer questions. But it's such a big tool for me having all the access. Every time you guys do an interview with them, I post it on the motocross page and on the team page and all the riders' pages. It hits so many. I'll do all ten times and it will hit everybody. For me it's having a little extra work, but I know it's getting done right, their contract is met, and my bosses are happy. Their Instagrams are always going to look good. It will be good for Rockstar because I'm doing it. And then I do both of our teams' as well."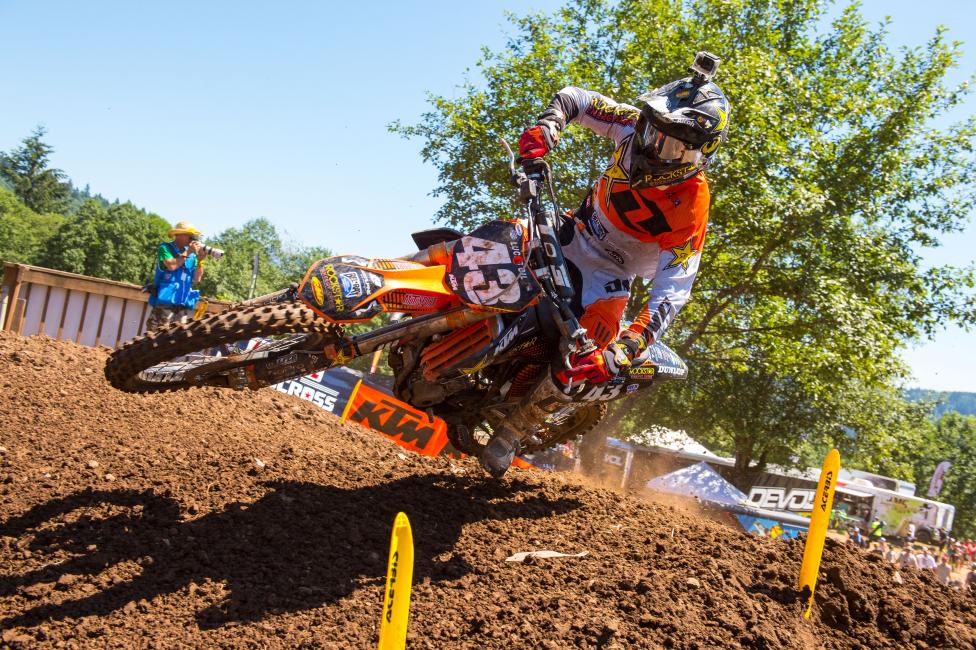 Rockstar is a brand that sprawls across multiple platforms—not just action sports. The company also sponsors music festivals. Like many energy drink companies, Rockstar portrays a certain image—one that stretches across all sports.
Hanson: "I'd say it's a company line type thing. I think we search for a certain attitude, and I think it matches our demographic better. You don't necessarily want the guy that does the same interview every time and is predictable in everything that they do. We enjoy that flash, that attitude, and that realism—that real person. And I think fans appreciate that as well. Cooper Webb, for example, on the podium he's says what's on his mind and some people take it a certain way, and some others, I think they love that. And I think that's important for our image as well, in having those real kids that really appeal to the demographic."
One thing in motocross that has drawn public outcry is sponsors rushing to put a certain hat, drink bottle, and pair of goggles on a rider following a race (that's Hanson for Rockstar), which usually occurs during the live broadcast. Why is it so important?
Hanson: "Obviously, there are obligations from every sponsor, and as far as having that cool kid and people following them and knowing what goggle they wear, what helmet they wear, and how it translates to the general public. If they see their favorite rider wearing a certain item, they want to do that same thing; they want to be like their idol or the guy they look up to. The reason that's become unprofessional in a sense is because TV is there so fast because of their limitations and what they have to do to be [ready] for live TV that half the time the guy, he can't even get a sip of water by the time the camera is there and the interviewer is asking him questions. We're trying to rush everything on there so everyone sees it, and so it's a little awkward, but I think live TV is going to help the sport a lot, so I think it's needed. There's nothing me or the company can do about it. We can't say, 'Hey, can you wait five minutes?' There's no way. We sponsor a team. We do not run a broadcasting company. They need to get a drink, and that stuff has to happen, so it's going to happen in front of the cameras I guess. "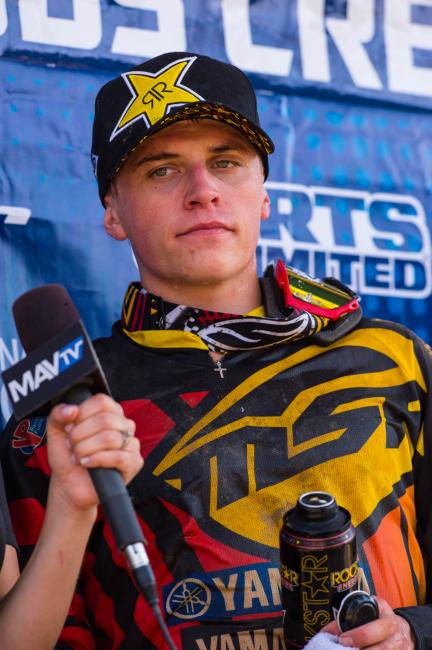 The old adage "There is no off-season in motocross" also spills over into the industry side. This year Rockstar has an even more difficult off-season—they are switching manufacturers, for the second straight year, from KTM to Husqvarna.
Hanson: "It's ten times more hectic [the off-season]. I welcome the season coming so much because everything changes, and you have to start completely over in the off-season. Once Anaheim 1 hits, you start to have a more consistent schedule, like a regular job, where the majority of the week is predictable. There's curveballs here and there, but you know you're going to the race every weekend. You know what you're doing for the most part; you know what you're doing during the week. And then when the off-season hits, especially this year, for the second year in a row, we're changing bikes, and so that means re-wrapping the entire line. That means new graphics—I mean, obviously you need new graphics every year—but you're talking new color schemes and everything, and we have to go through so many channels. It has to be approved by corporate, and then be approved by Husqvarna, and the team being happy and everyone being happy, and it's just so much back-and-forth. I'd rather travel every weekend than constantly feel like I'm chasing my tail. Obviously, after nine months of traveling every weekend you're tired, and you're straight into it. You're straight into the stressful side, when you're still like, 'Man, I'm tired right now.' But you can't let it slip. It's all ready almost October, when contracts end. If you have new riders, they start October 1, so you have to get a photo shoot done and deal with the signings, and then Monster Cup comes right up, like right in the middle of it, so you're under the gun immediately because you have to have everything done for that race."
October 1. It haunts the media and fans alike. All contracts—or most anyway—cannot be announced until then. And riders can't talk about switching teams, although it's already leaked to the media and fans. But, there is a reason for the silence.
Hanson: "It really is just about their contract obligations with their old teams. Obviously if it's a guy that we're keeping, everyone will know. Everyone knows we're keeping Jason Anderson. But when you're taking a guy from another team, they're contractually obligated to their former team, and so no one knows they're leaving. I mean, there's a lot of leakage, obviously. But out of respect for the other team and their contracts, we can't say anything, which means we can't get a head start. Like, we know who our team is right now, but we can't go do a photo shoot today because they can't even ride our bikes. And if they get seen, then the cats out of the bag, and you can't let that happen.
"For example: We have a dealer signing before Monster Cup, but we can't do a photo shoot until October, obviously, so the race is in October and we are under the gun to get all of those materials produced and be ready for that. And another curveball thrown in is Jason's first race on a 450 and on a Husqvarna is the second weekend in October, so when are you doing the photo shoot when you're going to Sweden for a week? Every year you try to get ahead, and I think we've gotten farther ahead in years past, but you never feel like it. One thing that was cool about changing teams this year is going from KTM to Husqvarna. They're the same company basically, so obviously there was the press conference already, and there's already images of Jason on the Husky, so we were able to get ahead on the designs and whatnot, so that was a benefit. Then you have that stressful off-season period right in the middle of the racing. So while it was kind of like getting ahead, it was stressful. And for some reason, I think we do have a head start, but I don't feel like it. "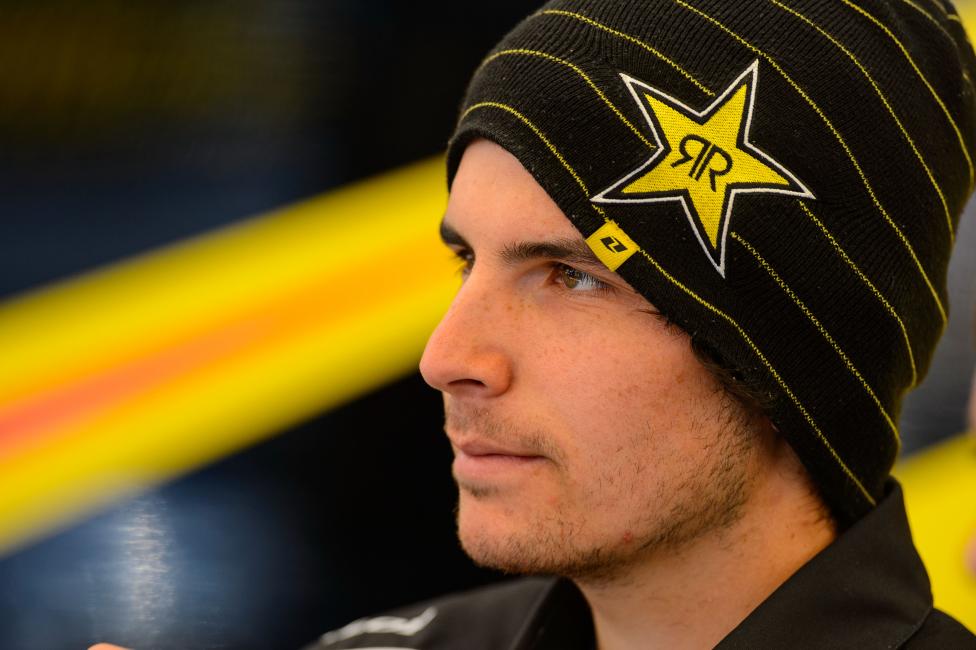 You may have noticed in Hanson's title a small but important detail—GLOBAL. In addition to handling U.S. athletes, Hanson is also in charge of the Rockstar athletes worldwide. Also, gear and the company logos for every athlete—U.S. and Europe—have to coincide, as Hanson explains.
Hanson: "I manage all of our motocross teams worldwide and in Europe. They've been Suzuki forever [in Europe], so there's some consistency there, but things still change. The cool thing about staying with a team like that, though, is that you're not completely re-wrapping the truck and completely redesigning everything. There are similarities. Then you have to also deal with gear companies and all that, and we like to have our guys in Rockstar gear, and obviously the gear companies don't want to just have them wear Rockstar gear every weekend because they want to showcase their whole line-up because they're trying to sell gear too. They have a business to run as well. So we are constantly dealing with gear designs and moving logos and sublimating. And I understand what they want to do—being a business—so we try to work with them. With ONE Industries, we'll approve four different gear sets for supercross and another four for outdoors, so every other race is Rockstar gear, and every other race is a different kind of gear. But then we have to approve the color waves and then the logos and everything, and so every set of gear is its own ordeal."