Just a few weeks removed from competing in his last Grand Prix for the European-based Red Bull IceOne Husqvarna Factory Racing team, former MX2 World Champion and perennial AMA Championship challenger Tyla Rattray chanced upon our path this afternoon in sunny, smoggy, baking-hot Corona, California. And just off an injury-plagued, star-crossed '14 MXGP Tour de Europe in which anything that could have possibly gone wrong, did go wrong, the amicable South African was certainly happy to be back in the Inland Empire metropolis. In town to finish up a deal to line up for the Monster Energy Kawasaki Racing Team in the 2015 FIM World Championship series, Rattray was just leaving the race shop of former employer Pro Circuit. It was along the way that Racer X hooked-up with the man many believe will help show Ryan Villopoto the ropes in Europe, should the reigning Monster Energy AMA Supercross Champion decide to make a run at Tony Cairoli and the FIM World Championship.
Racer X: Tyla, it's great to see you here in California. What's going on with you?
Tyla Rattray: It's good to back. Obviously, there is great weather here in California and it's always good to be here and ride. I still kept my house here from the four or five years I raced with Mitch [Payton] in America. It's good to be back in California, man.
How long have you been back? I know the last Grand Prix you did was at Lommel, Belgium, a few weeks back.
I flew after Lommel, on the fifth of August. I've been here since then and living the California dream!
It was recently announced that you and the Red Bull IceOne Husqvarna team had mutually parted ways.
Yeah, Belgium was my last Grand Prix in Europe. Obviously, it was a bit of a rough year, starting off the season with a rock hitting my finger at a pre-season race in Italy. That actually gave the finger a little crack and I had to take two weeks off. I then had to go to the opening round at Qatar and tried to race there and damaged the finger even more. I had to get surgery on it and that set me back six weeks. I came back at round four at Italy and I was just started getting back into it. I had a really good race in England—I got fourth overall and I was close to the top three. I knew things were coming around, and then I had a pretty big crash during warm-up in France. I hit my head pretty hard and I had to go to the hospital and get X-rays and scans and all that done, so I missed that GP. I came back for Italy feeling good, and I crashed in the second moto and broke my thumb. I had to get surgery again. It has definitely been a rough year, and not the season that I wanted to have. At the end of the day it's just motocross, and things like this happen, and I just have to get ready for next season now. I think it's good for me to be back here in California to let these injuries heal and to get ready for 2015.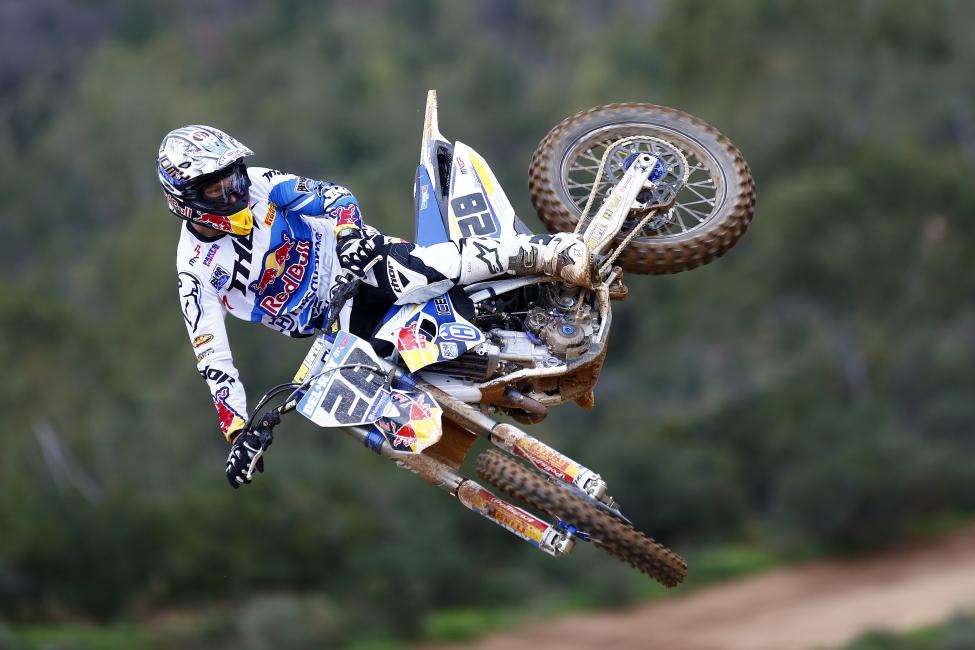 Going back to your separation from the Red Bull IceOne Husqvarna team, both you and the team just decided to call it quits?
Yeah, we decided mutually to part ways. We'll just leave it at that.
Was the Husqvarna FC 350 motorcycle good?
Yeah, the people down at the factory were supportive. I've worked with them in the past when I was racing for KTM. I've always had a good relationship with them. They always put in a lot of hard work down at the factory. They want to win races. It was a bummer I couldn't win any races for them this season. That's just how the sport goes.
Tony Cairoli, Jeremy Van Horebeek, Kevin Strijbos, Clement Desalle, Gautier Paulin: what kind of speed do these Grand Prix guys actually have?
Cairoli, Van Horebeek, Paulin—all those guys are good. I would never say they would come over here and get smoked. No way. I think they would be over here and be able to race up front, for sure. It all depends on who you're comparing them to. If you're comparing them to RV, we all know that the guy is a machine on a motorcycle. If the guy is on it, he's unbeatable. It's good to see both sides of the world. It's good to see the world championship and also see the AMA Championship. Obviously, Europe is a lot more laid back. You have a lot more break between your motos and between your practices at the race. In America, it's squashed in one day and it's all bang-bang-bang! You don't really have much recovery time in-between races. Fitness comes into it here in America in that the quicker you recover the fresher you are for the second moto. In Europe you have a lot more time to recover.
It's different racing. You have different tracks. Europe has, for sure, a lot more technical tracks than the American tracks. American tracks are all pretty much the same. They are all roughed in pretty deep with a lot of water on them, whereas in Europe you can go to deep sand track in Lommel, and then the following weekend you're racing at St. Jean d'Angely, where it is rock hard and rocky. You've got quite a big differences in terrains in Europe.
You also have different nations, different tracks, different time zones, different languages, different food—that has to be gnarly!
It's cool, though, for the world championship, you know? You're traveling around the world and seeing different cultures and racing different tracks. I think next year we have seven new tracks that no one has seen. It's going to be awesome going to those tracks. Everyone is on a level status. It's cool. Then you go back to Europe and you have a race down in France, and then you're off to Italy and then to Spain. You have all these different cultures and different foods. Some places don't even have English menus and you're trying to explain to them that you want chicken. It's pretty cool for myself. For me, seeing the world is awesome. That's how the world championship has always been different. Next year we go down to Argentina. I've never been there before. We'll go to Mexico and Brazil. I've never been to those places before. For me to go there and experience it is awesome.
Adjusting to those differences has to be tough for a young teenaged American like MX2 Grand Prix rider Thomas Covington.
Yeah, for sure. For him going over there, I've got a lot of respect for the guy, because he's going over there and his mom and dad aren't with him. He has to go over there by himself and make it work. At 18 years old it's very tough. It was kind of the same thing for me when I went over. The way Thomas has done it—he's gone over all by himself. No friends, no family. You go over there and try to go win a championship. I think for his first year he's done good. It's always hard going over your first year. I think next year he'll make a big step in the right direction. It's taken him a while to see different cultures—the way how everything works over there. I think next year he'll have a good season.
Tony Cairoli has been both remarkable successful and remarkable consistent. You've raced him all over the world. How good is he?
He's good. The last time I really raced him was in 2008 [Note: Rattray won the MX2 World Championship]. Obviously, this year I went back to Europe and raced him again. The guy knows how to win championships. He's consistent every weekend. If he doesn't win, he'll settle for a third. He's getting points at every round, and that's what it takes to win championships. You need to be consistent, and he's been the most consistent guy for the last five years. That's why it has been hard for anyone to get at him. A lot of good guys got hurt this year during the season. He just kept it up and put in a solid performance at every race. My hat goes off to the guy. He's put in a lot of hard work and he's going for his eighth world title now. You have to respect that. He's getting older now, and when you get older, you get wiser. That's why he's still on top in winning championships.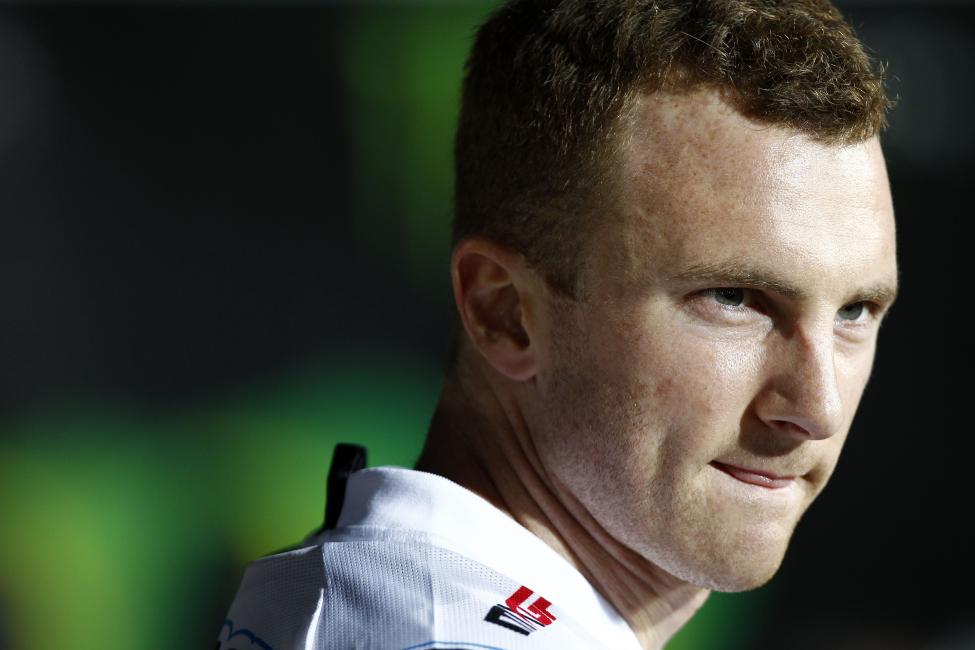 You have raced all over the world throughout your career.
Yes, and now I've gone back to Europe. I'm from South Africa, but I'm used to the European lifestyle. I knew what to expect going back. It's not like it was not all new for me. I knew where the tracks where, I knew the weather, I knew that for training you needed to move around in Europe. You know, you'd hit the south of France or Italy, or you could be back in Belgium because the weather was good. I've learned a lot.
What do you have going for 2015? Do you have a new deal done?
Yes, I've signed with Kawasaki KRT in Europe, so I'm looking forward to going back there for another season. Obviously, this year was a bit of a disaster year, you could say. I just have to keep my head up high and keep putting in the hard work and my luck will turn around, for sure. I'm looking forward to going back there and getting back on a Kawasaki. I raced for Kawasaki for five years and raced a 450 in the nationals. I've had a good time with everyone from Kawasaki and Monster, and it's great to be back here.
Do you have more Grand Prix wins or even a World Championship left in you?
Yeah, I definitely do. If everything goes right and in the right direction, I really do. And starting off the season healthy is going to be important, too. My goal is to start the season off healthy and build some momentum and get on the podium and be up there racing in the front.
Big question time: Is this deal with Ryan Villopoto to race the world championship going to go down?
If the deal with RV does happen with Europe, I think it's going to be a great race to see RV go for it. It's something that's never been before. An American at RV's level has never been over to Europe to race a world championship. It's going to keep the fans on their toes, for sure. It's going to be good for the series overseas in Europe if RV does go.
I know you've spent a lot of time with him this summer. So, if you can say, how is it looking? Will he make the trek over in 2015?
Well, he's obviously still got a contract here in America to race supercross. He's back training. He's on the bicycle and in the gym, so he's training for something. Who knows what for!
Would you like him to be your GP teammate?
[Laughs] Yeah, I'd like him to be my teammate! For myself, being over in Europe for so many years and kind of moving around between different tracks and different cultures, I know where we need to go for training. You can't just be in one place and ride at one track. You need to move around in Europe. You need to be in the south of France or in Italy. It's different than the USA. Way different.
Well, if RV is going to make a run at this championship and try to take Cairoli, somebody is going to have to show him the ins-and-outs of things as quickly as possible, and I can't think of a better person to do that than you. Can he do it? Can he win the title?
Yeah, I think he can win the title. The most important thing is to stay healthy during the whole season. That is going to be key. He's obviously got records already. If the guy is healthy, he wins championships, man. The guy is fast, and for sure he's going to go over there to win. He's not going to go over to come second or third. He's the kind of guy who goes to the starting gate to win and he'll do whatever it takes to win.
Ryan Villopoto versus Tony Cairoli. These guys would certainly be putting their legacies on the line, wouldn't they?
Yeah, it's going to be good. It's going to be good for motocross and it's going to be good to watch.