By Steve Matthes, Jason Thomas, and Chase Stallo
1. What's next for Ryan Dungey? How does he bounce back from this?
Steve Matthes: How does Ryan Dungey bounce back from this? C'mon… He'll be fine. I doubt he needs any numbers to any crisis counseling centers. He had his usual stellar season, with a second place in supercross and a second place in outdoors. He didn't get any titles, but he had lots of race wins and did and said all the right things on and off the track—well, except for when he punted RCH Soaring Eagle Suzuki riders Broc Tickle and Josh Hill in consecutive laps back in supercross as "Angry Dunge." I'm not sure what was funnier, him actually pressing the issue in supercross or denying he was trying to ride differently.
Anyway, he'll be fine. With him teaming up with Aldon Baker next year for training, I'll be interested to see if his race craft changes as well. I know that Ryan Villopoto counted on Dungey to not attack him right away when Villopoto passed him, and Villopoto knew that Dungey was absolutely no danger of doing anything aggressive out on the track. So, knowing this, does Baker try to make Dungey into some sort of cross between the surgical guy he is now and an ultra-aggressive Villopoto? We shall see…
Jason Thomas: Where does he go? He goes back to his beautiful home for a bit of rest before preparing to defend the red, white, and blue in Latvia. In the spirit of the question, though, he will be just fine. He will continue to enter every race and championship as one of the favorites, just like he has for the last five years. He came very close to winning another championship and without his biggest rival, Ryan Villopoto, out of the SX scene for 2015 he has a great shot at it again.
Chase Stallo: While I think Ryan Dungey will bounce back from this, we'd be remiss not to think this loss didn't sting. Losing to your 20-year-old teammate is not something any competitor, let alone a former champion like Dungey, is happy with. Dungey was obviously struggling with something earlier this year—you don't hire a mental coach without a reason. His end of the year run was promising and possibly a big turning point heading into next year. His confidence definitely grew as the season wound down.
Getting the Motocross of Nations losing streak off his shoulders in Latvia (if he can) will be a big boost for Dungey, as well. As will Roczen moving onto another team. Since coming to KTM Dungey was always looked at as the team's #1. Roczen took some of that distinction away this year. With Roczen gone Dungey again resumes his duties as the clear-cut number-one guy for the team. The combination of all this factors will put Dungey in a good place heading into next season.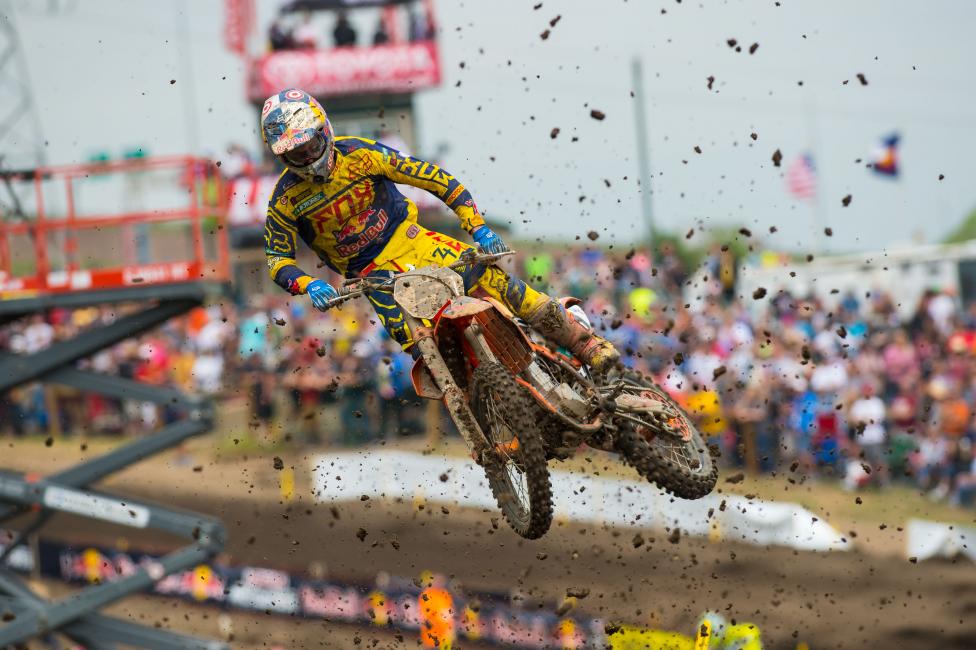 2. Let's talk 2015—give a dark horse 450 guy to watch.
Matthes: 2015 dark horses, eh? Well, we don't know where everyone is going to land quite yet, so this answer could change as we get closer to Anaheim 2015. I think Jessy Nelson is on the verge of something serious in the 250SX Class next year. I'm thinking a win or two and top three in the West Region. I like his gradual improvement curve. Outside of the big names I feel like we might be talking about him next year.
450 Class, you're going to laugh here and I understand. I'm going deep for the dark horse here and picking Jake Weimer. He had a terrible year this year, and we've kind of forgotten about Weimer, but we had him on the PulpMX Show on Monday and he's in a good place. He gets it and sounds like he could have some support from Kawasaki next year. He's made the podium in 450SX, he's won 450SX heat races, and he'll be very motivated. You watch—Jumping Jake will be back in 2015.
JT: I really like Katy Perry for this spot. She is ready for a breakout year in 2015, and my money is on the sexpot from Santa Barbara.
In all seriousness, I am going to go with Justin Barcia on this. I think his starts will be remarkable on the new Yamaha, and the time off will do him some good. He will be more motivated than ever to prove the naysayers wrong. He is one of the most talented riders in the class, and coupled with a renewed fire in his heart 2015 is going to be his year to be a factor.
Stallo: If we were talking about Comeback Rider of the Year, I would agree with Matthes and go with Weimer. There's only one way for Weimer to go in 2015 (hint: It's up). I think one guy to watch next year in the 450 Class will be Chad Reed. Before his shoulder injury Reed was right in the thick of the title chase. With Villopoto and James Stewart's futures still unclear, does anyone really doubt that Reed can put in one last title run? I don't. I've done it before and it didn't turn out well.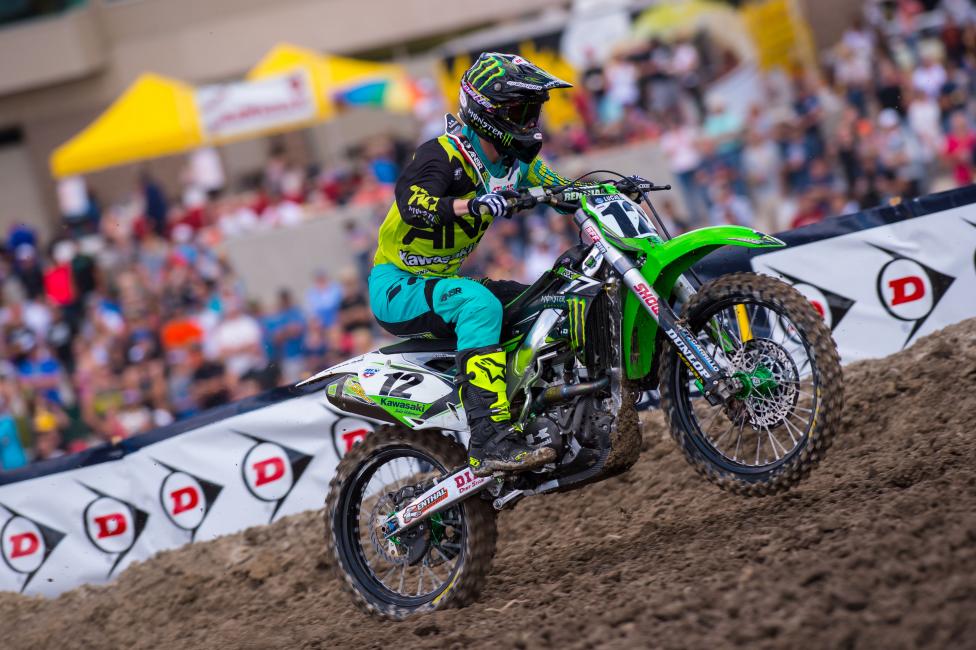 3. On the Canard suspension change: do these moto wins suddenly change everything we're thinking for 2015?
Matthes: I don't think so…I don't think momentum from the outdoors carries over to supercross three months later. BUT (and it's a big but) I'm sure we'll see KYB suspension on the Honda next year and Canard will know going into supercross that he has a "winning" set-up. But, like a lot of riders, a few rides where things don't work out and he could be (I said could be) back to square one. But think about if Canard had not won any motos or overalls this summer, and wonder what could have been. Canard's outdoor season would be rated as so-so with a third in the points, a few laps led, and the thought that Roczen, Dungey, and Tomac had him covered.
But his wins have changed the narrative here. He's really shown something. Kudos go to Canard and Honda for thinking outside the box, making this switch. I'm excited for the supercross season because the sport needs Trey Canard up front, being the great guy that he is.
JT: I think Canard is going to be in the title hunt next year. I really do. The suspension change is going to bolster his confidence and bring his mind back to a place it hasn't been since 2010. He has all of the tools he needs to make his dreams a reality. If he can get through this off season healthy and keep progressing, the sky is the limit for him. Whether the suspension is the difference or not, only he knows for sure. The confidence, however, is something I have personally experienced, and there is no substitute. Leaving Utah he has that crucial piece of the puzzle. Stock prices on Trey Canard are soaring and I see no sell-off in sight.
Stallo: My knowledge of what a bike's changes do and don't do for a rider is not nearly as vast as JT's and Matthes's. But, in talking to numerous riders, I've come away with the conclusion that bike changes—no matter how insignificant—do make a difference. It's simple: more comfort equals more speed. I find it hard to believe these changes didn't make a difference. The Trey Canard we saw earlier in the year compared to the Trey Canard we saw the last three rounds (the time of the change) was immense. Canard said he began to doubt himself for a time. He didn't know if he could win again. Now that he knows he can, I really think this puts Canard right alongside Dungey, Roczen, Barcia, and others as a title favorite in 2015.