Miller Motorsports Park
Tooele

,

UT
Utah National
Lucas Oil AMA Pro Motocross Championship
Welcome to Racerhead and the final round of the 2014 Lucas Oil Pro Motocross Championship. We are at the beautiful Miller Motorsports Park in Utah, with one new champion already named (Jeremy Martin) and another to come tomorrow. The wind is blowing but not like last year, and it rained yesterday but not like last Saturday…. Holy smokes, that was a wet (and fun) day. Of course it's been a busy week for everyone, and hats off to all of the teams, mechanics, privateers, and officials for cleaning up after the debut of the Indiana National at Ironman MX in Crawfordsville.
Before we get into tomorrow's business, here's next year's schedule (and I can't believe GuyB at Vital MX got the holeshot on me):
May 16 Hangtown Motocross Classic Sacramento, CA
May 23 Glen Helen National San Bernardino, CA
May 30 Thunder Valley National Lakewood, CO
June 6 Tennessee National Blountville, TN
June 13 High Point National Mt. Morris, PA
June 27 Budds Creek National Mechanicsville, MD
July 4 RedBud National Buchanan, MI
July 18 Spring Creek National Millville, MN
July 25 Washougal National Washougal, WA
August 8 Unadilla National New Berlin, NY
August 15 Utah National Tooele, UT
August 22 Indiana National Crawfordsville, IN
Yes, we are very pleased to be opening again at Hangtown, returning to Glen Helen, hitting all the same great tracks as we did this season, and ultimately ending in Indiana.
Here's a look at that first Indiana National, a muddy mess of the highest degree, from Austin White's video cameras.
Where does it rank among the muddiest races of recent vintage? The morning was tough, but it wasn't as bad as Spring Creek '06, when Ricky Carmichael lapped the whole field, or even the second 250 moto at Budds Creek in '09, when the race had to be shortened by two laps when the dams were about to overflow… In the supercross category, Daytona '08 and Anaheim '05 are way, way up there, but the worst ever for me was Seville, Spain, back in 2003—the opening round of the FIM World Supercross Championship. And of course, MXoN-wise, anyone who saw the clinic Stefan Everts put on at Foxhills in 1998 would have thought Indiana was a fairly easy day! Thanks to the fans and all the people who supported the race despite the conditions—all those GNCC races taught them how to handle the elements!
One takeaway from Indiana for me was what I believe to be the decisive moment in the 450 championship: the start of the first moto. After few takers went out for the second practice and no riders chose to go out for any of the pre-moto sighting laps—first time ever, I believe—the move of the year was Roczen hitting that first turn wide open with the holeshot, getting sideways in the muck but never letting off. It was an all-or-nothing moment, and the German kid didn't blink in the face of all that pressure and danger. For his own part, Dungey got pushed off in the mud and was lucky not to be stuck there, then went up around the inside to where officials were able to point him back on the track. That moment—Roczen's remarkable holeshot and Dungey's distress—might end up being what settled this championship.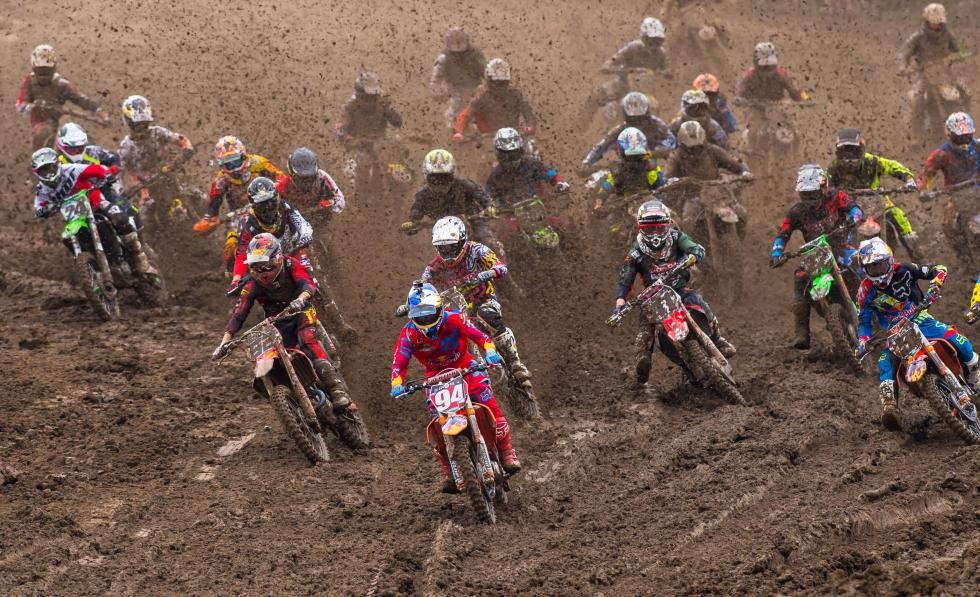 Needless to say, everyone is excited about having just one more day to go in 2014, and the track here at Miller is very much improved from last year in regard to soil and flow. Here's a preview of it from Cooper Webb, courtesy of Vital MX, with some haunting reminders of last year's brutal windstorm.
And here's Austin White's press-day video featuring 450 title combatants Ken Roczen and Ryan Dungey, plus newly crowned 250 champion Jeremy Martin, Team Honda Muscle Milk's Trey Canard, and more.
And if you didn't see it, here's Simon Cudby's gallery from the Team USA press intro out here in Utah.
It's busy here, so I have to get back out there. Let's get on with Racerhead.
TIME FLIES (Steve Matthes)
Well, this is it. The final round of the Lucas Oil Pro Motocross Championship takes place tomorrow, and I wonder where it all went. Anaheim 1 was just a month or so ago, right? The endless flights, hotel rooms, and car rentals are going to come to an end for a couple of months, and I'm happy to be staying at home and not going anywhere—for now, anyway. Give me a month or so and I'll be ready to hit the road again. And if I'm not, my wife will be more than happy to see me go.
Although the 250 Class title is clinched and it looks good for Kenny Roczen to bring home the 450 championship, there are still some battles going on at this race. The one for second overall in the 250 Class is going to be good. Blake Baggett, Cooper Webb, and Marvin Musquin have 7 points between them. There's some money at stake as well for these guys to get second overall.
Alex Martin and Dean Wilson are fighting for tenth overall in the 250 Class, and Chad Reed and Freddie Noren are duking it out for the same position in the 450s. Methinks finishing top-ten in the overall series points means just a little more to Martin and Noren.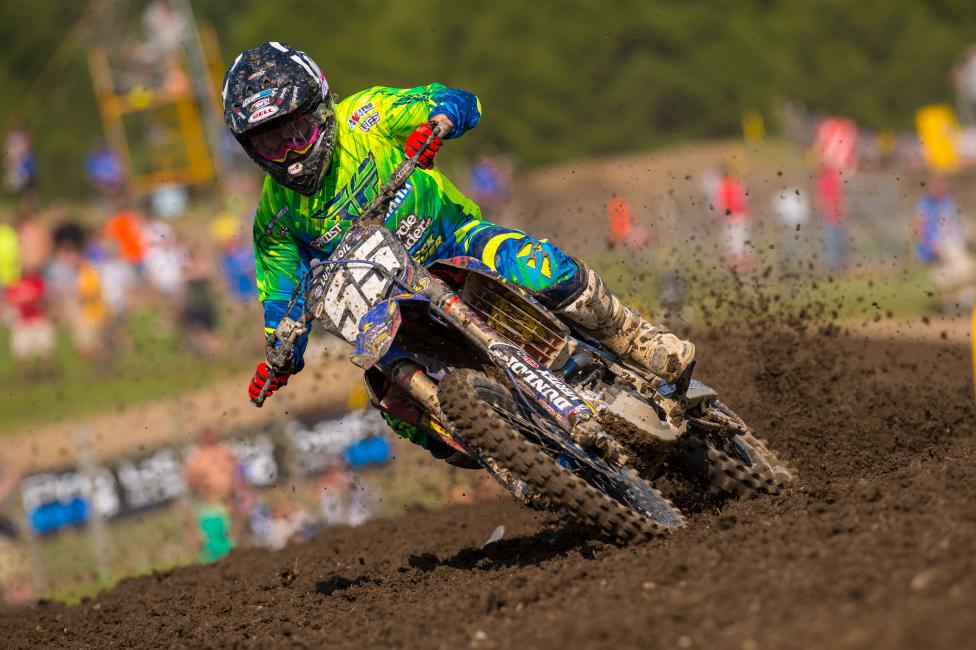 PRO PERSPECTIVE (David Pingree and Jason Thomas)
PING: The 450 title will be decided this Saturday, though the results this weekend won't likely play a factor. Instead, both riders will look back and point to motos and weekends where mistakes were made, excellence was achieved, and points were given/taken. For Ryan Dungey, this weekend is very simple: just win, baby. Chances are slim to none that he can steal the title now, and I'm not sure slim will be in Utah this weekend. Still, a 1-1 at Miller Motorsports Park would be a nice finish. He has nothing to lose and should be able to take advantage of a cautious Roczen.
Roczen, meanwhile, needs to do two things: get a good start and not be stupid. Twenty points is huge, and only a mechanical or a violent digger will prevent him from winning his first premier-class championship. You could "what if" all day long about how the points would be if last weekend's race were dry, but it wasn't and Roczen is great in the mud. Being overly cautious could get him in trouble, but if Roczen can get a good start and ride at 90 percent, he can still be on the box and grab his #1 plate.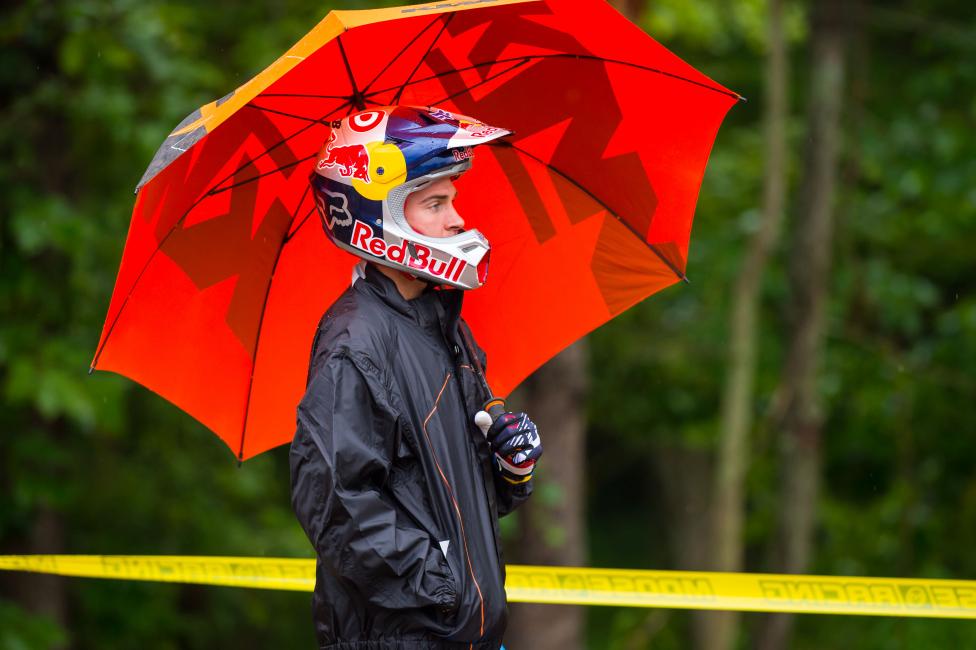 JT: The finale. The Grand Poobah. Whatever you want to call it, the series is wrapping up in Utah in just twenty-four hours. All the ups and downs throughout this season will come to fruition at the end of the second moto.
For Ryan Dungey, as Ping said, he has one directive, and that is to win both motos. He can only control his own results, and that's what he has to do. He needs lots of help, but he can help himself most effectively with 50 points.
For Ken Roczen, his mind will be full of everything that could go wrong, but he has to put that aside and just handle his business. He has been through this before, and realistically, he should be able to finish well within the top five even on a bad day. He is just that much better than the second-tier group. Get a good start, make smart decisions, and ride this puppy home whether he's winning or in fourth. There is no reason to take unnecessary risk; it's big-picture all the way.
The big variable here is the weather forecast, which is calling for rain—again. Last weekend it favored Roczen in a big way, allowing him to stretch his lead from 7 to 20 points. As everyone knows, mud breeds chaos, and I really believe a muddy disaster is Dungey's best hope at making up the gap. He needs the craziness that rain and mud can provide. It was his undoing in Indiana but could be his salvation in Utah. So if you see a man with a huge #5 on his back doing some sort of hokey pokey on top of a motor home, assume Dungey read this and is doing his rain dance.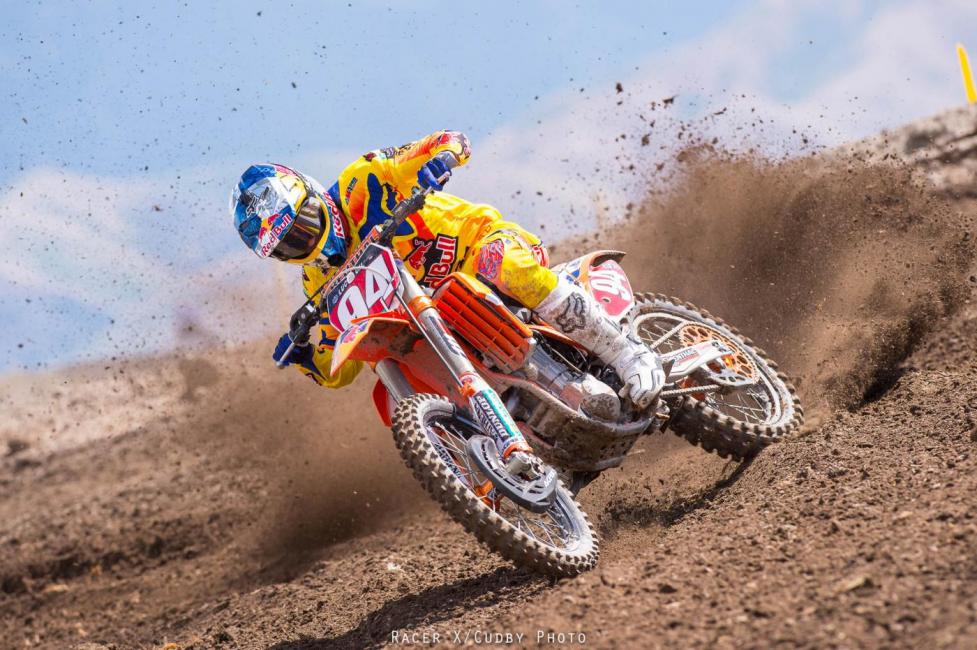 PRIVATEER POWER (Jordan Roberts)
We saw some unusual qualifying times last weekend at the Indiana National due to the rain that came down as practice started. Seven of the top ten qualifying spots belonged not to factory stars but to privateers who drove in on shoestring budgets and risked ruining their equipment.
This isn't a completely unusual occurrence when the weather takes a turn for the worse as practice begins. In 2011, New England native Mike Sottile took his privateer effort to the top of timed qualifying by taking advantage of the smoothest conditions the Southwick track would see before Hurricane Irene rolled in. This past weekend, Niles, Michigan's Austin Wagner qualified just behind frontrunner Eli Tomac in second place, nearly matching Sottile's qualifying ride at Southwick.
However, Wagner went out in the first 450 moto to prove his qualifying time and prowess in muddy conditions weren't a fluke. He hovered around the top ten for half the moto until he became one of many victims of the conditions. Wagner finished 26-29 for thirtieth overall, and although that may not be where he wanted to end his day, he proved he could hang with some of the best mud riders in the world.
Where exactly did Wagner's mud-riding abilities come from? It's tough to say, but you might be able to point toward the family tree. His mom is Lisa Akin-Wagner, one of the all-time fastest women to throw a leg over a motorcycle. As with any Michigan racer, both Lisa and Austin grew up racing in the area's frequently adverse conditions. In a sense, Austin's ride last Saturday was decades in the making.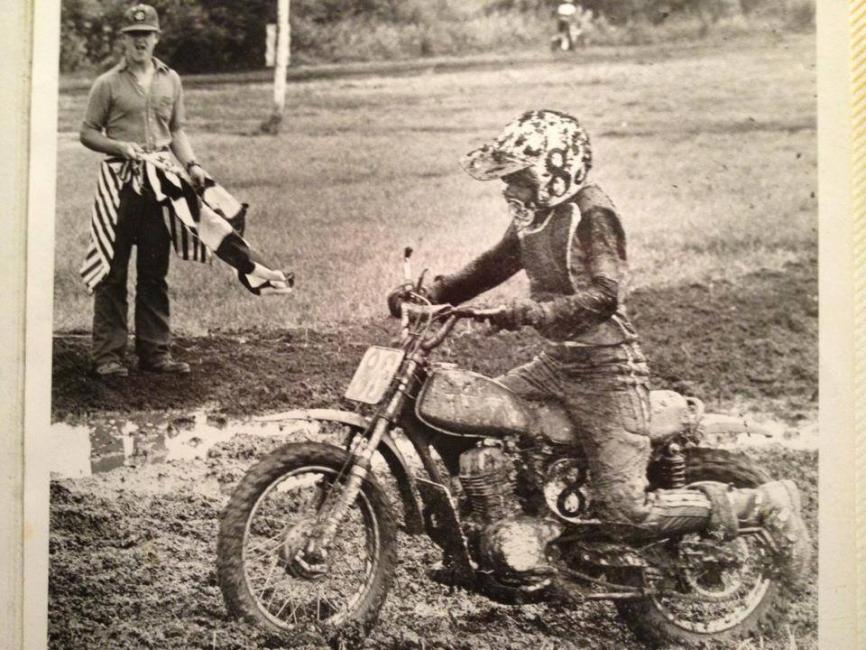 LISA AKIN-WAGNER (DC)
Just as we were getting ready to publish Racerhead, we got an email from Lisa Akin-Wagner herself! Check it out:
I thought I would share some old photos of me racing in the mud after Austin put in a great qualifying lap time in B practice. In that practice it was perfect mud riding, still raining, just sloppy enough and no lines. He was running repectfully between 11-17 all 1st moto until a last lap crash and he couldn't get his bike to fire.
In the first photo that is Gene Ritchie pushing me out. Not sure if these are of any interest to you or if you can use them for anything. Just think it's pretty unique you don't have many riders that have photos of their moms racing in the mud. I personally loved racing in the mud. I thought it was fun. So I guess Austin takes after his mom a little. LOL!
Lisa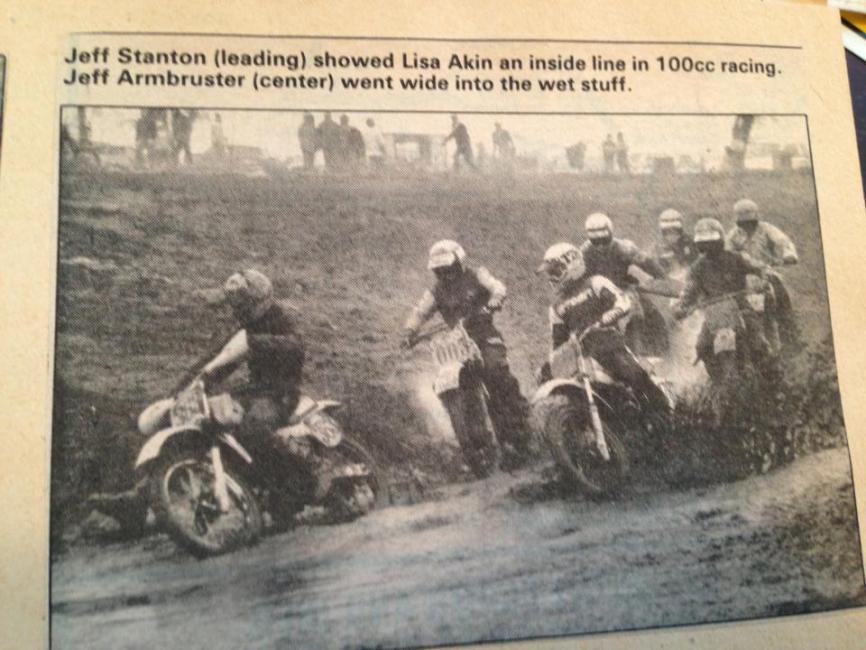 COLORING TIME! (Jordan Roberts)
Did you happen to catch Ken Roczen's Instagram post yesterday featuring our new MOTO TIME! Racer X Motocross Activity Book? If you were one of the many looking to get one, we have good news: it's now available for purchase at the Racer X booth in Utah as well as online at racerxbrand.com. The MOTO TIME! activity book includes illustrations of your favorite pro riders, design-your-own track and gear sections, word searches, mazes, and much, much more. Get yours here today!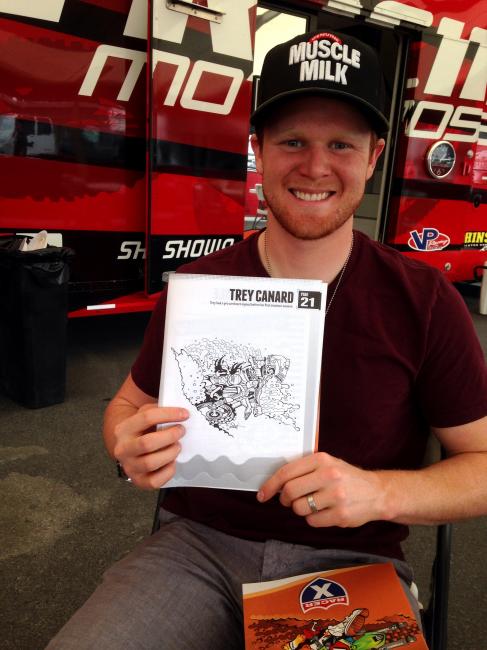 OH CANADA! (Matthes)
Recently crowned MX1 Canadian champion Colton Facciotti will be lining up in the 450 Class on Malcolm Stewart's machine, as Stewart is once again out (both Stewarts are, actually). Lucas Oil/Troy Lee Designs Honda team manager Tyler Keefe picked up Facciotti a few years ago to fill in, and he wears TLD gear up in Canada. This was an easy choice for everyone, and I'm pumped to see a real live Canadian out on the track. And don't sleep on Facciotti out there—I think he can run top-ten or right around there (he proved his speed against #800 this summer). Thanks to Keefe and the TLD guys for making this Canadian's dreams come true!
NUMEROLOGY (Matthes)
According to GET's Dan Truman, it looks like Jeremy Martin, Cooper Webb, and Justin Bogle are all in line to get permanent career numbers. Martin, of course, can pick a single-digit one; Dan hears he's leaning toward #14 but may take his team manager Steve Lamson's old #6, and Webb wants #17. Also, Cole Seely and Jason Anderson are just a few points apart, and only one will finish in the top ten overall and get that career number. The battle is on!
Want some proof that Ryan Villopoto is either retiring or heading to the GPs? Look no further than the Kawasaki guys finally talking to some riders (notably Wil Hahn) to fill that second spot on the team alongside Davi Millsaps. The word is RV is leaning toward the GPs (but only if he can get paid enough) to ride alongside good friend Tyla Rattray and young American Thomas Covington (whose dad, Mitch, is an executive at Monster Energy). But it will take series sponsor Monster Energy and likely other sources of revenue to make it all work. Either way, we may have seen the last of one of the best riders America has ever produced, and I hope he enjoys whatever comes next. Jeremy McGrath's records are safe once again.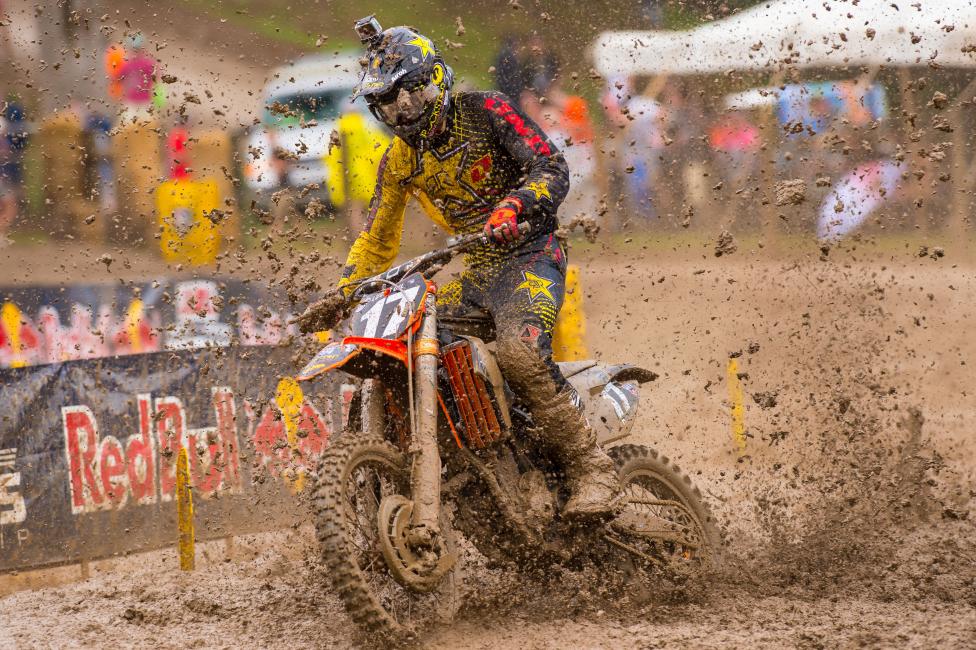 HEAD-SCRATCHING HEADLINES
"GEICO Honda 250 Motocross riders duke it out with Mother Nature in Indiana." -GEICO Honda PR
HEY, WATCH THIS
Incredible Acrobatic Motorbike Accident
CAM ZINK SETS WORLD RECORD MOUNTAIN BIKE BACKFLIP
2014 RACER X AMATEUR FILM FESTIVAL (Jordan Roberts)
The submission period for the 2014 Racer X Amateur Film Festival, presented by MotoSport and ISAW, will finally come to an end tonight at midnight. Entries were a little light through the first half of the six-week submission period, but the floodgates opened in the second half and we ended up with quite a few entries.
Now it's time for our internal panel of judges to review and evaluate each video—an enjoyable yet challenging task—to narrow the field down to eight semifinalists. Everyone at Racer X would like to thank all the entrants for their time and effort. On Thursday, August 28, we'll announce the eight semifinalists right here on Racer X Online.
The semifinals will begin the next day on Friday, August 29. Semifinalists will be pitted against each other in a head-to-head single-elimination bracket, and voting will be out of our hands at that point. We're calling on you, the viewers, to vote for the four best videos to transfer into the finals. This is looking like the most stacked Racer X Film Festival to date, so don't miss it.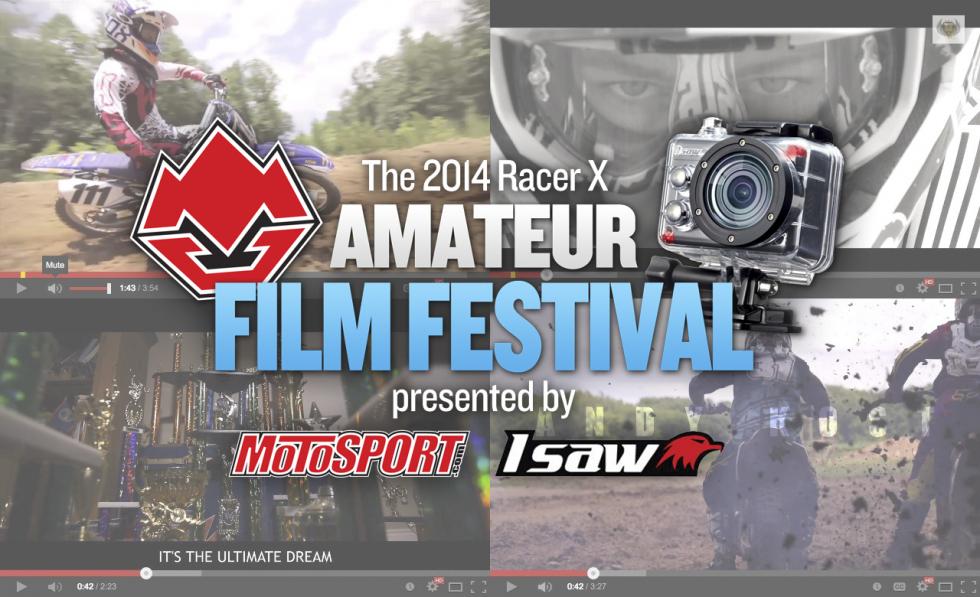 A DESPERATE PLEA FOR HITS (Matthes)
When you have a race like we just had in Indiana, guys like Scott Goggles' John Knowles become very important. I talk to him about the mud and Trey Canard's two-goggle technique here.
Former factory rider David Vuillemin answers the questions from the mudder that was in Indiana here.
Optimistic Mulligan is the name of the latest Swizcorner about Indiana here.
Jason Thomas and TWMX's Michael Antonovich join me to talk Utah MX and more in the Fly Racing Moto:60 Show here.
Former 125 SX champion Travis Preston joined Kris Keefer and me in-studio for last Monday's PulpMX Show, where we welcomed on Jessy Nelson, Wil Hahn, and more here.
RANDOM NOTES
Are you going to the Utah National this weekend? Stop by the Racer X booth to subscribe or renew and get thirteen issues of Racer X Illustrated plus a six-pack cooler sleeve for just $20! Would you rather spend all day in the pro pits? For $50 you get a Racer X All-Day Pit Pass plus thirteen issues of Racer X Illustrated. If you're buying more than one pass you can get a multi-year subscription, or you can give the subscription as a gift. This offer is good for both new and renewing subscribers.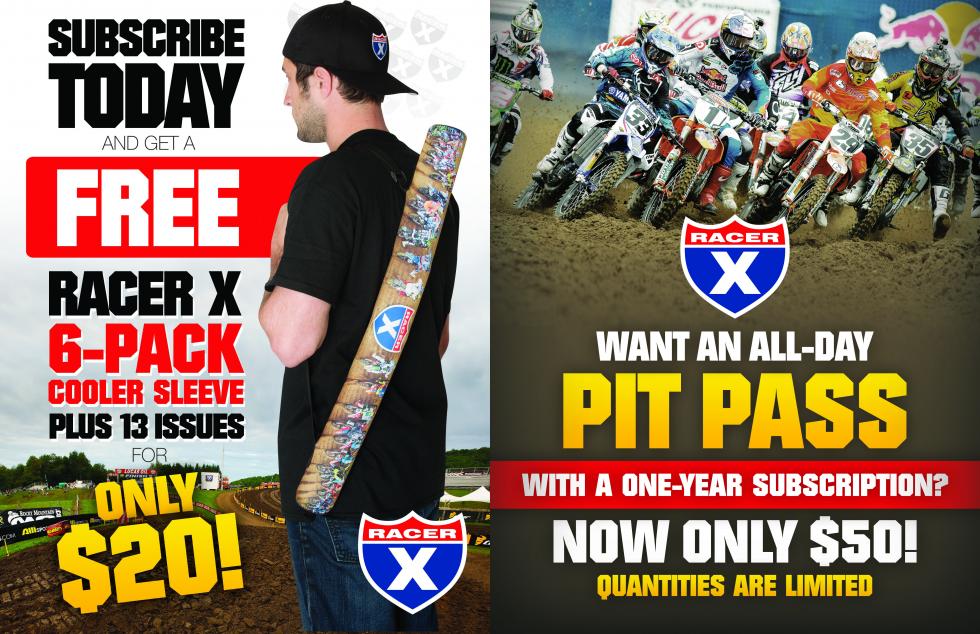 Don't forget, stickers are always free at Racer X! Be sure to stop by and get your 2014 Utah National event stickers.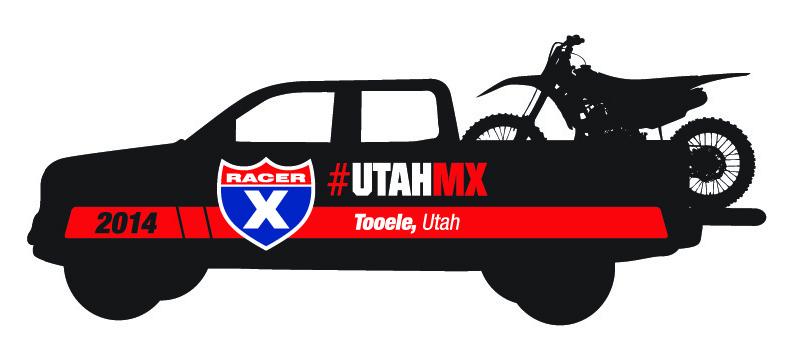 Legendary motocross photographer, as well as our friend in New England, Paul Buckley has been selling the occasional retro MX T-shirt, but it appears he's gotten a bit more organized and has opened a proper online store. Check out this link for some really neat old-school shirts.
Thanks for reading Racerhead. We'll close this week with a letter we received today from John Gardner, marketing communications manager here at Miller Performance:
Yesterday, in the midst of media day and facility-prep activities for the Zions Bank Utah National, Hollis Hebdon received a call from Dave Steadman, owner of Steadman's motorcycle/ATV dealership in Tooele and a longtime MMP supporter. Dave's best friend has a son, 19-year-old Ryan Tomac, who is an avid mountain bike rider and huge motocross fan, particularly a fan of Eli Tomac, who rides for the factory Honda 450 team (no relation).
Ryan had an accident on his mountain bike in April and injured his shoulder. When it didn't heal, he went to the doctor and was diagnosed with multiple cancers. He wanted very much to attend this weekend's Zions Bank Utah National to cheer on his favorite rider, but was scheduled to go in for chemotherapy on Friday and was not going to be able to attend.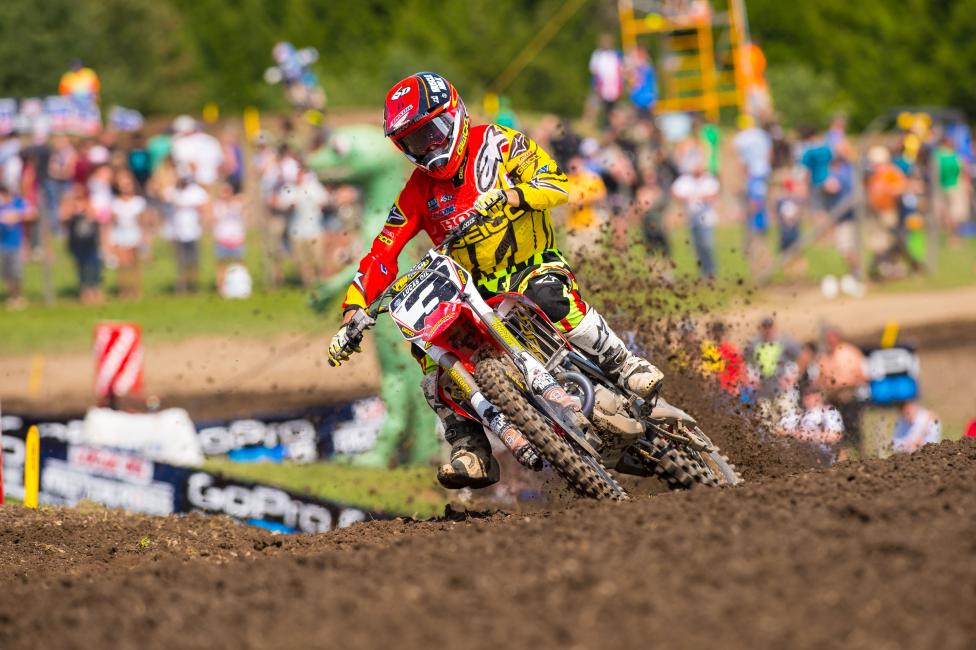 Dave asked Hollis if it would be possible to arrange a meeting on Thursday between Ryan and Eli. Hollis called me, I called our MX media consultant Brandon Short and Jen Kenyon of MX Sports, and they put me in touch with Eli's PR representative, Mandie Fonteyn. Mandie set up the meeting, and Dave brought Ryan and his family out to the track. They got to watch some of the media day practice session, then we took him to Eli's trailer for the meeting. Eli was very gracious and, once the final practice session of the day was completed, he gave Ryan his complete riding gear (jersey and pants), which he had signed.
Eli told Ryan that he should fight his hardest, and that he expected to see him here next year wearing that jersey, and offered to set him up with VIP tickets and an invitation to hang out with his team for the weekend.
Ryan was thrilled to have met his hero, and was heading into chemotherapy today with renewed determination.