Ironman Raceway
Crawfordsville

,

IN
Indiana
Lucas Oil AMA Pro Motocross Championship
Nick Gaines is not RJ Hampshire. Nick Gaines is not Chris Alldredge. Nick Gaines is not Luke Renzland. Gaines, unlike the others mentioned, did not enter the pro ranks with much publicity. Gaines, unlike the others mentioned, did not have factory support entering the pro ranks. Gaines, unlike the others mentioned, did not win any titles at Loretta's. (His claim to fame was beating Adam Cianciarulo in a Supermini moto in 2011). Gaines, unlike the others mentioned, did not make his pro debut at Undailla.
But Nick Gaines wasn't concerned with the outside. He just wanted to race. He raced, and raced well at the inaugural Indiana National on Saturday, besting his rookie counterparts with an eleventh in the first moto. Gaines would finish the day fifteenth overall, one spot behind Alldredge. With help from Traders Racing Kawasaki, the North Georgia native, with a strong southern drawl, will finish the season in Utah. We caught up with the rookie following his pro debut earlier this week.
Racer X: Quite a race to start with. What went into the decision to make your debut at Indiana and not Unadilla?
Nick Gaines: After Loretta's we still weren't sure what we were going to do. We were talking to Traders Racing, and we just weren't ready for Unadilla. In the end, we decided to do Indiana and then Utah this weekend.
Things went well for you this weekend. How did having a mud race factor into the nervousness of this also being your first professional race?
I tried to come in there with no expectations. Practice was probably the muddiest race I've ever raced in. The track was pretty much under water. I was struggling with goggles and stuff. I got twenty-third gate pick, and on the line I was pretty nervous. But I knew I was probably going to be. The first moto went good. I got off to a mid-pack start and then just tried to stay up. Everyone was crashing and going crazy. I really tried to focus on my own race and got eleventh. The second moto I was lined up with some really fast people and got a terrible start. First lap I went down and crashed three more times. About halfway I went off the track and went straight through the mud and got stuck and couldn't get out of it. Last lap I got out of it and rode to the finish line. But I was like three or four laps down at that point and finished thirtieth. I still don't know how I got fifteenth overall, but that felt pretty good.
How did you hook up with Traders Racing?
I met Kenny [Day] at an Area Qualifier in Ohio, I think. He said if nothing worked out for me, they'd love to have me. I saw him at Loretta's, and he talked to my family and everything, and everything sounded good, so it went from there. We are doing the last two rounds with them and maybe more in the future, but I'm not sure yet.
What are your plans for next year? Is it straight to supercross, or do you have to do arenacross?
I get to go straight to supercross. So, I believe I'll do East Coast supercross next year. I'm looking forward to it.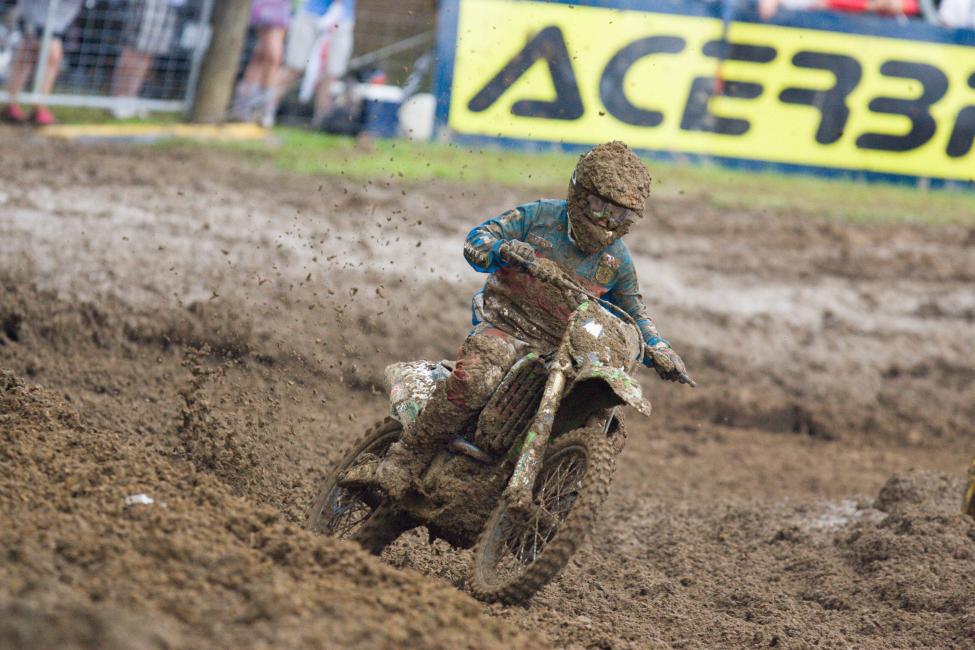 You're from North Georgia, is that where you currently train?
I've been training everywhere. I'm at our local track now near my house in North Georgia. I also go down to Tampa, Florida, with Ronnie Tichenor a lot and ride with him in rough sand tracks and all that. And I also go down to Shae Bentley's house in Georgia and ride with him. I just change it up every once in a while.
Those two have long legacies in this sport and have trained a number of other riders. How have they helped you get where you are now?
They've definitely helped me get where I'm at. Ronnie is really tough on me. He'll make me go even when I'm tired. He'll keep pushing me. Usually, when I'm down there with Ronnie, I ride with Daniel Baker. It's good to ride with him because we are close on speed and we push each other. Shae is just an awesome guy. He's one of my really good friends. He has two tracks that we ride at a lot and some local tracks around his house we ride at. I just try and train on different types of dirt. Florida, it's real sandy and rough. Then when I go to Shae's, it's real rutty and deep.
For those who aren't familiar with you, can you tell us about your amateur career?
I started racing when I was five. We did our first year at Loretta's and moved up. Then I started doing more of the nationals. When I was 13, I got picked up by Monster Energy Kawasaki Team Green. From there we kind of upped the program a little bit and start going to all the nationals. My amateur career was good in one way, and not good in another. I think I should have won a lot more than I did. But I was always one of the top three of four guys. It wasn't bad, but I wish it could have been better.
You had a good week at Loretta's this year as well.
Yeah, it was pretty good. I raced 250 and 450 A. Both first motos I crashed and got fifth and sixth. The second 450 A moto I got a good start, and me and [Luke] Renzland and Chris Alldredge kind of took away from everybody. I think halfway I got around Alldredge and tried to make a run at Renzland. I got real close but wore myself down. In the second 250 A moto, it was crazy. There was a huge pileup and I went down. My bike was just torn apart and wasn't running. The third 450 A moto I got a terrible start. Probably around thirty-fifth. To get third overall I had to get two spots ahead of Daniel Baker, and I passed him with about two laps to go and was right on Keith Tucker for third, and that would have gotten me third overall. But I just couldn't get him. So I got fourth overall. The third 250 A moto, I think I got third in it.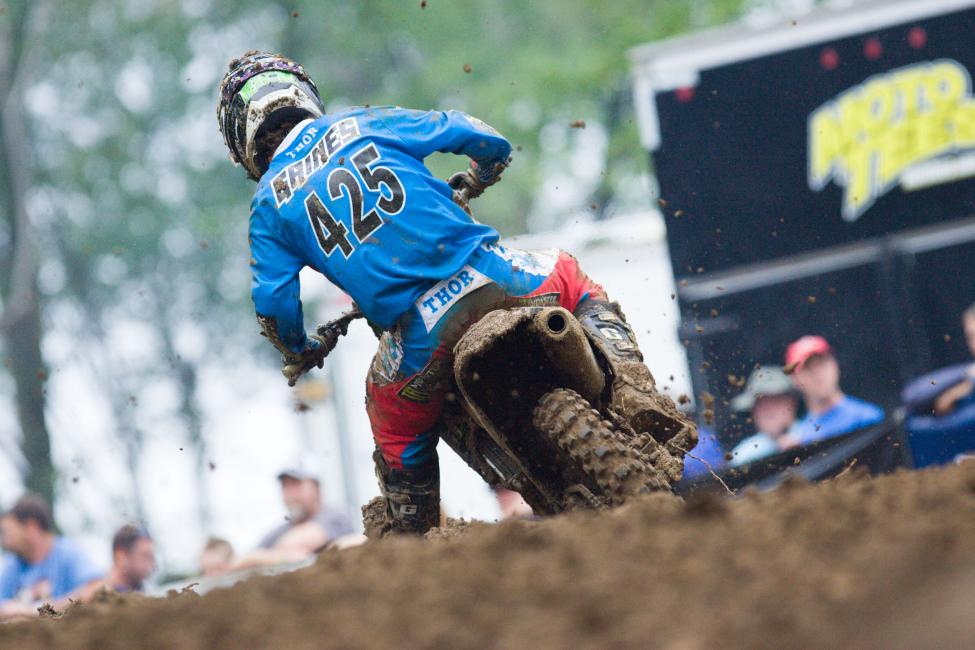 Other rookies—Renzland, Alldredge, and Hampshire—got a majority of attention coming out of Loretta's. Does that push you to be better?
Luke and Chris and RJ all got good rides. Watching Unadilla, they were all up there. So, from watching the week before, I kind of knew I could be up there and I could do it, too. Going to Indiana, everyone told me not to worry about a certain place or anything, to just ride. But I knew where I wanted to be. I really just pushed myself to get where I did. Coming into Utah, I want to do a little better than I did last weekend. I think all of us will be up there.
And you're probably hoping for a much drier track?
Yeah, no doubt. Indiana was so bad. I was also in the B practice, and that was harder. Everyone was going everywhere. In Utah I get to ride A practice, so I'm really excited about that. Hopefully I can get a better practice time.
Thanks, Nick. Who would you like to thank for helping you out?
I want to thanks Traders Racing Kawasaki, Monster Energy, Thor, Renthal, Maxima, Dunlop, RK Chains, Oakley, Mom and Dad, and my trainer Tim Ulinski.
[Ed. Note: Shortly after the posting of this article, we received this email from reader Eric: I just read this article and enjoyed it. I didn't know who it was when he got stuck in the mud. He came over to the spectator fence, shared some laughs with the fans, then went back, pinned it and dumped the clutch. The bike eventually worked its way out. Here is a picture of it stuck.]