In The Mag, On The Web is an online feature where we take a behind-the-scenes look at one of the print features in Racer X Illustrated. Check out some more information on "Ricky Carmichael's 25 Bad Days" by Eric Johnson and Davey Coombs.
From the birth of Racer X Illustrated in 1998, I had the privilege of not only following Ricky Carmichael's epic career, but documenting quite a bit of it. It never failed that when any Carmichael story was on the line—and they were almost countless in number—RC would always find time for me and the entire Racer X crew. Earlier this summer, Racer X founder Davey Coombs asked me if I'd be interested in doing a story on the national races Carmichael actually lost.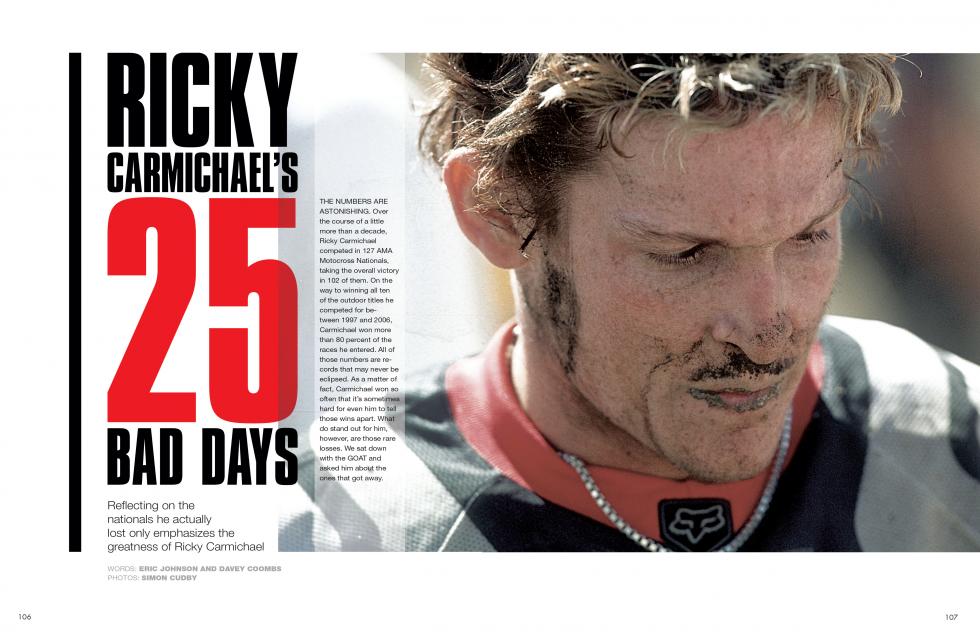 The fact that there only twenty-five of these so-called "miscues" only emphasize the greatness that was and is Ricky Carmichael. Long story short, I loved DC's idea and was, well, off to the races. In one fourteen-hour span, I poured through the electronic archives of Cycle News and printed out each and every article that actually covered the twenty-five races.
With my research done and all notes made, I phoned up RC back in Florida. He was really into the idea of the piece and was in a talking mood. Going through each article, RC's recollections were razor sharp, and only in a few instances did I have to read over certain quotes or anecdotes in my stack of well over 100 pages of background material. And all along the way, it sort of struck me how kind and respectful RC was to the riders who actually defeated him. The good, the bad, and the ugly all really did make for a fascinating trip through the mind's eye of the greatest motocross racer who ever lived.
Read the entire "Ricky Carmichael's 25 Bad Days" feature in the October 2014 issue of Racer X right now or look for the cover below on newsstands to pick up the issue in person.