Crawfordsville, IN
Indiana
Lucas Oil AMA Pro Motocross Championship
Hello, everyone, and welcome to the Rev Up. Now it gets interesting. With four motos remaining in the 2014 Lucas Oil Pro Motocross Championship, the fight is on. It's a pretty unique picture as we have a pair of teammates riding the same bike and wearing the same riding gear separated by a mere seven points coming down the stretch. Appearances can be deceiving, and while the two Red Bull KTM endorsed (and endorsed mightily) title front-runners are mirror images on the starting line, they couldn't be any more different once the gate drops.
On one hand we have the flashy, post-teen German wunderkind, Ken Roczen, who has put together a downright spectacular rookie season in the 450 Class. In supercross, he broke out and won Anaheim 1 while further striving for the title for the rest of the year, to no avail. In the outdoors he came out on fire again, and for a span of time it looked like the world was truly #94's. In fact, he is the newest cover boy in Racer X Illustrated, with the cover blurb asking if he's the new fastest man on the planet. Conversely, Ryan Dungey didn't really do well in supercross in the beginning, although, by season's end, he was right back up front. Dungey did win the overall at the outdoor season opener, but then just kind of rode methodically—until now.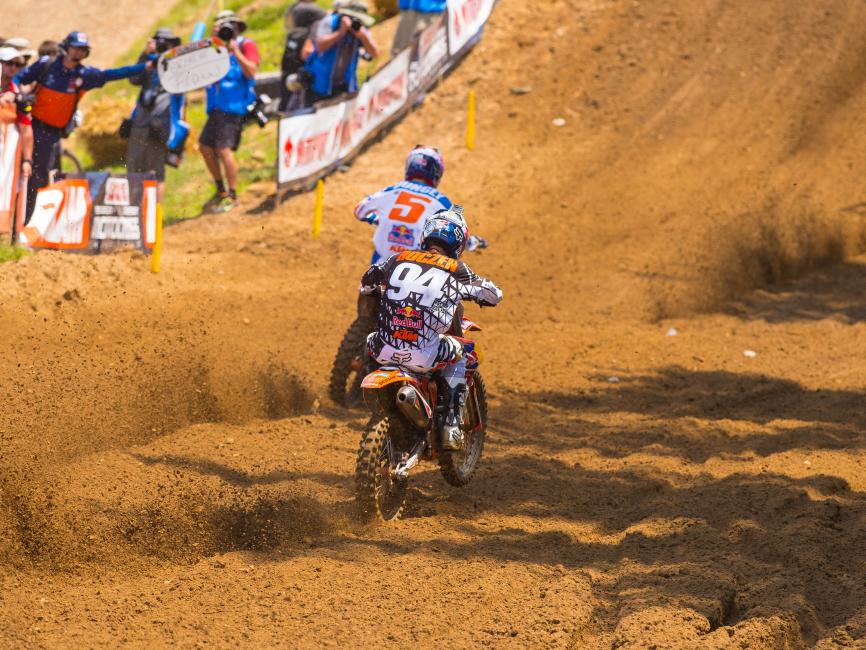 The pendulum has swung at the optimum time for the wily veteran, and you have to ask yourself whose shoes would you rather be in? Would you rather have youth and tenacity on your side, or pure grit and championship experience? For me, as a former racer, it's a no brainer. I would much, much, rather be Ryan Dungey. Once you have become a champion as many times as he, the next four motos are simply that: four motos to get the job done. Do the damn work and get the job done. Period.
For young Roczen, it's a stretch different. Ho, ho. The 450cc American Supercross OR Motocross National Championship is the most coveted achievement in the world of motocross. If this were anything but the truth, Roczen would have never left the Fatherland. Nor, would have Chad Reed left Australia, or Jean Michel Bayle arrived from France. No disrespect to the great Stefan Everts or the masterful Antonio Cairoli, who are easily two of the most astonishing motocross champions of all-time—BUT, this is the most globally respected title in our sport. Roczen left his home to come get it. Will the talented Mr. Roczen feel the pressure during these final four motos? Yes, he will.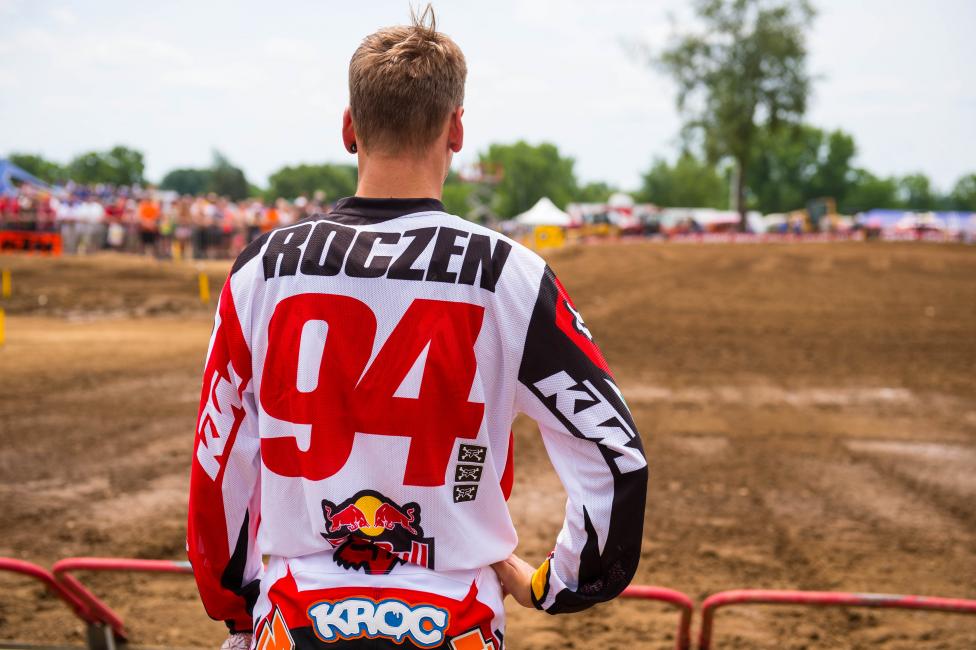 Now, this considered, pressure is no stranger to Kenny who is a World Grand Prix Champion and a multiple-time Motocross of Nations class winner in his own right. Can he handle it? Yes, he can. Ah, but this is a different kind of pressure. This is the moment he has dreamed about since he was a boy. Roczen family members have raced their entire lives, but they even made the trek to America when he was around 14 years old, to race Loretta's and some other big American amateur events. They have won just about everything there is to win in the world on a motocross bike.
That said he is so close to capturing his dream that he can virtually taste it. How does a 20-year-old deal with that kind of a scenario? Well, a normal 20-year-old will just go out and lean on pure adrenaline, strength, and craziness. Yeah, "crazy" may be a vulgar term, but think about it. If you are a pro motocrosser newly into your 20s, there is a certain level of insanity behind your handlebars. No—you're certifiably nuts. You're too young to care about pain, and you haven't felt enough of it to know better.
Can Ken Roczen race faster than Ryan Dungey four more times? I think he can. But to win this championship, you're going to have to be more than fast. You're going to have to be smart, calculated, and like all championships in motocross—lucky. I touch on it frequently, but one of my all-time favorite quotes in all of motorsports came from the legendary Richard Petty when he said, "I'd rather be lucky than good any day." Ken Roczen will need a little luck to close this thing out.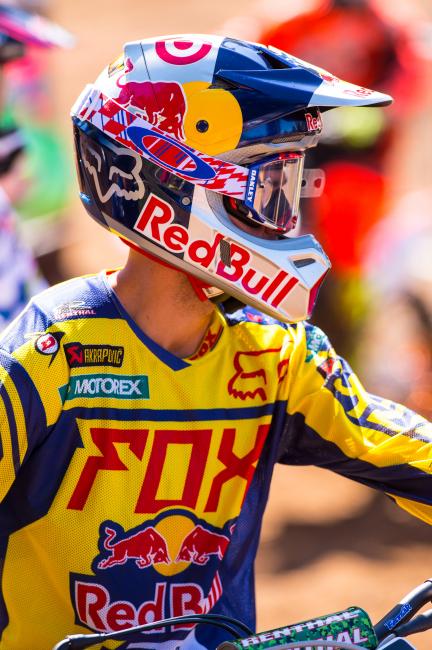 As for the Dungey, wow, there is simply no hiding the heart of a champion. It's at this time that I go back to last year's Motocross of Nations and see him flailing through the rutted corners, looking like a sack of bowling alley garbage. I've never been more disappointed in a racing effort throughout my years as a racer and a fan than those painful laps. Who was that guy? He sure as hell isn't the man that is currently on the charge in the Lucas Oil Pro Motocross Championship. Just ask Kenny Roczen, who is now watching Dungey close in. Racers are fragile, mental head cases. All of them, even the best of them, are.
However, there is no head case associated with the #5 right now. He is firing furiously and in a very good spot for this title. I spoke of the ugly Motocross of Nations performance for a reason. All champions, in every aspect of all sports, encounter failure. It is how they deal with the defeat and come back born again that make them exceptional athletes and people. Ryan Dungey is back on the attack, and I've been saying it for a month now. There hasn't been a motocross racer as hard as Ryan Dungey since Ricky Carmichael. The last man you want chasing you for a national championship is this Minnesota native. Ryan knows exactly what to do. He knows it in his mind and in his heart.
The elephant in the room is the next two venues. They are new ones. The Indiana National this Saturday afternoon is the inaugural version, and who knows what hell waits? No home track advantage; no familiarity incorporated into this bare-knuckle fight for the title belt whatsoever. What we have here is a fair, pure-to-the-bone fight.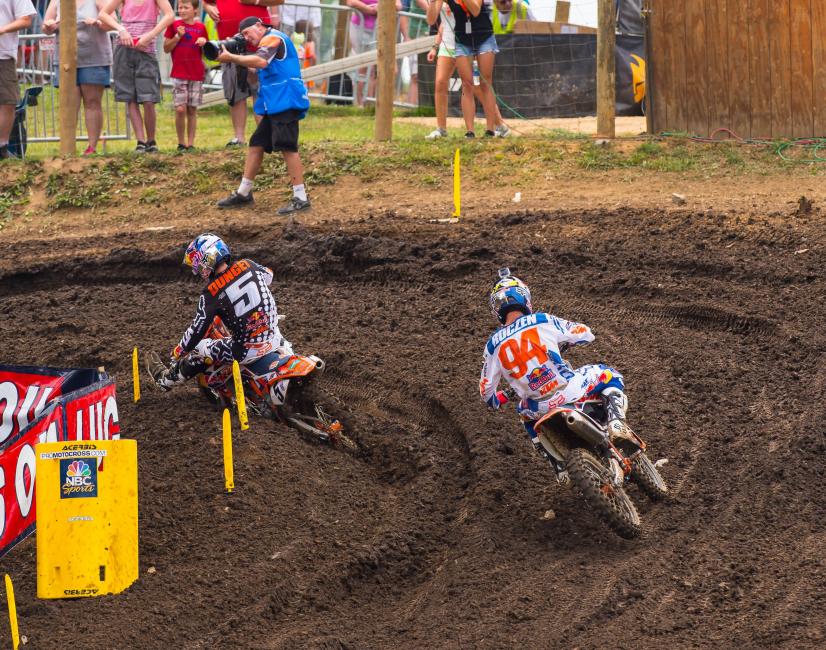 I love a good fight. A fight is simple, and true. History matters not; once you stand inside the six-sided ring of fire, it is undeniably one man against the other at that single point in time. These two men will fight each other. They're both badass in every meaning of the definition. They are proven and they are hard. This will be a great fight.
Did I just devote an entire column to two riders? Yes, I did. Time has run out. This summer's big boy championship will be decided during one of the next four motos, or all of them. Given the articulate history of the fighters in each corner, we are in for one hell of a show. An immovable object against an unstoppable force. Youth versus old. Germany versus America. KRoc versus the Dunge. Same team, same gear. War. Let's go.
Thanks for reading; see you next week.