Unadilla Motocross
New Berlin

,

NY
Unadilla
Lucas Oil AMA Pro Motocross Championship
By Chase Stallo, Jason Thomas, and Jason Weigandt
1. What are your thoughts on the rookies?
Jason Weigandt: I think all three were good if you have realistic expectations. We've seen some rookies go all crazy on adrenaline in their first race and kill it, but that's not a fair comparison. In the real world, Luke Renzland came from way back in a moto to get his finishes (even won the RC Hard Charger Award), RJ Hampshire had some speed, and Chris Alldredge was in the top ten. Of all, Alldredge was most impressive, and I know that's obvious because he had the best finish, but I saw him against Renzland and Hampshire last week at Loretta's and they were better than him. Huge credit to Alldredge for turning it around. Hampshire, I think, tried too hard. He was making a lot of mistakes and had some crashes and huge saves. I think Unadilla is one heck of a track to debut on (I don't think there's another track in the world that resembles it). Once Hampshire settles down and takes what he can get, he'll be smoother, and then we'll have a better idea of what he can really do.
Jason Thomas: Overall, I was impressed. There was a lot of buildup but mostly around Hampshire and his incredible performance a week prior at Loretta's. Had he not done so well in Tennessee, there would have been much less expectations for the #621 Honda. He made a few comments leading up to the race that had some industry folks shaking their heads, but he's young and will learn. He will settle down and do fine as we move forward. As for Alldredge, he had a good day from all accounts. The thirteenth in the first moto may have been less than he desired, but he bounced back with a strong eighth in the second moto. Being in the top ten in your first national is a great sign of future things to come. Renzland didn't disappoint, either, scoring a fifteenth in the second moto. These three undoubtedly learned many lessons last Saturday that they will look to apply in Indiana. I am interested to see how they respond and just how steep their learning curves can be.
Chase Stallo: To add perspective, let's look back at the debuts of top two in points in the 250 Class, Ryan Dungey (450 points leader), and past champion Ryan Villopoto's. (I'll leave Ken Roczen out because he had professional experience in Europe before his first race.) In 2005, RV went 14-16 at Broome-Tioga for fifteenth overall. A year later, Dungey went 8-8 for eighth overall at his home track of Millville. In 2009 at Budds Creek, Baggett went 12-23 for eighteenth overall. Most recently, Martin went 18-27 for twenty-third overall in 2012.
What we can take away from this is to not put too much emphasis into a debut. Some are great (see Eli Tomac), while others are not (see Mike Alessi). Unadilla is unique in that NO ONE can ride the professional track other than at the national. This isn't Budds Creek, Millville, Muddy Creek, or Washougal—where amateurs may have gained experience beforehand. I was impressed by all three—especially Alldredge, because a week earlier he went through a tough week at Loretta's. To have the mental fortitude to bounce back from that at such a young age is impressive. With that said, let's let these guys go through their growing pains before we put too much stock into what the future may hold for each.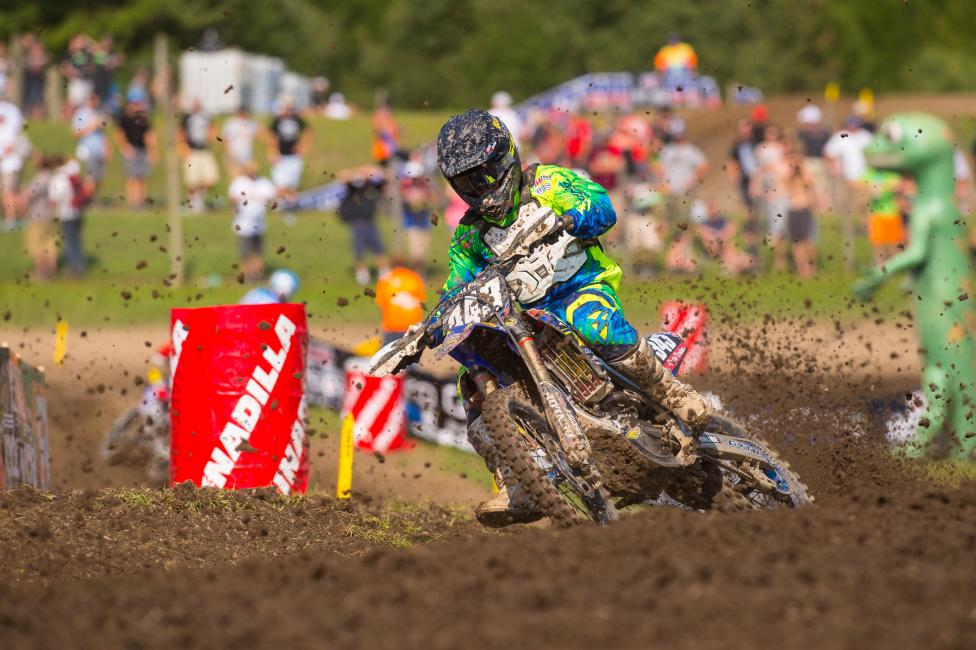 2. Ryan Dungey is not the points leader, but is he the favorite?
Weege: Absolutely, Dungey is the favorite now, because he's not only riding well; he's got those Honda boys running interference at times. Yes, they can also steal moto wins away from him, but since Ken Roczen is struggling a bit at the moment, the odds are better that they'll cost Roczen more than Dungey. The only drawback about being second in points is that if Dungey has one big mistake or bad moto, it will be virtually impossible for him to catch back up (it's this no-room-for-error scenario that killed Blake Baggett). But Dungey generally doesn't make those types of mistakes. He's second in points, but he's been closing in through a wide variety of tracks, weather, start scenarios, and even after an off weekend. My old buddy Jeff Emig likes to say, "Better to have momentum than points." There you go.
JT: As crazy as it sounds to call someone the favorite when they are trailing by 7 points, I am going to anyway. Momentum is a powerful weapon to wield, and the #5 bike is armed and dangerous in that respect. Dungey has always been the guy that gets stronger down the stretch, while Roczen has shown that he struggles in the same scenario in previous championships. Considering those two pieces of evidence, I would lean towards Dungey making up those 7 points and winning this title. The one element I feel that can turn the tide, however, is if Roczen can find a way to win just one moto or even just beat Dungey one time—that may be the cushion he needs. If he could win a moto this weekend and push the lead above 7 (or even keep it at 7), that will dramatically change the scenarios for Utah. It will be interesting to see how the points look on Saturday night.
Stallo: Ryan Dungey is certainly peaking at the right time, isn't he? It wasn't long ago we were handing the championship to Ken Roczen following RedBud. Since that time, Roczen just hasn't seemed to be himself. I really thought the break would propel him to a win Saturday. If he'd had passed Dungey in the first moto, we would be singing a different tune right now. I'm not ready to completely write Roczen off and hand this championship to Dungey. But I think it will be decided this weekend. If Dungey goes 1-1 or finishes ahead of Roczen in both motos, he'll win the championship. If Roczen stops the bleeding with a moto win, I think the championship is his. Either way, strap in, folks, this is going to be good.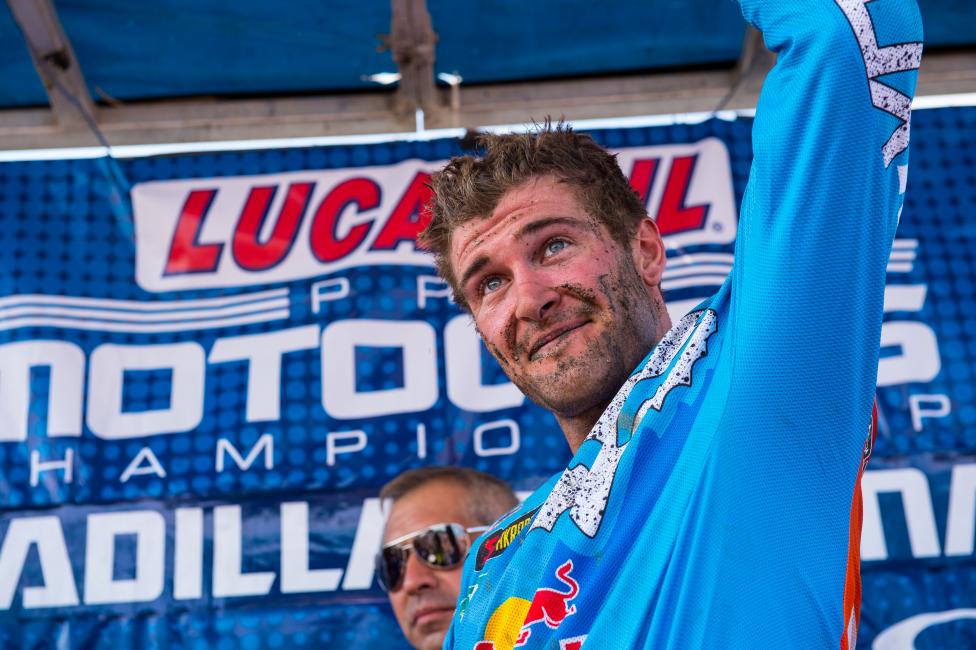 3. Trey Canard made big bike changes this week. Is that what made the difference?
Weege: I think it would be crazy to think it didn't. I almost feel bad for Honda because word has leaked out that some riders don't like the current generation bike (i.e. Chad Reed and Justin Barcia leaving, and Eli Tomac has had some struggles), but in the end it may all boil down to dialing in those air forks. Tomac, I hear, is back to a coil-spring fork on his bike and is doing well, and now Canard has switched from Showa air forks to KYB air forks, and no doubt he was better this weekend. Maybe Trey was just feeling it at Unadilla? Maybe the big switch just had a giant placebo effect? That's possible. But what if we find out that this generation Honda is actually awesome, and those new forks—which have certainly been a big transition for everyone—were the only real issue? What if we realize Canard had the ability to win all season but just needed such a change? I'm still sticking by the fact that Honda's previous bike (2009-12) started out with troubles but was rounded into arguably the best bike on the track. Don't count this Trey/CRF combo out.
JT: I think it did, but I believe that Indiana will give us more insight to draw from. Unadilla is such a unique track, and in 2009 I honestly wasn't sure if a motorcycle could handle worse than my CRF450 did that day. I have seen video of Evel Knievel jumping a Harley over school buses that looked more plush. Seriously, though, once we get more data on a neutral track, we will be able to see if that suspension change is as big of a deal as it seems. If so, and Canard continues his New York state of mind, he is going to be something to watch moving forward.
Stallo: I agree with JT here. Let's give it another week. Sometimes riders can make the slightest change—or their mechanic will tell them they made a change when they didn't—and it changes their entire perception. Motocross is a very mental sport. Once you get down in a hole, it's hard to dig out. In contrast, once you feel like you're gelling, good results seem effortless. It's hard to tell if the changes were wholesale, or if Canard just felt that way. Let's revisit this next week.