Unadilla Motocross
New Berlin

,

NY
Unadilla
Lucas Oil AMA Pro Motocross Championship
By Steve Matthes, Chase Stallo, and Jason Weigandt
Marvin Musquin, Red Bull KTM, 2-5 for third overall in 250 Class
How was it here?
Tough weekend. I had a crash in the second practice, went down, not that fast, but then I rolled with the bike. Kind of hurt my left knee, a little bit of shoulder, stuff like that. I was not too happy before the motos. But my first moto was great, made some good passes and got second. I tried my best to catch [Christophe] Pourcel, and he was riding pretty good. I was right behind him for the last two laps and couldn't get it done. But still second place, so it was good. A little bit bummed because I was right there, right behind him. And then second moto, it was tough. I got stuck behind a rider. I couldn't pass for a couple laps. Then it was hard to get nice lines and a good flow. So not the best second moto. [Blake] Baggett passed me, and I think I got fifth. It was tough, second moto was tough, but it was not a perfect weekend and I'm still third overall, still on the podium, so I'm happy.
How was the drug testing?
It's a urine test, so it's hard to pee because right before the moto we want to pee and be comfortable for the moto. So for sure, right after you don't want to pee that much that they ask for. We had to wait, and I think it's over 7 p.m., so it's getting late. We waited so long, and now I want to pee like crazy. But we had to wait. But I think it's good to do that. It takes a long time. For sure you want to enjoy the time after the race with the team and go back to the hotel, but I think it's really good. – Chase Stallo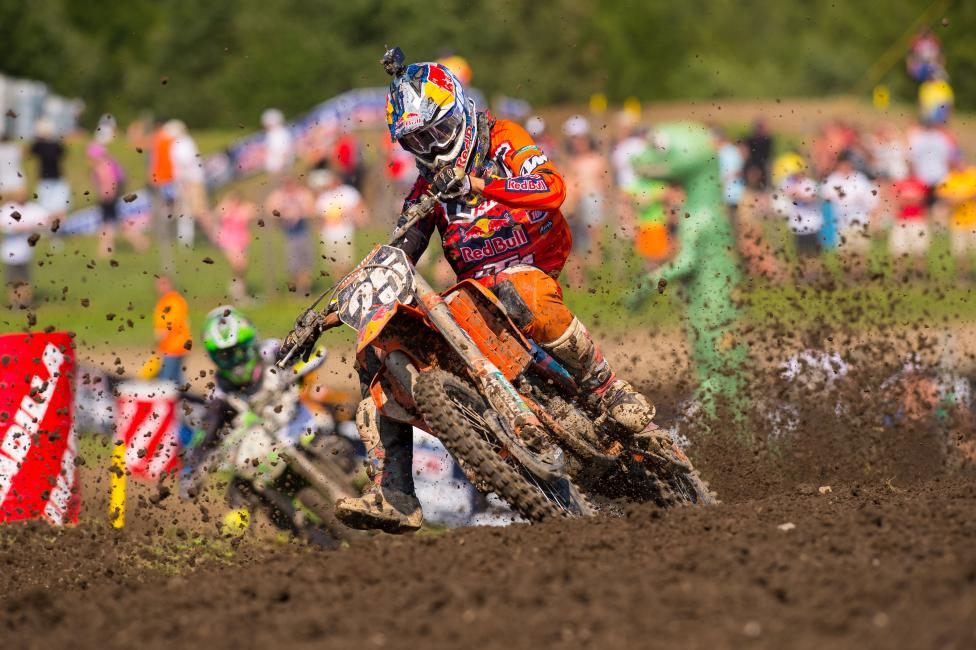 Darryn Durham, Monster Energy/Pro Circuit Kawasaki, DNS-DNS in 250 Class
Tough day. You were back for all of a practice and a half?
Yeah, practice and a half. But it was fun to be back out there, and I was having a good time. But second practice a guy was down, and the flagger wasn't flagging real good. I caught him at the last minute. I tried to miss him. I did miss him, but it swapped me sideways and I got sideways off the jump. I just got spit off. I kind of whacked my head a little bit. I wasn't knocked out or anything, but I wasn't feeling good. I was a little foggy. I wasn't sure if it was practice one or practice two, so I was like, "It's probably not a good idea to race." I started gearing up, and my dirty gear was in my locker and all put away. I'm like, "Did I put that away?" I'm like, "I probably shouldn't ride." So we made the decision that it was smarter not to ride, especially [since] I had a head injury earlier this year. I'm all right. I'm fine, I'm just getting ready for next week and hopefully have a lot better week than I did this week.
Obviously it's a little early, but do you feel like you'll be back next week?
Yeah, that's the plan. I was going to go out and try to ride if I wasn't able to race next week, but they told me I would be okay. I was like, "All right, then I feel like it's the smart decision to make sure I'm healthy, and I don't want to be foggy out on the track." It's been a long time since I put my body through thirty minutes twice. Getting foggy out there wouldn't be good.
You weren't out there long, but did you feel all right? Did you feel like you were kind of there?
I felt pretty good. Second practice I really felt like I was starting to get in my flow when I fell. It was the first time back at a national in a year almost, but I was having a blast out there.
Did it feel a little weird to walk around and actually go racing instead of just walking around and hanging out and visiting?
A little bit. The day goes by way quicker when you're racing than it does when you're watching; that's for sure. Hopefully next week I'm on the track both motos and having a good day. - Stallo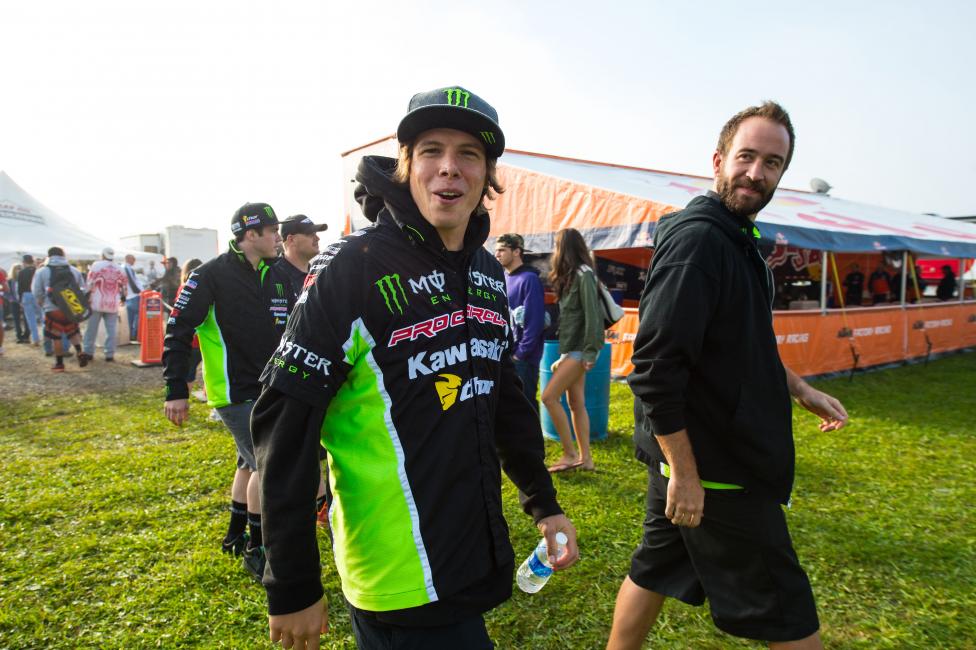 Chris Alldredge, Monster Energy/Pro Circuit Kawasaki, 13-8 for eighth overall in 250 Class
Was it what you expected?
I didn't expect anything, so I kind of expected the unexpected. I had my thoughts of what I was going to see. I've been to a few of them and watched, but it was definitely than what I thought. The track was a lot more fun than what you see on TV. I just had a blast, man. Like I said, I expected the unexpected.
With most rookies you see them start out front because they're just so hyped up and then kind of go back. You were the opposite. You kind of started in the back and really came through. Was it just energy? What was it? Were you just pumped up?
Bad starts. I know I have the speed. I've been trying to work on as much as I have. I still have a lot to work on to try to get to that front pack, but I feel like where I was at this week as far as getting that eighth I felt like that's where I should stay and need to keep working on. It was mostly bad starts and just trying to work my way up there. I would gas myself a little bit towards the end, but I would give it all I got for the first little bit and then just try to hold it from there. Unfortunately, in the first, I crashed a few times, but I'm not going to just give up the spot; I'm going to fight for every chance that I get. I think that's just where I'm sitting right now, is around that eighth, ninth place spot. We're going to see if I can better that in those weeks to come.
After probably not the week you wanted at Loretta's, was it nice to come back here and be like, "Hey, I got this." A little confidence boost for yourself?
Yeah, Loretta's didn't go the greatest, but just my own problems. I went in with the wrong attitude, a bad attitude. Just didn't perform to my level and it was 100 percent my fault. The whole team over at Monster Energy/Pro Circuit Kawasaki, Team Green—they were fantastic. Bike was on point; I just didn't perform. I came here with no expectations. I didn't know what to expect. Like I said in a couple interviews, coming in I'm just going to give it all I've got, give her hell, and see what happens. It's a good confidence booster into the next few weeks, but I can't get a big head, and I can't get cocky because it's still a lot of hard work ahead. The career just started so still got a lot of work.
I'm sure you were pulled 100 different directions. First race, you got autographs, you got to do this different… You're really on a tight schedule here, something that you're probably not as used to. You're used to racing Monday and then Wednesday. Was that different for you? Was it tough?
Definitely different, but I like it a lot. As far as dragging the races out for a week, it's good for the amateur scene just because it's a good family atmosphere. You bring them in, and then everyone gets to have a good family quality time for that week. But as far as being pros, it's a one-day event; it's amazing to me. I was super, super excited coming into this just for the fact that I knew that even if I did have a bad race, you move on right away. You forget easy. It's nice coming in here having this short, quick event in one day. Honestly, for me it felt better just because you get everything done and you keep moving on. You realize that you got seven more days until the next one and if it goes bad you just put in work for those next seven days.
We got two more, which this is probably not what you're really looking forward to. You got supercross coming up which quickly you'll go into testing for. You have to do arenacross, correct?
No.
You don't? So it's straight into supercross. What's your plan? Has the team talked to you about it?
We haven't talked about it at all yet. We're just taking these first three nationals, these little steps. It's a long time until supercross. We know we can put in the work and try to get where we're at. The main goal for supercross is to just put in the work. I'm a firm believer that the harder and more work that you put in, the better you're going to be. So it's just going to take a lot of riding and getting used to that stuff. It's a new element for me, but I'm excited. Hopefully it'll be a good first supercross season for me. Just try to stay smooth, non-injured, and that's just my goal. I'm just trying to stay safe in this sport. It's a dangerous sport for sure, and just trying to make my mark on history if I can. – Stallo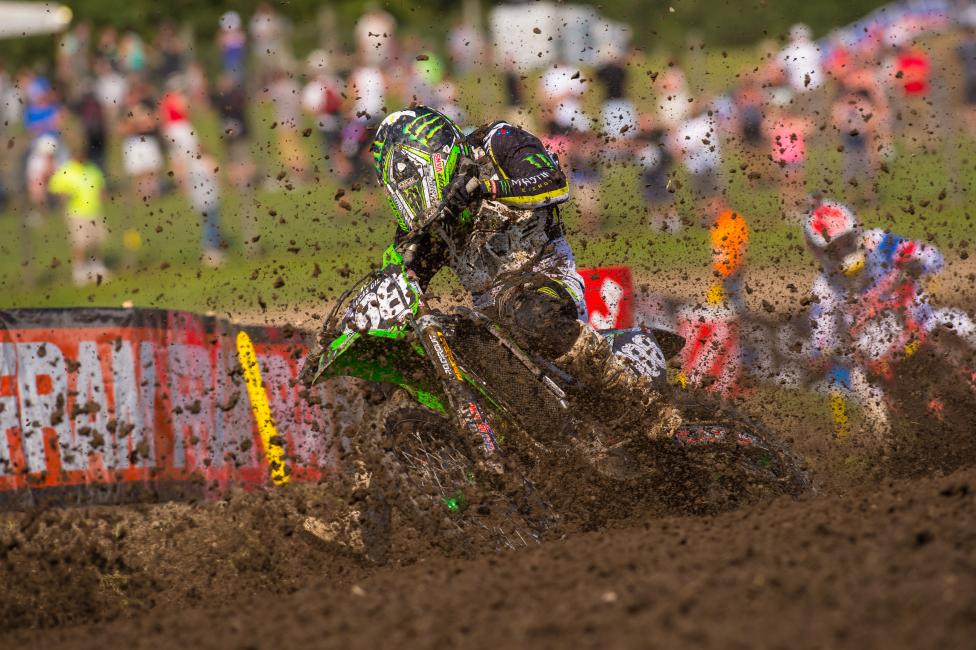 Jeremy Martin, Yamalube/Star Racing Yamaha, 3-1 for second overall in 250 Class
Wins the second moto, end up second overall, and continues to extend his series points lead. I don't know if you realize this, but you have a legitimate chance to wrap this up a week early. Are you even thinking that?
No, I'm not. I mean, it would be pretty cool, but you can't really worry about that. I made some mistakes today, and you just go back to the drawing board during the week and keep pushing forward.
You said you made mistakes; I heard you say it on the podium too. Your results were good, so what are you talking about?
Just being a little stubborn there in the first moto, and should have changed my lines up, but I didn't do it. You live and you learn. Got the bike setup working a lot better for the second moto, and I was so much more comfortable that I could move around and trust the bike and I knew I'd be fine.
I know you said at Washougal you were trying to get on the podium because that had not been one of your best tracks. What were you thinking coming into Unadilla?
I wanted to win. I wanted to get the overall last year, I got second overall here with a 2-3. Definitely wanted to get another moto win and try to get the overall.
You mentioned changing bike setup. A lot of times when guys are fairly new to this like you—you've had a factory team two, three years, still kind of new then. Where do you feel you are as far as testing and feeling what the bike's doing and stuff like that?
When I was an amateur like back in the day, I had no idea. I just rode whatever. Nowadays it's gotten a lot better and I'm a lot more mature and understand how things work. Without Dylan Turner to help me and stuff like that, I don't think I would have my bike set up quite as good as I do now. But I'm learning. It's a pretty cool thing. I learned when my dad told me back in the day, you need to know what's going on because it's going to be important one day, and he was definitely right.
You're going to Motocross of Nations for the first time. What's that like?
It's a pretty cool thing. I was kind of surprised they chose me. I thought maybe they'd go with [Blake] Baggett or someone that has a little more experience. But it's an honor. It's going to be fun. I just got to be careful.
I don't know if you know this, but somebody told Eli Tomac the track is kind of like Millville. Did you hear this?
Yeah, that's what someone was saying. I was able to check it out a little bit online, and it looks fun. It's kind of sandy, but kind of got a hard base, and you slide a little bit. I'm excited to go over there. I've never been overseas so I think it's going to be pretty neat.
What do you do this week? We're all going to say, "He could wrap up the title." Let me guess; you're going to try to not think that way and just treat it like a regular week. Is that the plan?
Yeah, pretty much. Go back and start riding and training and have some fun. Maybe go golfing and make sure I bring some extra golf balls because I can't keep it on the green.
Did you say you chipped a tooth in a moto?
Yeah, I chipped a tooth. Pourcel was able to get a rock up just right and chip my front tooth and my bottom tooth. Going to have to go see the dentist after the season's over. - Jason Weigandt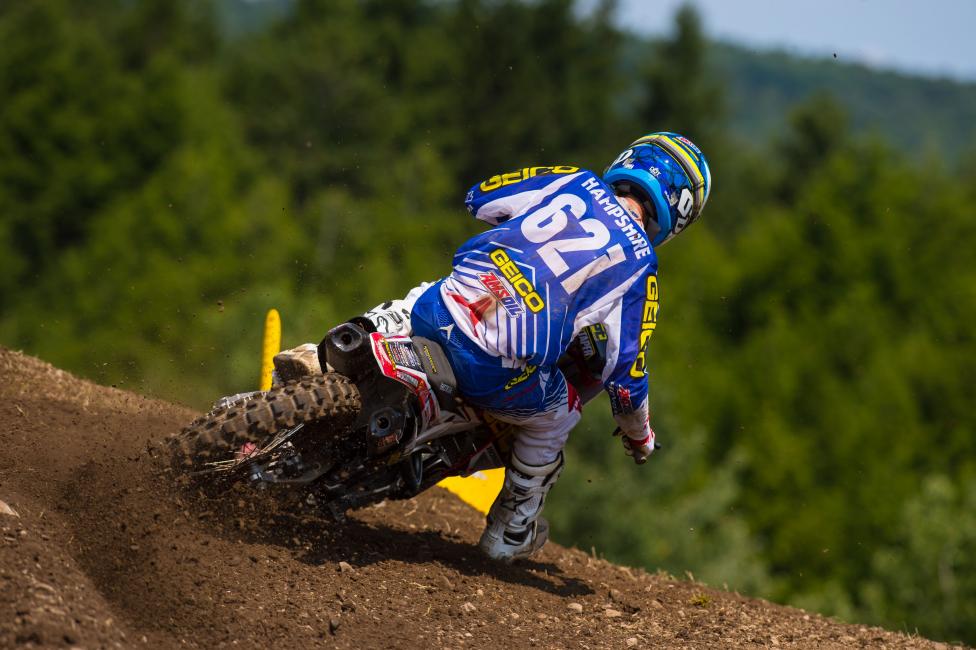 RJ Hampshire, GEICO Honda, 11-16 for thirteenth overall in 250 Class
Your pro debut. I didn't realize this, but Red Dog said you crashed a couple times in each moto. I know in the second one for sure, but what'd you think?
It was pretty good. I had a lot of fun actually. First moto got out to a decent start, made some good passes early. I was running eighth I believe, pretty strong. Made a mistake, went down, and regrouped and got eleventh, so that wasn't too bad. Then second moto I got a killer start. I was running fourth I believe behind [Justin] Bogle. Went down third lap, fell back to about seventeenth, worked my way back up to twelfth, then I had another big crash. But it wasn't a bad rookie debut. Just build on it and get ready for next weekend.
What was the biggest surprise for you?
I don't know… The competition was good, but I'd say the track. The track was gnarly today. It was tough, real tough. The ruts definitely got… The whole track was a rut pretty much. You had to just pick it and go with it.
How was your nerves?
Really wasn't nervous coming in. I had a decent time in qualifying. I qualified ninth, just went with it like that. Got decent starts, and I'll be up there. I don't want to say it, but I feel top tens for the next two will be good.
Did you have any guys sort of saying, "Welcome to the pros; here's my front tire." Did you have any of that?
I had a few actually. Number 17 tagged me pretty good. That was what happened the first moto. Anderson passed me, I passed him back and I guess he didn't like that a little bit and showed me a wheel and we both went down. Got back up and then [Cole] Seely came and did the same thing to me. But it was fun. I was out there battling with the guys and to be battling with them as a rookie for my debut, I was pumped on that.
How was Tim Ferry today?
Tim's solid. He's always solid; just look at him. Red hair and everything.
Eating ice cream, eating M&Ms?
You should probably share. Getting a little sore. I need it. - Steve Matthes