Hello, everyone, and welcome to the Rev Up. It's a hell of a thing about the summer season; we're always so eager for it to get here then all of the sudden August shows up and poof, it's gone. The summer isn't the only thing that is almost over. Three rounds remain in the 2014 Lucas Oil Pro Motocross Championship, and it seems like only yesterday when Toyota/JGR Yamaha's Josh Grant was ripping off the first moto win of the series.
The blue bikes dominated the opening motos of round one, but then things took a very orange turn in the 450 division. Red Bull KTM's Ken Roczen and Ryan Dungey have taken turns controlling the series, with Roczen being the early strong man, but down the stretch it looks like Dungey is primed to make a charge for the title. To Roczen's credit, he has remained consistent, and his 14-point lead offers him a little room to breathe. However, they better be little breaths. Like, the kind you would take if you were trapped in a room that was low on oxygen. That simply isn't a big enough lead to be entirely comfortable with when Dungey is on your tail. He's the last guy you want chasing you for a title, actually. Our sport has been short on catchy monikers, but "The Diesel" simply fits #5 perfectly. Once he gets rolling, he doesn't stop. Three races. Six motos. It's going to come down to the wire in the 450 Class. That said, KTM is going to win.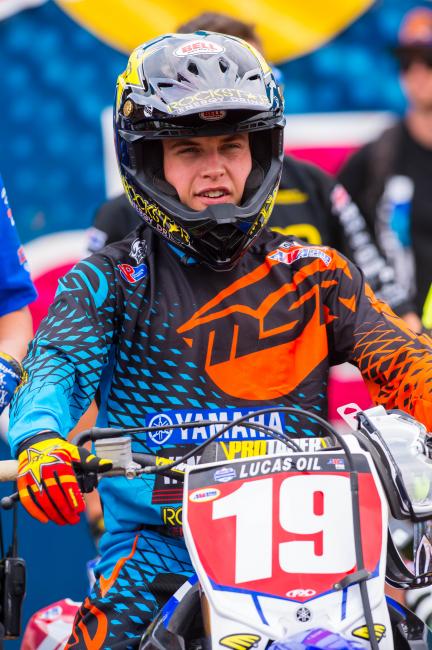 Meanwhile, the 250 Class has just been on fire all summer. It looked like Yamalube/Star Racing Yamaha's Jeremy Martin was going to dominate, but that just doesn't happen anymore. When he settled in a bit, his teammate Cooper Webb and Monster Energy/Pro Circuit Kawasaki's Blake Baggett began to surge. Accompanying those guys has been a super steady GEICO Honda mounted Justin Bogle, Rockstar Energy KTM's Jason Anderson, and now a back-to-form Marvin Musquin, who rode his Red Bull KTM to a perfect day last time out in Washougal. Everyone likes Musquin, and that ride was one of those days a racer has every so often. There are just some mornings that you put your knee braces on and buckle your boots, and… Pow! It's your day and nothing will stop you.
There has been outstanding racing in this division, but J-Mart is in the proverbial catbird's seat. A 43-point lead isn't a 14-point lead, so Jeremy can take deep, long breaths and actually top-ten his way to title town. Just as the Orange Brigade has the 450 crown wrapped up, it's very, very likely going to be Yamaha's first tiddler division title since Jeff Emig's astonishing 1992 championship. How about that? Although, what made it "astonishing" was the fact that Kawasaki's Mike LaRocco had a similar lead that Martin currently holds. Then he had a couple of freak mechanical failures, Emig won some motos, and the rest is history.
Along those lines in some semi-recent motocross history, a man you may have heard of named Travis Pastrana had the 2001 125cc championship in his grip. He was dominating at the same venue we're heading to this weekend, leading every single lap of the first moto. He led every lap of the second moto as well—except the last lap. It was then that Unadilla reached up and grabbed him, and his subsequent endo dashed his championship (and pretty much his motocross career). Instead, the guy that is in the broadcast booth this Saturday afternoon (Grant Langston) won the race and got back into title contention. Odd how things work out sometimes. The point is, anything can happen. This is motocross and no championship is safe until it is completely locked up. Nobody wants to see Martin lose this championship, including myself. His focus is sharp, and he just has to hang on for three more weeks.
On to 'Dilla.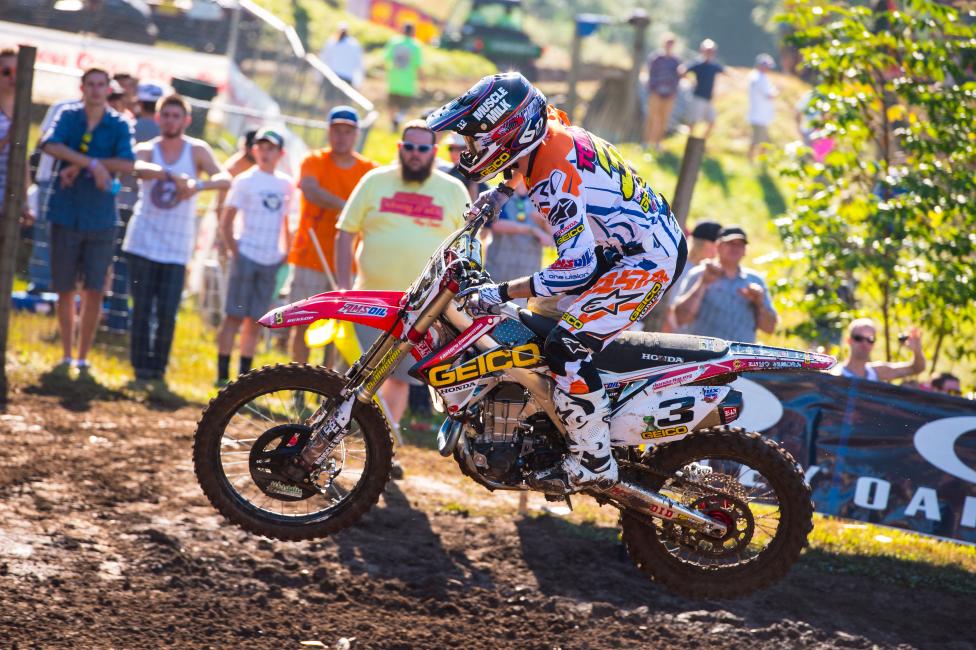 As one of the oldest and most nostalgic tracks in the world, Unadilla holds a special place in the heart of our sport. Set in the middle of nowhere in New Berlin, New York, there is hardly even cell phone coverage. Yes, the facility has been modernized, and the track isn't covered with grass anymore, but the old school vibe is still salty. With the right set of eyes you can look out across the green grass valley and see Bob Hannah taking crazy outside lines with his feet off the pegs. Similarly, the initiated will be able to look at the fans this weekend wearing black socks and flat bill hats, squint their eyes and see the long hair, tube socks and half-shirts of the legendary "Hill People." Fans still show up every year with super-old event t-shirts and various vintage motocross artifacts. It's a very cool place to attend. I was able to scratch off a line on my bucket list a few years ago by walking to the bottom of "Gravity Cavity" to check out the view.
We're coming off an off-weekend, but nothing has changed. The song remains the same with the weather forecast, with another sunny 82-degree day headed to us. It's remarkable how lucky we've been as fans this summer. This is going to be an awesome edition of Una-effing-dilla! The points chase is tight in the 450 Class, and with GEICO Honda's Eli Tomac proving he can win motos, I'm looking for him to be a big spoiler in the 14-point gap between Kroc and The Dunge. The 250 Class will be another hornet's nest with 10 guys going nuts making block passes and taking turns throwing it sideways off the gigantic Skyshot tabletop. I'm super stoked for the weekend! Time to take it back old school a little bit. Time for Unadilla!
Thanks for reading; see you next week.