Unadilla MX
New Berlin

,

NY
Unadilla
Lucas Oil AMA Pro Motocross Championship
Darryn Durham, the friendly, soft-spoken (and star crossed) kid from Butler, Pennsylvania, has certainly had his ups-and-downs in the big leagues the past two years—injuries the culprit of most of the soul-sucking moments. In fact, last May, Durham and his hard working mechanic Jon Primo prepared for the opening round of the 2014 Lucas Oil Motocross Championship at Glen Helen Raceway at the Racer X Pro Ride Day. Finally back from a series of injuries that wreaked havoc on his '14 supercross season, the Monster Energy/Pro Circuit Kawasaki duo was ready to go racing. Durham, finally healthy, in excellent shape, and keen to prove to the world that he was truly a front runner, couldn't hide his enthusiasm.

"I'm real healthy. Especially compared to last year," he explained that afternoon in San Bernardino, California. "I've worked really hard and got my health back, and I feel real healthy, and I'm ready to battle for wins again. Now, it's just time for the gate to drop."
But it wasn't to be. Less than forty-eight hours later, Darryn Durham was back on the sidelines again—his leg broken in a small, slow speed shunt in practice and his hopes and dreams for the summer shot down in flames. It was, for all intents and purposes, a crushing blow to the former race winner yet he refused to give up, working himself hard to get back up to 100 percent. And all along he kept his eye on the prize of returning to action. It is now the week of the Unadilla National, and once again Durham is back to full strength and ready for the gate to drop. The Saturday before heading back east to New Berlin, New York to give it yet another go, we spoke with the contender while taking a break between practice motos in baking hot Lake Elsinore, California.
Racer X: Darryn, I can hear bikes in the background. Where are you at and what are you up to today?
Darryn Durham: I am at Lake Elsinore putting in Saturday motos.
There's a place where rust never sleeps, huh?
Yeah, for sure.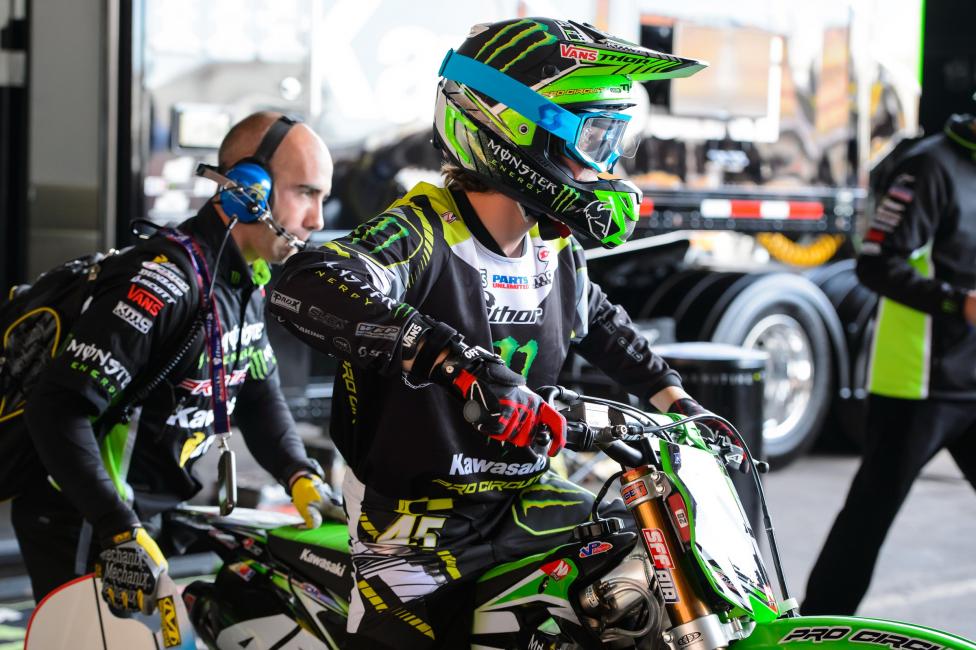 I'm going to take a wild guess and say you're getting ready for Unadilla next Saturday.
Yeah, yeah, that's been the plan. For the last three weeks I've been on the bike, and I've been trying to get as much seat time as I can. I'm going racing next weekend.
Three weeks. Has that been enough time for you to get ready?
Yeah, I feel pretty ready for it all. I feel like I didn't really lose any speed. It took the first week or two to get my confidence back. Now, at week three, I feel pretty good. Another week, I'm hoping I'm on pace with the podium guys. That's my plan.
How is your physical condition? Were you able to keep yourself in shape during the time that you were forced off the bike?
Yeah, there were a few weeks where I couldn't do much, but as soon as I was able to, I was swimming. And then as soon as I was able to be back on the bicycle, I was on it. I tried to keep in shape the best I could. I've been able to do thirty-minute motos the last two weeks and trying to make sure that I'm ready to go.
How's the leg you broke? Everything good with that?
It's good. I got surgery, and right after I did it they put two screws in it. It doesn't bother me. The first week back on the bike I was a little timid in my right hand turns, but now I can jam it and stick it out and I'm not really scared. I'm pretty happy with how it healed and how I bounced back from it.
Just how did you break your leg?
I washed out on a jump face and caught a kicker and went over the bars. I don't know… I got up and my leg was hurting, and I drove home and hung out for a bit, and then I went and got the leg checked out later that evening. I was already walking on it the next morning and saying, "I've got to race Glen Helen! I've got to race Glen Helen!" Then the doctor called me and told me it was broken. It was tibia plateau break, and it fractured around where the ACL connects to it.
I interviewed you just a few days before the Glen Helen race, and I know you were really ready to go racing. You were excited to be back. Then, in the span of just forty-eight hours, you were out again. That has to be a bitter pill to swallow.
Yeah, it was tough because I was just coming back from injury, and I had put a lot of work into getting ready for the outdoors. It happened the week before when I was feeling really, really ready to go out and battle for race wins. It was salt in the wound, for sure. But I can't look back on it or dwell on it. I'm healthy again and back riding my dirt bike, which is where I love to be. I'm not complaining.
Have you been watching the national championship races on TV this summer? If you have, which I know you have, what do you think?
Yeah, I have been watching them and keep an eye on all the racing and the competition. Really, the young guys have been doing really well—all the Yamaha boys. I don't know. It's been an up-and-down season for a lot of riders. Guys like [Jeremy] Martin have been really consistent, and that's why they've been on top of the sport right now.
What have you thought about your teammates? They've had their highs and lows this summer, haven't they?
Yeah, they have. Blake [Baggett] came into this season battling some stuff and then he had a couple of DNFs that put him back in the points a little bit. He's been riding good and has had race wins. I feel like if everyone on the Pro Circuit team stays healthy, we'll be out front.
From what you have seen in person or watched on TV, do you think you would have done well?
Yeah, I really do. It's tough to watch some of them because you want to be out there, especially at a track where you really do well on. Those are tough to watch. Budds Creek, that's a race I really wanted to race.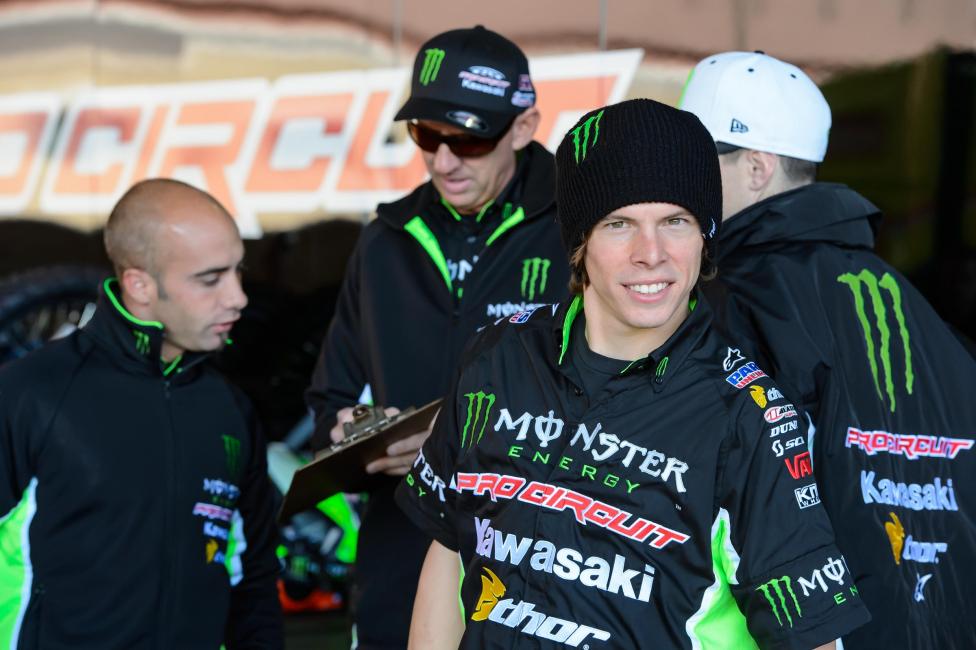 So you felt like you could have really been in the mix at some of these races?
Yeah, I do. Those guys, you know, they're all riding really good, but I know my potential, and I know where I belong, and I'm ready to get back up there.
Unadilla is next Saturday. What are you hoping for there? In your mind's eye, what'll make you happy when it comes time to walk out of that place?
Oh… I'm just going to be happy going there. It's been a long time since I raced. It's been almost a year since I races outdoors. It'll be exciting; I'd like to get two good starts and stay off the ground. If I put myself in the top five, I'd be really happy for my first race back.
You've been out of the eye of the collective U.S. motocross fan base all season long. Do you feel pressure to get out there to show everyone what you can do?
Yeah, I'm excited to get out there. At the same time I'm not trying to put a ton of pressure on myself because I usually perform better when I don't put pressure on myself and when I'm having fun. So, I'm trying to go into the race this weekend with the attitude that I'm going racing again, and I'm pumped, I feel like, if I go in with that attitude I'll do well.
How is 2015 looking for you? As far as bikes and teams and sponsors, do you have some things in the works?
Yeah, I do. I've been working on some stuff the last few weeks, and I'm hoping I have a home for next year.
Are you confident that you'll land somewhere you feel very good about?
Yeah, yeah, I am. I feel like I'll have somewhere to go. If not, I know my abilities, and I know I have people who believe in me, so I'll be out there, regardless.
Well, we all know you have the speed.
For sure. I just need to keep it on two wheels and I'll be set.