Washougal MX Park
Washougal

,

WA
Washougal
Lucas Oil AMA Pro Motocross Championship
Zack Williams had a terrific day last Saturday at the Motosport Washougal National. The Minnesota-native put in his best rides of his career, snagging fifteenth overall via 17-14 moto scores and earning the Top Privateer award in the process. We dropped Williams a line to get his thoughts on his breakthrough ride.
Racer X: Wow, best day of the year by far for you at Washougal! Did you eat something different for breakfast or what?
Zack Williams: I don't even know what it was! The previous races before that, I wasn't doing what I expected of myself. I came into Washougal, and I just really liked the track all day long. Things just clicked, and I was finally riding like I know how to ride. I was racing like I practiced, and it was a good day. In the first moto I spun pretty bad off the gate and started about mid-pack or something, and worked my way up to seventeenth. But I knew I could do a lot better than that, and in the second moto I got a lot better start—it seemed like I started in the top ten. I got passed a few times in the first lap, was running sixteenth for most of the race, and ended up in fourteenth. That was my best score yet.
You earned the Top Privateer award, too. That had to feel good.
Yeah, that was awesome. It was cool to get a trophy out of it and get up on the podium. That was definitely an unreal experience. Overall I was really happy with the whole day.
Is it safe to call this result the highlight of your summer?
Yes, I would definitely say it was the best race so far, but I still feel like I have more to prove. I want to have an even better one than this, and I've got three more races to do it.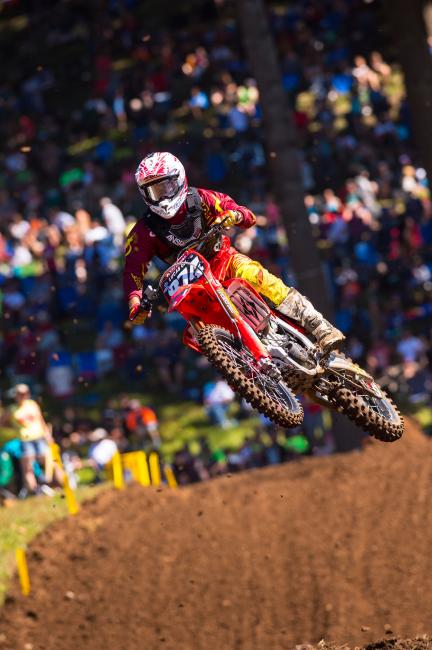 What's up with all you Minnesota guys these days? Every time I turn around, I'm seeing more and more. Are you trying to take over?
I don't even know what the deal is, but we get a lot of fast guys up here. I don't know. We have a good group of guys, and I feel like that motivates all of us. Minnesota, we're definitely coming up!
Maybe it's global warming. Are your winters getting shorter?
That is definitely not it! The winters are getting longer and colder! This last winter was the worst winter I think we've ever had. We had records broken. Everyone goes south for the winter. It kind of sucks not being able to be home in the winter, but I usually go to Texas or California, or wherever I can ride. It's difficult being away from home all winter, but you gotta do it. You have to ride all year if you want to be a pro in this sport.
What's been the toughest track for you so far this summer?
Probably the first two rounds in California. I feel like I really struggled there. I'm not sure what it was—maybe just the start of the season, and I had to get my feet wet a little bit. Those tracks were rough and I didn't feel like I was on my A game.
What's the maddest you've been all summer?
I should say it was at my hometown race in Millville. In the second moto I ended up blowing up my motor. But I'd have to say RedBud was probably it. I was really expecting to do well there, and I just struggled so bad on the track all day long. After that race, I was definitely close to rock bottom it seemed like.
Let's talk about something I'm calling the Noren Effect. When you see a guy, just him and his girlfriend in a van with basically no budget, get a ride with Team Honda Muscle Milk and just start killing it, does that energize the privateer ranks and give you encouragement?
Oh, for sure! He definitely worked hard for that ride, and that's what we're all searching for. I guess when it happens it gives everybody hope and another reason to keep pushing. We all want that ride that he got, and everyone is pushing for it. It just gives you hope to never give up.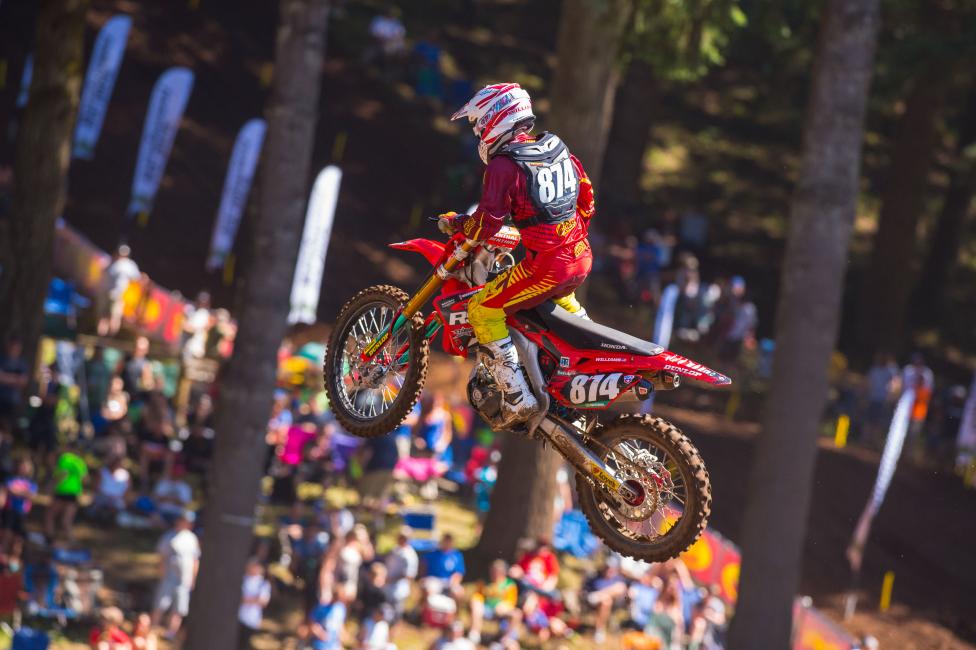 Give us a funny travel story from the summer.
Man, I don't know. I've been pretty lucky this summer. My mechanic, Sean Robertson, has been driving to all the races, and I've had the luxury of flying to most of them. I've only been driving to the close ones. We have a good time at the races and we definitely work well together.
Do the two of you ever get into any shenanigans?
Other than 360s in the rental cars, not much, no.
What are your goals for the remaining three rounds?
I really want to get a top ten in a moto. I want to for sure be in the top fifteen, that's my goal. I want to have some breakthrough rides. A holeshot would be really nice, too. I feel like I can do that for sure.
Fill us in on your team situation.
We put Team RSR together this year. Rick Schugel, owner of J&R Schugel Trucking, put it together for myself and Jesse Wentland for supercross and motocross, but Jesse went to Canada. Anyway, he's the team owner, manager—pretty much everything—and he put together sponsors for us. We have a really nice race truck, and he supports us all the way, through the good races and the bad. I'm very fortunate to have what I have this year.
Who else is helping you out?
RSR, Starr Cycle, Rick Schugel, my mechanic Sean Robertson, Pro Circuit, Answer, Black Diamond, Oakley, Moterex, Works Connection, Westman Freight Liner, Wisconsin Kenworth, Badger Utility, North American Trailer, Thermo King, Loves Travel Stops, Dunlop, MX Sports Nutrition, my parents, and the man above.