Washougal, WA
Washougal
Lucas Oil AMA Pro Motocross Championship
BTO Sports is your number-one source for all of your motocross parts, gear, accessories, and apparel. BTOSports.com is a motocross company who is truly dedicated to the sport and to the customer. Proud sponsor of your Racer X Podcasts and the BTO Sports race team.
Yeah, Washougal! We've had quite a run here in the Lucas Oil Pro Motocross Championship series, starting with RedBud three weeks ago—always an epic race. Budds Creek followed RedBud—a great track with awesome viewing—and then last week was Millville, which yours truly crowned the best track of the series. And now, this week, my personal favorite national of the year is Washougal. Let me recap for you here. The best atmosphere is RedBud, the best viewing is Budds Creek, the best track is Millville, and to me anyway, Washougal is the best national.
But I'm sort of biased. When I worked for a privateer rider named Ty Birdwell in 1997 and '98 we were based out of Astoria, Oregon (where The Goonies and Kindergarten Cop were filmed, bro!), so I'm a fan of the Pacific Northwest to start. I just love going up there with the trees, cool breezes, nice scenery, and friendly people—not to mention those little coffee huts on the side of the road.
Remember all of the above is my opinion only and could be subject to change at any time.
Washougal is usually a tricky track to ride, with the slick dirt and shadows in the back. It looks great, and usually is for the first practice, but it soon turns into a line choice/throttle control type of track once the good dirt is pushed away. It's the track where we've seen riders like Kevin Windham, Christophe Pourcel, and Marvin Musquin excel at. Because they're smart riders, they're thinkers and not necessarily just pinning it to win it. Washougal rewards those who use the "slow down to go fast" mantra.
I've always thought that Washougal should just move a bunch of dirt around and map out a whole new track using some of the existing track that's there. Why not? There's still primo dirt there, it's just not on the track anymore.
This past weekend, because of a bunch of rain, I think Washougal was the loamiest that I've ever seen it. It still got to be its usual self by the end of the day, but early on in it was like riding on Unadilla in 1989. Save for the burnt couch smell…
We said last week that Ryan Dungey had to grab a win at his home track in Millville, and he not only failed to do that, but he only managed to gain 2 points on his title rival Kenny Roczen. Dungey's been great at Millville for obvious reasons, but last week he didn't look invincible.
So, maybe we should check and see if Dungey actually grew up in Washington state because he lost at Washougal his first year, and then last year he split the moto wins with Ryan Villopoto but came up second overall. Other than that, he's won this race every single year. And this year there was no splitting of moto wins or even any doubt— Dungey simply dominated 'em. With a 1-1 score, Dungey ran away from everyone in the first moto, and in the second, with last week's winner Eli Tomac on him off the start, he easily pulled away for another win.
Without a doubt, it was Dungey's best ride of the season, and it comes exactly at the right time. He was masterful out there using throttle control, some good lines, and what I noticed was an awesome ability to get by lappers. And as we know, passing riders (even slower ones) hasn't always been a strength of Dungey's.
With the 2 points gained last week added to the whopping ten he got on Roczen this week, this championship is down to just 14 points with three races remaining. In honor of Weege, I'll put this out there: if Dungey wins every moto from here on out, he'll win the title no matter what Roczen does. HE CONTROLS HIS OWN DESTINY PEOPLE!!!
Of course we know that won't happen, not with Tomac and Roczen lining up each week (and maybe James Stewart. I know, I know. He hasn't done much since his double moto win at High Point, but I'm a sucker for that speed and talent.), but had Ryan lost more points this weekend and the gap grown to over a moto lead, well, it's not very good, and let me explain why:
In eighteen motos, Dungey's only been off the podium twice and Roczen once. So, with a 5-point difference being the maximum one rider could gain on the other (assuming the averages of staying on the podium remain), then doing the math of an over 25-point lead doesn't look great for Dungey with six motos left. This just in: Ryan Dungey is back in this thing. As if he ever left…
We wrote this last week about Roczen:
"…There's no doubt there are a few chinks in Roczen's armor from just two weeks ago, when he worked everyone at RedBud in going 1-1. We've now seen him in two out of the last four motos drop off the leader's pace and look a little ordinary. We've documented Roczen's second half performances in series on this site and I'm not saying we need to freak out and say that the 94 has problems, but let's raise one eyebrow and watch the German from here on out."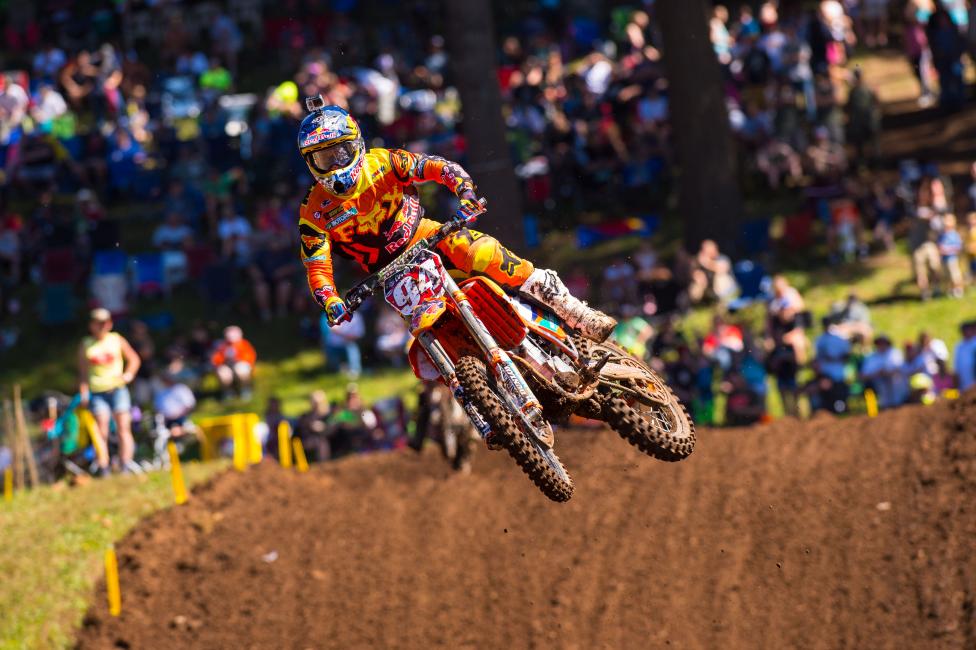 And let's just say that the eyebrow is a little more raised after his 3-3 performances at Washougal. He was beat by twenty-five seconds in the first moto, and the gap was over a minute in the second moto! Yikes indeed. It doesn't seem like Roczen's the same guy he was just three short weeks ago when he ruled RedBud, but in speaking to his trainer Aldon Baker the other day, there's no panic for Team 94.
As the rain came down in Florida where he was, I got Baker on the phone for this little mini-interview:
Racer X: Hey Aldon, so what happened at Washougal?
Aldon Baker: He's got a bit of a thumb injury and tried to ride a bit different at Washougal, which didn't help. And you have to remember this kid's never been in this position before. It's more about how you attack the weekend, and experience helps you from second guessing yourself. He doesn't have that experience.
So Aldon, is Kenny wearing down, and if so, have you changed anything to help that out?
It's the little things that count a lot at this point. If he had a nice lead, do you push it hard, back it down, and how do you tell a person with no experience what to do? To me, it's more getting his confidence back. When he has it, he's amazing, other riders haven't always had that confidence. Guys like you and the bench racers talk about how Kenny was amazing at RedBud; Eli was the man at Milville, and now you're all talking about Dungey!
And look, Dungey's great at Washougal. I remember him beating RV there more than a few times. It's a good track for him, and we think the two tracks (that anyone's ridden on) that are left in the series are good ones for Ken. It's a rollercoaster, and you've been doing this long enough to know that mate.
Yeah, true, but have you changed anything to try and help him out?
Well, the weekend off from traveling will help I think. But you don't change anything and implode everything because of a race where you got third. You're only one weekend away from changing everything back around again. We have backed a lot down, and with just three races to go, the goal is right there. We have to just push through and seal this up and I think he will.
Anything else?
I'd like to remind everyone out there that no rookie has adapted to the big-bike class like Kenny. The other riders I have worked with have, frankly, buggered the transition up. Kenny's fine and we're not worried at all.
There you have it.
And just to complete the orange crush weekend, Marvin Musquin of the same Red Bull KTM team as Dungey and Roczen did his part to keep Washougal orange by sweeping the 250 motos. Musquin was incredible on this day. He was 1.7 seconds faster than anyone else in practice but didn't get either holeshot. He worked through the field in the first moto to win easily, though. Then, in the second moto, he stalked and passed Justin Bogle to, well, win easily. I don't know which rider sweated less in their 1-1 rides—Dungey or Musquin. They were both that much better than anyone else.
Musquin missed supercross with an ACL injury, and then wasn't quite 100 percent back from that when the nationals began. And then he jacked up his shoulder at the first round, and it's been a slow climb back up to Musquin. But he rode well at Millville and then Washougal. With Unadilla coming up and him being a former winner, I'd look for more good things from the Frenchman. People don't realize that besides the physical healing a rider goes through to get back to his old level, there's also a mental hurdle to know that you can hang it back out again. With Musquin, this was the second ACL on the same knee, and I'm sure mentally he needed to get some time under his belt, so he knew it was as good as new.
Let's take a look at the results, shall we?
250 Results
1. 25 Marvin Musquin; France; KTM 250 SX-F; 1-1 - Tweets from the future: "@pulpmx: Man, the French were so close to winning the MXDN here in Lativa today. If only Musquin was on the team"
2. 4 Blake Baggett; Grand Terrace, CA; Kawasaki KX250F; 5-2 – Lately, there have been just too many small mistakes for Baggett that have been killing him. He's got the speed and the fitness, but he doesn't have the starts all the time, and he's had some weird tip-overs the last few weeks.
3. 19 Jeremy Martin; Millville, MN; Yamaha YZ250F; 4-4 - Not too bad for Martin; he went 24-12 at this race last year, so maybe he's just not a fan of The 'Shoug. Either way, to go 4-4 and only lose 2 points to one of the riders who can challenge you for the title is pretty sweet. Martin wasn't his usual brilliant self and when you can just be okay and get on the podium, well, life is pretty good for you.
4. 37 Cooper Webb; Newport, NC; Yamaha YZ250F; 3-5 - For the last month or two, all I've heard from people is how Webb tested positive for HGH from the Lakewood tests. And now we know it's false; I'm happy for him, and I feel sad for some people in the pits who crucified this kid on a rumor.
5. 32 Justin Bogle; Cushing, OK; Honda CRF450R; 7-3 - Great second moto for Bogle, who's building and building. He led for twenty minutes, then tipped over and got a third. Like Jason Anderson (who was looking great but crashed out of the day in the first moto), I think Bogle can win a moto here before the series is out, and as I've written before, we should consider Justin a title threat in 2015.
6. 43 Joseph Savatgy; Thomasville, GA; KTM 250 SX-F; 6-7 - Savatgy has been very good the last couple of weeks, and I know there is one spot left on the Rockstar Energy Husqvarna team next year. I was talking to team owner Bobby Hewitt, and he mentioned that he's very happy with Savatgy's progress the last few weeks.
7. 15 Dean Wilson; Scotland; Kawasaki KX250F; 8-6 - I was watching the first moto with Wilson's agent, Tony Gardea, and knowing how hard this track was to pass on and Dean-o's current "level," I told Gardea on the first lap when Wilson was about fourteenth that he'll get eighth. I'm not sure how much he appreciated this news, but hey, look at what he got!
8. 377 Christophe Pourcel; France; Yamaha YZ250F; 2-15 - A nice first moto followed by the fades of all fades in the second moto. I put a couple of texts out there to people that are in the know about what happened to the #377 in the second moto, as he went from second to fifteenth. I really, really hope something with the bike was jacked up because it was ugly. I thought Pourcel was going to get a moto win at Washougal, if he was going to get it anywhere, but after that second moto, I'm not so sure he's going to get on the podium again.
9. 21 Cole Seely; Newbury Park, CA; Honda CRF250R; 9-9 - Good day for Seely, and I was a bit bummed the Troy Lee Designs guys didn't do anything special with their bikes like they usually do for Washougal.
10. 50 Jessy Nelson; Paso Robles, CA; Honda CRF450R; 11-10 – Nelson is ninth in the points right now, and I'd say that's a nice rebound from last year's injury-riddled year.
11; 71 Zachary Bell; Cairo, GA; Honda CRF250R; 10-11 – Clearly, Seely, Nelson, and Bell seemed to enjoy each others' company at Washougal. Bell started closer to the front and ended up here, while Seely came from the back to finish where he did. If you go by some people in the pits and their theories, Bell would be the better rider to hire because he's up front a little bit here and there.
12. 55 Alex Martin; Millville, MN; Yamaha YZ250F; 14-8 - Alex is top-ten in the points, and that's pretty awesome for him. He's been getting pretty consistent results for the last few races, and for me, top-ten in the points is a good achievement for the Ewok Warrior.
13. 96 Matthew Bisceglia; Tualatin, OR; Honda CRF250R; 13-12 - One of the hardest things for a rookie to do is be consistent. To go out there week in and week out and score points every moto is tough to do. Bisceglia started off that way and hit a bit of a rough patch, but he's now scored decent finishes in five straight motos. The grind of weekly travel and motos is a tough one to get used to.
14. 87 Shane McElrath; Canton, NC; Honda CRF250R; 15-13 - Previously, McElrath earned 8, 9, 7, 11, and 10 points in his previous five nationals raced, so this weekend's 14 points represent a career-best national for the Lucas Oil/Troy Lee Designs Honda kid. Let's see what he can do from here on out. Maybe he can get into the top ten at some point.
15. 874 Zack Williams; Elko, MN; Honda CRF250R; 17-14 - You would think that Williams would have had his best race of the year last weekend on his home track, but nope, like Dungey, Williams seems to prefer the little coffee huts in the Pac-West.
16. 142 Cole Martinez; Rimrock, AZ; Kawasaki KX250F; 16-16 - Haven't seen Martinez since High Point, and he comes in hot with his best national finish of the year in Washougal.
17. 47 Kyle Peters; Greensboro, NC; Honda CRF250R; 12-30 - Peters had an eleventh earlier this yea,r but his first moto finish here is solid.
18. 620 Brad Nauditt; Spokane, WA; Honda CRF250R; 18-17 - Must be all that time Nauditt spent cutting his teeth in the rough and tumble Canadian Motocross Nationals.
19. 565 Preston Mull; Modesto, CA; Yamaha YZ250F; 19-18
20. 376 Chris Canning; Conventry, CT; KTM 250 SX-F; 21-19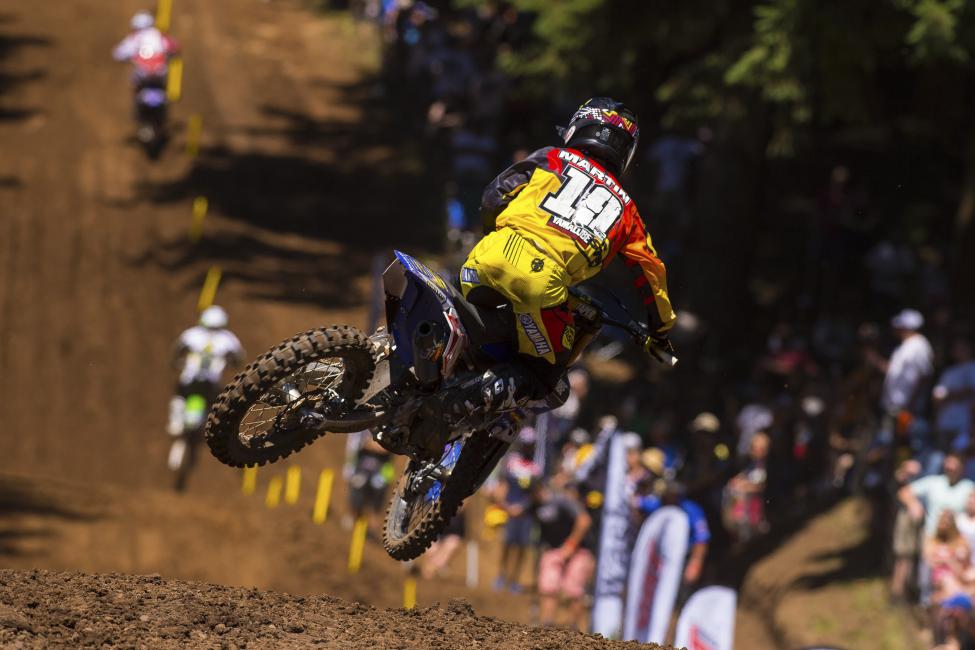 450 Results
1. 5 Ryan Dungey; Waconia, MN; KTM 450 SX-F FE; 1-1 – Dungey has this Wheaties thing, where you log your workouts and help him get on a Wheaties box in the process. I have a confession—I've been letting him down in the workout department.
2. 3 Eli Tomac; Cortez, CO; Honda CRF450R; 2-2 - After the race, full props go to Tomac for admitting that Dungey was just better than him on this day. There wasn't any of this "Oh, I got tight" or "we missed our set-up on the bike"—nope, it was just "He was great and better than me today." Nice to see. Oh, and by the way, STOP with the Tomac-to-Kawasaki-next-year talk. It's not going to happen.
3. 94 Ken Roczen; Germany; KTM 450 SX-F FE; 3-3 - Roczen's a great interviewee, and generally speaking, is a good guy for us media folks. So, it's with some regret that I missed what was a pretty revealing press conference.
4. 24 Brett Metcalfe; Australia; Kawasaki KX450F; 5-4 - I asked Metcalfe about next year and whether or not the factory Kawi guys have talked to him about sticking around, and he said they've told him nothing so far. I would say that he will know more about his status on green once that Villopoto fellow figures out what he wants to do. And, from what I hear about RV, supercross 2015 is definitely out for him because of a late recovery from his knee surgery.
5. 29 Andrew Short; Colorado Springs, CO; KTM 450 SX-F FE; 6-5 - Shorty got good starts both motos and let Metcalfe get by him in the first moto, and then followed him around for the entire second moto. The #24 must have just haunted Short out there. Still, look who's challenging for fifth in the points after a very poor start to the series? Andrew Short—that's who.
6. 40 Weston Peick; Wildomar, CA; Suzuki RM-Z450; 7-6 - Yet again, Peick was long gone after the motos, so I have no idea how his day was. On paper it looks good, though! Let's face it: we know he's a nihilist and probably doesn't care about us caring about him.
7. 41 Trey Canard; Edmond, OK; Honda CRF450R; 4-11 - Canard had a nice Washougal. He rode fine in the first moto and came from about twenty seconds back of thirty-ninth after a first lap crash to being less than a half-second behind tenth at the end of the second moto. Canard could have gotten up much sooner if the flagger on the jump he crashed on had just a little clue.
8. 80 Fredrik Noren; Sweden; Honda CRF450R; 9-7 - Noren was very good. Again. Dan Betley must be just pinching himself for choosing Fast Freddie for the fill-in ride on big red. Pretty cool story right here.
9. 10 Justin Brayton; Fort Dodge, IA; Yamaha YZ450F; 8-8 - Brayton's starts were ridiculous. Seriously, just ridiculous.
10. 54 Christian Craig; Plymouth, MN; Honda CRF450R; 10-12 - Craig's four-race comeback was good. Like, seriously, really good. Like, better than I thought it would be. And he works a full-time job; you can see he wasn't in the type of shape he needed to be in and yet STILL got great results. This guy's talent is that good. Wait, I think I read those above sentences about his dad 745 times in Motocross Action growing up.
11. 331 Tommy Weeck; Washougal, WA; Honda CRF450R; 16-9 – Weeck is married to the daughter of the owner of the track, and he's obviously got a lot of laps on the track. But we all know how much the national tracks change for the actual race, so Tommy Boy getting a top-ten is impressive no matter if he sleeps in the woods at the top of Horsepower Hill.
12. 130 Tommy Hahn; Great Bend, KS; Kawasaki KX450F; 15-10 - Hahn's trying to make another comeback to racing, which is what happens to a lot of riders over the years when they realize that real life kind of stinks compared to being a professional dirt bike racer.
13. 48 Ben Lamay; Wasilla, AK; Yamaha YZ450F; 13-13 - Remember what I said about Ben last week? Yeah, same as this week. Although, to be fair to Lamay, he got a rock roosted into his lens and popped the lens into his goggles in the first moto. So that sort of sucked.
14. 44 Matthew Goerke; Sun City, CA; KTM 450 SX-F FE; 12-17 - Matt had an okay day at Washougal—not bad, not great. I bet he ate some vanilla ice cream on the way home, too.
15. 22 Chad Reed; Australia; Kawasaki KX450F; 11-35- I think Reed's in the same spot as James Stewart last week, where I suggested he take a week off to regroup, relax, and try to "fix" whatever is wrong. Reed's dealing with a back injury that's making it hard to practice during the week, and the results aren't good. He got a nice start in the second moto, and I thought we were going to see some magic, but alas, the pain started in and he was forced to DNF. Things are going from bad to worse for Reed, and I'm not sure what sponsor obligations he's got going, on but days like Millville and Washougal are not helping anyone out.
16. 95 Evgeny Mikhaylov; Russia; KTM 450 SX-F; 17-16 - The Russian bear has been racing the nationals for a few years now and getting better and better each year. Russians, Swedes, Aussies, and Germans are all racing an American series and STILL no Canadians.
17. 77 Jimmy Albertson; Shawnee, OK; KTM 450 SX-F; 19-15 - Albertson showed up with two black eyes from a crash on the Thursday night race before Washougal. He looked like he got beat up pretty bad, but nope, it was just that crash.
18. 92 Kellian Rusk; Durango, CO; Yamaha YZ450F; 23-14 - Rusk was inside the top ten in the first moto, when something happened to cause him to drop out of the top twenty. Not sure what, but it was unlike him to fade that badly. Still, it was a nice few opening laps!
19. 39 Ryan Sipes; Flaherty, KY; KTM 450 SX-F; 14-39 - The KTM machine of Sipes developed some problems on the line, and was unable to get going for the second moto.
20. 211 Tevin Tapia; Bonney Lake, WA; Suzuki RM-Z450; 18-20 - RCH's Tony Berluti told us on the PulpMX Show that Tapia was pulled off the line when he didn't have his Hats On device inside his helmet, and missed the start of the second moto. So, yeah, to miss the start and still get a top-twenty is pretty good.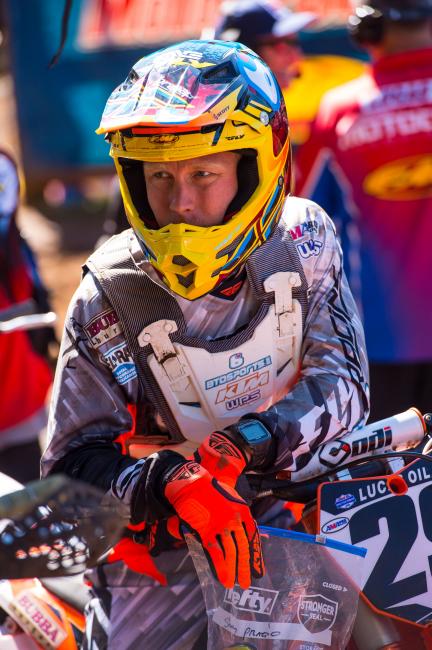 Some other news and notes from Washougal:
-One of the rumors going around in the pits was that Weston Peick was going to be riding for Toyota/JGR Yamaha next year alongside Justin Barcia. I was talking to a Toyota/JGR guy a couple of weeks ago, and they said that Yamaha wanted Peick, but Coy Gibbs had an eye on someone else. This week I heard that it was going to happen. Not officially done but looking good.
-Last week at Millville James Stewart (who was not at Washougal) had his private nurse come to will call to replace her lost hard card credential, and I hear some small talk revealed that she gives Stewart his IVs, which are against the rules unless it's after the race, when the Asterisk Medical Center will give you one for free. Apparently, this nurse had no idea this move of getting IVs was illegal, and if you think Stewart was just getting them after the race, then the next time you talk to the Tooth Fairy, please wish her hello for me. From what I know, the nurse was told that she was not welcome in the gate with her "supplies," and since there is no proof Stewart was getting them before the motos or in between them, there's not much MX Sports can do.
I've long talked about how I know IVs are going on in the motorhomes of the stars of the sport, and they're a huge advantage on a hot day. Heck, they're a huge advantage anytime. Don't give me the "Motorhomes are private property, and we can't go in for random check" stuff I hear from some officials. Make it a rule and try to enforce it here and there. As if the top riders needed more advantages out there, can we at least try to stop this from happening? And as far as Stewart is concerned, I just have one thing to say… C'mon man!
-I wrote here a while back that there was a chance that Team USA would not field a team for the upcoming MXDN in Latvia. Well, it looks more and more like USA is going to go (yay!), and that Ryan Dungey, after initially balking a bit at going (due to a wedding), has decided he would ride for USA, which is another yay! Now, who else do you send? One would think the MX2 guy would be whomever wins the title out of Martin, Webb, or Baggett, and I'm ok with that. The MX3 spot is going to come down to Canard or Tomac. Certainly, lately Tomac has been beating Canard, but Canard has been there all year, ridden, and won for the country before. I'm good with either guy, and team manager Roger DeCoster has a bit of a decision on his hands here.
Thanks for reading and we appreciate it. Email me at matthes@racerxonline.com if you want to talk about Washougal or the nationals as a whole.