Washougal Motocross
Washougal

,

WA
Washougal
Lucas Oil AMA Pro Motocross Championship
By Steve Matthes, Jason Weigandt, and Aaron Hansel
Eli Tomac, GEICO Honda, 2-2 for second overall in 450
Tell us about your day.
First moto rolls around … Man, I got worked on my start. I thought I had a good pad. When I did my practice start for the sight lap, I kind of blew a squirrelly line in it right after the gate. It really jacked me for the real start. I was buried, ate tons of roost. I think this is the worst track for roost here because the dirt's so heavy. You try to stay out of it going up to Horsepower Hill. The track did have lines where you could get around guys. I did make my way up into the top three or four there pretty quick. Actually did better than I thought; I thought I was pretty screwed. Sometimes this track, a lot of guys can go fast on it for a while, but it is a technical track, so you can make your way up there quick.
Second moto you gave [Ryan] Dungey a pretty good run there, kind of like he did with you last week.
It was almost like an exactly flip of last week because we kind of paced each other for about the same time, somewhere around twenty minutes. I got a little bit closer to him somewhere around twenty, and then the next lap I had a terrible lap. I was like literally five seconds slower. He did like a 2:15; I did a 2:20. I made some bobbles after the finish line and jacked up two turns in a row, and he must have just railed everything. That's what just sealed the deal for him. At that point he was able just to lay it down, and I couldn't get it back together.
I saw you even hit the kicker and almost endo a little bit there at one point. Was this track rougher than usual because of the rain or something? It seemed like it was real choppy in that second moto.
Yeah, it was the roughest Washougal for sure, and the deepest. There were some good bumps down the hills. There was a lot of heavy ruts too.
You went 1-1 last week. I know in the past, when you get the ball rolling like that, you start to just expect that of yourself. What was it going from 1-1 last week and then having to settle for 2-2 this week? Was it somewhat disappointing? How'd you feel about it?
It was a little bit disappointing. The first moto I was satisfied with a second because from where I started and I was so buried. But the second moto I actually thought I would have had a little bit more, but Ryan was just laying down the hammer like I was last week. So I kind of had to settle in there. I was trying and trying and trying, but he was solid. That's all there is to it.
You're very aware of the championship chase that you joined somewhat late. So, what you have the ability to do is really determine the championship one way or the other. Last year it was you and Ken Roczen. This year it's you, Ken Roczen
That's just the way racing goes. The next round, who knows, maybe I'll be Ken's best friend. The past weeks have worked in Ryan's favor; it's just the way it's playing out right now.
You started out when you first came back, you were just behind that group. At this point are you exceeding your expectations or did you kind of expect this? That's what you tell yourself going in is, "Man, I need to be there, or I want to be there." We all work our butts off before we go racing. I didn't come in unprepared. I took the time off, got healthy, and prepped, and I think it's paying off now. - Jason Weigandt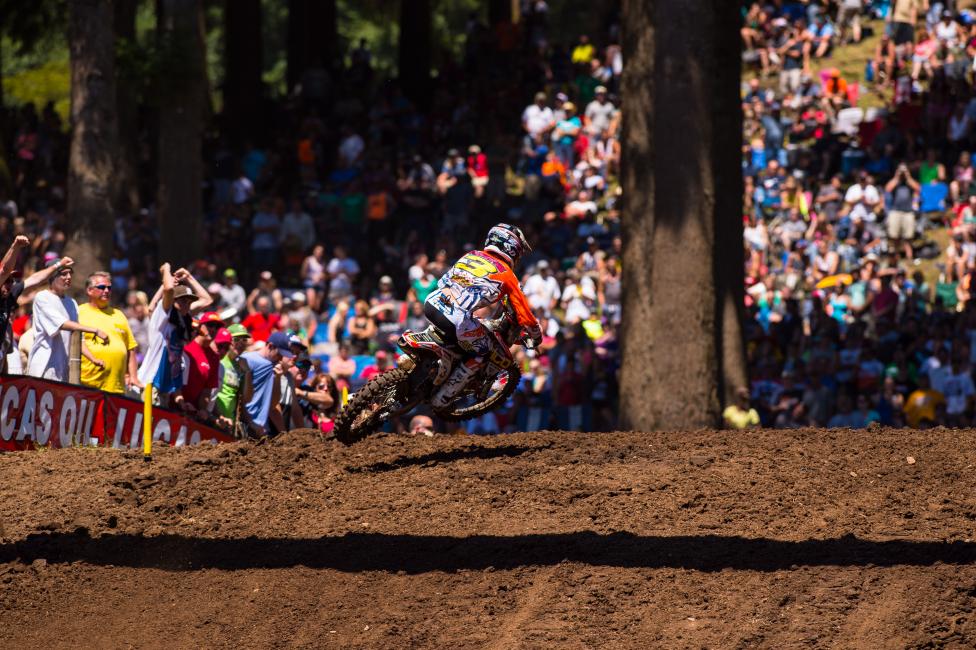 Ken Roczen, Red Bull KTM, 3-3 for third overall in 450
Tell us a bit about today and where you're at.
I struggled a bit with suspension settings. Every time I went out, we tried something different just to get a little bit more comfortable. Three-3 is definitely not where I want to be, but I got to take it. I want to keep my head up and not going to stop yet. I definitely can't back down. Obviously, I got a big push. It's definitely good to have an off-weekend now. I think it will change a lot. Obviously, right now I'm not riding like I did in the beginning of the year, so I'm just trying to get back there. There's just some sacrifices that I have to make. I'm still kind of all over the place. I go play golf, I go jump in the pool, and this and that. I think I just got to take a bit more rest. I'm willing to do anything to be able to keep that red plate, so I'm going to go work on a few things and maybe come back swinging.
We actually have stats on your first and second half of supercross and the Nationals last year. Do you think there's anything to that? You were leading the points the first half of the year last year; you were right there in supercross the first half of the year this year. Your results weren't quite as good in the second half. Is there anything to that? Do you have any idea?
No. Honestly, it's just a long season. It's basically my first time doing it that many races. I'm really happy that until now I've been doing actually every single race there is. I think that's something that I'm really happy about. Obviously, it's the first year in the 450. I knew it wasn't going to be easy. There's a fine line to be on it the whole year. It's just tough. Like I said, I'm still a little bit all over the place back home. The whole program is tough and I just think I need to really grab myself by the nuts and just sit down and chill when I can.
It's actually good to know—there's only like four weeks left altogether. There's three race weekends and an off-week. So, is it like, I can do this for four weeks?
Yeah, but like I said I'm still learning, so I'm trying to figure out what's the best for me to obviously get back to my top level. I got to experiment a little bit.
Aldon Baker was here today. Was he supposed to be here, or were you like, hey, man, I need your help? Was there a reason that he showed up first time in a while?
Yeah, definitely. I called him—obviously we're on the phone all the time—but I called him right after last weekend's race and I told him I want you to come, or I asked him basically. And he said, let's do it. So I really appreciate that. I just think it's better for him to be here for the last races, just to support me, and obviously he gets a little bit of a better feel how everything is than sitting in front of the TV. I'm planning on having him at every single race.
It's an incredibly stacked class, the 450 Class. A lot of riders have won, and have championships … It seemed like the championship was obviously you and Ryan Dungey but with Eli Tomac rejoining the series, is it like kind of déjà vu a little bit? You're out there with him, and right at this minute he seems to be a bit of the aggressive.
Obviously, we all know that no matter when it comes to riding he's on it. It would just be interesting to see if he would have done the whole season where he would have been. It's possible that he would have been the same as he's riding right now. Everybody's different. He's definitely up there, and he's going to be there next year. That's really all I got to say about that.
Rough conditions and also how it goes from light to dark so fast here; was this a track that you really wanted to take chances on?
No, and that's another thing. We're still healthy and everything is in a green light. We definitely don't want to go over your capabilities and put yourself on the side of the track. The track is very unique since we're going through the woods. Maybe you can compare it with High Point, and I usually like—I crashed, but this is one of the I would say not so many in the U.S. Nationals that are really clay and gets pretty hard and rutted. Usually, all the tracks like RedBud—they're a little more softer and sandy kind of tracks.
I don't know who was in the tower, but he kept kind of hinting towards an injury. Is there any truth to that?
No.
With 14 points now between you and Ryan [Dungey], does anything change as far as your approach each race?
No, because even with, I don't know what I had before, 24 points, it's just too many races left to be able to back down. As you can see, I did two thirds; it's a solid ride but he won two times, and that's 10 points right away. And it could go the other way. With only that amount of points, you just really can't back down. You just got to take it race by race and try to put down the wins. - Jason Weigandt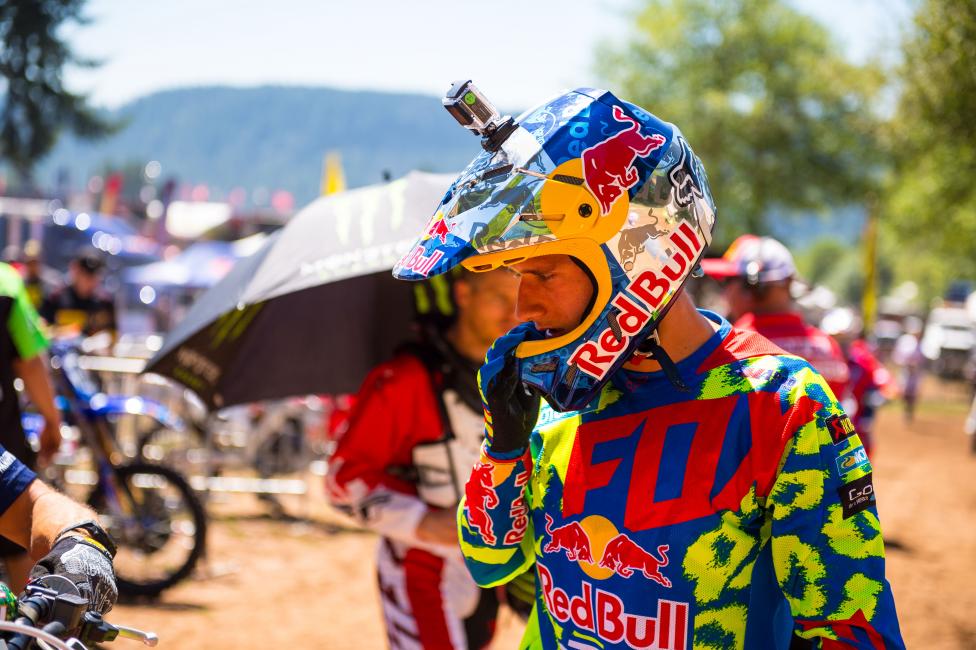 Brett Metcalfe, Monster Energy Kawasaki, 5-4 for fourth overall in 450
First moto you came further from back to fourth, or whatever you got.
Fifth. I actually closed the gap to Trey [Canard], just got to him, and just made a silly little mistake. I went real tight on one of the turns. So tight that the rut was really tight around the big dirt mound, and my clutch just got stuck on the dirt mound, didn't go anywhere, fell over, stuck on the bike. Then that allowed Shorty to get back by me. Me and Andrew went back and forth a few times today, as per usual. Then I closed back to Trey. I just felt good today. I'm feeling better.Then second moto I had a real good start, that's the best one of the year I think.
You were in second for a little bit.
Yeah, second, and then obviously Eli [Tomac] came through. Then Kenny [Roczen] was on me and Kenny came through. Just kind of held there. I was watching Andrew, and we cat-and-mouse for a little bit there. A couple laps from the end I just really pushed hard and had the gap. - Steve Matthes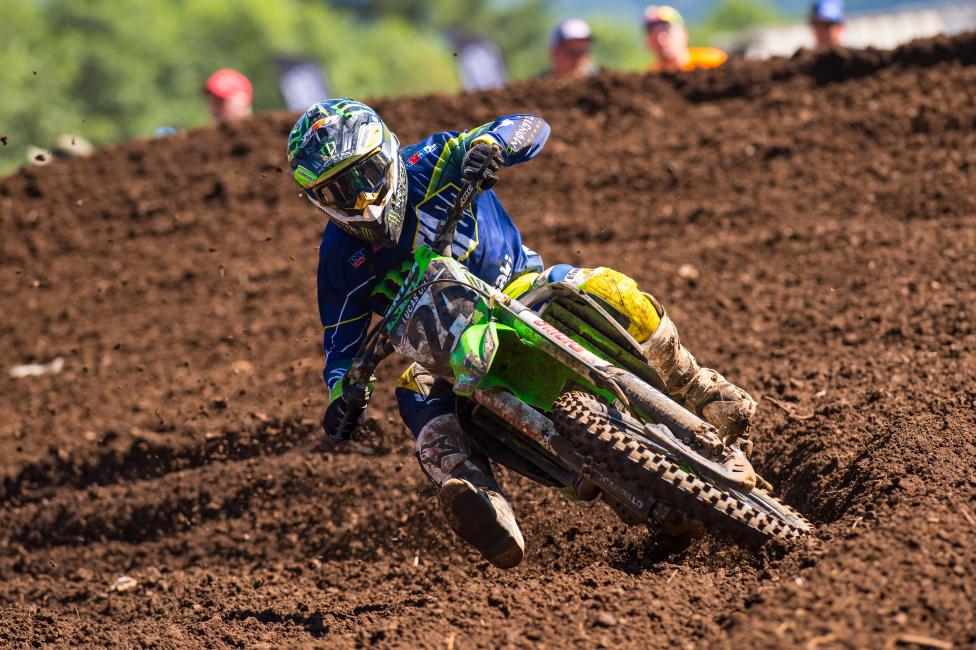 Christian Craig, GEICO Honda, 10-12 for tenth overall in 450
Another good day for you in this comeback. Is this it? Are we done?
This was supposed to be my last one, and now I have the whole team breathing down my neck saying, "You're racing, right? You're racing Unadilla?" So right now it's up in the air, but it's looking like…
Remember when you holeshot Unadilla?
I did. I had a good start here today, but I think I need to leave on a good note with the holeshot and get some more TV time. It went good today. Ten-12 for tenth overall. I should have been a little bit better in the second moto; I just was worn out—had nothing left in the tank. Finished it off, though, and I felt like I rode pretty decent. But we'll see. I plan to be there, but who knows what's going to happen.
I guess you haven't made it to this race for a while, but this is a little bit different Washougal than we've ever seen before.
It was tough. I guess it rained a couple days ago. Everybody said it was muddy yesterday at press day; I wasn't here. But the track was good. It was slick in the morning; that's how it always it. Then it dried out and it got really rutted. I'm pretty sure every rider said it was different than the before years. I liked it. A lot of different lines. Still hard to pass, like usual. - Steve Matthes
Trey Canard, Team Honda Muscle Milk, 4-11 for seventh overall in 450
First off, nasty second-moto first-lap crash. You okay from that?
Yeah, I did it on purpose. I'm always about the comeback story—it's my life. I'm just here to inspire people. I figured I'd jam the thing in neutral and land it on my head.
So maybe all those injuries really weren't injuries.
They were, I did it on purpose, though. It's all about the learning process. Pain teaches us a lot of valuable things. I'm actually wearing no shoes right now. I'm trying to become one with the earth, also.
I think you got eleventh but almost tenth—nipped him at the finish. This track's not easy to pass on, so that was some work.
Yeah, I got elventh still. It was definitely some work but, goodness, it's just frustrating.
We had awesome flagging too for your crash. Great job, guys.
I don't even know what to say about that. That was not good.
You got a factory Honda, one of the best riders in the sport, cartwheels, laying there and just no one notices.
I was yelling. Obviously, that's not going to do anything; motorcycles are loud. No sound rule. He didn't start flagging until everyone was gone. I don't know how my bike didn't get hit, honestly.
One guy almost crashed. So you hit neutral? That's what happened?
Yeah, I was coming out of the whoops, and I think I must have been on the arches of my feet, big no-no. I leaned forward trying to really boost out of there, because mid-pack, trying to make moves in the first lap. I don't know; I just went into neutral, and when it did I like threw my feet up and scorpioned, and then it was like, endo cartwheel from there. - Steve Matthes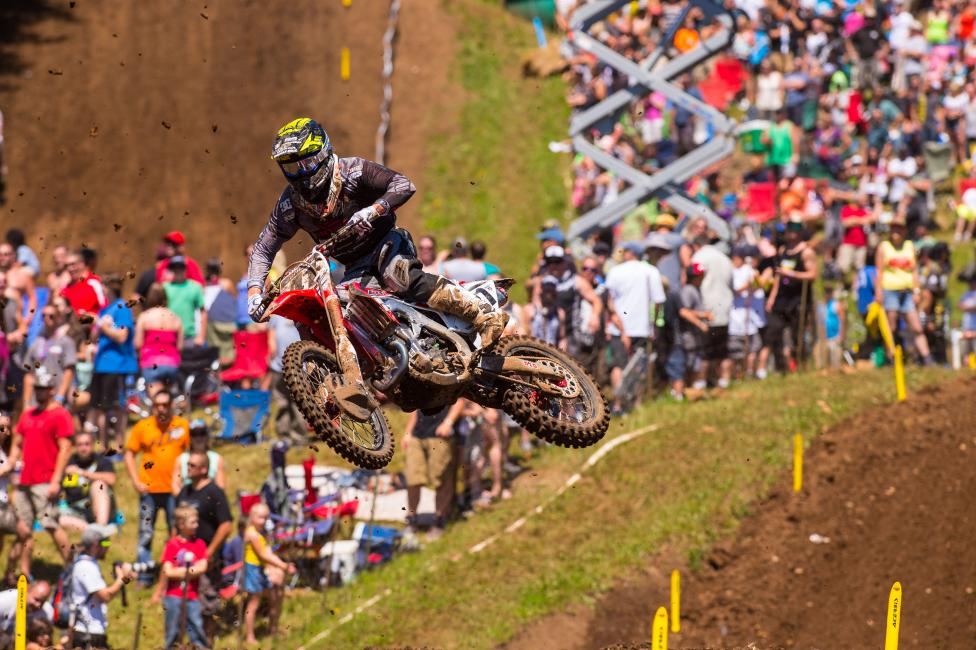 Andrew Short, BTOSports KTM, 6-5 for fifth overall in 450
Good day for you, you and Brett Metcalfe sort of yo-yo-ing all day.
I was trying to get by him. It's funny, first moto I didn't even know he went down or whatever. I was getting passed, and I thought it was Josh Grant and I was all pissed, but it was Metcalfe again. I'm like, what the heck? But it was a good day, good starts. That was the thing. Big difference for me.
What happened in qualifying?
Qualifying wasn't so good. It was the worst I qualified all year. The first one was good. The second one I just didn't step it up. I moved my forks a little lower and I wasn't comfortable going down the hills, and it was so sticky. Put the forks back in the position, similar to kind of Millville, to combat the hills without stiffening up, and that seemed to be a big benefit for me.
Fifteenth gate pick really didn't matter because again you were top-five both starts.
Both motos coming around the finish line first lap I was there. That was the difference for me. For me to finish top-five, I got to start up front. That's been the difference. So that was huge. It was a good day for me. - Steve Matthes
Justin Brayton, Toyota/JGR Yamaha, 8-8 for ninth overall in 450
Awesome starts today.
Yeah, good starts. It's always fun to go up Horsepower Hill first and not get roosted. The roost hurts so bad going up that hill. That was my motivation to get a couple holeshots. The first moto I actually rode pretty good. Second moto I really struggled. We made some bike changes, and I think we went the wrong way. Overall riding is better, but it's still not close to where I want it to be.
Was it just me, or in the first moto did you have a couple of bad laps in a row and then kind of get back? I don't know what happened, but it looked like two laps in a row you lost a lot of time.
I actually had reeled Shorty [Andrew Short] back in and the lapper, it looked like he was going to let me by, and I went into the rut and he was going in the rut at the same time. Unfortunately, I was the one of the outside. He kind of punted me out of that line. Then the next lap I went into the whoops before the finish and slid, didn't crash, but kind of slid out in the rut. So, two bad laps, and then kind of gathered it back up and fought from there. The track was actually really fun; I enjoyed it. Even in practice, super rutty, and I enjoyed it. - Steve Matthes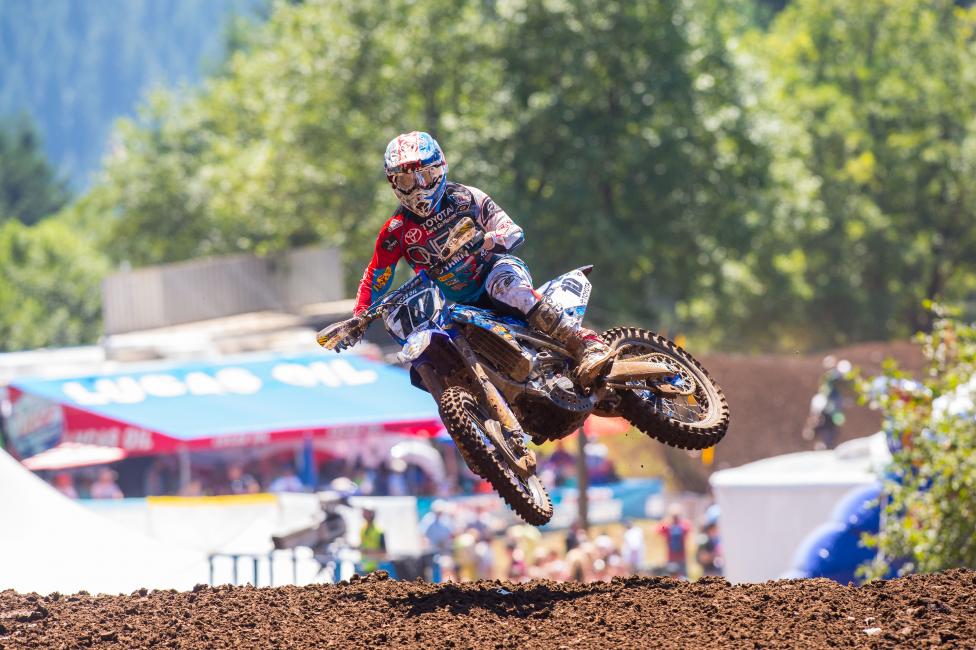 Tevin Tapia, Team 3BR, 18-20 for twentieth overall in 450
The first moto went awesome. I got a top-twenty start, got by a few guys and ended up eighteenth. That was a solid ride, and I pushed all the way through. I was all over that 95 guy—that guy from Russia—he was really hard to pass. I couldn't get around him and I used a lot of energy.
In the second moto I was pumped and I felt good. I got to the line, and when they told us to start up our bikes, an AMA official came by and told me I didn't have my helmet eject system in. I was like, "Oh my gosh, in five years of racing pro this has never happened." I look at my dad and he takes off running, borrows some random kid's bicycle and took off. We're parked pretty much as far as you can get from the starting gate. I sat there with no helmet and a dead engine and they took off. Twenty seconds later here comes my dad with my other helmet. I threw it on and took off and never gave up and ended up getting twentieth. - Aaron Hansel
Ben LaMay, CycleTrader.com Rock River Yamaha, 13-13 for thirteenth overall in 450
It was pretty solid. I qualified ninth, so I was happy with that, but in the first moto I was running up front and a rock hit my goggles and popped my lens out of the frame. I had a ton of dirt in my eyes and could barely even see. But I got a thirteenth in that moto and a thirteenth in the second moto! Pretty solid day—thirteenth overall. Track was pretty beat up, so I'm happy with the results. I could have ridden a little bit better, but I'm in one piece. We'll take the weekend off and head to Unadilla happy. - Aaron Hansel