You can't keep a good man down. This year has been a season of radically steep ups-and-downs for Mitch Payton and the Monster Energy/Pro Circuit Kawasaki team. Yes, the wins have come, and it looked, at times, almost certain the team would nail down the East Region Supercross Championship. However, bad luck and ill-timed injuries thwarted the title hopes of both Adam Cianciarulo and Martin Davalos.
The 2014 Lucas Oil Pro Motocross Championship saw a new day rising, and with it, hopes at another one of those red number-one plates. And, as the summer wore on into the dog days and the motos clicked off the schedule, it all looked quite promising as Blake Baggett began to pick up momentum like a Southern Pacific freight train. Yet, the train, so to speak, came off the rails last Saturday at Spring Creek, when in moto two, Baggett first hit the dirt, and then, after picking himself up and reentering the fray, came to a stop at the side of the circuit, powerless—a broken valve spring the culprit. Suffice to say, the costly moto threw a wrench in the works of the team's hopes of ending the series with a title. Crestfallen, Payton and his mechanics returned home to Corona, California, to regroup and to put together yet another offense that will begin tomorrow amongst the evergreens of Washougal. On Thursday, Racer X dropped in to get a read on what Saturday may hold. It was there, sitting behind his beautiful mess of a desk, where we found Mitch Payton.
Racer X: Mitch, it's Thursday evening here at Pro Circuit and nobody is around. What are you doing here in your office?
Mitch Payton: We just got back from Glen Helen. We went out there and [Darryn] Durham rode today and I watched him for a little bit. And [Chris] Alldredge was actually out there, too. And Jake Weimer was there. Marvin Musquin. There weren't too many guys out there today.
It was a hot one here in the Inland Empire today, wasn't it?
It was about 107. That was nice.
Did you learn anything in particular while you were out at Glen Helen today?
I learned that, when it's really hot, some guys show up late and leave early. But we stayed late.
How did Darryn look? Is he going to return to action at Unadilla?
That's the plan. He looked okay. His speed was good, but he needs a little bit more endurance. With a few more weeks, hopefully he can pick that up.
Speaking of riders on the injured reserve list, how is Adam Cianciarulo doing? He recently broke his leg, didn't he?
He broke the fibula. He crashed in a turn on his track, and the bike landed on his leg kind of weird. It seems like it's not such a big deal and they've already got it fixed. He'll be back in two or three weeks.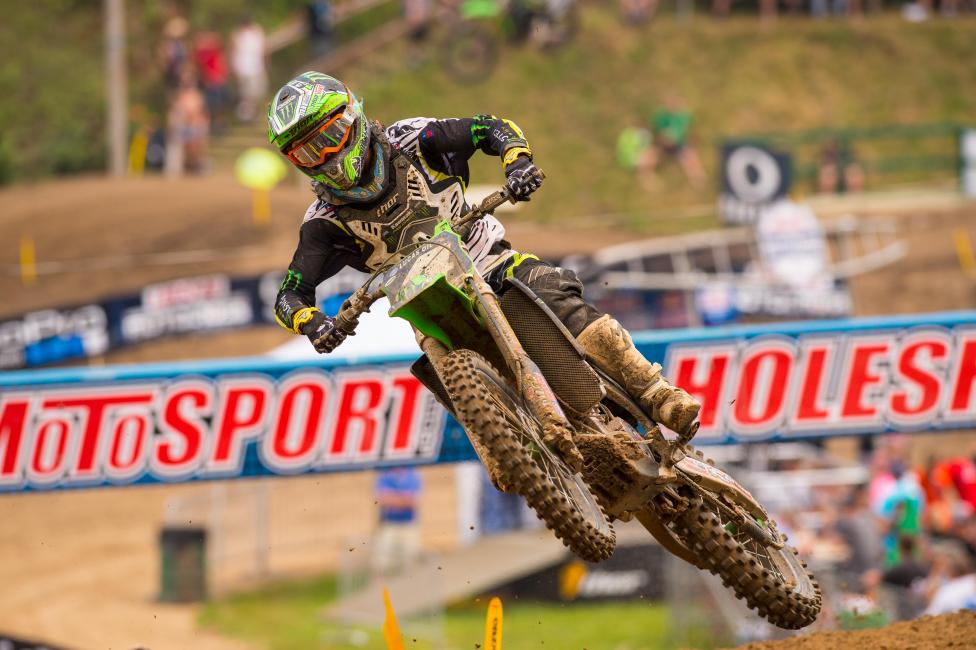 I watched Millville last Saturday, and it was kind of a make it or break it race for Blake Baggett and his run at the 2014 National Championship. He had a chance to gain some ground on Jeremy Martin, but when all was said and done, he found himself in an even deeper hole. What happened there?
We broke a valve spring. It was something we haven't had a problem with in multiple years. It was just bad luck and it sucked. He just got in the lead and fell down and got up and got going, and then all of a sudden that happened. So, that was bad. We just need to keep plugging away and we need for them to have bad luck. You have good luck and you have bad luck, but you still have 200 points available. Look at Herlings. He had a 147-point lead in the World Championship and he broke his femur. So, that title is now in limbo for him. Anything can happen, and that's why you have to race all the way to the end.
You have to take the good luck anyway you can get it, don't you?
Yeah. You look back at the year with [Christophe] Pourcel (Ed Note: 2010) and at one point we had a 56-point lead. At the last race we had a 17-point lead, and everything looked perfect. We should have been able to finish that off easily, but then there was a crash and he popped his shoulder out and it was done. Anything can happen. You just have to keep going until it's over.
When something goes wrong like it did on Saturday, is it just as hard to get over it and shake off the disappointment, as it was when you first started the team back in 1991?
It's just like supercross. We go to the first race and go one, two, three, and you just assume it's going to happen—if everything can keep going. You never take anything for granted, and you always have to march through it. And that first race was a prime example of why you have to be there at the end. All of a sudden Adam [Cianciarulo] gets hurt, and then Martin [Davalos] gets hurt. With those guys having issues during the season, that's just how it goes down. It's the way it is. You could say [Ken] Roczen is going to win the 450 title, for sure, but he still has these races to go and anything can happen. All of a sudden, boom, and Dungey can be sitting in the catbird seat. I don't think you can count anything out. It's a difficult sport and you just have to keep plugging.
Reaching for another gear here, Dean Wilson is leaving for the KTM team at the end of the year. Some of your other riders may be leaving the team, as well…
Dean is moving on because he's moving up. I'm happy for him because he got a factory ride and it's a good ride, and Dean has been absolutely fabulous to this program and this team. We love Dean, and I think he loves us. If we had a 450 program, I'd probably put Dean on that. I even talked to Kawasaki about keeping him, but you got to do what you've got to do. He did the right thing by signing there, and I wish him the best, you know? Just because he goes and rides there, I still want him to do good, because he's a good kid.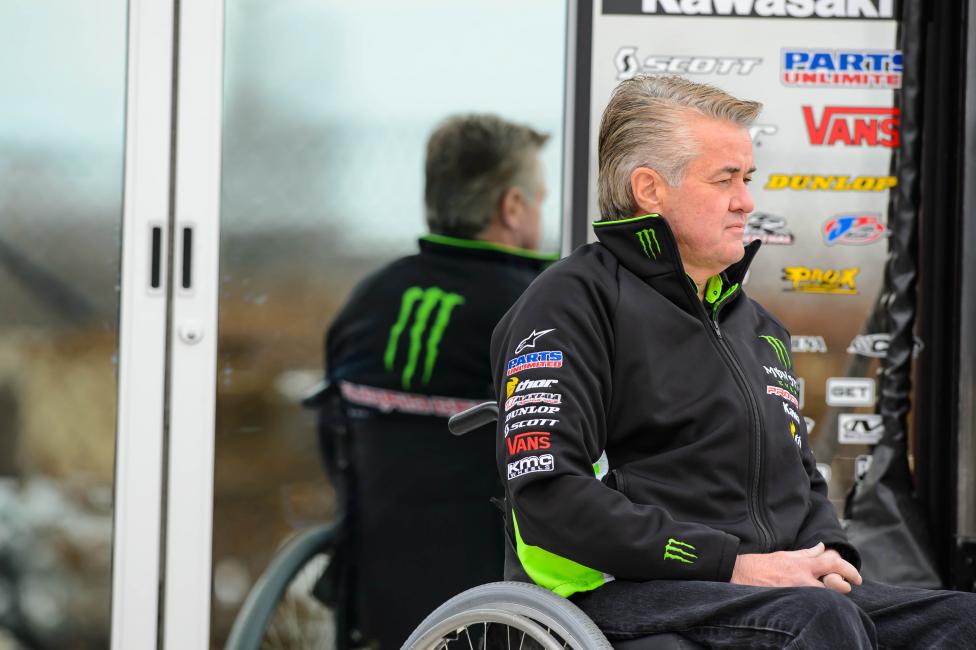 Is there a sort of mutual respect out there amongst the factory teams when it comes to dealing with the coming and going of racers?
I doubt there is a mutual respect among some companies. I doubt that. From what I've seen, I don't think that's always the case. That's how they live, or that's how they do business, or whatever. I'm comfortable. I think we do good; I think we do good business. I think we treat our guys correctly. They never leave here and say that we owe them money or anything. We're going to do the best we can for them and I think that's important.
Want to say who any of those companies are?
No. I just don't want to say it. [Laughs]
How about the fast-approaching Motocross of Nations. Have you received any sort of word on what's up with the American effort?
I haven't heard anything but they better be planning something. I haven't heard a word. For a while I heard Dungey didn't want to go. Now I hear Dungey wants to go. Obviously, if you look at the results, out of the Americans, you have to look at Tomac, you have to look at [Trey] Canard, you have to look at Martin. You could look at Baggett; you can look at Cooper Webb. You have to throw them all in the basket.
Has anybody spoken with Blake at all?
I don't think so. No, not yet.
The two Yamaha kids, Martin and Webb—did you expect them to come out like they did? And, when they did, did you expect their collective momentum to sustain like it has?
Well, if you look at last year's outdoor results, I think Cooper was fast. He ran up front at some races and so did Martin. You would assume that with another year under their belt that they would get better anyway. And their bike is better this year. They got a new bike, and I think that helped a lot. I just think it's one of those things where if you start it off strong, you keep it going. If you look at supercross, they were horrible. All of a sudden, outdoors, at Glenn Helen they both had good motos there, and I think that was a confidence thing. It took a little bit of time to crack that a little, but they've been up there. But they've had sporadic, bad motos along the way, too. It's just the way it is.
Going back to luck, are you superstitious at all?
I try not to be. You watch any form of racing, right? You watch IndyCar or Formula 1 or NASCAR. All of a sudden you're watching the Formula 1 race and Nico [Rosberg] loses a gearbox and DNFs, and you're like, "How does that happen?" But it really does happen. Shit like that goes on. You can be watching a NASCAR race and they'll say, "Oh my god, his car has blown up! What was it?" And they find out it's a little part. They break a valve spring or lose a rod bearing or something ridiculous can write it off. In any form of racing, if you push the edge, you're going to pay the price sometimes.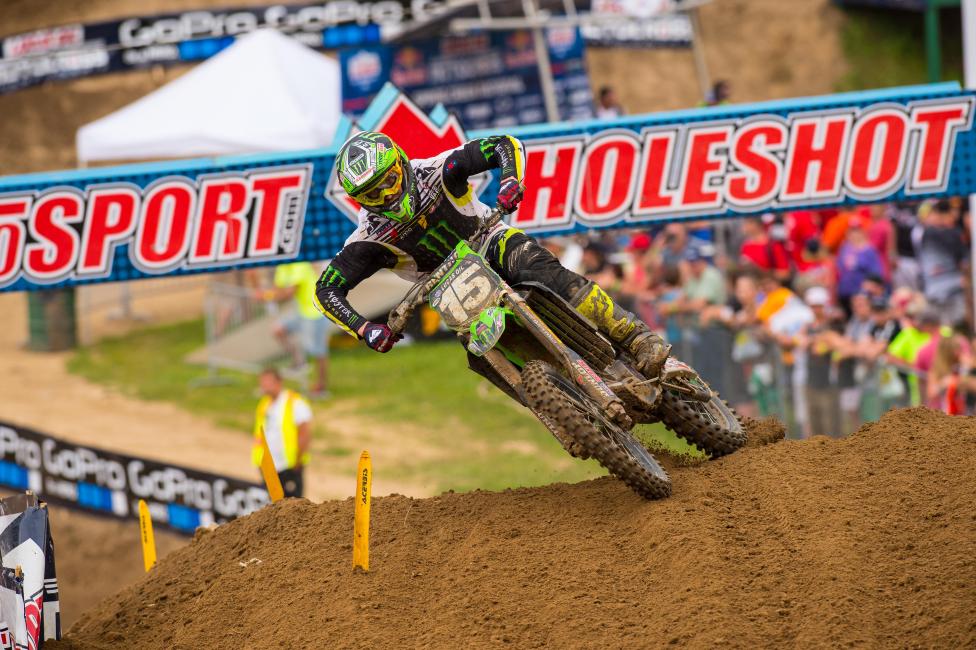 And that's what happened last Saturday?
With this one, I don't consider it pushing the edge. That was something that we ran for a long time. I think it was a random failure that was horribly unlucky. It could have happened on a practice bike and you wouldn't be stressing, but it happened at a race and that's horrible. We had some other little gremlins at the beginning of the year that we've worked out, but it's like every year you're going to have that haunt you. But, you just evolve and you keep evolving. If you're lucky enough that you catch those failures before race day, great. But, every once in a while you see it happen. Anything can happen.
You're trying to innovate, you're trying to push the end, and you're trying to be creative, and you can't fail. Nothing can fail. Racing and competing in this sport is an imperfect science when you think about it.
It is. And there has never ever a time where we've taken a brand new part and actually put it on a race bike and said, "Hey, this is better. Let's just go racing." I'm super-cautious about that. We'll dyno a part and test it and try to prove the endurance of it and build in a safety factory make sure we can control the destiny of the part. But once in a while, it can be anything. It can be anything.
And not only are you off to Washougal tomorrow, but immediately thereafter, you're on your way to Loretta's. Does it all ever get old, or is just another adventure?
I'll be at Loretta's on Sunday night. I didn't go to the event in a long time. A few years ago, I started going again. I kind of like it. I like the event; I love kind of hype of it. In one way I love it for the kids and in another I hate it for them. They go into Loretta's, and for them, it's like Anaheim 1. It's a make or break weekend. Talk about luck. You ride three motos and you draw for a gate. You can have a crappy gate pick. For them it's a nail biter, you know? And their parents are stressed out because they worked all year to drag them back there, and it's a big investment. When you see one of those parents and all of a sudden they blow a bike up, it's catastrophic to them. They're like, "Oh my god, we just lost the championship." It's sad and you don't want that to happen to any of those guys. It's sad but it's a process that happens.
Kind of the underlying theme of this interview: Things happen at every level. The good, the bad, and the ugly.
Yep. It's a great sport when you're winning, and when you [don't] win it seems like it's easy. When you're not winning, you work twice as hard to figure out why you're not. Then all of a sudden the winning starts happening again and you're like, "Okay, we're good. We're back. We're good. Everything is fine." I wouldn't change anything we're doing right now. I feel confident that our bikes are good. I feel confident that the engines are good and the suspension's good. I feel that the guys are riding good. You just have to keep racing and as soon as it's done, you throw everything away and get ready for next year and start over again. And it'll start real quick.