By Steve Matthes, Jason Weigandt and Aaron Hansel
Ryan Dungey, Red Bull KTM, 3-2 for second in 450
Is it good to be back in Minnesota?
Yeah, it's always nice to come back here. I don't get back here very often obviously, just with racing the seasons going non-stop. Mainly, at the tail end when everything ends up, I get some time here. But it's nice just to get back, see the family. Just mainly kind of where you grew up. It's just home. It's just beautiful here. I miss it, but it's good to be back. Good to come back racing. Although I do come home, I still got to race. I think I'd say I enjoy it.
This is the second week in a row that you were leading your teammate [Ken Roczen] in moto two. Do you feel like you're on a roll or like this is giving you momentum?
I definitely feel we're moving in the right direction. I feel like I could have capitalized on a few more points today. There were a couple mistakes in the first one. I went down. I almost went down again; I don't know how I saved it. Just kind of fighting things a little bit, and then those guys got away. But I just settled for third, which was good. I think we made up a couple points. We are moving in the right direction, just need to do more of that in the remaining rounds. With Eli in the mix now, there's more chance to… He could get in-between or take away points. There's a lot to gain, there but also a lot to lose. With four races left, I'm happy. Last week we tied with points, and then this week we gained a couple. So it is a step forward, just need more of that. I feel like moving from here on out, I like where we're at. – Jason Weigandt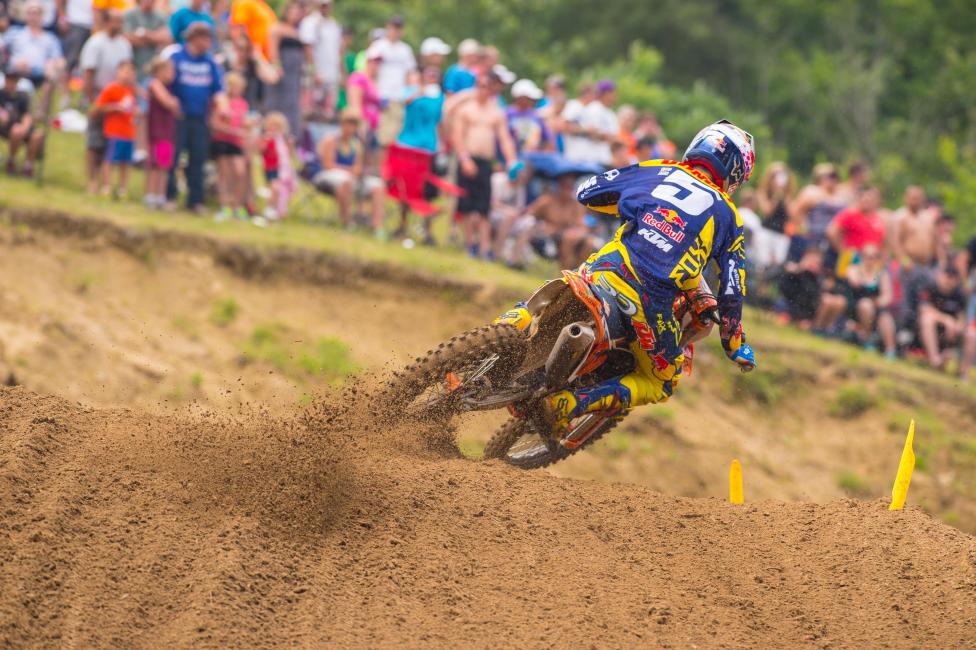 Ken Roczen, Red Bull KTM, 2-4 for third in 450
Take us through the motos.
Let me just say overall not an ideal weekend. I actually felt pretty comfortable in practice and stuff. We did some little tweaks to the bike. Had a good fight with Eli [Tomac] there in the first half, and then he was able to get by. I just made a few mistakes and didn't have the best line choice. We had quite a good gap to third, and I basically just finished where I was at in that first moto. Second moto I actually didn't have the best start. I actually had kind of a crappy start in the first one; then it got red flagged. Got out of the gate a little better but got shut off by someone. It was just right there. I rode in third for quite a while then Trey [Canard] went by. I just started going backwards from then on.
That was your first moto, I think, not on the podium. Anything you can point to?
Like I said, another weekend that wasn't ideal, but I think overall I'm still going to go leave with a smile on my face. I only lost 2 points, which isn't the best, but it's not that bad either. We're all healthy and can keep going.
Was it cool to battle with Eli Tomac again? You guys had some great battles last year. Hadn't seen much of each other lately. So, was that fun for a while?
Yeah, for sure. We were used to that from last year. He obviously was injured, and that wasn't ideal for him, and he came back late, but picked the racing up real quick, and I'll tell you, he's back to where he was last year. He's fit; he's fast. He's definitely one of the fittest out there now. We all have a few races under our belt. But it's good for him. I'm happy for him. He's back, and it's his first 1-1. It was good just to have another battle. – Jason Weigandt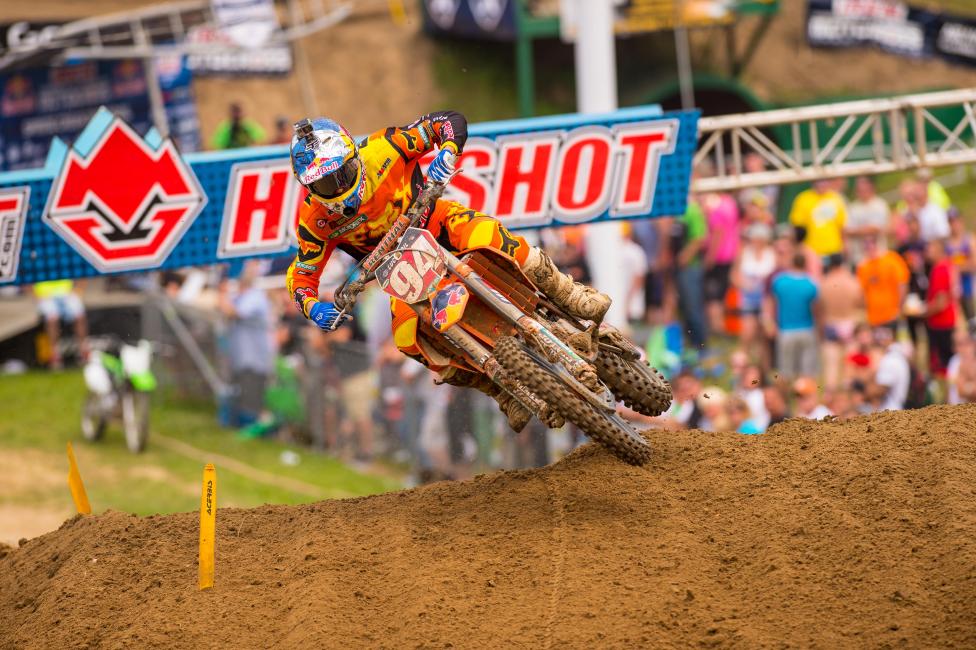 Trey Canard, Team Honda Muscle Milk, 4-3 for fourth in 450
Nice second moto. You got to be pretty pumped on that second moto.
Yeah, second moto was good. I was happy. It's always a bummer to end third and not actually get on the [overall] podium.
It was kind of a crazy day for the scores. We had a 1-1, but then we had some weirdness.
I've kind of been on the bad end of the 4-3 or the 3-4 the past couple weekends. But it's been good. I think today was another good step in the right direction. Just got to keep pushing forward.
Track's good; you enjoy it there. You can see that you ride this well.
I love this place. I've come here since I was 11 years old. I just enjoy it. It's just a fun place to be.
First moto looks like you kind of just lost the draft a little bit, and then from there huge lead on fifth. Hard to get up there, when you lose the edge like that.
Yeah, I started making ground. I really struggled with the first moto with bike setup. We came back and made some changes, and it seemed to help a whole lot. It's always the same thing. You're always chasing the same feel. It was good. — Steve Matthes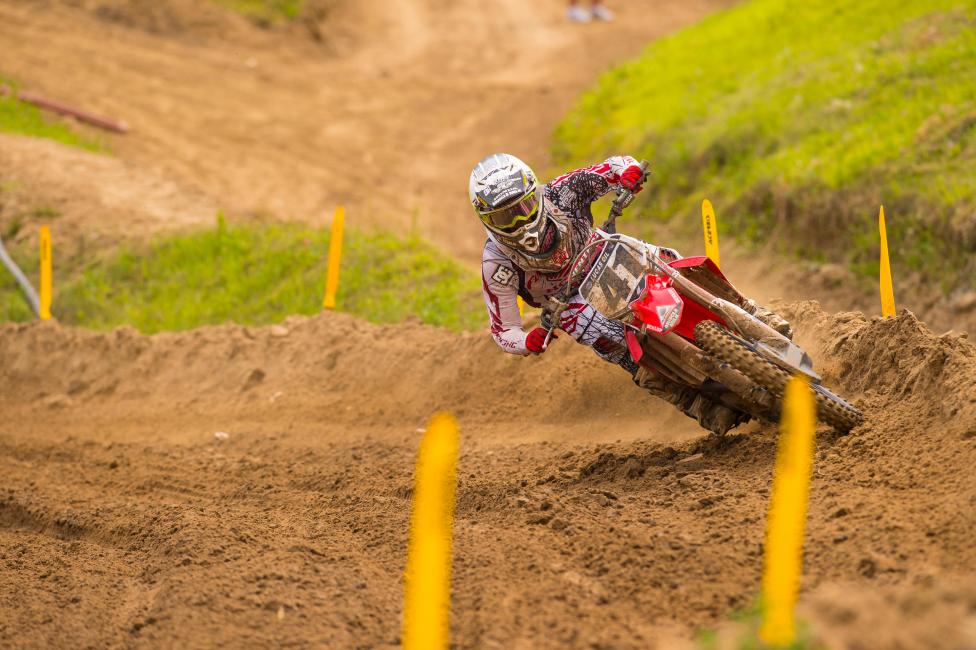 Fredrik Noren, Team Honda Muscle Milk, 11-10 for ninth overall in 450

I can't be upset; it was my best overall since coming to America. I'm happy with that. I took a little while to get going in practice, and the second practice went a lot better. The track was a lot better, too. I think I qualified around seventeenth, I think. Not as good as I would like, but better than fortieth! In the first moto I had a decent start, around eighth or tenth or so, and got passed by a couple guys, I don't know who, and I slipped back to eleventh. I just tried to ride solid, and I ended up eleventh in that moto. In the second moto it was kind of good for me that they red-flagged it. Matt Goerke's front wheel slid out, and I hit his back wheel pretty hard. I hope he's okay. I was way back going into the sand whoops, but the red flag came out. On the restart I started around eighth and was running ninth pretty much the whole moto, and got a little tired at the end, and Christian Craig passed me. I'm a little upset with that—I wanted that spot—but overall I'm happy with it.
You racers always want more. You just got done saying you had your best overall ever, but you're still upset.
You'll never be happy! There's always something to work on. I'm happy that I got my best overall, but I'm upset that it's not better. You always want to do better, I guess.
That downhill was crazy steep. Was it as gnarly as it looked like it might be?
It was a steep hill for sure, and you go really fast down it. It's scary almost. But it looks worse than it actually was. I liked it and thought it was a cool addition to the track.
Your results have improved instantly on this new bike, which they probably should have, but were you expecting that?
Yeah. I always felt that my results would always improve, but with this team it sure helps! It's the best you can get, and there's nothing to complain about. I expected to be up here for sure, and I hope we can work on it and get better and more consistent every weekend, and see what comes with it.
Was a little part of you scared that your results wouldn't improve on the factory bike?
Well…yeah. You never want to do bad when you have everything. Yeah, I was a little scared I'd be bad on it, but so far it's been pretty good. And I think I have a lot more to learn working with this team, too. Hopefully every weekend we just get better and better. We race a lot of fast guys. — Aaron Hansel