Most new pros get their feet wet in the 250 Class, but 19-year-old Cade Clason got his National career under way this year by jumping straight into the deep end on a 450. The Gurrnaid Energy/AG Motorsports/Peters Auto Mall rider has put some good finishes together, too, and after his sixteenth in the first moto at Budds Creek, we thought it was time to give this class jumper a call for this week's Privateer Profile.
Racer X: This is your first season racing pro. How's it going?
Cade Clason: The season started out a little slow, but it's going good. I got my first top twenty at Thunder Valley, and it's been getting steadily better, although the last few weekends have been a struggle. I had three DNFs! But I had a few sixteenths, eighteenths, and twentieths, too so it's good and we're getting better. It's tough being a rookie in the 450 Class, but the team is working hard, and I'm really confident in everybody, and I'm happy with how things are going.
How'd it feel to score National points for the first time?
It was really cool; I was really excited. The whole team was pumped! I don't think I've ever seen bigger smiles than my mechanic and family had that day. Then we went to High Point and I got sixteenth [16-18 for eighteenth overall]. That was awesome because that was the closest race to my house. It was pretty much my home race.
What made you jump straight into the 450 Class?
I'm a pretty big guy, 6'2" and almost 180 pounds, so I'm a little big for a 250, especially outdoors. I like riding the 450, and I think I ride it a lot better. It just fits me and my style, and I think the decision to race it is paying off.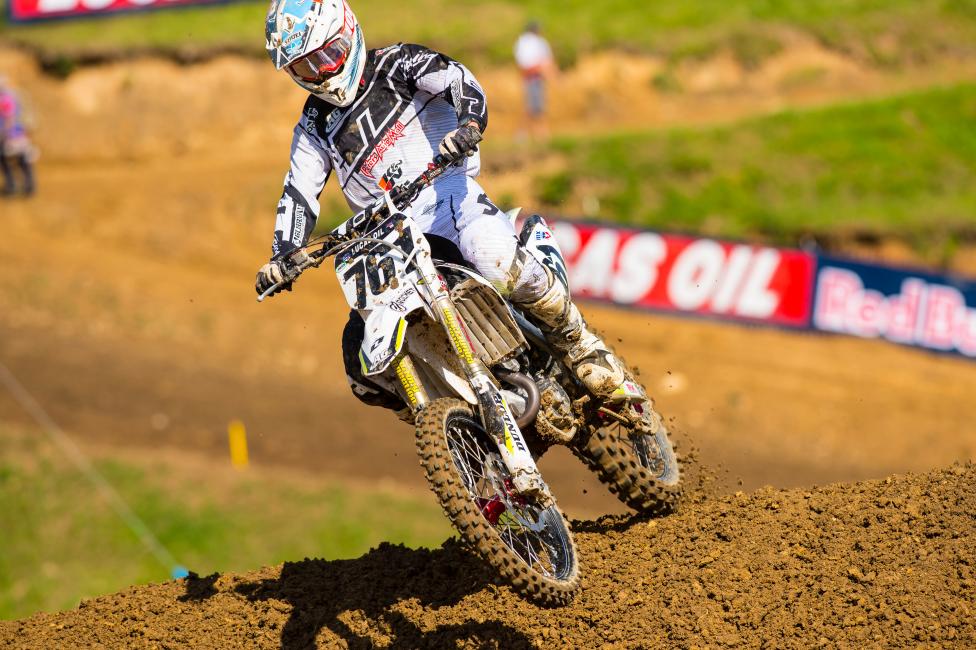 What happened with those three DNFs? How does that affect you mentally?
DNFs suck. I've had crashes and bike problems, and this past weekend I overheated. It sucks, but it is what it is, and you can't get down on yourself. It does suck, but you have to keep going. It's only a DNF, and there are ten more gate drops left this year, which is plenty of time to improve.
Talk about the team you're on, Gurrnaid Energy/AG Motorsports/Peters Auto Mall.
Yeah it's a really good group of guys. It's me, Kyle Peters, Chris Proscelle, Aaron Leininger, and Brad Nauditt. We're good friends, we work hard, and we help and feed off each other. It's good to have a good solid group of around you.
What's been the highlight of your summer?
I've had some good starts and have run up front for a little while. Running up front with some of the factory dudes is pretty awesome, and it's not a place I would have imagined myself being a few years ago. It's been really cool to be able to go to all these races and race against all these guys every weekend. It's a lot harder than I thought it would be, but it's awesome and I love doing it.
How cool is it to come race on all these legendary tracks for the first time?
They're all pretty gnarly! But they're all awesome and I like them all, although I wasn't the biggest fan of Hangtown because I struggled there so much; it was so rough. Other than that, though, they've all been really cool.
How about the low point?
The DNFs. I actually have four, but three were in a row. I got stuck in the mud at Thunder Valley. After the start, when you go down that big hill, I was trying to pass Jimmy Albertson and I cross-rutted and went to the inside off the track and into four feet of mud. My front wheel was just buried, and I couldn't get it out. Unbelievable.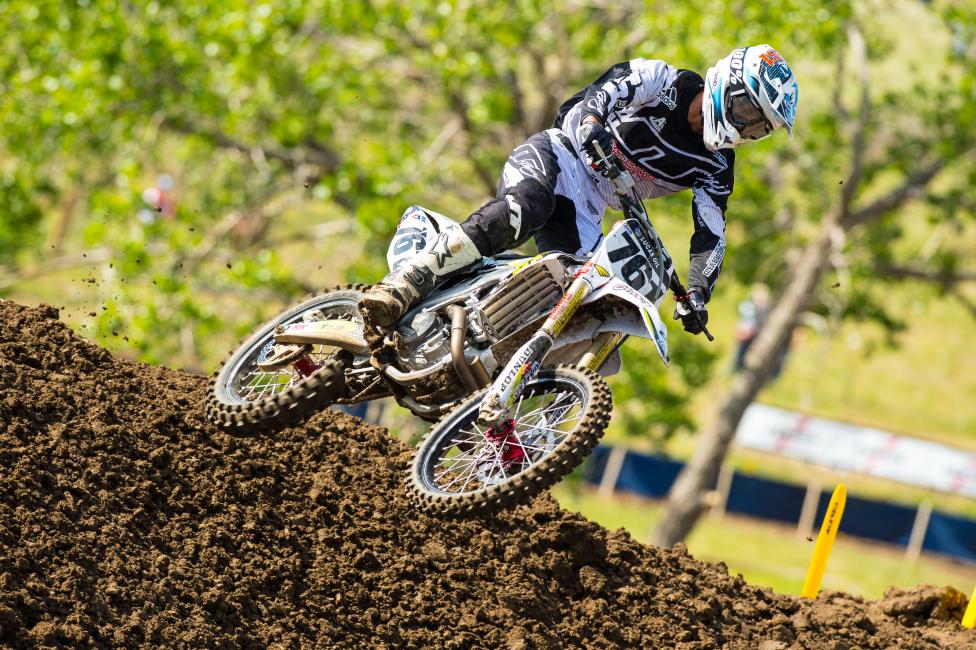 Got any good travel stories yet?
I keep losing my gear bag! Airports and my gear bag just don't get along. I've gone to the races without gear three or four times this year. I also run into the most random people in airports all over the country.
Wait, so what do you do, just bum gear off your buddies?
Thankfully, they've always gotten it to the hotel, usually the night before. But at Toronto we were prepared to go to the store to buy gear just to race! I had friends ready to bum me gear, too, though. But I've got some spare boots, helmet, and other stuff now, so I'm moving up in the world!
What's the best thing about privateer life?
It's cool that you can do your own thing and have your family around. My grandma is a big supporter of my racing, and it's cool to be able to have her support me and be at the races. I know she really likes it, too. I know some of the factory teams like you to do things their way, which is cool because they obviously know how to do it the right way, but it's also nice being able to do your own thing on your own. I'm proud of our team. My mechanic Zach Douglas works really hard, and I have a really good privateer bike. I'm proud of him and the team for getting me such a good bike, and I'm proud of my family for supporting me.
What's the worst thing about privateer life?
Footing your own bill! You're definitely paying for all your own stuff, and that does suck.
Who else is helping you out?
Gurrnaid Energy, AG Motorsports, Rocket Exhaust, Peters Auto Mall, JT, Adidas, Dunlop, EVS, Alpinestars, 100%, K&N, ICW, Ogio, Illusive MX, Cycra, Factory Connection, and Triangle Cycles.