Budds Creek Motocross
Mechanicsville

,

MD
Budds Creek
Lucas Oil AMA Pro Motocross Championship
Welcome to Racerhead and the second half of the 2014 Lucas Oil Pro Motocross Championship. Six down, six to go, and the racing so far has been excellent. Now we go from an epic RedBud to another very popular track in Mechanicsville, Maryland. The GEICO Budds Creek National will start at 1 p.m. tomorrow here on the East Coast, with the first motos live on MAVTV and ProMotocross.com and the second motos on NBC Sports Network. It's going to be hot, and they are expecting a very big crowd, just like the first six nationals of 2014.
Before we get into the week's news, our condolences go out to our brother Scott Wallenberg, who lost his mom, Ruth, earlier this week after a lengthy illness. She lived her life around motocross because that's what her son and her husband enjoyed, and like all moto moms, she played every role imaginable: coach, trainer, pit boss, co-driver, part-time mechanic, agent, number-one fan, and much, much more.
Godspeed, Mrs. Wallenberg.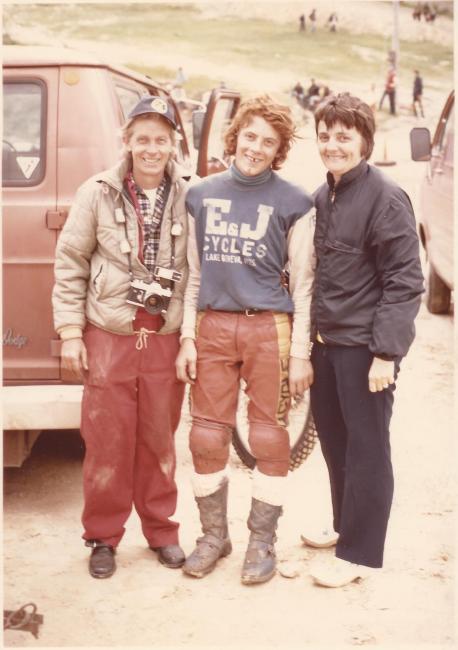 Looking ahead to tomorrow's race, the track here is loamy today—no surprise, given all the rain they've had—but it's since cleared up and it's hot and a little muggy too. In speaking with our series operations manager, John Ayers, it sounds like he and track architect Mark Barnett are going to let it get a little more dry and hard than the loam we've seen these first six races, just to mix it up a little. With the TV schedule being so tight and all four races running live and on the hour, there's not much time for track prep anyway. (That tight window is also the reason RedBud shortened itself by about a dozen seconds.)
Speaking of RedBud, hats off again to Tim and Amy Ritchie and the whole RedBud crew for building a superb event once again. The track was bitchin', the crowd was as big as I have ever seen at an outdoor motocross race (including Motocross of Nations), and the place was immaculate. It was a great big celebration of the USA and a fantastic motocross event to boot.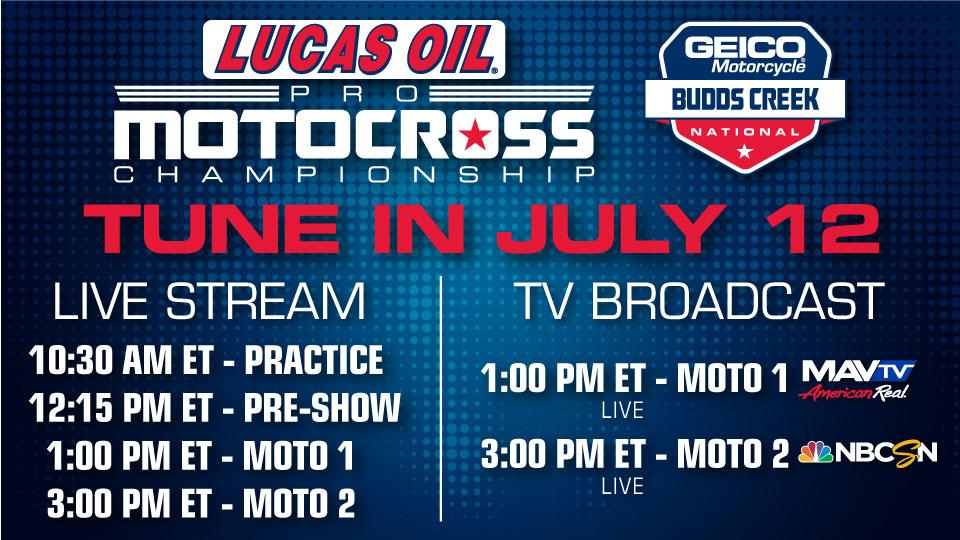 Wow, I just heard the news that LeBron James is going back to Cleveland. How cool is that? Not to go all Basketball Jones on this, but with Kyrie Irving and #1 draft choice Andrew Wiggins, and now The King, the Cavaliers are absolutely stacked. And with Cleveland already picking up Johnny Manziel in the NFL draft, it's been quite a summer so far! Cleveland is definitely having a better week than, well, Brazil. Turns out anything really is possible. Wow, now I really am starting to worry about all of these Ryan Villopoto rumors!
Here's Racerhead.
Roczen's Numbers, Then and Now (Aaron Hansel)
With six moto wins in twelve attempts and not a single race off the podium, Red Bull KTM's Ken Roczen is rolling through the 2014 Lucas Oil Pro Motocross Championship right now and there doesn't seem to be much standing in the way of his first premier championship here in America—except maybe himself. Since coming to America, Roczen has performed considerably better in the first half of every full season he's competed in, as shown in the numbers below. With the second half of the season getting underway tomorrow afternoon, it's going to be interesting to see if Roczen is able to break this bothersome trend.
| | | |
| --- | --- | --- |
| Season | Average Moto Finish | Total Points Earned |
| 2012 250MX First Half | 3.25 | 235 |
| Second Half | 4.08 | 221 |
| | | |
| 2013 250MX First Half | 2.25 | 265 |
| Second Half | 5.5 | 228 |
| | | |
| 2014 450SX First Half | 3.5 | 157 |
| Second Half (Rds. 9-17) | 7.78 | 128 |
| | | |
| 2014 450MX First Half | 1.58 | 280 |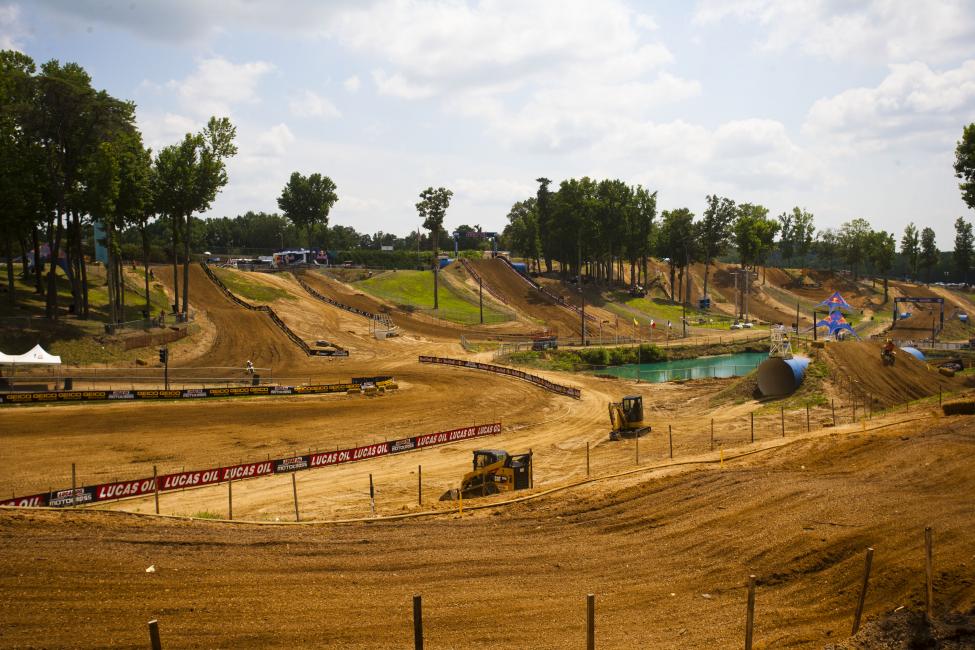 THE NUMBER: 5 (Andras Hegyi)
Thanks to Yamalube/Star Racing Yamaha's Jeremy Martin winning his third national of the season at RedBud, Yamaha now has four wins in the first six 250 races. That makes this the fifth season in which Yamaha has won at least four times in the first six races. The other times came in 1976, '77, '78, and '79. And each of those times, Yamaha went on to win the championship in this class, via Bob Hannah ('76) and Broc Glover ('77-'79). Another good omen for the brand of three diapasons.
MUSSINGS FROM MATTHES (Steve Matthes)
As you read this, I'll be somewhere over the US-of-A winging it to Washington, DC, for this weekend's race. It's funny, but when you travel as much as we all do, you start to look for the silver linings in things. Like I've been pumped the last two weeks because I have direct flights. Not pumped because I'm actually not traveling—nope, I'm excited for a direct flight. It's the little things, people!
I like Budds Creek. It's nice track with a good view of everything, and I think the dirt has come a long way since I first started going there. I was a little bummed last year that there was no recognizing of the 2003 450 MX Moto 1 race where Tim Ferry (on a top-tuned machine) put it to the field, but hey, life goes on.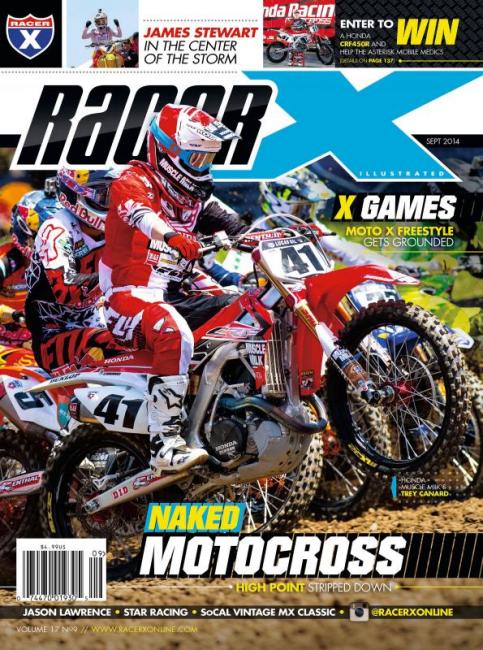 The track had to change the start for the 2007 Motocross of Nations, and in my opinion it's one of the worst ones on the circuit. It greatly rewards a good qualifying time and a good moto-one finish. If you qualify outside the top ten, forget about ripping off a good start. The hairpin first turn puts the dudes from about fifteenth gate pick on so far out there it's ridiculous. I always like to see fair starts where twenty gates or so can conceivably pull a holeshot.
Lot's of Fast Freddie Noren talk in the last little while, and hey, why not? The guy deserves it, and again, props to Team Honda Muscle Milk for giving the privateer a chance of a lifetime. Here's the thing, though: This ride might actually progress beyond the level of "awww, what a cute story, the Swedish dude got a works bike!" With one ride on the bike a week and a half before the race, Noren went out there and ran top-five for a while before setting up inside the top ten in the second moto. He had his season-best finish and his second-best moto finish ever with such limited time on the bike that you have to think he might actually start putting it inside the top ten each moto pretty soon. Maybe I'm dreaming here, but his finish at RedBud in the second moto was impressive. I'm pumped to see what the guy can do from here on out.
Something we touched on in the Fly Racing Moto:60 Show yesterday was the fact that this Ryan Villopoto business about him either retiring or going to Europe has potentially opened up a spot at Monster Kawasaki for 2015. We all pretty much assume Davi Millsaps is going to be one guy, but if Villopoto doesn't show up, what then for Team Green?
I was told a month ago that Wil Hahn or Justin Brayton would be signing with someone real soon, and yet there's nothing done yet. I know Brayton is talking to the BTO KTM guys and Hahn to JGR Yamaha, but I would have to think both guys are in the mix to go to Kawasaki. Also, Josh Grant has to be someone they've thought of and is on a short list. This POTENTIAL open spot at Kawasaki is gumming up the whole deal, I'm sure .… And don't forget that Suzuki may have an opening, too, if the James Stewart issue isn't sorted favorably for the Seven. (Still no official updates.)
Thanks to former factory rider and 1990 125SX East Region Champion Denny Stephenson for donating three of his race-worn jerseys over the years for our privateer poll over on PulpMX.com. Ronnie Stewart was voted the winner over Tevin Tapia, and the winning bidder for the Stephenson jersey was Jackie Short, wife of Andrew. (Maybe she's going to dress as an Arenacrosser next Halloween?) Thanks, Denny and Jackie. Ronnie Stewart is now a bit richer.
And finally, for German CROSS magazine, I called up DC and Tom White and got them to give me their takes on why Glen Helen national track left the series and more importantly, how Glen Helen got their national back here.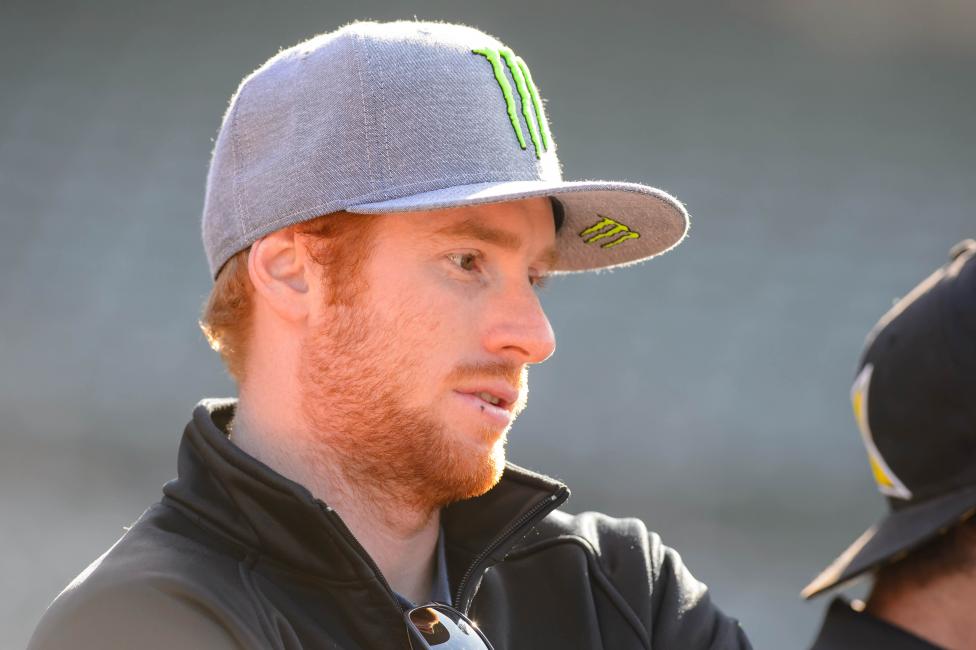 PRO PERSPECTIVE: COOL AS ICE (Ping and JT)
Ping: The cool weather at this year's nationals isn't normal. Some summers are hotter than others, but it has been downright pleasant at every round of the series so far in 2014. So, who does that help and what are the effects of cooler weather? The guys who live where it's humid and work their tails off all week don't care one way or the other; they are fit and are going to last the whole moto regardless of the conditions. The riders benefitting from the mild weather are those who are coming back from injury or those whose fitness levels just aren't where they should be.
National motocross is brutal, but when the weather is cooking it can be a game of survival. And that also has repercussions the following week. If you smoke yourself at an extremely hot and humid race it can take you WEEKS to recover. Remember Eli Tomac's rookie year and his meltdown at Freestone? Running your body into that kind of deficit and getting that dehydrated takes your body some time to recover. However, when the temps are lower, you can get right back to training hard on Monday. We still have a few chances for hot rounds (Millville, Indiana, Unadilla), so don't put the water bottles down yet. It looks like 90 and sunny tomorrow, though. Not bad.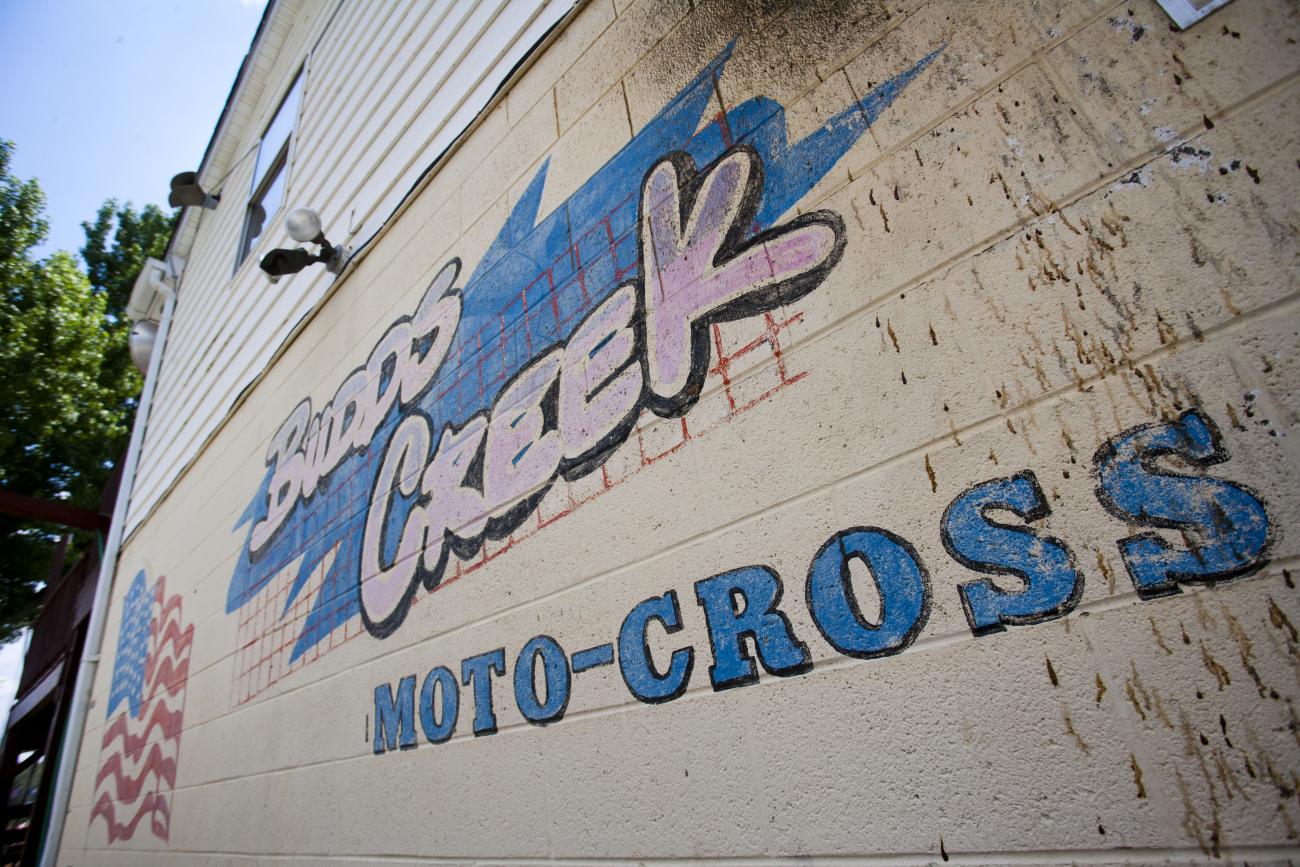 JT: We are still waiting on our first hot and humid torture test of 2014. These hot days are where training really pays off. All the riders who congregate in the Southeast for the summer know that while it may not be fun, they will shine when the sun does.
In my racing days, I absolutely knew that when the temperatures rose, so did my chances of doing well. I had been riding, running, and cycling in the miserable Florida humidity for months, and most of my competitors hadn't. My body was ready for the hell it was about to encounter, and I took comfort in that. It gave me confidence when I was sitting behind the starting gate. I would be hurting, sure, but I knew they would be hurting more. Late in those motos, even when I was suffering, I remember smiling in my helmet as I passed rider after rider as the overheating and exhaustion set in. It's a good feeling when hard work is justified.
I expected Muddy Creek to be the first real test of the year, but cooler temps prevailed, postponing the pain for another day. Will Budds Creek provide a glimpse behind the fitness curtain? I'm ready to find out.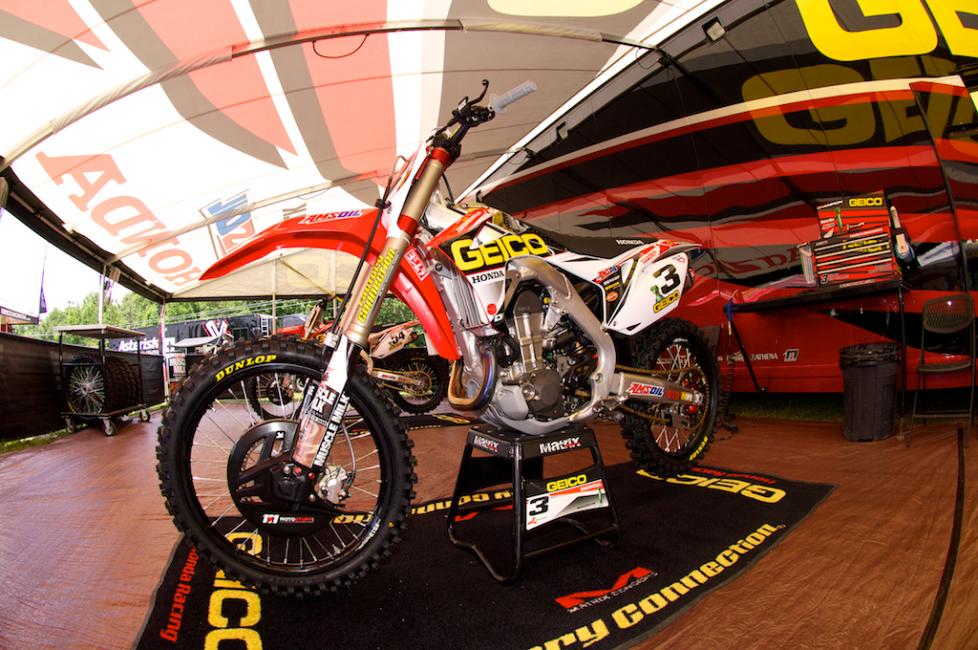 OFF THE ROAD … FOR NOW (Chase Stallo)
Crosley Radio/RiderSurance/Bee Line/H&O Contracting team manager and RiderSurance owner) Brandon Parrish was packing up parts at RedBud, ready to hit the turnpike for Budds Creek, when he got the call.
Just a year and a half into his professional career, Jake Baumert was calling to tell Parrish he was stepping away from the sport, effective immediately, to attend college. The dream was over—but as Jake put it, "I am not giving up on my dream, because I have already lived it. I went further as a professional motocross racer than I ever thought possible, and I can't thank everyone enough who gave up a part of their life to add a chapter to mine."
"It was kind of a bombshell," Parrish told us Thursday. "But once I heard his voice I knew it was serious." Parrish had mentored Baumert for years. The former AMA Superbike rider was a family friend of the Baumerts in Kentucky and put together a program to help Jake transition to the pro ranks. The two were best friends, but he never expected this.
"I was scrambling trying to get ready for Millville [with another rider], and I wanted to do it, but it is just too short-notice," Parrish said. "I wouldn't have done this for anyone else. Jake is like a little brother, so the whole deal was to give him the best transition to the pro ranks as I could possible on the best equipment, as professional as possible."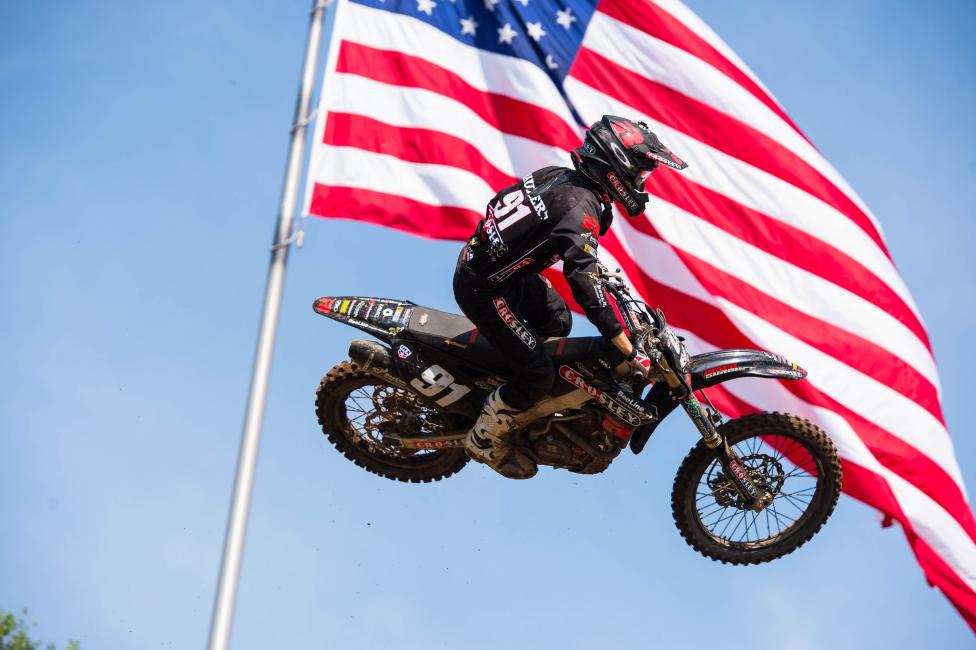 At just 21years old and backed by a growing, well-funded program, Baumert made a surprising call, but it may not have been as sudden a decision as it seems.
"He had been thinking about it all season," Parrish said. "He didn't tell us, but I think it had been weighing on his mind, and he started to realize that to get to that next level was going to be a huge stepping-stone that most people don't realize. Even though he was getting top-twenties, there was a still a huge step to the next level where you could make a career out of it."
While the team is losing a promising young rider, this may not be the end—while it will not return for 2014, it may be back (with other sponsors) in 2015.
"This whole team was the perfect storm to do it at this level," Parrish said. "Jake brought sponsorships to the table that I wouldn't have gotten without him, and I brought sponsorships to the table he wouldn't have gotten without me. Several of the sponsors would not be back in it [for 2015], so that would be a major roadblock. But we are looking to partner with other title sponsors and try and make a go of it, if it completely made sense.
"But business with RiderSurance still continues. Now I can focus purely on leveraging the credibility I have established in pro racing to continue to promote awareness about the services that my company RiderSurance offers. In two weeks you can find the rig at the Loretta Lynn Amateur Nationals, where I will be available all week to answer questions about health insurance, accident insurance, etc."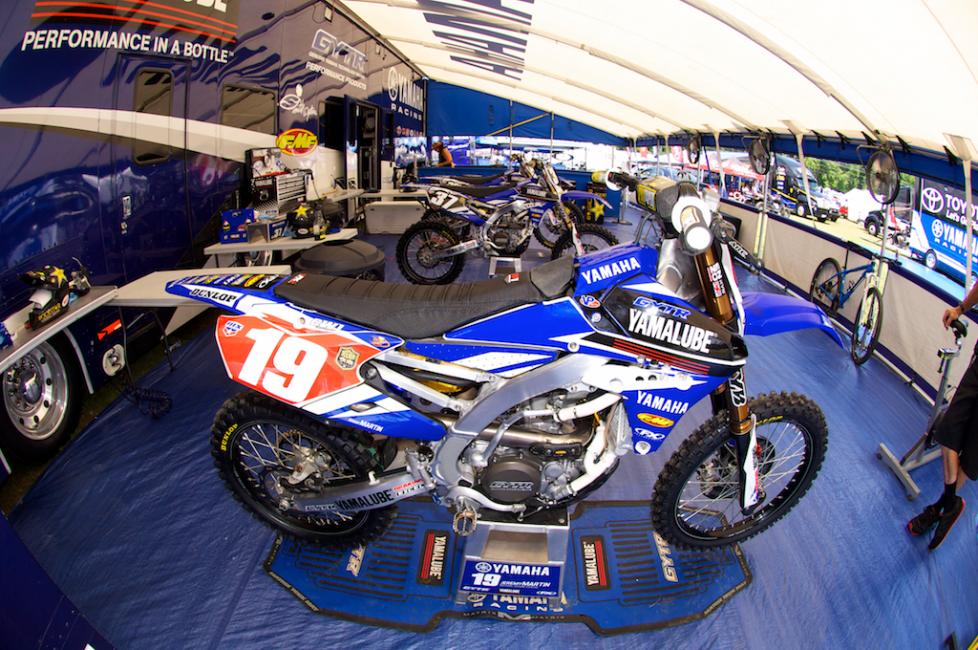 BEN TOWNLEY RIDES AGAIN (DC)
We spotted this link on the Vital MX message forum: Former world champion Ben Townley will race again as a fill-in at an upcoming round of Australia's Monster Energy MX Nationals. BT101 did likewise at an earlier round this year, finishing second, even though he is definitely retired from full-time racing. You can read our colleague Alex Gibert's full report here.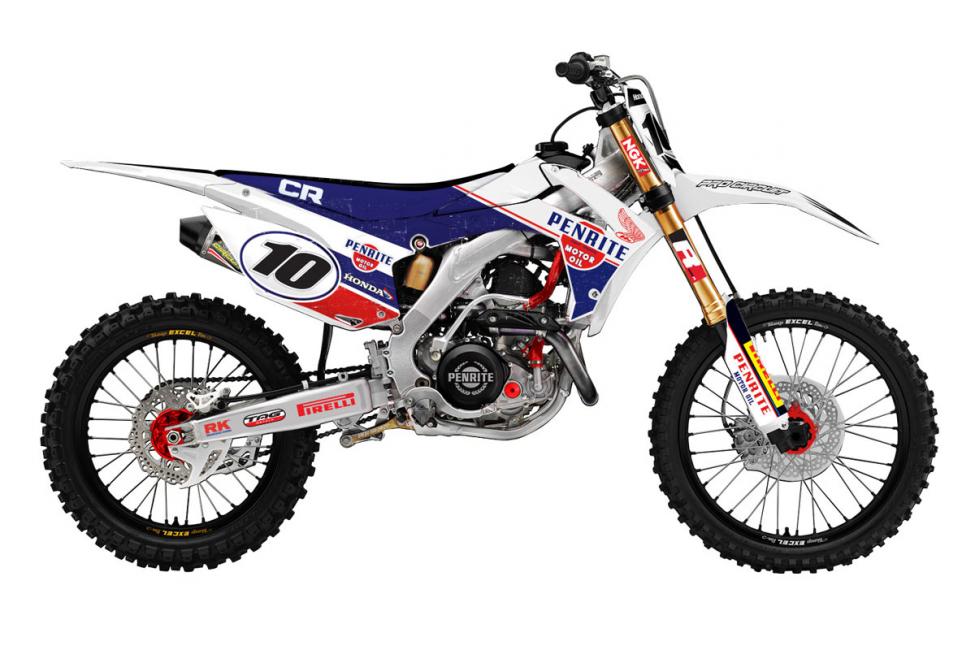 SUBSCRIBE
Are you going to Budds Creek this weekend? Stop by the Racer X booth to subscribe or renew and get 13 issues of Racer X plus a six-pack cooler sleeve for just $20! And don't forget stickers are always free at Racer X! Be sure to stop by and get your 2014 Budds Creek event sticker.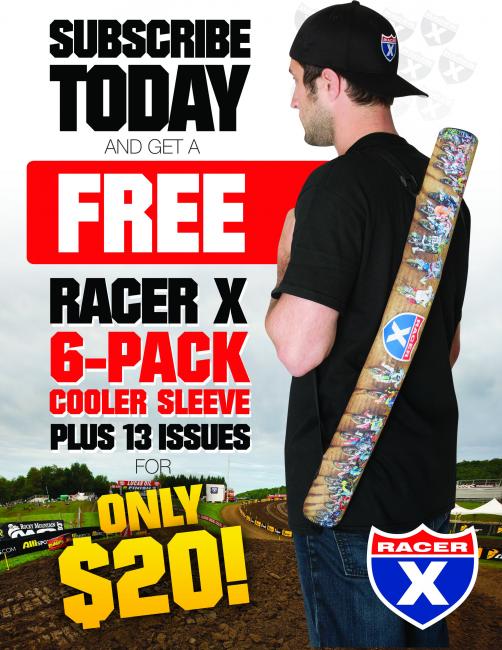 GREAT WEEK, TERRIBLE WEEK (DC)
Before there was Doug Henry, before the 1997 Las Vegas SX, before the Yamaha YZ400F, and before the four-stroke revolution, there was Scott Summers. A big, fearless, driven woods rider from Kentucky, Summers entered GNCC Racing in the late 1980s, armed with a Honda XR600 against the two-strokes of the rest of the woods' elite. His bike wasn't like a modern four-stroke—it was that big, heavy, white thumper—but he somehow made it work. He unseated the legendary Eddie Lojak in 1990 as GNCC #1, becoming the first off-roader to win a major title on a four-stroke in decades. He reigned for much of the nineties, too, setting a standard of performance and trailblazing a career path to off-road success by being as professional and polished as any factory motocrosser of the era. By the time he was done he had five GNCC crowns, several AMA National Hare Scrambles Championships, and countless race wins.
A few years back I asked Summers about the whole four-stroke revolution, getting in on the ground floor, and winning his first GNCC title eight years before Henry won the 1998 AMA Pro Motocross Championship on a Yamaha: "Well, it was just something I really believed in, and it didn't affect me every time somebody told me, 'Hey, how well do you think you'd do if you were riding a real bike?' I felt that I was riding a real bike, and I knew that I had learned to ride a motorcycle primarily on an XR200, and there were things about that power character that I thought were unmatched by anything out there, so it was just a natural thing for me to come to the defense of the four-stroke power character. So it's really amazing to me how far four-strokes have come today to where they were then."
Last week it was announced that Summers will be inducted into the AMA Motorcycle Hall of Fame as part of the class of 2014, alongside motocross legends Pierre Karsmakers and Mike LaRocco and lifelong enthusiasts and business leaders like Tom White (a longtime sponsor of Summers) and George Barber.
That was the good part of the week. The terrible part came later when Summers' Kentucky home burned to the ground, taking with it all of his career memorabilia and some other cherished items. A before-and-after set of photos showed up on a Kentucky-based website called www.kydirt.com.
We have not spoken directly with Summers about this terrible turn of events, but we're pretty sure somewhere down the road we can all help this hero out and pitch in to help him reclaim some of what was lost.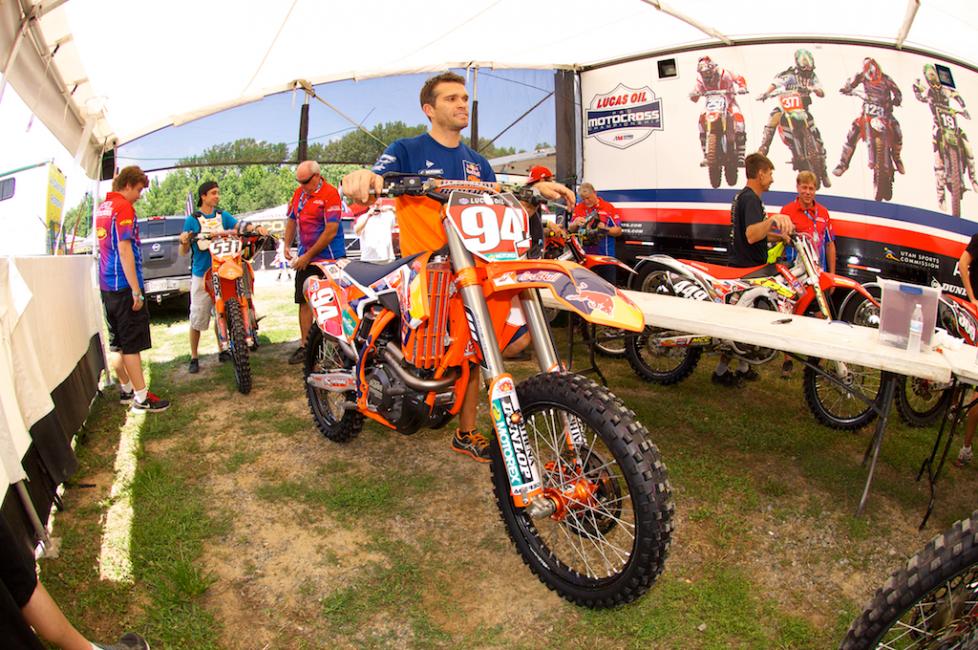 THE NUMBER: 70 (Andras Hegyi)
Seven-time FIM World Champion Tony Cairoli was wearing a festive T-shirt at last weekend's Grand Prix of Sweden. For the Sicilian, there was something to celebrate: Cairoli had just grabbed the seventieth victory of his career. He is now second on the all-time list, and he now has thirty-one wins to go if he's going to catch Stefan Everts' all-time record, the King of Motocross having tallied 101. But Cairoli did get his seventieth sooner than Everts did; the 29-year-old Cairoli did so in his 161st GP and in his eleventh season. Everts' win came on September 14, 2003, at MotocrossGP of France at Ernée when he was 31 years old and in his fourteenth season. (That GP was famous, too, for Everts winning all three categories on the same day; the rules have changed since.) Congrats to Cairoli on a fantastic career—and he's still got a lot of gas left in his tank to keep closing in on Everts!
HEY, WATCH IT!
Check out this old British TV show "Look at Life" and their "scrambles" episode, featuring Hawkstone Park back in the 1960s!
Red Bull is at it again...
VitalMX.com's GuyB asked Rockstar KTM's Jason Anderson to run the GoPro during yesterday's press ride at Budds Creek. Check out the track and Jason's commentary right here.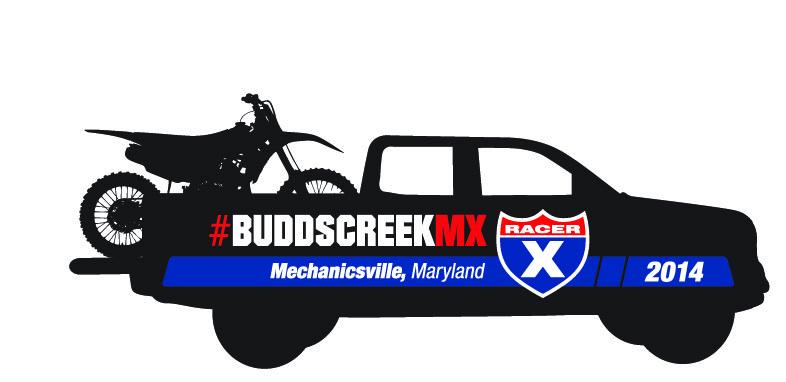 Racer X Amateur Film Festival presented by MotoSport and ISAW (Jordan Roberts)
The third annual Racer X Amateur Film Festival presented by Motosport and ISAW is underway. The 2014 edition will accept submissions through August 22, and a panel of professional videographers and Racer X staffers will hand-select eight semifinalists. Only four will make the cut for the finals, where they'll have a shot at some high-end prize packs courtesy of Motosport and ISAW Action Camera.
The Racer X Amateur Film Festival has been a unique stepping-stone from hobbyist to pro for those serious about moto in motion. Past participants including Danny Stuart, Dillon Gwaltney, and Chris Barnes have gone on to produce quality content for Racer X Online in addition to Motosport and Feld Entertainment.
Festival participants only keep getting better, so make sure you bring your A-game. Do you have what it takes to make the next step? Go to filmfestival.racerxonline.com to find out.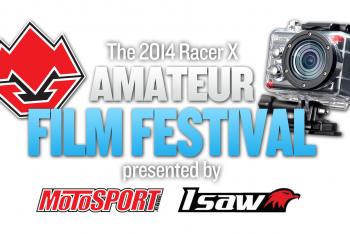 Winner
1. A $750 Motosport.com shopping spree
2. The Ultimate ISAW MX Package: two ISAW Extreme cameras; one Wifi Remote, chest strap, head strap, suction mount, and AC charger ($915 value)
3. A Racer X T-shirt
4. A one-year digital subscription to Racer X Illustrated
Second Place
1. A $500 Motosport.com shopping spree
2. An ISAW Extreme camera, one chest strap, head strap, and suction mount ($425 value)
3. A Racer X T-shirt
4. A one-year digital subscription to Racer X Illustrated
Third Place
1. A $250 Motosport.com shopping spree
2. An ISAW Extreme camera ($350 value)
3. A Racer X T-shirt
4. A one-year digital subscription to Racer X Illustrated
Fourth Place
1. A $100 Motosport.com shopping spree
2. An ISAW Advance camera ($280 value)
3. A Racer X T-shirt
4. A one-year digital subscription to Racer X Illustrated
RANDOM NOTES
ESPN The Magazine's notorious "Body Issue" is out, and it once again includes a motorcycle rider. Travis Pastrana and his wife, Lyn-Z, got naked, rubbed on some mud, and climbed aboard one of his Suzukis for the photo shoot. Here are a couple of photos we grabbed from www.espn.com.
Over on Pulpmx, Moser profiled and had a text conversation with privateer Ronnie Stewart here.
Glen Hoffman penned a Budds Creek preview piece for the Examiner.
You can listen to that Fly Moto:60 show with Weege and JT here.
David Vuillemin may be back in France at the moment but he's still watching the races and files this report from Redbud here.
New York-based Team MPH/WMXtreme is just two rounds into its first season in Lucas Oil Pro Motocross. Riders Matt Babbitt (450 Class) and RJ Beck (250) have enjoyed success at High Point and Muddy Creek. Check out their day from RedBud.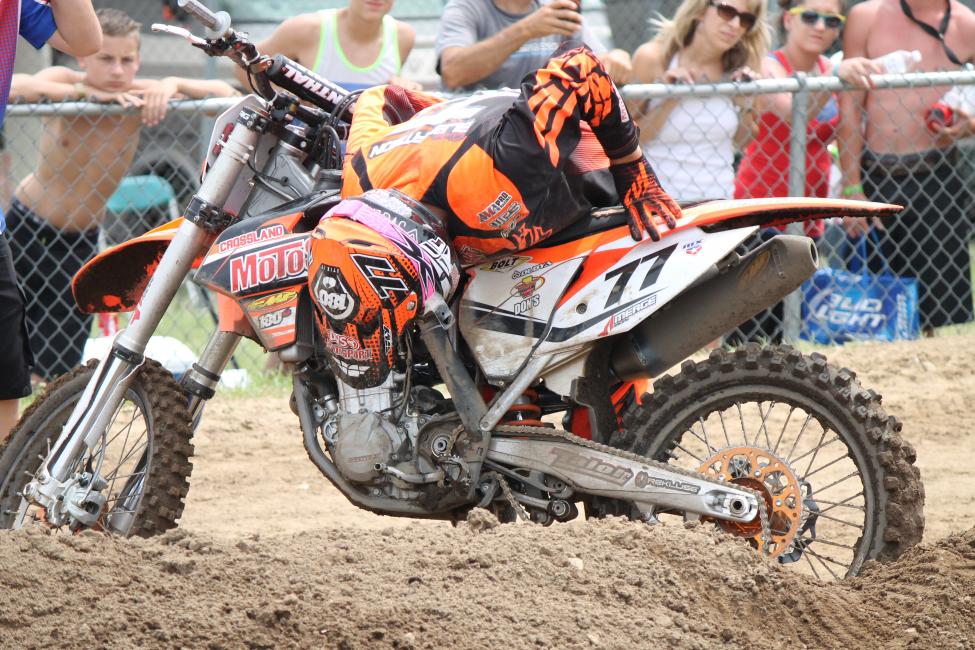 We received an email earlier this week from privateer Michael Leib, who is trying to sell the bike he rode in the 2013 250SX West Region series. If interested, please contact Michael via email at: Mxleib89@gmail.com or through Facebook.
"The bike for sale was my 2013 SX west coast race bike," Leib wrote. "This bike has been kept in awesome shape, just like all the rest of my bikes. Before putting this bike up for sale I had it completely gone through inside and out with a new crank, piston, ETC... Bike has 44HP can be run on race or pump fuel depending on preference and changing of the vortex ECU at no extra cost. The chassis is a 2010, although I promise you that you would never know. Also, shipping can be done for around $200 throughout the states."
For everything Canada, check out DMX Frid'Eh Update #29.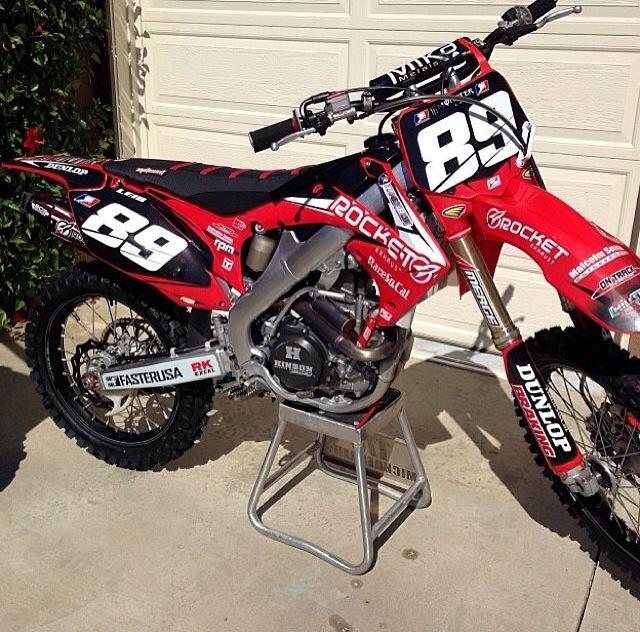 Thanks for reading Racerhead. See you at the races.