In The Mag, On The Web is an online feature where we take a behind-the-scenes look at one of the print features in Racer X Illustrated. Check out some more information on The Naked Track by Andrew Fredrickson.
It started out with simply the idea of how to show how much work actually goes in to getting a racetrack and surrounding areas ready for a national. DC was up at High Point thirteen days before the High Point National was set to take center stage. He told me the crew was getting grass cut and had just started working on the facility.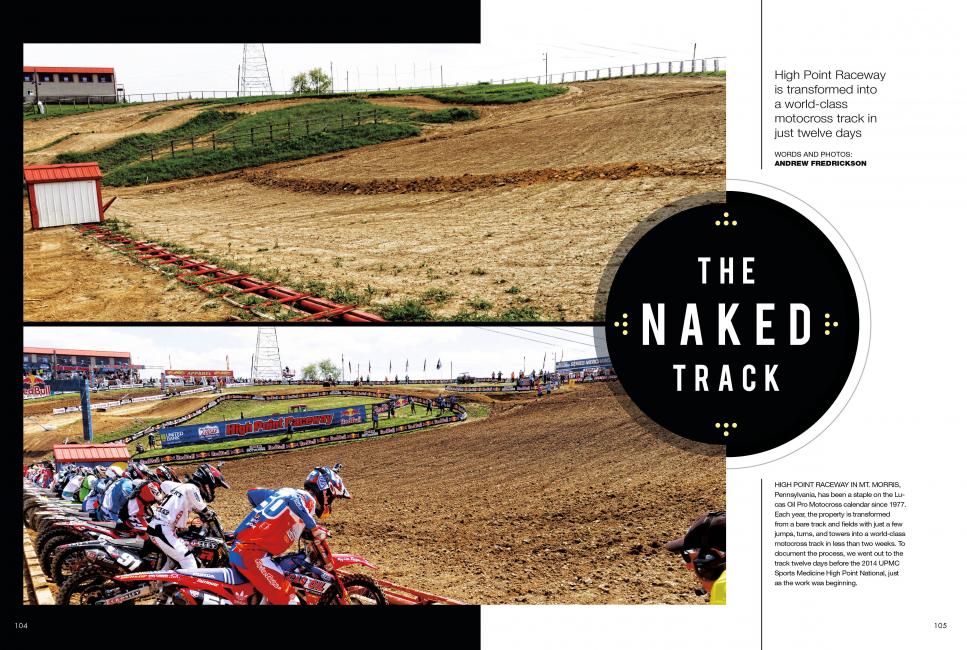 The next day I decided to head up there and see how things were coming along. I got there at about 2:30 in the afternoon and was pretty surprised how bare it looked. I went around the track and took photos of each area that I knew would look a lot different during the actual race. The starting structure, the grassy hillsides where spectators would be, the finish line, and both uphill triples—it all looked bare and untouched.
Fast forward to the day of the race, and the photos speak for themselves. What a transformation.
Read the entire "The Naked Track" feature in the September 2014 issue of Racer X right now or look for the cover below on newsstands to pick up the issue in person.