Things are heating up this summer both on the track and in the rumor department. We set up David Pingree, Jason Thomas and Steve Matthes with three key questions. Be sure to share your thoughts below.
1. There have only been three moto winners so far in the 250s—Martin, Baggett, and Webb. Who else will get one?
David Pingree: While the three riders who've done all the winning will continue up front for the rest of the season, there are a few riders who could sneak in and steal a win. Christophe Pourcel has everything he needs to get a win this summer. His bike is working well, he's riding well, and now he has some races under his belt. Pourcel just needs to dig deeper if he wants to win. The three guys out front want to win badly, and you won't run their speed the whole moto without leaving it all on the track. Also, Jason Anderson could pull it off if he can figure his starts out. Justin Bogle is just a tick off. Marvin Musquin is capable as well. Oh, I better mention Red Bull KTM's GP hero Jeffrey Herlings since he'll be making a cameo soon. I wouldn't be surprised at all if he wins his one race here.
Jason Thomas: I think we will see quite a few guys sneak in there. Justin Bogle has to be high on the list, as he is consistently putting himself into great position to do so. Every time he leads, his confidence grows, and that will ultimately lead to a win. Pourcel's first moto win of the year is inevitable as well. I am a bit surprised that it hasn't happened yet, but every time the gate drops, it's another chance for the 377. I think that Dean Wilson will get a win within the next month, also. Wilson is a former champion of this class and is more than capable of going their pace. As his race form returns, look for him to continue to improve. Lastly, I look for Marvin Musquin to win and win soon. He has really turned it up as of late and appears ready to take the fight to the Yamaha boys.
Steve Matthes: I think that with twelve motos left this summer, the list of moto winners could get a lot longer. I know, I know, Webb, Martin, and Baggett have been great, but I think there are five more guys that could win a moto this year. And four of them have already shown the speed and endurance over multiple weeks, so I think they could break through.
Wilson, Bogle, Marvin Musquin, and Jason Anderson are, to me, the four most likely candidates to cross the checkers first. Remember people, we said a moto and NOT an overall. Lots of things can happen in a moto from week to week, and the guys I just mentioned all have the speed, endurance, and machine to make it happen.
The fifth guy that could win a moto is Herlings, when he shows up at Unadilla. There's little doubt in my mind that he's one of the best riders in then world, and he'll be VERY motivated to prove that fact on American soil. Out of all these guys, who do I think will be the first guy to win a moto. I think Justin Bogle does it really soon. Maybe even this weekend! And I think Wilson wins multiple motos before the series is out.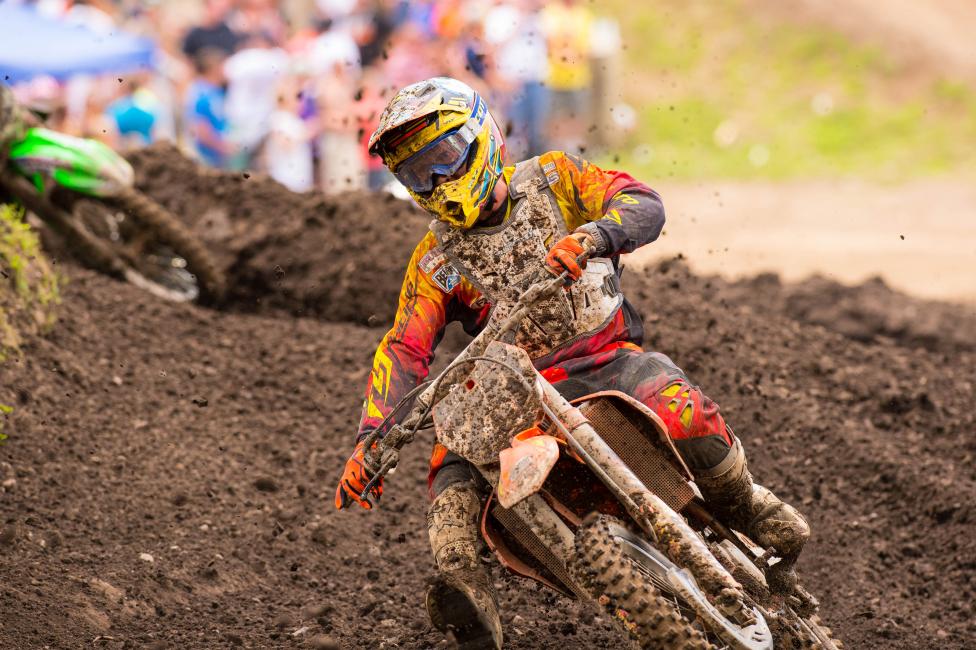 2. This guy doesn't get talked about enough, so let's do it here: how good is Andrew Short?
Ping: Short is not going to win races, but he is rock solid every weekend. It's crazy how you can watch an entire race, and it isn't until you scan the overall results at the end of the day that you realize just how well he did. He's very quiet that way. Shorty is also incredibly hard-working, polite, and professional. BTOSports KTM has a great asset in Andrew Short.
Thomas: Short is good. Very good. In fact, I would bet his results in the outdoor championship over the last eight years are better than most would think. Since 2007, his overall results in the standings are as follows:
2007: third
2008: third
2009: second
2010: third
2011: eighth
2012: fourth
2013: seventh
As we currently sit in 2014, he is seventh in the points and coming off of two top five finishes in a row. Short is fast, consistent, and represents his team and sponsors well. He may not have the titles and accolades of some other riders, but his credibility in the pits is second to none.
Matthes: I've been on this Short train for a long time. He's a great rider and a nice teammate for any other rider on the team. Heck, "gramps" would be a perfect guy for any team manager to hire, as he's about as turn-key as a rider can get. It pisses me off sometimes to read or hear other riders saying they're better than Short, they're faster than Short, they should have his ride, or whatever, because they then go out there and prove that at the end of a long championship season they really don't have "it" after all. The #29 isn't a title threat anymore (hold off on the threats please), but he can certainly make podiums if things break right. He's got a solid fan base as well. Ah, here I go again, so I'll just stop while I'm ahead.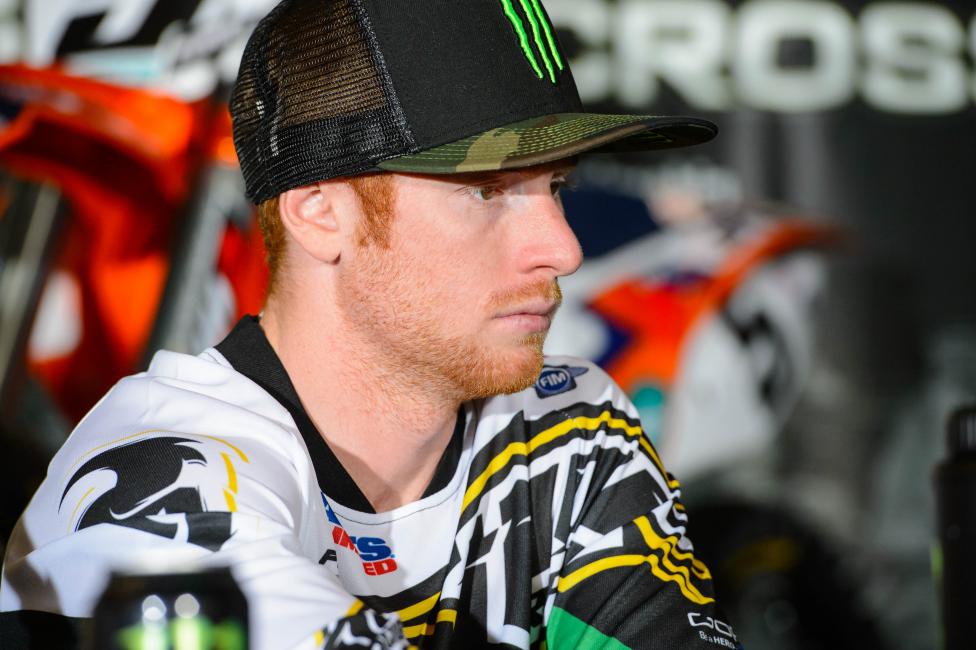 3. There have been lots of rumors about what's next for Ryan Villopoto. What do you guys think?
Ping: I don't think he races in 2015. If he honors the third year of his contract, which is optional, as I understand it, he has to deal with Ken Roczen. Villopoto isn't stupid; he's been watching Roczen's progression this year. He knows that beating him next year will be incredibly difficult. With a handful of supercross titles, Villopoto has little to gain and everything to lose in terms of professional accomplishment. I think the pressure of "not losing" is much more stressful than trying to win. Maybe that's why he doesn't seem to be having as much fun these days. His other option is to go to Europe and race GPs. It would be unprecedented since no other rider at the top of his game has gone to GPs to end his career. It would make sense if it weren't for one thing … Antonio Cairoli. If Villopoto thinks he's going to have a European vacation and la-di-da his way into a world championship, he's got another thing coming. Cairoli will fight him harder than he's ever fought for a title because it will validate every world champion for the past three decades if he can beat Villopoto straight up in a championship series. I think Villopoto is well aware of the pressure that would come with that decision. He has a spot as one of the greats in the sport. He has millions in the bank. He's healthy. I'm betting he heads for the northwest and starts the next chapter of his life. I hope I'm wrong.
Thomas: This is the (multi) million-dollar question. Personally, I think RV has narrowed it down to two options: Retire and walk away, or go to Europe and race in a series that he perceives as less pressure. I have heard from sources I trust that his property in Florida is all but sold and his house in California that has its own SX track is up for sale as well. I don't see him chasing a fifth supercross title without his tracks and proven program fully in place. The Europe idea is interesting, but I do fear one scenario. I fear that Villopoto is headed to Europe looking for an easier campaign and training regimen than what he has been put through the past four years. He may think that he can prepare less and still be on the same form that led to his multiple titles from his collaboration with Aldon Baker. This would be a mistake in my view. If, and it's a big if, Villopoto decides to take the leap across the cultural gap to the World Championship circuit, he will face a pack of riders that will all have one goal in mind: keep the title in Europe. Riders like Cairoli and Clement Desalle will be ALL IN for 2015 in an effort to prove their prowess. The GP riders are very proud of their series and skill level, and this would be the perfect situation to show the world that they are the best on Earth. My fear is that Villopoto will not take that championship as seriously, come in less prepared than previous seasons, and taint not only his reputation but that of the American championship as well. There is simply too much at stake to go over there and mail it in. I hope he takes this into consideration when he ultimately makes his plans for 2015. Everyone wants to see him race somewhere in 2015—he is one of the greatest racers of all time. I just hope he has the wisdom to either give it 100 percent or enjoy his well-deserved retirement.
Matthes: I've been saying it on the podcasts and the PulpMX Show: I think he's going to do one of two things: A) He's either going to race the GPs or B) he's going to retire. I don't think he does a full season in America, because he's just over the grind that it takes to stay up on top of that mountain. I know for a fact that he's done some digging around with other riders in Europe asking what it's like to race the GPs. I can't imagine why he would want to do that but hey, different strokes for different folks. You can't "relax" and expect to go win a world title. If he goes over there he's right back to the full grind week in and week out, combined with a worse travel schedule since you're at the track for three days and travel further to many of the races.
But hey, whatever floats his boat, I guess. He's earned the right to retire, go race GPs, build a castle with a moat around it in Washington, book a flight to the moon, move to Morocco, and really party with the rich and famous. I'm definitely looking forward to finding out whatever decision he makes and his thought process behind said decision.