Listen, I know I've been on the road 21 weeks out of 24 going to dirt bike races but what to do on the first weekend off from the Lucas Oil Pro Motocross Series? Go to the Rockstar Canadian National series you say? Yeah, sure man! Why not? It's Canada! As a born and raised Canadian I always try to hit up some races in the motherland. Round four was an easy flight up to Saskatchewan's biggest city, Regina, (any joke you come up with about the city's name please hold onto it—they've heard it all). This race had it all on and off the track so let's dive in.
First, a refresher: Through the first three rounds two riders have risen to the top of the MX1 Class and they are GDR/Digger Racing Honda's Colton Facciotti (a Canadian) and SmarTop MotoConcepts Mike Alessi (an Alessi). They've battled, and there has been some drama along the way. At the opening round Alessi captured the overall with a 3-1 to Facciotti's 1-3. In moto one the two came together with 800 ending up picking his bike up. Moto two, same thing but it was Facciotti getting the worse end.
At round two, Alessi had won moto one but was docked five spots for inadvertently cutting the track. Facciotti swept both motos. Round three saw Alessi complete his own sweep and in the second moto, get this, he came from hitting the gate off the start all the way back to take the win! According to the people that were there, it was an incredible ride.
Alessi's decision to race up North has created drama and excitement— and by the way, do the Alessi's ever not create this? They should be carnies when they're done racing with a "Drama and Excitement" thrill ride of their own. And naturally, the Canadian moto fans are enjoying their own thrill ride in Facciotti getting some wins against the big bad American star rider. There's nothing like a little border rivalry to spice things up, eh? Ricky, Bubbles and Julien would be stoked. (Google it, people).
The MX2 results have been all over the map. Royal Distributing KTM's Kaven Benoit held the points lead after three rounds as each of the contenders in the class have suffered DNF's or had some bad races. Alessi's teammate Vince Friese has won three out the six motos so far but he had bike problems at round one. MX 101's Jesse Wentland had issues at round two, defending champion Austin Politelli, of the Leading Edge Kawasaki team, had a sure-win taken away when his bike blew at round three. And Rockstar Yamaha's Shawn Maffenbeier went into a pond at one round!
Heavy rains hit the Regina area (again, no jokes, please) all week and left the track sticky and almost impassable. And the pits were probably worse. It was a complete mess and the good-sized crowd who showed up for the first national in Saskatchewan in four years got screwed. Most of them seemed to abandon their footwear and run bare feet. I'm serious.
Practices were cut from two sessions to one and in that one session, most riders were lucky to complete two laps. Some laps were in the five-minute range. It stopped raining at this point—the sun was out—but the damage to the track was already done. It was officially going to be one of those days. Where's Damon Bradshaw on his MHR Honda when you need him?
The start was everything and in the MX2 moto a couple of the top contenders made mistakes that would come back to haunt them. Maffenbeier, no doubt using his home track knowledge, lined up on the far left hand side of the gate as did Jeremy Medaglia. Benoit and Friese lined up around the doghouse. When the gate dropped the two riders on the outside got up onto the grass on the edges and got some traction. The two guys in the middle were spinning around in the muck. In fact, the rider that lined up on the far inside (I didn't get his number) also used the grass to pull a great start.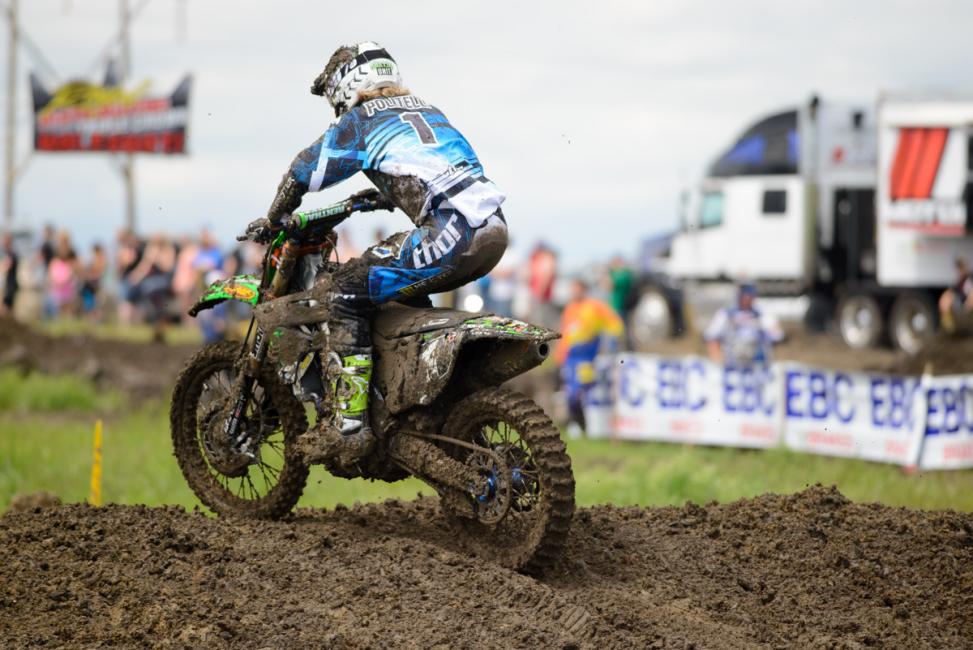 That was it. This race was basically over. Maffenbeier and Medaglia used their gate picks to get traction, sweep the first turn and come out one and two. They stayed clean, got a clear track and although Maffenbeier fell and lost the lead to Medaglia, it was good strategy by both riders.
Benoit ended up DNF'ing when his KTM started acting up after a crash and Friese crashed back to 11th. Both riders did not have much fun and Benoit got lucky to remain as the MX2 points leader. But he lost a nice chunk of his lead.
Jeremy Medaglia took the win, his first of the season, and it redeemed the Western part of the series for him. Medaglia was supposed to ride for MotoConcepts but right before the season started, in some drama and excitement (there are those words again), Jeremy either quit or was fired depending on who you talked to (I've had those types of departures from teams in my mechanic career so I understand this blurred line). With only three rides on the Monster Energy Kawasaki KX250F before the first race, Medaglia has struggled to be the title contender than many thought he would be.
But with this win and a two-week break before the Eastern series starts, I really think J-Dags is going to insert himself into the title hunt. He goes great in the sand, the track he grew up on is coming up and Jeremy's got the bike and team to win. If he wins this title, the gate pick in Regina might be the tipping point for it all.
Maffenbeier is an interesting case for the eternal two-stroke/four-stroke debate. In Canada the racers are allowed to go cc vs cc and Shawn raced a YZ250 last year but is on the "F" this year. Last year he got hurt at the opening round but won the last round after he came back. This year Yamaha wanted him on the "F" because it's a brand new bike and despite not winning this year, he seems to be better than ever.
By the way, Saskatchewan, where Maffenbeier is from is very similar to my home province of Manitoba. However, Saskatchewan has produced THREE top quality national racers (Brent Shury, Blair Morgan and now Maff) while Manitoba has produced, at best, one (Don Formo, national number 5 in 1991). It's very disturbing to me that Manitoba CANNOT match Saskatchewan in producing great riders and it makes me not want to like Maffenbeier and Morgan.
Okay, I got off track. KTM's Benoit is going to switch to the two-stroke for the eastern part of the series and that's going to be interesting to see how he does. He's a great rider, very JSR-like by the way, but I would think that the two weeks before the next race isn't enough time to totally break the habits he's picked up riding the thumper, but who knows? I know I'll be watching.
When Jeremy Medaglia quit/got fired from MCR, the team picked up Friese (who raced for them in the U.S. a few years ago) for the MX2 spot and he's done pretty well. Unfortunately for Vince, he's creating some hostility from other people in the MX2 Class as well as some team managers. Some of the things he's said on the podium have raised eyebrows, he's been lining up next to Benoit on the gate, he aggressively passed (hey, that's the not Vince we know, eh?) Medaglia at round one and knocked him down. KTM says that they have GoPro video of Vince doing a stoppie in front of Benoit in practice and trying to "kick" his rear wheel over at the KTM rider. There have been verbal altercations (more on those later!) between Vince, MCR owner Mike Genova, Tyler Medgalia (standing up for his brother) and Andy White, the KTM team manager. Almost everyone I talked to in the pits had something to say about Friese and his actions up there. I'm serious!
Whether or not it's true, the bottom line is Friese needs to just once again focus on his riding and put the podium speeches and intimidation tactics back in his (big) bag of tricks. He's got the speed to win outright (he's proven that) but it's going to be hard for Vince and the MCR team to win this title when people want to try breaking his tib/fib in every corner. I like Vince, he's a good dude and I told him all of the above stuff. I don't care who wins the title up there but if this stuff doesn't stop soon I fear a Racer X Breaking News headline of "RCMP Investigating Rider Lit on Fire at National."
MX 101 is a Yamaha-supported team run by Kevin Tyler. He, along with his partners, own and operate the Sand de Lee national track. It's not really a business that would benefit from sending a race team across the country but the guy we all call "the hot dog vendor" does it because he loves the sport. He's got Canadian hot young thing Dylan Wright and AMA D-23's Jesse Wentland (an American) under his tent, and they are putting in some solid results and are capable of big things in the future.
The defending champion of the MX2 Class is Austin Politelli of the Monster Kawasaki team. He came into the series a little under prepared due to a broken femur suffered in Monster Energy Supercross. By all accounts Politelli should have won Calgary but his bike blew up. As well, Austin's got to shed a bit of weight after the injury but he'll be there in the end. At Regina he came from the back to get third and for a Southern California kid, he was pretty good in the mud. Our man Jason Thomas has been driving the Austin Politelli bandwagon for a few years now, and I need to check in with him for more.
In MX1's Regina action (stop with the jokes!) it was all Bobby Kiniry. The Rockstar Yamaha rider has been racing in Canada for a number of years now and loves it. And he especially loved Regina (stop!) as he grabbed the holeshot and took off with the lead. At some point he crashed and dropped back to third. Then at another point he blitzed back by the best riders in the class and won the moto. In typical Kiniry "meathead" fashion his moto consisted of jumping off the track and cleaning out a flagger's stand, shooting off into a fence, tossing his goggles and getting roosted like crazy and yet he seemed to be smiling in his helmet the whole way. Kiniry won the moto, and like Jeremy Medaglia, put a gold star on his not-so-good Western series start.
His teammate Kyle Chisholm has had a bunch of bike problems this year and they surfaced again when he couldn't start his bike before the moto. Of course while the other 21 guys (that was it, folks) waited for Kyle to get his Yamaha started, the rain started coming down. Eventually the gate dropped and Kyle was still not able to get his bike started so he was effed. Wait! No he wasn't! He finally got the bike fired up and jumped into the race a lap down and right behind Mike Alessi in fourth place. Good thing the AMA rules weren't in effect or he wouldn't have been allowed out here. Or maybe that is also a rule in the CMRC's rulebook but no one noticed or cared. Surely Chisholm was just going to be swallowed up by a mud hole, anyway, right?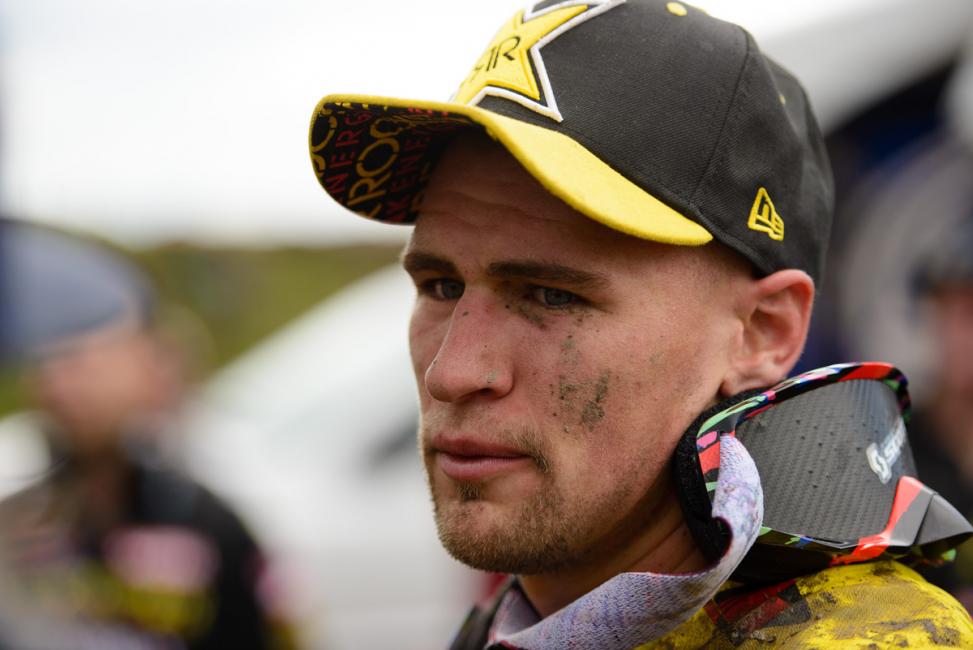 Well, Chisholm's a great sand rider and you know that many of the same rules of sand riding apply to mud, right? Somehow, Chisholm passed every single rider on the track back save for the top three and ended up fifth in the moto! At times he was 45 seconds faster a lap than the riders around him. He was so fast, other riders were trying to protest, but when they looked at the lap times they realized that the math kind of fit. What could he have done if his bike had fired? I don't know, bro, but I guarantee you he could've been a pretty rebel.
Kiniry, second place Tyler Medaglia, and Facciotti were the only riders to finish on the lead lap. Alessi went missing for a long time—claimed by a mud hole, no doubt—and got lapped. So did everyone else. Some dudes were lapped four times!
Facciotti and Alessi had different reasons to be thankful, as either guy could've left Regina in a serious hole (in the points! Stop with the jokes). Facciotti's Honda blew a radiator ("There's a hole in the radiator" said the guy from Road Warrior) with about three laps to go and there was coolant everywhere (Facciotti told me, "Apparently radiator fluid is hot!") and I really didn't think his GDR/Digger Honda would finish. Not in these conditions, not with Facciotti basically dropping a massive smoke bomb around him and not with the time left. But he did it. He made it across the line in third. Whew!
And Alessi lost two points to Facciotti (he's now nine points down) but again, he got lapped while he was stuck in the mud. It could've been so much worse for either guy.
I'm really looking forward to this Alessi/Facciotti battle in the second half of the series. They've already had some great races and seem to be pretty equal. Colton's got to avoid crashes and injury and Mike has to avoid, well, just being an Alessi. Three deep sand tracks are part of the final six rounds so it may boil down to fitness and who can ride the soft stuff. And really, the Canadian/American thing is also shaping up nicely. I have American friends telling me Mike's going to work Colton over and some are upset about hearing Canadian announcers cheering on the webcast (cough, JT) while I have some Canadian friends who have, in my opinion, bad attitudes about an American coming up and winning. And let's not even get started on the people who just don't like the Alessi family for whatever reason. You add in the Friese drama and I'm telling you guys, the Canadian pro pits are a simmering volcano of boiling maple syrup. It's going to get so good that I think Brotocross should make a trip up.
But I will say that at one point I looked over in the pits and saw a lot of fans over at the MCR rig checking out the set-up while there wasn't really anyone else at the other teams. For sure, Mike and MCR have gotten the attention of fans who want to see one of the top ten (maybe even top five) outdoor motocross riders in the world. Good for the Canadian series to have them up there.
Monster Kawasaki's Josh Hill got Brett Metcalfe's vacated Kawi at the last minute (seriously, what's with these last minute deals?) and has surprised me with his outdoor speed. Remember Josh hadn't raced many nationals for a long, long time. Anyways, bummer for Hill, he tweaked a nerve in his back during the week, and although he rode practice, he was unable to start the moto.
A few years ago, through no fault of his own, Dylan Kaelin was anointed the "Next Big Thing" in Canadian moto because he was very fast in Southern Ontario, which is like the El Cajon (California) Zone in the 1980s except, well, nobody from Ontario really ever becomes great. Not since Doug Dehaan in the early 2000s has a rider from the "center of the Canadian MX Universe" actually become a top National rider (Kyle Keast fans put out your torches, the Dozer was great but his podiums came in the sand where he was almost untouchable). Youngster after youngster, from Pierce Chamberlain to Richard Grey to a bunch of others, reached their expected moto heights. But Kaelin, long past his rising star years, is making a nice second career out of this (as much as a career as one can have in Canadian moto). He's on the Devils Lake team, holds down a full-time job in the winter and seems faster than ever. Nice to see him come full-circle from top amateur kid to working man's hero.
In the end, the second set of motos were not run. The teams and riders gathered at intermission to discuss this and from what I heard, the riders were split 50/50 on whether or not to continue. Imagine that, riders not being able to agree on something? The tipping point was the fact that the ambulances either weren't there or couldn't get there due to the pit road. In the meantime the sun had come back out (there was some rain during the 450 moto), the track was being re-routed and a dozer was out there scraping away.
I know, I know, I'm old school, but at this point the pit road was fine (the pits were not). The ambulance could've parked there, less than a hundred yards from the track. The riders should've raced. If it was the Lucas Oil Pro Nationals I guarantee you the gate would've dropped. I don't want to hear about the costs of blown up bikes and whatever, it's motocross racing and this isn't Germany in 1943—no one is forcing you to do this. Motocross racing is supposed to sometimes suck—that's what makes it great.
Riders told me that some parts of the track that were in very good shape and some dozer work and re-routing could have fixed the rest. Whatever, I've now been to two motocross nationals in my life where the second motos were not run and they were both in Canada. Don Cherry would be ashamed of you guys….
I also think it was rather cheap that the riders only got paid for the one moto. The CMRC's bottom line never changed due to the rain and mud—there were plenty of people there because it was sunny most of the day. They basically made a nicer profit on the day while the riders and teams were forced to eat poop. I don't know what the rules are and I don't care. Pay the riders for both of the motos by just combining their scores from the first moto.
At the end of the day I was visiting different team trucks to talk to riders. I wandered into the MCR truck to talk to Vince or Mike. Earlier in the week, I reached out to MCR owner Mike Genova to see if he was going to Canada. I wanted to get some quotes from him for a possible Racer X magazine story about MCR's Canadian summer. My plan was to talk to them, some competitors, Canadian series officials and write a piece about what, in my eyes, is a radical move for the team.
Since Washougal of last year (please tell me I don't have to tell you what happened there? #lasergate) I have not spoken a word to Tony Alessi, the team manager of MCR. I have no need to ever speak to him and I'm sure the feeling is mutual. I have, however, interviewed Mike and Kyle Cunningham (MCR riders in supercross) a few times this year. Since I entered the MCR pit in supercross, I didn't think twice about entering the teams pit in Regina to try and get the story of the day. I saw Vince inside the truck and asked him for an interview to which he replied he'd like to, "if Tony lets me".
Then Tony approached me and said that I'm not allowed into the team's pits (despite me going in there in supercross and despite it seemingly being okay to go in when I had to help out Mike with EKS Brand goggle stuff—which is a part-time gig I have at the races). Tony said that before I speak to anyone I had to sign the terms and conditions, which he then presented to me. Below you can read them:
Of course I would never, ever sign something that said any of my work had to be proofed by the subject I'm writing about and I would never sign something that would only let me present the good of the situation and not the bad. And even if I did sign something like this (say I'm high or drunk) then I'm sure as heck not signing anything that says I can't tell people about said agreement.
Obviously Genova had told Tony I might be there and he (or someone) came up with this ridiculous document. As I was looking it over, I had a couple of thoughts:
1. I had Mike on the Pulpmx Show three weeks ago where we had a positive discussion about his entry into the Canadian Nationals. Weren't we all good?
2. How could anyone think that a media guy would say, "No problem at all Tony, got a pen?"
I told Tony that I was taking the document to "review it and possibly Tweet it" when Tony said that the document could not leave the team pit area. But he didn't present that term before he gave it to me and besides, what kind of contract between two parties is signed without each party getting a copy?
So that was it, I wasn't going to agree to this and I wasn't going to interview Vince or Mike about their race. I started to walk away (with this contract) when the Tony Alessi of Washougal 2013 appeared. He lost it. He started yelling at me, he made some contact, he asked me if I wanted to "go" (where he wanted me to go was not clear, perhaps 7-11?). He was telling me I'm not protected up there (whatever that means), saying I was only there to talk shit on his team and the series (does he know I'm Canadian and go to a national or two every year on my own dime?) and that no one in the USA or Canada likes me (not even my wife?). Keep in mind the whole time he was dropping eff bombs like no other. In fact, if there is ever an Olympics of Eff Bombs, I want Tony to be on Team USA. Or actually, I want him on Team Canada.
Eventually, with Tony yelling at me the whole time, I ended up walking to the Monster Kawasaki tent to do more interviews, and that team owner shooed Tony out, but not before Alessi tried to "throw" the tent rain gutter at me. It was an embarrassing display by a team manager attempting to control the media.
Between Washougal and now this, I fully believe that one day Tony is going to pull this act to the wrong person and it will get physical. Thankfully for him, this is just motocross racing and it's not worth it for me to raise the stakes to that level. But one day, a short-tempered person might just do exactly that. Should I have taken the document? Depends. He didn't say I couldn't until it was in my hand and if you're so embarrassed or ashamed it will get out, then maybe you shouldn't have drawn (and this was definitely "drawn" up) it up in the first place?
The whole thing could have been avoided by talking to me calmly and rationally about this (possible) magazine story. Or by listening to his son on the PulpMX Show few weeks back and realizing that I'm not the devil here. Or, even with this bad idea of a document presented and me saying no to the terms, he could have said "Well, then there's no interview here" and let me walk out. Again, anything you present to someone to sign you should be professional enough that you're fine with the world knowing about it. Being sneaky and underhanded isn't cool and threatening violence and yelling in someone's face when you're going to be "outed" isn't either.
Keep in mind, folks, that for a year or two (until after Washougal last year) I had been doing Mike and the teams goggles and speaking to Tony here and there. We spoke about the team, covering the races, Mike's races and so on. I was there to HELP his son in terms of doing my job as a goggle guy. But when Jeff shined that light into other rider's eyes at Washougal and I was forced to (correctly I might add) report it (goggle job or not, sometimes the news sucks and you have to write about it) then Tony became to see me as a chunky, cargo short wearing Satan. What can you do? Jeff did the crime and he and the team served the time, paid the fines and everything else.
Poor Mike Alessi, poor Vince Friese and poor Mike Genova … wait, never mind. Genova's a good guy, spends a lot of money in the sport and I like him but when does he realize that he's got a loose cannon managing his star rider—father or not? It's asinine to think any media guy would have signed that. But then again, it's Tony Alessi (98 percent of the industry that has dealt with Tony at any point are just nodding their heads right now).
That's it, folks. What a bizarre ending to a bizarre day in Regina, Saskatchewan, Canada. One I won't soon forget. Thanks to the teams that fed me, gave me water, let me walk around and talk to them about the series despite "not liking me." If only The Newf had been there to race and see the end of the day.
Thanks for reading, I had a good time in Canada (I swear!) and good luck to the riders and teams up there. Methinks things are going to get interesting in the second half. Email me matthes@racerxonline.com if you want to chat.