David Bailey is "The Icon." Chances are if you are reading this, you already know who he is and what he accomplished as a professional motorcycle racer. For those unfamiliar, he's a multi-time AMA National and AMA Supercross champion, as well as a two-time AMA Grand National Champion, and a winning member of five Motocross des Nations teams (1982-1986). In addition his championships, Bailey was incredibly stylish, both on and off the bike.
Bailey's career was cut short in January of 1987 when he suffered a back injury that left him paralyzed. Since then, he has reinvented himself as an athlete and continued to excel at whatever he sets his mind to – including winning the Ironman Triathlon in Hawaii, as well as serving as one of the first ex pros to fill the television color analyst position.
Racer X: David, thanks for chatting with us. We have not seen you around very much. What do you have going now?
David Bailey: I have been working on my own version of a Handcycle and taking some time off. After I won the Ironman in 2000, I went back to coaching and some TV and ended up with a pressure sore and went through some really some dark times. When I finally got the green light to sit for extended periods and do things, the handcycle is what brought me back to life, but the market for those bikes had skipped a step, it seemed. It had gone from the older early models, which were a bit crude, and totally leap frogged to these super expensive lay down, carbon fiber things. I have a vision of making a middle of the line bike, something that is cool looking and fast enough, but not over the top. I had some help to make a few prototypes, but I haven't gotten much farther than that. Still thinking it through and just riding and trying to enjoy my time.
I don't really know much about handcycle's. What can you tell us about that market? Are they only for people who have lost use of their legs?
No. They started out being built for older people in Florida. They came with a basket and they would ride them around retirement communities and get a little exercise. But then some of the athletes got involved using them. That was what I was riding in the 1990's. They're mainly for people who can't ride a regular bike, but I see people that can walk riding them. I know Travis bought one when he was in a cast. But for me, it is hard to imagine my life without it. My bike is a big part of my life and what keeps me healthy.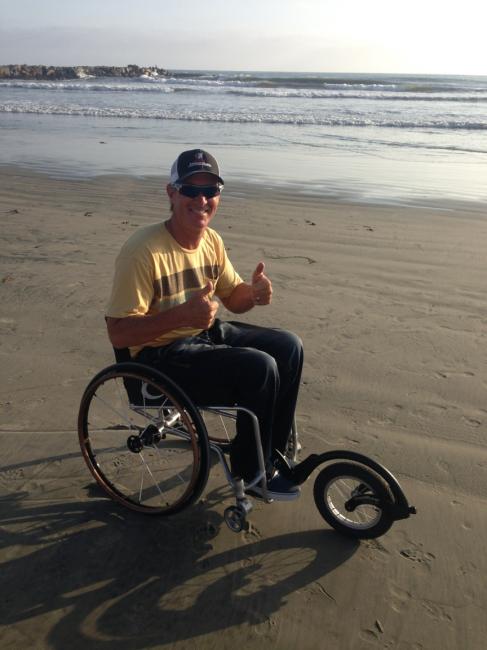 How about an update on your family life?
Gina and I live within walking distance to Old Town Temecula. We've been together since 1984 and will have our 28th wedding anniversary this September. The kids are now all on their own, Sean is 26 and Jenni is 23. Sean is working part time at Hobie and has become a good surfer and paddler. Won the Jay Moriarity Classic last year with my cousin Mike who also did the Catalina Classic. He's much happier in the water than on a track. Jenni directs a hair salon in Carlsbad and is just wide open all the time!
After taking a couple of years off, you came back in 2009 to announce the nationals. Tell me about your choice around that?
Yeah, that was the year that the nationals were being revamped. Davey really wanted to give it a fresh look and sound, and they hired (Scotty) McLemore to work the production end of things and gave [Jason] Weigandt his launch on national TV. Davey wanted it to be different than supercross, and to get everyone's attention. Weigandt was so comfortable in his new role, it was really fun for me to come back. But I had done it long enough and had been on the road since around 1994. It was just a tough schedule for me to continue. By 2009, there were others eyeing that job. Guys like Robbie Floyd, Denny Stephenson, Jeff Emig and even David Pingree were all looking at doing some of the color work. So I just felt like it was time to move on and wanted to let someone else in who was a bit more fresh than I was.
It seems like there is a never-ending debate on the internet and amongst fans about the TV announcers. I am not sure that anyone ever will get the final word on that matter, but it never stops!
Art and I clicked and the timing was perfect. It's like Anahiem 86, there have plenty of other races that were great or even better, but the time and place and the guys delivering all worked. I'm really lucky I got to do it when I did. ESPN came in and covered the outdoors, then we went live on ABC indoors, McGrath was on fire, stadiums were filling up, Pastrana and Carmichael came in. Everything was just firing so whoever was in the booth during that era would probably be remembered and especially with Art's voice!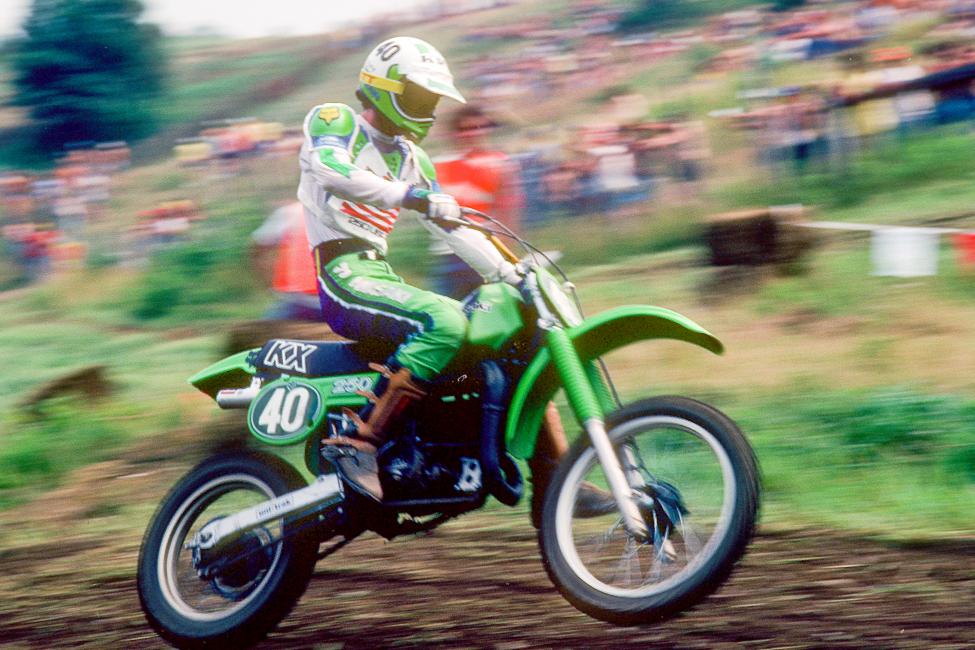 What do you think about this year's team covering the nationals?
I think they are doing a great job! Weigandt is his normal solid self and very comfortable. He doesn't overstep, and Grant is funny and light hearted. I think they are following the same path as to why they wanted me in 2009. They're still keeping it t fresh and fun, and with two guys who know what they are talking about.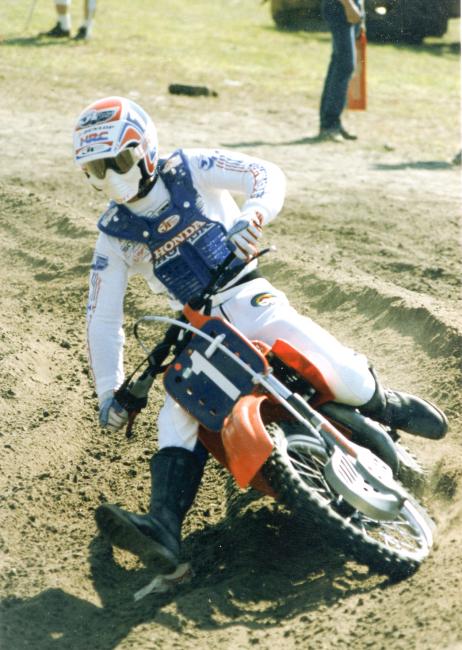 Switching gears here, you and Johnny O'Mara really rewrote the rule on training and rider fitness back in the 1980's. But that went away in the 1990's – but now it has come back, and perhaps even more aggressively. What are your thoughts on the work that the riders put in today, and do you think it is for the better of the sport?
For Johnny and I, we trained because we were bored basically, and we both had the same goals and wanted to feel like we could expect results. We became almost more interested in biathlon's and triathlon's than our own sport! Back then, we had a lot of freedom away from the track and we used it to be as fit as possible. The 90's era had such technical tracks it was maybe more about skill than training. Just keeping your riding dialed in was all the training that was required until Carmichael came along and took heed to Johnny's advice, I'm assuming, and added the training aspect back into it. That's what we're looking at today. Skills on the bike, and a deep well of fitness to go hard every in inch of the race. If that's all that it took, it would be fine, but the business and social media side kicked in and now the riders have more appearances and NASCAR type responsibilities and there is only so much time in a day. Observing a guy like Ryan Villopoto, it appears he's just worn out and not enjoying himself. It's too much. I saw a TV show and even Adam Cianciarulo looks over it at times and he just got here! The guys in the running for the championship are over worked and the rest are just trying to make it through the season, it looks like to me.
Today, the guys race about 29 races a year (17 supercross's, 12 nationals) plus maybe the Motocross of Nations or a one off European race. How does that compare to what you guys ran?
Well, I would say we raced around the same number of AMA events, but we had more other races. So I think we actually raced more. We had the USGP, The des Nations was two separate races on two weekends in the early 80's, and then we would race once or twice in Japan, a Japanese GP or SX. We also did the pre season events like the Golden State series or the Florida Winter Am series. If I went too long without racing I felt I lost my edge. With the freedom I had, I would look for races like Paris or Bologna. But today, I don't think it's a matter of too many races, I think the riders are just being asked to do so many things to keep sponsors happy that it has changed their appetite a little bit and makes the season seem longer.
I spoke with Art Eckman several weeks ago and he said working with you was some of the best times of his life. Do you feel the same?
Yes. I read that, and it brought back a lot of the emotion of those times. I was very lucky to do well in the sport during a great era while racing and it was the same for TV. He was so much fun to be around and learn from. He was both a good listener and a good teacher.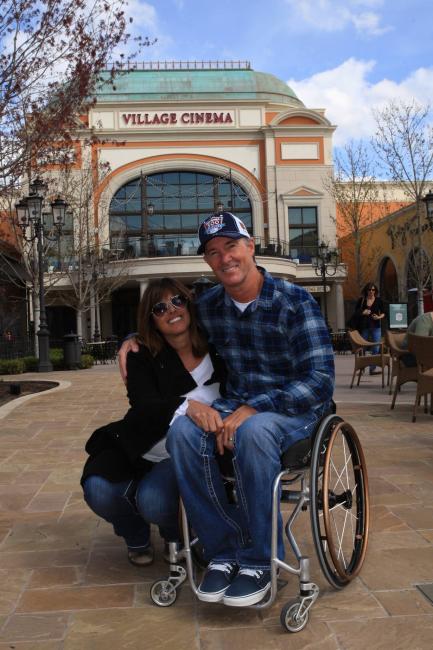 You were actively coaching riders a few years back, and on several different levels. With respect to your step father (Gary's) history of coaching, it would seem natural that could follow that path – but you did not. Can you talk to your decision to pursue that?
There's no way around the truth on this one. Getting hurt and being in a chair made it difficult physically, plus it just didn't feel right sitting there telling kids how to go faster knowing that's how I got hurt--pushing limits. If I could ride still, I would - and I wouldn't feel funny about teaching a kid who's parent's are like, "So how did you get hurt?" To drive a final nail in the coffin of my desire to teach, I witnessed an awful situation at a school and it left a mark I can't shake. I wish I could. I still follow the races and see plenty of places where riders could improve and sometimes I do give advice via email or just a casual visit or phone call, but I've been there done that and tried to just move on.
What was your favorite works Honda?
The first one I ever had in 1982. Unbelievable bike. There were others, but none of them surprised me, or any of us, like that '82 RC250 did!
You started a foundation several years back. Is that still something you are involved in?
Actually, I never started any foundations. People started foundations and used my name and it was all very misleading to people. Those foundations no longer exist.
When the neck braces came out, you put out that impassioned video, with a call to action that everyone should wear one. What is your stance today on neck braces, since they have now been on the market for six or so years? I know several riders and several retired riders have some feelings against them, but it seems like it is still the wild west with regards the claims - both for and against them.
The reason I spoke up was the elevated number of neck injuries that were made known to me by phone calls and emails from parents and then the top riders like Button, Marshall, Fonseca and even McGrath suffering neck injuries. Four-strokes, speeds, more jumps and rag doll crashes were on the rise and it was just logical to me to protect the part of your body that is most vulnerable. I've also seen what life is like for people with broken necks and it's everyone's worst nightmare. I mean no disrespect to those who have the courage to endure it, but it's a tough life. I wish it weren't necessary, but in today's MX culture, you're going to fall going fast and roll the dice with your neck!
For anyone who says it can break your back, I say that's nonsense. It's takes tons of force to do that and the little piece that hangs down on those braces isn't nearly strong enough to cause a thoracic spinal injury in my opinion and the doctors I asked. Since that is where my injury is, it was my first question. After I spoke up in that video, the emails and phone calls completely stopped and were replaced by people who wanted to tell me they bought one, crashed really bad and their doctor it told them it probably saved their neck or life. That was my motive. I wasn't promoting any companies and in fact received a lot of grief over it, but I know it saved some people.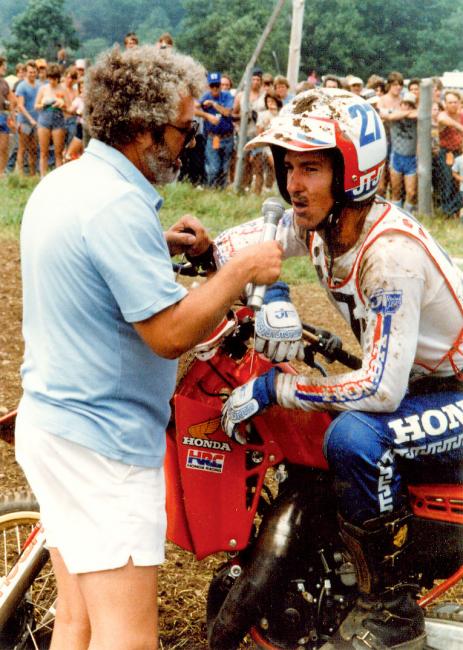 David, thank you for your time, I have to wrap this up...
Thank you. I backed away from the sport for a while to do other things, but I still stay tuned into it. It's what I was good at and what I know. I'm a fan and I'll always appreciate the way I was received when I did TV and the support I got when I needed it most!