Mt. Morris, PA
High Point
Lucas Oil AMA Pro Motocross Championship
Blake Baggett is difficult to predict these days. Back in 2011, he was an absolute force. His late moto prowess earned him the nickname "El Chupacabra" for his ability to hunt down his opponents. He built this reputation in 2011 and then went on to win the 2012 Lucas Oil Pro Motocross Championship over Eli Tomac. His modus operandi seemed to be set in stone. It didn't matter where BB4 was at the beginning of the moto, he was going to come to the front. Blake had the ability to turn up the intensity when others were simply surviving. Nowadays, though, we never really know which Blake Baggett will show up on Saturday.
In 2013, Blake broke his wrist in a first turn crash at the Monster Energy Supercross opener in January. That injury would keep him off the bike until just before the outdoor series kicked off and left him less prepared than the previous two years. He still came out swinging at Hangtown and landed on the podium, and most assumed that he would only improve as his wrist healed and his fitness level rose. For some reason, that didn't happen. He struggled to regain his championship form, and there were weekends where we saw him struggle to move forward, especially after the half-way flag had flown. Most pointed to his wrist injury as the underlying reason but there was another factor here as well.
Baggett spent the 2011 and 2012 seasons working with esteemed trainer Aldon Baker, but they didn't renew their agreement for the 2013 season. While there's no way to prove the impact of this move, many drew the conclusion that it hurt Baggett's performance. After all, Baker has won titles virtually every year he's been involved with the sport, beginning with Ricky Carmichael in 2000, and then moving to James Stewart, and then Ryan Villopoto and Baggett in 2011. Baker's credentials are clearly beyond reproach so it was reasonable to assume Baggett would be less prepared without Baker's tutelage. Was it a factor? That's open for debate but Blake was certainly not the same rider last year.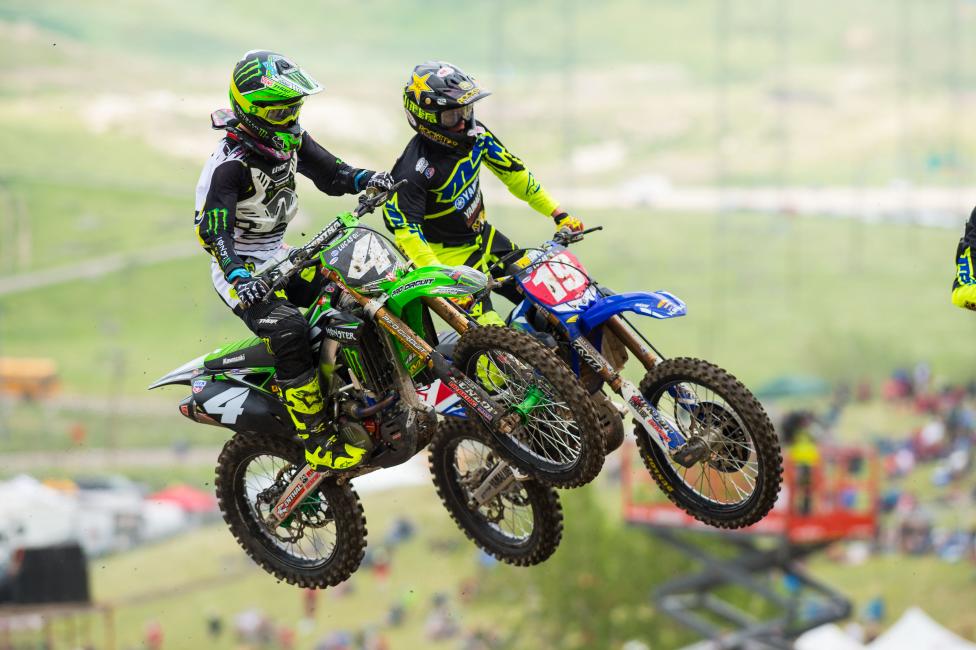 The one race where I did see the Blake of old was at Budds Creek. He was his old dominant self and many wondered if he would catch fire for the rest of the summer. Inexplicably, just as quickly as his form returned, it also disappeared. He once again struggled with inconsistency and just didn't have that burst in the later stages of the moto. When the dust settled, Baggett finished fourth in the standings and more than 150 points out of the lead.
Entering 2014, many were unsure what to expect from the SoCal speedster. Supercross had never been his fortè and even though he won the Daytona round of the series this year, many still expected more. Just as he was beginning to prepare for his outdoor assault, he took a rock to the eye, causing a pretty severe injury. The eye issue meant more time off of the bike, which meant Blake would enter the series unprepared just like 2013. His 8-3 scores at the Glen Helen opener seemed okay considering the circumstances, but Hangtown wouldn't help matters with a first moto sixth and a mechanical failure in the second moto. That left him 52 points down in the championship hunt just seven days into the fight. Where was the Blake Baggett we had once known? Would we ever see him back on form? The answer was just a week away in Lakewood.
The first Thunder Valley moto wasn't anything spectacular for the #4. He methodically moved up from his typical mid-pack start and finished a respectable fourth place. Going into the second moto, he couldn't have been overly confident. There just hadn't been much light at the end of any tunnels. Then the gate dropped on moto 2. At the end of lap 1, he was in a much-improved fifth position and immediately set off after the lead. He picked off riders more quickly than usual and was into the lead after a few laps. He was aggressive, instinctive and seemingly fearless—the Blake Baggett we had seen in previous years. He was the fastest in two out of three segments and also set the fastest lap time of the race. It was vintage Blake Baggett, a sight for sore eyes for those wearing Monster/Pro Circuit Kawasaki shirts.
As convincing as the victory was, it almost raised more questions than it answered. Where was this Baggett two hours earlier in the first moto? Where was he at the first two rounds? Is "El Chupacabra" back or is this a passing glance at the beast we used to know? I am not sure what to think at this point and honestly I don't even know if BB could answer that. There didn't seem to be major differences in his approach or strategy yet he was suddenly markedly faster.
Where does Baggett go from here? He's 49 points out of the lead. With Jeremy Martin's impressive display thus far, Baggett needs more wins immediately if he wants back in this. The key to me is the form he showed in that second moto. If he can ride with that intensity every week, he will find himself clawing back toward team blue. Only Blake knows why he was able to waste riders who had his number up until that point. The other 39 riders better hope this isn't a sign of things to come. I saw what Baggett is truly capable of all those motos ago and it is very bad news for everyone else. This weekend at Mt. Morris will be season defining in my opinion. If Baggett shows up and wins on a track he has shown incredible speed on before, we may have us a series just yet.