High Point Raceway
Mt. Morris

,

PA
High Point
Lucas Oil AMA Pro Motocross Championship
Three questions for our panel this week, which consists of Jason Thomas, David Pingree and Steve Matthes. They're all full of…. opinions.
1. Pro Circuit Kawasaki and GEICO Honda went 1-2 overall in the 250 Class at Thunder Valley. Is order being restored or will J-Mart and company come right back?
Jason Thomas: I think Yamaha still has a stranglehold on this series. J-Mart came through the pack to win the first moto and looked capable of the same in moto two before a crash relegated him to sixth. Even still, he only lost three points to Baggett and actually extended his points lead to 26 over teammate Cooper Webb. Martin has just been too solid thus far to think otherwise.
David Pingree: I think this could be a turning point for Blake Baggett but it will take more than one good moto to prove he can handle the Star boys every weekend. As for a resurgence from the "Big 2," I wouldn't count on it. The Yamaha boys have shown themselves to be on their game at every moto so far and I wouldn't expect that to change. What you will see is Baggett, Musquin, Nelson, Seely, Anderson, Bogle, Hill and maybe a couple others poke their heads up front for a race when they get a start or have a good weekend. I still think it's still going to be a very blue summer.
Steve Matthes: I think Jeremy Martin was very good at Lakewood as he charged forward in the first moto and won yet again. Second moto he tipped over in the sand section and he had to deal with a teammate apparently determined to try and put him into the banners. So the sixth wasn't ideal but he still finished third overall and only lost a few points to Baggett. Webb didn't have a great day, but the Yamaha boys still showed speed in Colorado. I just hope both of the Star guys don't end up hitting each other and creating some sort of massive blue fireball that takes them both out. Baggett's win was good for the PC guys; he was vintage Blake Baggett in the second moto. The only problem is his "get a so-so start and charge from the back but come up short" routine was what we saw in the first moto. I'm not convinced BB4's win puts him all the way "back," you know? In short, I still think Martin looks to be the best rider in this class through three races and I don't see that changing anytime soon.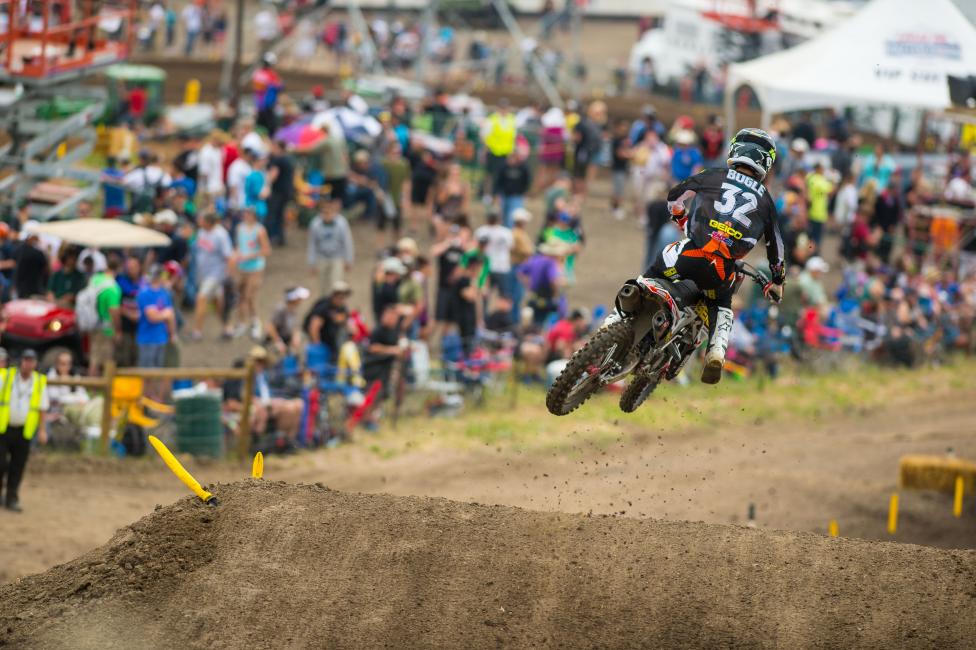 2. Josh Grant had an awesome Glen Helen, a bad Hangtown, and a solid Thunder Valley. Can he be a consistent threat for more moto wins?
JT: I don't think he will be a major threat to win motos moving forward but that's not to say he can't run near the front. His best tracks are arguably all behind him now as we have left the West Coast for a bit. I think he is definitely capable of running top five consistently and maybe even a podium if things go his way but I really don't see another moto win this season. The KTM's are on another planet, Stew is finding his form, Trey looks poised to step up and don't forget that Tomac will be rejoining us soon. Winning is no easy feat in 2014.
Pingree: I hate to be a skeptic but Josh has a track record of inconsistency. There is no doubt he has the speed but staying in the hunt for 24 motos hasn't been in the cards in the past. Hopefully he can turn over a new leaf this summer.
Matthes: Maybe RedBud? Grant is what he is at this point—very talented, prone to mistakes and hot and cold from moto to moto. He's great at RedBud and Millville but I would think what he's doing now is what we're going to see going forward. Some flashes of brilliance here and there, some DNF's and some rides where you wonder if it's even him riding the bike. Zebras don't change their stripes, folks.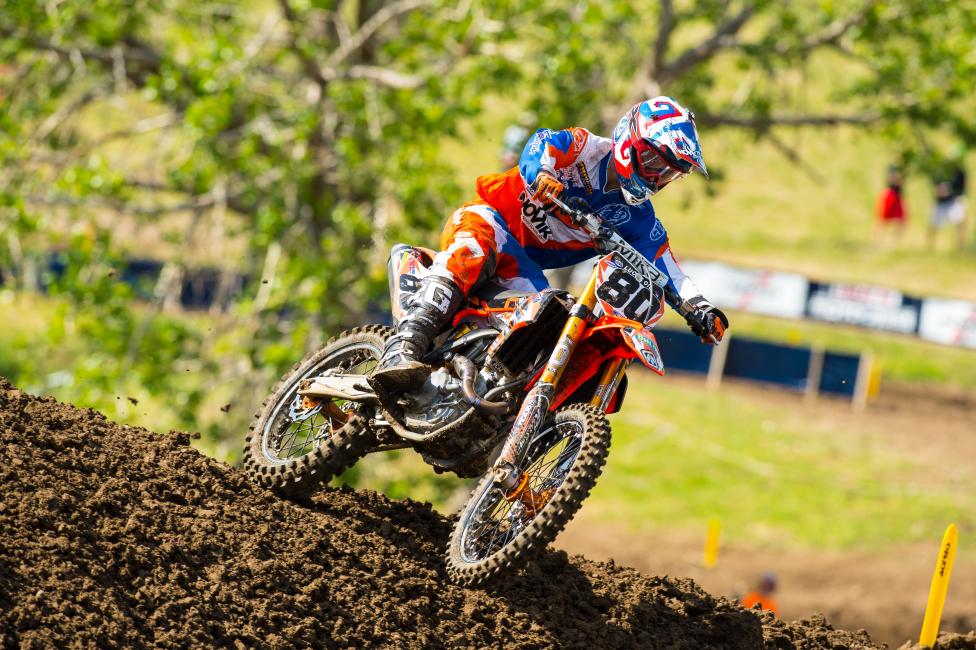 3. Name a privateer that has really impressed so far.
JT: I am going to go with "Fabulous" Fredrik Noren on this one. The Swedish privateer has had flashes of brilliance in the past (Washougal) and poor performances (Southwick) as well, but this year he has been remarkably solid. He doesn't seem to have much in the way of support or resources but he is consistently inside the top 15 and knocking on the top 10 at times. For a rider who many don't know anything about, he is turning heads week in and week out. Or maybe that's just his girlfriend/mechanic? Anyhoo, great job to the #80.
Ping: Does Phil Nicoletti count? [Ed Note: No!] If so, I have been shocked by how well he is riding. He's been helped with great starts but he's held on to a top spot for a good portion of motos and he's come from behind when he's had problems. I hope JGR rewards him for his work and keeps him going to the races (he's already been upgrade to hit the next three). If he doesn't count as a privateer, I like Ben LaMay as another guy who quietly does well.
Matthes: "Fast" Fredrik Noren! There are many definitions of a privateer but there's no doubt this Swedish man in a van is a privateer. He's been very consistent so far this season and just outside the top ten in most of his motos. "Knowing You, Knowing Me" (one of Abba's best songs) I think Noren will be this good the rest of the season as well. He's got some good tracks coming up and although he's not really super stylish out there, he's very solid and in shape. I think Noren has been a nice surprise through three races. In the 250 Class, I think Jackson Richardson has opened some eyes out there but I don't think he's heading East. A career-best ninth in a moto at Hangtown on a privateer machine is something to behold.