Champions Crowned at SPY Del Moto Derby
ARLSBAD, Calif.—The third annual SPY Del Moto Derby happily delivered MX action to a record crowd of more than 5,000 screaming, happy fans at the San Diego County Fair on Sunday, June 8, as the dirt met the surf in Del Mar, CA. Showcasing top amateur and professional arena style motocross racing in a multitude of classes—in addition to the scream-inducing Best Whip category—the third annual SPY Del Moto Derby (DMD) supplied the most memorable racing and riding in the event's history. Returning for its third year, the SPY DMD continues to grow in notoriety and excitement, enticing thousands of passionate fans from San Diego and beyond to enjoy the most unique motocross event on the West Coast.
Sweeping the Open Pro division and coming up $3,000 richer, SPY MX team rider Scott Champion maneuvered past Timmy Weigand to take the eventual lead, leaving Weigand and Tommy Weeck in second and third respectively. In Best Whip, Tyler Bereman returned to defend his title, revving things up and getting sideways to snatch the $1,000 prize purse from Brett Cue and Everett Holcomb. Winning the Super Mini Class was Mitchell Falk, followed by Carson Mumford and Conner Mullennix. Dominating the Amateur All Star division, Ryan Surratt took down Luke Purther and Johnny O'Brien, and celebrated on his final lap with a stylish nac-nac.
"There were so many smiling faces at this year's SPY Del Moto Derby, and that's really what it's all about," said Kyle Krause, SPY MX marketing manager. "With every seat filled by fans and family members, it made us proud to showcase high caliber riding, plus our unusual approach to everything we do and have become known for."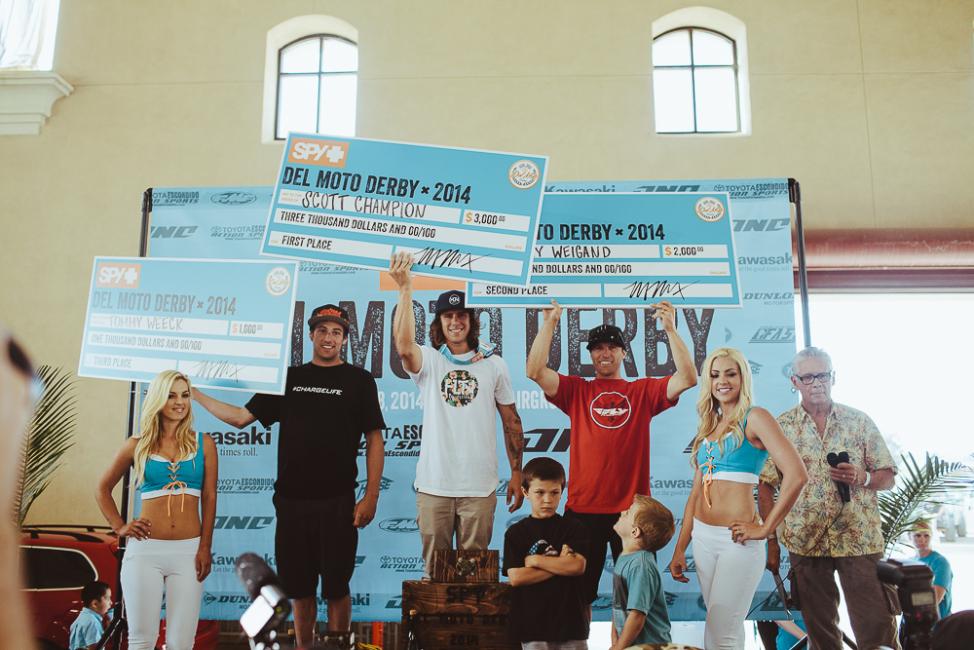 The SPY DMD raised funds for two great causes—Keep A Breast Foundation and the Kurt Caselli Foundation—through rider registration fees and additional on-site donations. With the mission of eradicating breast cancer for future generations, Keep a Breast supports young people and educates them on prevention, early detection, & cancer-causing toxins. Founded in memory of Kurt Caseilli, the Kurt Caselli Foundation was established in 2013 in an effort to focus on safety of riders and racers in the off-road motorcycling industry.
Special thanks to all of the SPY DMD sponsors, including Fast, One Industries, Toyota of Escondido, Dunlop Motorsports, Kawasaki, FMF, Allegiance, Twin Air, North County House of Motorcycles and Maxima Racing Oils.
2014 SPY DEL MOTO DERBY WINNERS INCLUDE:
BEST WHIP:
Tyler Bereman
SPY DMD OPEN PRO:
Scott Champion
Timmy Weigand
Tommy Weeck
Keaton Ward
Robert Noftz
Jayme Gardiner
Billy Laninovich
Brian Burns
Jake Oswald
Ryan Breece
Zac Commans
Brett Cue
SPY DMD AMATEUR ALL STARS:
Ryan Surratt
Luke Purther
Johnny O'Brien
Triston Stephenson
Trevor Hooten
Trevor Stewart
Buddy Wentworth
Carson Forbes
Kade Steele
Cecil Ogle
Nathan Cernicky
Starr Savage
SPY DMD SUPER MINI:
Mitchell Falk
Carson Mumford
Conner Mullennix
Manuel Moreno
Chevy Holmes
Ezra Lewis
Dustin Barnes
Tyler Nicholson
Dustin Renteria
Grayson Mayfield
Mason Matthies
Otto D. Berton
SPY DMD 65cc:
Jett Reynolds
Hunter Yoder
Talon Hawkins
Corbin Parsley
Blake Gardner
Caidin Nelson
Slade Varola
Grant Janish
Devin Ruth
Dylan Howard
Julien Beaumer
Justin Maliska