Thunder Valley Motocross Park
Lakewood

,

CO
Thunder Valley
Lucas Oil AMA Pro Motocross Championship
Hello, everyone, and welcome to the Rev Up. Round three of the 2014 Lucas Oil Pro Motocross Championship begins the trek east with a stop in beautiful Lakewood, Colorado. Things have gotten off to a tremendous start, with three different moto winners in the 450 Class, and some downright intense racing action throughout the top ten. That four rider freight train to begin the second moto between Brett Metcalfe, Justin Barcia, Ken Roczen and Ryan Dungey was just pure motocross at its finest. I think the broadcast has been a smash thus far as well. Demanding tracks with multiple lines, huge crowds and a vast amount of talented racers are getting it done for our sport early in the summer. It's only going to get better.
On to Lakewood where the CL's are fresh and the vending machines dispense more than mood rings. Known as the "Centennial State," Colorado is one of the most visually blessed patches of North America. I grew up in Kansas and a trip to the Rockies was pretty much our Disney World. However, it only takes a quick run up a set of stairs to realize that things are different up there. As one of the strongest tests of physical fitness the racers will endure throughout the series, the men with iron lungs will thrive this Saturday afternoon. The machines don't suffer like they used to in the two-stroke era, but the altitude still has an effect. To that end, mechanical gremlins have been prevalent in the charge this summer and the wrenches will be turning throughout practice.
As far as the track goes, the Thunder Valley offering shares some similarities to Hangtown in the fact that it has a ton of elevation change, is strewn with long deep ruts and will have a hard base covered with softer topsoil. The viewing is a little better here and the fans will be treated to as much, or more, airtime than any track on the tour. Although, this track has one of the more hairball first corners we'll see. The semi-long uphill HP sucker comes to an abrupt right-handed corner that typically sees guys picking up their bikes on each holeshot.
We're already four motos deep into this fight and we already have some alpha status at the front of the pack. Let's get into both classes and rev it the hell up for Colorado!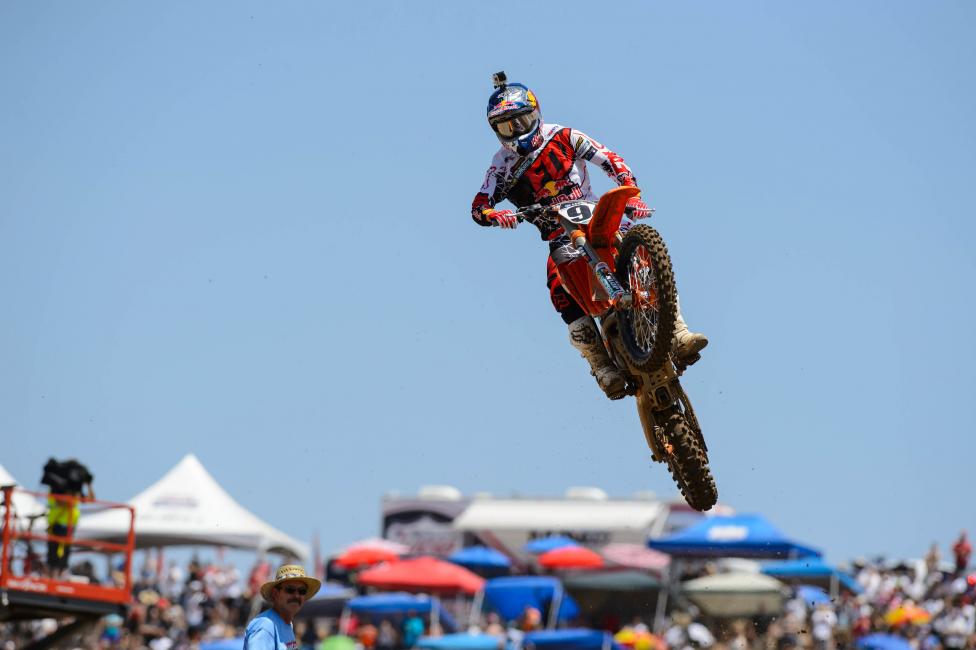 450
It's all orange and Fox Racing so far with this group. Appearances can be deceiving, and no matter how similar Red Bull KTM teammates Ryan Dungey and Ken Roczen look on the starting line, their riding styles are worlds apart. Dungey's constant elbows up demeanor kind of reminds me of Greg Albertyn, while Kenny actually has a little bit of David "The Cobra" Vuillemin in his attack, in my opinion. Ryan is textbook and never really looks out of control. Ken has the ability to smoke through technical sections a little faster, but he gets a little sloppy at times. He has the upper hand in pure speed, and his stamina has been impressive. These two are going to be locked together all summer and I think its going to come down to who makes fewer mistakes, who can avoid a mechanical failure and who wants that #1 plate the most. That sentence is soaked in "Captain Obvious," but it's pretty much the deal. And it will get ugly before this is over.
JGR/Toyota/Yamaha's Josh Grant knows his way around this place and if he can crack off a holeshot he can win another moto. Unfortunately, it's in JG33's pedigree to be inconsistent and what he needs to focus on are two solid motos and a podium. Then, the world is waiting for Yoshimura Suzuki's James Stewart to crack it open and show the old speed he brought back in supercross. He hasn't been happy with his settings, and has some sketchy history at this track, but I have a feeling he is ready to jump into the mix. It doesn't take much to get him rolling and if he can get his yellow fender to the first corner at the head of the pack it might be Bubba time.
The Honda Muscle Milk guys are getting closer as Trey Canard and Justin Barcia are just looking for that little extra to contend with the orange crush. Canard is loosening up and you can just see his confidence growing with every passing moto. I think we'll see him get one of these soon.
Beyond that, Bret Metcalf has been impressive, Chad Reed is four motos stronger and Jake Weimer is racing for a ride. Like the Honda group, I think we'll be seeing green make a stronger showing in Colorado and beyond.
250
It's been nothing short of a royal ass kicking in this class at the hands of Jeremy Martin. The Yamalube/Star Racing backed speedster has led every lap of all four motos, almost banged every holeshot and dominated in crazy fashion. You simply cannot do it any better than he is right now. That said, you have to give it up to his teammate Cooper Webb who has had everyone else covered. It's the story of the summer, and yet another rider in Christophe Pourcel is very close to finding his confidence and will win soon. Who would have thought it would be all Yamaha in the 250 Class? Well, it is all Yamaha in the 250 Class.
The GEICO Honda group has been the next strongest team with Justin Bogle racing hard, but suffering that nasty digger last weekend. His holeshot master teammate Zach Bell is finding his stride and may jump into the top five overall in a couple more rounds.
Meanwhile, Monster Energy/Pro Circuit has been stricken with horrible luck. That organization doesn't lay down, and it won't be long before they fire back and things begin going their way again. With Dean Wilson, Adam Cianciarulo, Martin Davalos and Darryn Durham out with injuries, and Blake Baggett and Justin Hill both suffering early DNF's it can only go up.
The game is afoot and we're already looking at round three of the series. The results have been very convincing thus far, but things can change with a single drop of the gate. Look for local boy Andrew Short to bring a little extra with him this weekend, and I think we'll see a mix up at the front of the pack in the 450 Class altogether. Can Jeremy Martin begin a streak of overalls? Will James Stewart rise and break up the KTM party? This is the great outdoors and anything can happen. Including rain. With a 50 percent chance for thunderstorms and showers on Friday and a 60 percent on race day things could get very interesting, very fast.
Round three. Thunder Valley.
Thanks for reading, see you next week.