Hangtown Motocross Classic
Rancho Cordova

,

CA
Hangtown
Lucas Oil AMA Pro Motocross Championship
Round two of the Lucas Oil Pro Motocross Championship was a lot like round one. An orange bike won the 450 Class and a blue bike won the 250 Class. There's much more to it than that, of course, but it's disturbing to me as a viewer that we might be in for some clear-cut domination at the next ten rounds. I've certainly been around long enough to know that anything can change but even if these four dominators slip bit, they're started so far ahead they'll still be up front.
As I've written before, no track on the circuit has improved as much as Hangtown. The NorCal circuit used to be hard packed and dusty and now it's not-so-hard-packed and prepped as well as a California track can be. The viewing and pits are nice, and for some reason even the Dirt Diggers were a bit friendlier this year! I'm not sure why, but it was appreciated. A few riders told me that Hangtown was rougher than Glen Helen, which hasn't always been the case, but it was definitely challenging.
Attention riders: If you feel like your motorcycle wasn't on point at the first two rounds, don't worry because you're now done with California. I always found that settings changed once the dirt grew softer with more traction, and the ruts got deeper. Setting a bike up for Glen Helen and Hangtown is tough so the teams and riders who are upset shouldn't push the panic button until after High Point. If after High Point they're still not happy, they've got that week off to make things better. After that, they're screwed.
Ken Roczen was very fast at Glen Helen and almost won the whole shooting match until his teammate Ryan Dungey made a last lap pass. This week Kenny didn't give Dungey such an opportunity because he simply ran away and hid. The German wunderkind went 1-1 with big leads in both motos and in one impressive move he passed from third to first in moto two. Was Roczen's win a case of Dungey not being as good as last weekend or Roczen stepping it up? Well, I'm not 100 percent sure but I tend to lean towards Roczen raising his game. Last year on the 250 he went 1-1 at Hangtown so clearly he likes the track. And Dungey being Dungey, I think he's consistent, in shape and is certainly fast every single time out. So I think Roczen rode away because he increased his speed from Glen Helen. Whether I'm right or not, Roczen looked incredible and now has the red plate.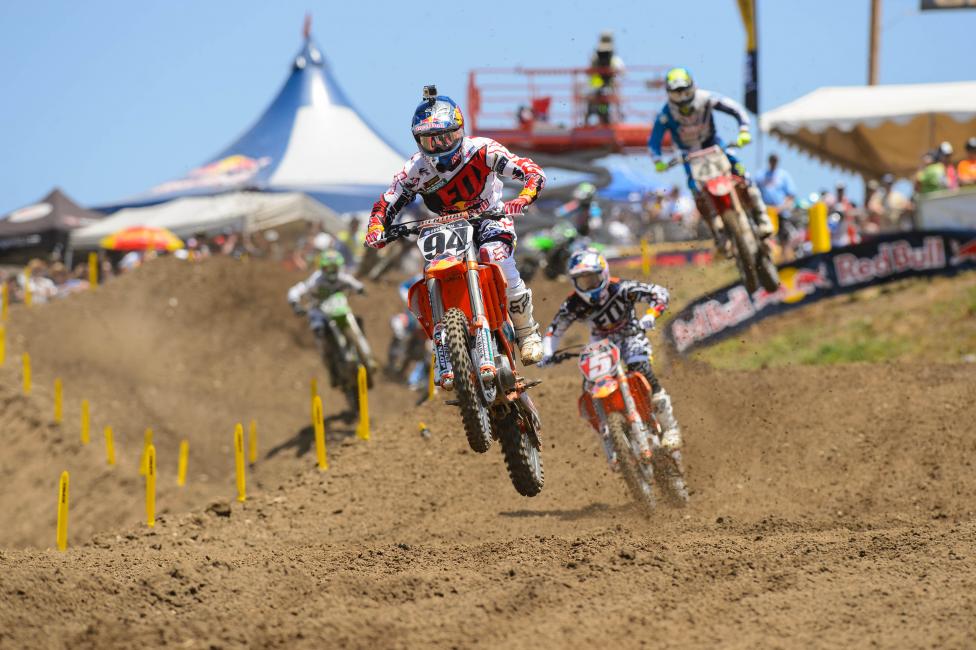 Interesting dynamic over at Red Bull KTM where Roczen is leaving next year for RCH Suzuki while Dungey is staying on (and probably being teamed with Dean Wilson). Obviously all the KTM folks from Roger DeCoster down are the ultimate professionals in everything they do, but if you injected them with truth serum they would tell you that they hope the number one plate stays on orange next year. Racing at this level is big business and riders come and go, this much we know. As the races wind down and Roczen's time to leave gets closer, maybe the KTM guys get some rare parts from Austria and said parts find their way onto Dungey's bike and not Roczen's? Right now this 450MX title looks like a two-man race with teammates that are heading in different directions. As a guy that's been in the pits for a while on teams where this situation has come up, I'll be paying attention to this.
ALL HAIL YAMAHA! Like Ming, Yamaha is simply ruling the universe right now in the 250 Class. Jeremy Martin did it again in going 1-1 and just crushing it. No one was close at all. I don't know what to say about this kid anymore. He looks to be in great shape as well as being blazing fast. Think about this: Martin HAS LED EVERY SINGLE LAP THIS YEAR. That's 66 straight laps. Only his teammate Cooper Webb has been able to keep him somewhat in sight and is 12 points down after two races. The next guy? 37 points back. Martin's dominance is simply amazing and the story of the Nationals so far. After the races he seems calm and stoic, and doesn't seem to be planning any benders or margarita parties. He's all business. Never mind the "When does he lose a moto?" question. How about we just focus on who will be the first rider other than Martin to lead a lap?
And again Webb had a solid day in going 2-2. Even if both of these Yamaha kids slip up a bit (and they will, it's a long season) I can't see them getting knocked out of the top five or maybe three. That's how good they are right now. And if you stay inside the top five all year you'll be there for a title at the end. Right now Yamaha has to be just pinching themselves. It's like they've gone from living in a trailer park with Mr. Lahey to winning the lottery.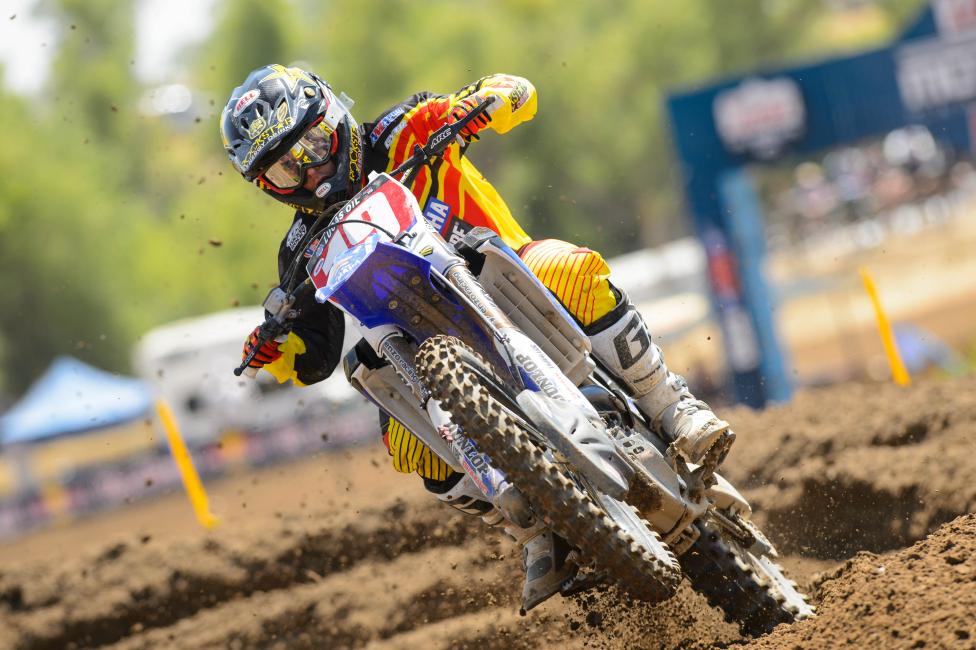 There are many definitions of the word "privateer" out there and there's maybe no topic in our sport so widely debate. (Well, maybe the eternal four-stroke versus two-stroke debate, but the privateer one is right there.) Sorry to the old-timers reading this but the days of a rider doing the entire supercross and motocross series in a box van are over. No more eating ravioli out of a hubcap on the side of the road. Riders like Jimmy Albertson, Weston Peick (pre-RCH ride) and Ben LaMay are now the new privateers. Yes these guys pit out of semis or big motorhome/garage haulers and even pull in a small salary from their teams/gear company/goggle company but this is the new order of things. This is the new privateer, folks, like it or not. The guys that aren't making any money and work out of pick-ups don't go to every race and they don't make the main events or motos. Wait until we get to High Point and a whole new bunch of names will take the spots of riders from 20-40.
In my world if you're not getting factory parts from an OEM, you're a privateer. It's that simple. You have to change the thinking, it's not like it used to be. Some of these privateers are making decent money and making a living racing their motorcycle. I know this change in thinking is scary but free your mind and embrace it, man.
Let's take a look at the results shall we?
250MX Results
1 19 Jeremy Martin Millville, MN Yamaha YZ 250F 1 1- Hey fans, time to dust off that bed sheet that says "Jeremy's spoken" and hang it on the fence of an outdoor national nearest you.
2 37 Cooper Webb Newport, NC Yamaha YZ 250F 2 2- Is it just me or does it seem that Webb is not at all happy with his four second places? Not even a hint of happiness that he's doing better than he has at any other time in his career.
3 377 Christophe Pourcel France Yamaha YZ 250F 8 3- Well that didn't take long did it? CP377 gets his first podium of the year in his second race back. Once again, Pourcel captured the fastest time in practice despite not really putting in many fast laps. For example here are his lap times from the first session:
1 2:34.917
2 2:35.085
3 2:06.037
4 2:10.584
5 2:03.395
He did the same thing in the second one: he basically put in two hard laps and both laps were fastest in the class. Ladies and Gentlemen, Christophe Pourcel and his weird practice ways are back in America!
4 35 Justin Hill Yoncalla, OR Kawasaki KX 250F 4 6- Justin was very good at Hangtown and redeemed himself from Glen Helen. He was catching Pourcel in the second moto and I think he would've got him but he tipped over. I hear that Hill's deal to go to Red Bull KTM on a 250 next year is a done.
5 50 Jessy Nelson Paso Robles, CA Honda CRF250R 7 5- David Pingree tweeted me that Nelson was going to have a good day on what is sort of his home track. Looks like Electronic Ping nailed this pick! Unfortunately for me I ignored this advice and did not pick Nelson for my top five in my Fantasy Dork Moto League. I paid the price when my wife beat me despite her NEVER EVEN LOOKING AT PRACTICE TIMES. No, I'm not bitter at all.
6 17 Jason Anderson Rio Rancho, NM KTM 250 SX-F 10 4- Another good/bad day for Anderson. He fell on the opening lap of the first moto and came from outside the top 30 to 10th. Second moto he was pretty good as he had a nice little race going with Hill and Nelson. Crazy that guys like Baggett and Anderson are already TWO races down to Martin in the points.
7 25 Marvin Musquin France KTM 250 SX-F 9 7- In talking to Marvin after the race he thinks that it's going to be a bit before he's back to his old level. We need him back bad if we want to see some racing up front.
8 71 Zachary Bell Cairo, GA Honda CRF250R 5 12- Four straight motos without DNF'ing and two very respectable ones at Hangtown for Zach Bell. He continues to build on this and put in some good rides. Nice to see.
9 96 Matthew Bisceglia Tualatin, OR Honda CRF250R 13 8- This kid is way better in his second year than he was last season and remember, he hasn't ever raced a National at these tracks before. The Bisch is making that climb up the professional ranks.
10 32 Justin Bogle Cushing, OK Honda CRF250R 3 35- Oh, man, Bogle was good! He finished third in the first moto to get his first outdoor podium since Pala 2011 and was looking good in the second moto when he crashed hard. Just another top rider in this class who can't seem to put together two great motos while Martin and Webb just keep pulling away in the standings.
11 55 Alex Martin Millville, MN Yamaha YZ 250F 12 13- Good day for A-Mart. He was inside the top ten in the second moto but he crashed coming down the same hill where Bogle went down. We were getting close to Martin (Martian) domination if Alex could have moved up any more.
12 73 Dillan Epstein Thousand Oaks, CA Honda CRF250R 17 10 Casey Johnson Racing- Look at Epstein's sponsor—Casey "Big" Johnson! Former PC and YOT rider and should've, could've-been 1999 125 West SX Champion. Also, why doesn't Epstein have Epstein's face from "Welcome Back Kotter" on the back of his pants? Or did I just date myself there?
13 78 Matthew Lemoine Baton Rouge, LA Kawasaki KX 250F 16 11- I was asking Mitch Payton about a fill-in rider and he asked me "Who?" I threw Lemoine's name in there and he didn't laugh or anything. But he also said there was no plans to do that though. Some agent I am, huh?
14 4 Blake Baggett Grand Terrace, CA Kawasaki KX 250F 6 34- Baggett was good in the first moto but a crash left him coming from the back. Second moto his bike blew up. It's NOT sunshine and rainbows over at Pro Circuit right now in case you're wondering. Bike staying together or not, Blake cannot keep getting these starts and contend.
15 47 Kyle Peters Greensboro, NC Honda CRF250R 15 14- Talking about the privateer thing again, people see Peters and his semi and think he's making a bunch of money and living the high life. Nope, like the Tedder's, Peters and his family are spending a lot of money to go racing. This is called a privateer and your tax returns shouldn't indicate whether the fans respect you or not.
16 60 Jackson Richardson Australia Honda CRF250R 21 9- Great ride by the privateer to get a ninth in the second moto.
17 30 Kyle Cunningham Aledo, TX Honda CRF250R 11 33- Cunningham DNF'd the second moto with a suspension malfunction of some sort early in the race.
18 70 Brady Kiesel Fort Worth, TX Honda CRF250R 19 15 8
19 762 Blake Savage Washington, UT Suzuki RMZ 250 18 17- I used to run #762 on my bike when I turned pro in honor of Mike Kiedrowski so whenever I see a guy running "my" old number I pay attention to him. Good day for Savage who's been up in Canada the last few years racing their Nationals. You think Blake knows who Mike Kiedrowski is? In other news, I've been doing this way too long.
20 43 Joseph Savatgy Thomasville, GA KTM 250 SX-F 14 25- Savatgy's first race in a long time saw him get a great start in the first moto and then probably realize that he wasn't ready for that pace after such a long time off and he slowly went backwards. He'll get better as the motos click off.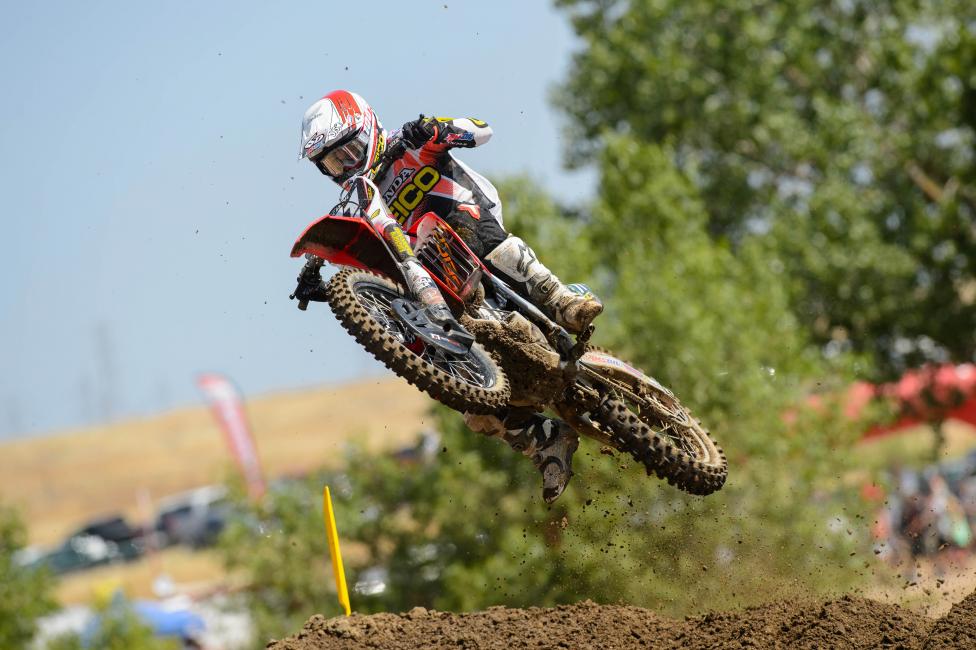 450MX Results
1 94 Ken Roczen Germany KTM 450 SX-F FE 1 1- All of us "experts" are really taking an ass-kicking through two races I tells ya'.
2 5 Ryan Dungey Waconia, MN KTM 450 SX-F FE 2 2- Is it just me or does Dungey seem like he's not wound as tight? His interviews, although a lot of them still seem to not really say anything, are more relaxed.
3 41 Trey Canard Edmond, OK Honda CRF450R 3 4- Good day for Trey although I'm sure he didn't like starting with the two KTM guys in the first moto and then losing about 30 seconds to Roczen at the end. But it's still a good showing and start to the season for Canard.
4 7 James Stewart Jr. Haines City, FL Suzuki RMZ 450 5 3- After the race Stewie made some comments that he is still fighting his bike a bit out there. His second moto was better, as he was in the mix to catch Dungey if Ryan made a mistake. But if I'm being honest I'm still waiting for some "Stewie magic".
5 51 Justin Barcia Monroe, NY Honda CRF450R 4 5- Barcia was all over Metcalfe for the lead in the second moto—I mean ALL OVER. He was really pushing it and figured that he needed to pass the #24 and start the sprinting. Unfortunately it didn't happen and I think he blew himself up a bit. He was really using a lot of energy trying to get Metty and hold off Roczen.
6 40 Weston Peick Wildomar, CA Suzuki RMZ 450 8 6- Peick never, ever, ever stops charging. He does not care who you are, how much money you make or what you've done in the past. He is the head of nihilist nation.
7 12 Jacob Weimer Rupert, ID Kawasaki KX 450F 7 8- Weimer grabbed the holeshot in the second moto and was depressed about his finish afterwards. I talked to his trainer Randy Lawrence who mentioned that when you're not used to riding at the front and then find yourself up there, it's not always a good thing. The key, Lawrence explained, is to get back up there right away so that you know what to expect. And I agree with Randy on this. It's called baby steps, bro.
8 24 Brett Metcalfe Australia Kawasaki KX 450F 6 9- Metcalfe led a few laps in the second moto and to me, although I could be wrong, he probably blew himself up a bit and that, along with a collision with Canard, contributed to his slide backwards. Seeing Brett Metcalfe go backwards in a moto is very rare.
9 34 Malcolm Stewart Haines City, FL Honda CRF450R 10 7- I thought Mookie was going to pull it in as he looked to have a some sort of bike problem. He was losing some spots and then suddenly he started getting those same guys back.
10 22 Chad Reed Australia Kawasaki KX 450F 11 12- Another top ten for Reed and probably not as good of a ride as Glen Helen but I'm going to give Reed a couple of weeks before I starting asking Davey Coombs to bust out a cover story on "What's Eating Chad Reed?"
11 29 Andrew Short Colorado Springs, CO KTM 450 SX-F 14 10- Tough start to the season for the #29. He crashed in the first moto and second moto he finished about where he started.
12 80 Fredrik Noren Sweden KTM 450 SX-F 12 13- Fast Freddie had another good day at Hangtown. He rides well at this track. He and Reed seemed to have magnets in them as they shadowed each other all day. I'm pretty sure that's the first time that Chad Reed and Fred Noren have ever battled in any race.
13 33 Josh Grant Riverside, CA Yamaha YZ 450F 9 39- Grant ran over his foot in what team manager Jeremy Albrecht said was a "weird deal". He was in too much pain to continue the second moto.
14 207 Sean Collier Saugus, CA KTM 450 SX-F FE 15 16- Another good day for Sean Collier. He's got a full-time job, I guess, and is moonlighting as a professional dirt bike racer. Well, I'd say he's doing a pretty good job at it!
15 38 Phillip Nicoletti Bethel, NY Yamaha YZ 450F 23 11- Filthy crashed in the first moto and was way back. He even had to pull into the pits for shifter work. It must really suck to eat rocks and race hard the entire moto only to come up a couple positions shy of scoring a point. The JGR guys are committed to taking Nicoletti to three races, so there's one race left for Phil to make an impression.
16 48 Ben LaMay Wasilla, AK Yamaha YZ 450F 19 15- I asked LaMay what was up with him in the first moto and he said his arms pumped up and he lost four spots. Second moto was more of what we're used to seeing with Benjamin. I don't even know if his full name is Benjamin but I'm doing it anyways.
17 92 Kellian Rusk Durango, CO Yamaha YZ 450F 13 23- Rusk had not scored points in three out of the first four motos this year. Then he has a very-respectable 13th. Weird.
18 9 Ivan Tedesco Albuquerque, NM Suzuki RMZ 450 32 14- No one cares that Tedesco scored a 32nd in the first moto but I tip my cap to him because he was way back after a crash, pulled into the pits and still went back out to finish the moto. It's a little like pushing your broken bike back—It's called motocross, karma.
19 77 Jimmy Albertson Shawnee, OK Honda CRF450R 17 18- Gotta love Jimmy. After the race he told me that most riders like to work their way to the front of the field but he decided to start closer to the front and work back.
20 59 Peter Larsen Charleston, SC KTM 450 SX-F 16 24- Yeah P.J! Made the top twenty—not too shabby.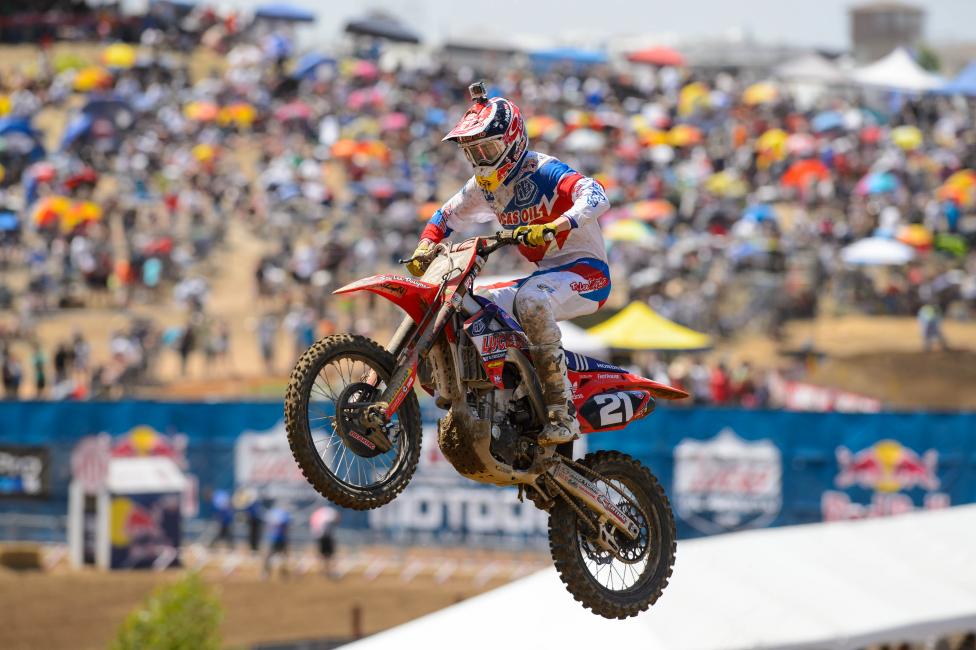 Some other news and notes:
- Years from now people will think that Cole Seely just sucked at Hangtown as he scored exactly zero points. Well I'm here to tell you that's not true. Coming off a very good Glen Helen, Cole qualified second fastest and was in the top ten in the first moto before he went down. He spent the rest of the moto coming from the back and I think he must have crashed again. Second moto he was sixth and holding steady when he absolutely ate poop coming down a hill. So I'm officially here to say that Seely was very fast at Hangtown and if you're a fan and worried about his results, don't be. He was good.
- I talked about this on the Pulpmx Show the other night but I'll get into it here as well. With the parking for SX/MX races well defined by factory and privateer, I always picture all the privateers sort of banded together, like they only speak to each other. And the factory guys stick together, as well. So in essence, they're on an island. The whole goal for these privateers is to get off "Privateer Island" and into a factory truck where people actually pay them money to ride and treat them like kings. Justin Brayton has made it off the island and now Weston Peick has as well. So do the privateers look at Weston as a god? Do they make statues of him on the island and tell the kids that one day, if they work hard and ride well, they can be like "The Weston"? Many riders have made rafts and paddled like crazy towards "Factory Island" but most of them crash and burn. Brayton and now Peick have escaped Privateer Island…. who will be next?
Thanks for reading, I appreciate it and you can email me at matthes@racerxonline.com if you want to chat about this race or really anything at all. Like say, "Raiders of the Lost Ark" playing in movie theaters this week.