Hangtown Motocross Classic
Rancho Cordova

,

CA
Hangtown
Lucas Oil AMA Pro Motocross Championship
A season ago Dillan Epstein was the top privateer in the 250 Class of Lucas Oil Pro Motocross after eight rounds—then came a devastating knee injury. The injury was so bad it cost him all of Monster Energy Supercross this season. Now the former Team Green product is riding for his career—literally. The second-year pro found a deal that would get him to the first three rounds of Lucas Oil Pro Motocross in hopes of securing more funding. If he does well—his career can continue. If not—Epstein, due to financial limitations, may pull away from full-time racing. We talked to the California native about what pressure that brings on.
Racer X: There is quite a contrast between Glen Helen and Hangtown. How do you prepare for each track? Do you do anything differently?
Dillan Epstein: Not really, actually. Casey Johnson, my trainer, he has us doing a lot of sprints and he'll throw in a moto here and there. We prepare on the practice tracks. We just get on it and go. He has a lap time he wants us to beat and if we don't beat it, we do it again. Through amateurs you go to tracks you may not have seen before, and you get used to it.
What do you change in regards to bike setup?
I work with Clark Jones from Noleen [Racing], so if I have an issue I just go to him. He will give me his input, because he is watching as well, and we'll both work together on finding a good setup. We'll find a good setup right in the middle.
So your setup doesn't change much from hills of Glen Helen to a flatter Hangtown?
I mean, it could. You just don't know. For me, it is really all about the braking bumps coming into turns. Everything else I'm really not that picky about. I just don't like when the bike kicks me in the rear. That is one thing we will be working on at Hangtown. Other than that, it is just minor changes most of the time.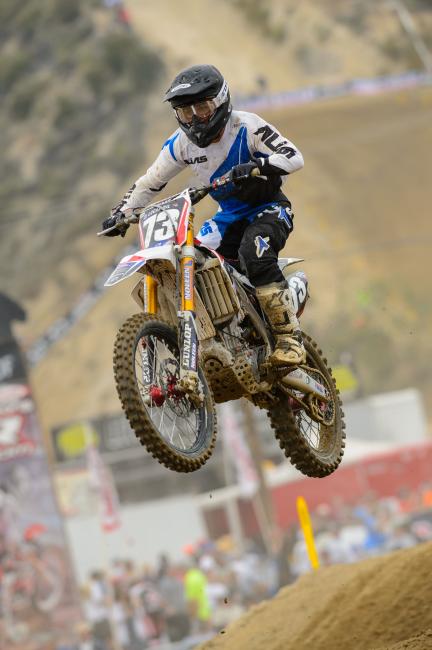 Glen Helen was your first race since Southwick last year. You had a pretty bad knee injury that cost you most of this season. Is the knee 100 percent?
The knee itself isn't ready. My chiropractic team and my physical therapy team, Chiropractic Sports Institute and Dr. Terry Weyman, worked together for about a month or two getting the knee as good as it is going to get to even be on the bike. I'm not even six months out of surgery yet. I tore my MCL and they had to go back in and re-cut it because it healed the wrong way. The ACL was blown out and my lateral meniscus was floating on the other side of my knee and they didn't know if that was operable—so that was a 50/50 chance if I was going to have a good knee or not, but they were able to fix it. Then they had to do a micro drill into my femur because I did damage to the cartilage to the bottom of the femur that touches the fib and tib.
Was there a point where you didn't think you would make outdoors this year?
Yeah, there was actually a nervous point there for a while. I wasn't really thinking about that, but I thought that I could do East Coast Supercross and I was nowhere near that. I keep going in for check-ups and not getting what I wanted to hear because I was pushing my knee too fast. There were saying that I needed to wait at least six months because it [the knee] was too weak and if ride there's an even higher chance for injury. The slightest catch of my foot could have damaged my knee. I've actually did it a few times and it scared me. But I'm here now.
You are walking a fine line in that you need to ride to prove yourself, but at the same time you're risking injury which could put you out six more months. How do you balance when to push to get back and when to let an injury heal?
I was going to wait about a month before outdoors to start riding and my buddy told me, "There are a hundred guys sitting on the couch right now and you can't be part of that hundred. I know your knee is not ready, but you need to push it." And after everything happened coming out of amateurs where I thought I was going to get a ride to not getting anything and then struggling last year and then getting an injury, which didn't help my chances of getting any help this year, the team I have helping right now gave me three rounds to help me get my name out there. I need to do well. I'm just hoping I don't get injured during those three rounds. I'm blessed that I didn't get a broken elbow last weekend after getting in the first turn pileup.
When I got up and couldn't move my arm for a second, I think it shocked the nerve or something. I was worried. They thought they found a fracture, but nothing ended up being wrong. It's still hurting, but I'm on some Ibuprofen for the race, so we will see how it works out. It held up through practice this week so it should be okay for this weekend.
As we know, sometimes you only have two to three years to prove yourself in this sport. Did that push you to comeback?
Definitely. My poor results and poor riding last year didn't help coming into this year. Last year was a reality check for myself, you could say. Coming into this year I knew what was coming, I knew what to expect in that I wasn't going to get the same support I got last year. If I don't get anything this year then I'm going to pull away from racing because my family and I can't afford it anymore. It's not quitting; it's not being able to afford it anymore. It's kind of a bummer. I just need to go out these next two rounds and light the world on fire.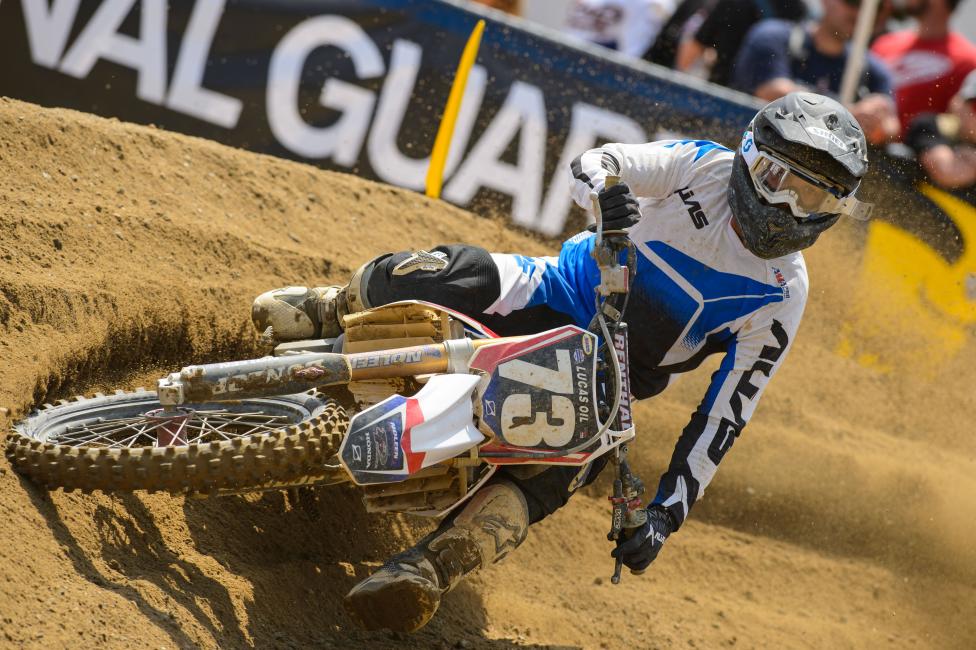 That has to put a lot of pressure on you.
Definitely. That comes into play a little bit. I think I wanted to do so well at Glen Helen last weekend that I ended up psyching myself out and riding a little stiff in the first moto. In the second moto I was calm and ready to go but I just got caught up in the first turn pileup. There is a life after motocross and I realize that. I have the mentality of where I 'm kind of at peace. If things don't go my way I'll be alright. Obviously I want to race as long as I can, and there is a pressure for sure, but I guess you could say I'm more relaxed about it now. I had a long talk with my dad about it and he kind of calmed me down about it. I really have nothing to lose, I guess you could say.
After years on Kawasakis in amateurs and professionally, you made the change to Hondas this season. What led to the decision?
At first, I didn't even think I would be racing outdoors because of my knee injury and because my Kawasakis last year were outdated and beat up. My dad and I didn't think we would have money to get a new bike and get it decked out for racing. We just didn't have that budget this year. Casey Johnson, my trainer, trains this guy's son … his name is John Davis and his son is Ethan. Jon had asked Casey if he knew anyone that wanted to ride brand new 2014 Hondas and Casey said I know a guy. Casey had been trying to help me, so he got me this deal. The bikes were all done up and Clark Jones is doing the suspension, so that is all dialed in. I have an amazing setup and an even better setup than I did last year. I've actually only been on them not even a month yet. I really like them and they are faster than the bikes I had last year so I can't complain about that.
Like you mentioned, you have two more rounds to get it done. Obviously expectations have heightened. What do you think you need to do over the next two rounds?
I know I need top tens consistently, without a doubt. I just need to loosen up and not be so tight and hard on myself. I just need to ride my motorcycle because I didn't do that last week.
Is there something you do to loosen yourself up or was last week more first round jitters?
It wasn't first round jitters because I feel like I'm in good shape and my bike is great. I think it was just a mental thing. I was being really hard on myself and I wanted to do well and not have anything go wrong. I rode really tight instead of riding like I know how. If I crash, it is what it is. It's better if I crash out in third place than if I'm in eighteenth.
Thanks, Dillan. Who would you like to thank for helping you this season?
I want to thank God, my dad, John Davis at KKE Horsepower, Frenchie at C4MX, Clark Jones at Noleen J6 Tech, Bruce Mirada at Alias, John Knowles at Scott Goggles, Mike and Anthony at Split Designs Co, Kyle Krause at Shoei Helmets, David Kaiser at Renthal, Ronnie Lechien at Maxima, Tom Gross at UNI Filters, Chris Van Andel at Motion Pro, Dr. Terry Weyman and his team at Chiropractic Sports Institution, Jordan Burns at Moto XXX and Casey Johnson my trainer.