Russell Dominates at Mountaineer Run
MASONTOWN, W. Va. - On Sunday, the seventh round of the 2014 AMSOIL Grand National Cross Country Series presented by Maxxis, an AMA National Championship, embarked upon Marvin's Mountain Top in Masontown, West Virginia for the third running of the Rocky Mountain ATV/MC Mountaineer Run GNCC. Reigning XC1 Pro Class Champion Kailub Russell led the three-hour race from start to finish en route to his fourth win of the season.
Kailub Russell earned the KR4 Performance Fastest Lap Award, along with the $250 All Balls Racing Holeshot Award Photo: Hill
Factory FMF/KTM's Russell was on the gas from the beginning, grabbing his second consecutive $250 All Balls Racing XC1 Holeshot Award, where he led his teammate Charlie Mullins into the woods on the opening lap. The FMF/KTM duo was followed closely by N-Fab AmPro Yamaha's Jordan Ashburn, along with Factory Husqvarna's Andrew Delong and Maxxis/KLIM/DirtWise KTM Race Team's Jason Thomas.
Mullins is still the points leader after seven rounds of racing Photo: Hill
Russell steadily increased his gap on Mullins throughout the six-lap competition, where he finished one minute and 47 seconds ahead of Mullins to capture the round seven victory.
The exciting battle came just behind Russell and Mullins as Ashburn and Delong fought for third all afternoon. The two were later joined by Rocky Mountain ATV*MC/N-Fab AmPro Yamaha's Josh Strang, who didn't get off to a favorable start. The Australian native began just inside the top ten but made quick work to get into the battle for third place.
While it seemed like Ashburn had the third place position wrapped up on the final lap, Strang made his move and the N-Fab AmPro Yamaha teammates dueled into the finish line area. Strang edged out Ashburn for third place by less than one second. Delong wasn't far behind to capture fifth for the day.
Strang (#4) edged out his teammate Ashburn in the final moments of the race Photo: Hill
XC1 Pro Class Rookie Jason Thomas secured seventh place in the class, followed by two-time GNCC Champion and N-Fab AmPro Yamaha rider Paul Whibley in eighth. Rockstar Energy/WMR KTM's Ryan Sipes came in ninth, while Tom McCormack finished tenth in his XC1 Pro Class debut this season.
XC1 podium: (left) Charlie Mullins, Kailub Russell, (right) Josh Strang Photo: Hill
Raines Riding University/Atlas Cycles' Ricky Russell took over the points lead in the XC2 Pro Lites Class after capturing his second victory of the season on Sunday. Just as Kailub did in the XC1 Pro Class division, Ricky put forth an impressive ride at the Mountaineer Run, leading the entire three-hour competition from beginning to end.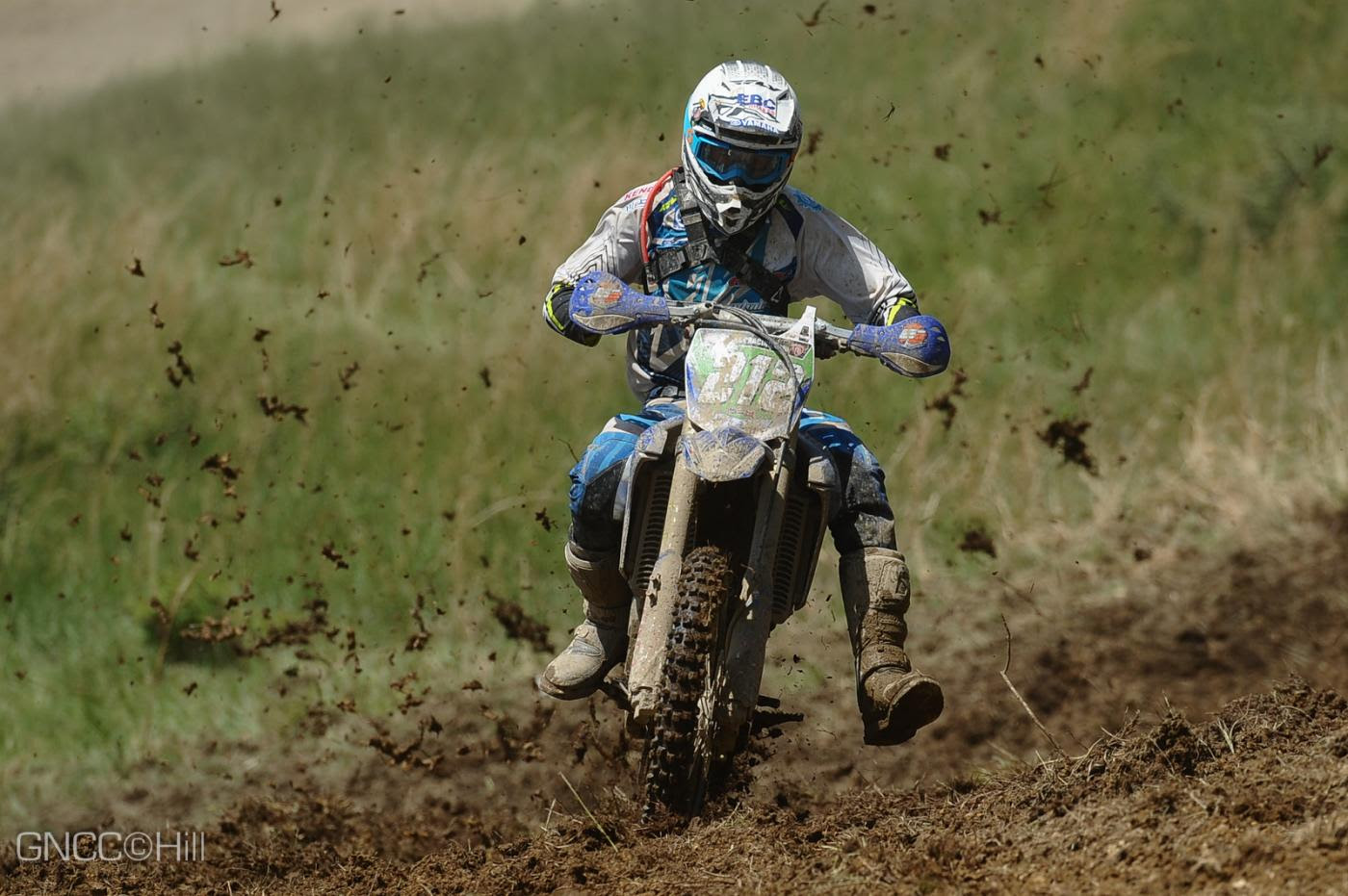 Ricky Russell now holds the points lead in the XC2 Pro Lites Class Photo: Hill
XC2 Pro Lites rookie Trevor Bollinger made his return to the podium after capturing a second place finish at Round 7. Bollinger grabbed a top five off the start, where he battled with reigning XC2 Champion Grant Baylor all afternoon. Baylor led his fair share of moments throughout the race but Bollinger held strong at the end. Only one second separated Bollinger and Baylor, who finished third for the day and now sits six points down in the championship standings.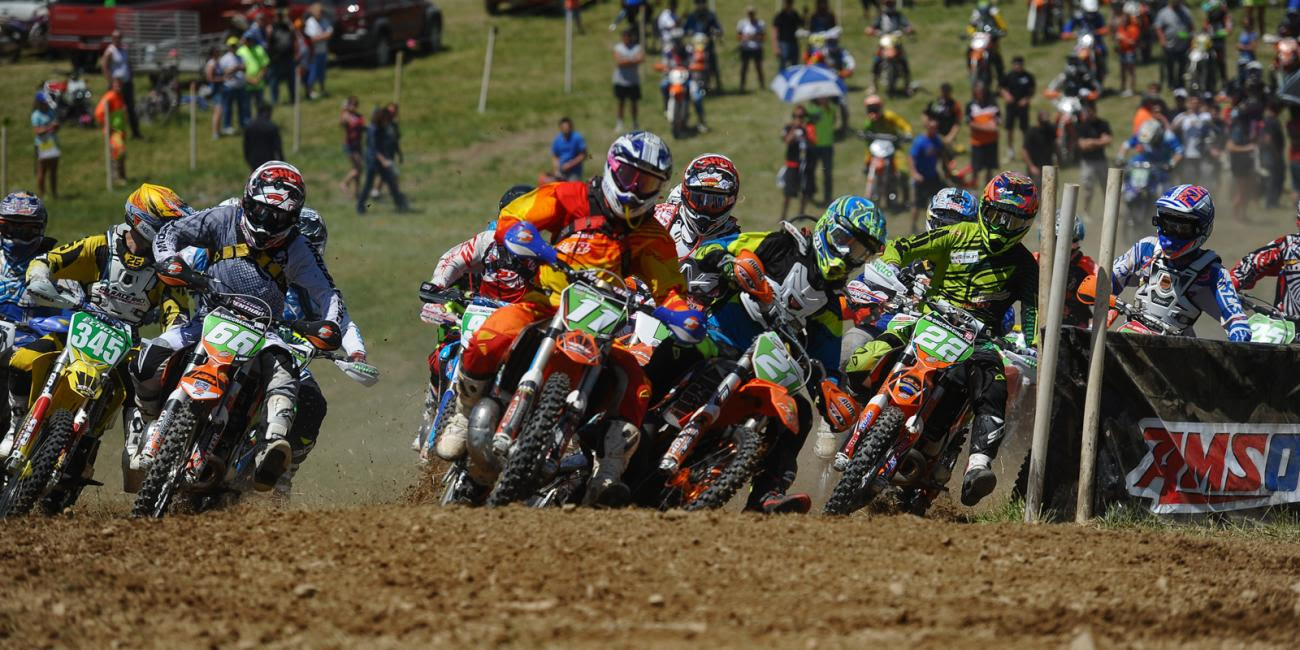 Chris Douglas (#22) captured the $100 DigitalOffroad.com Holeshot Award Photo: Hill
Imperium Bicycles' Chris Douglas grabbed the $100 DigitalOffroad.com Holeshot Award, finishing tenth place in the XC2 Pro Lites Class.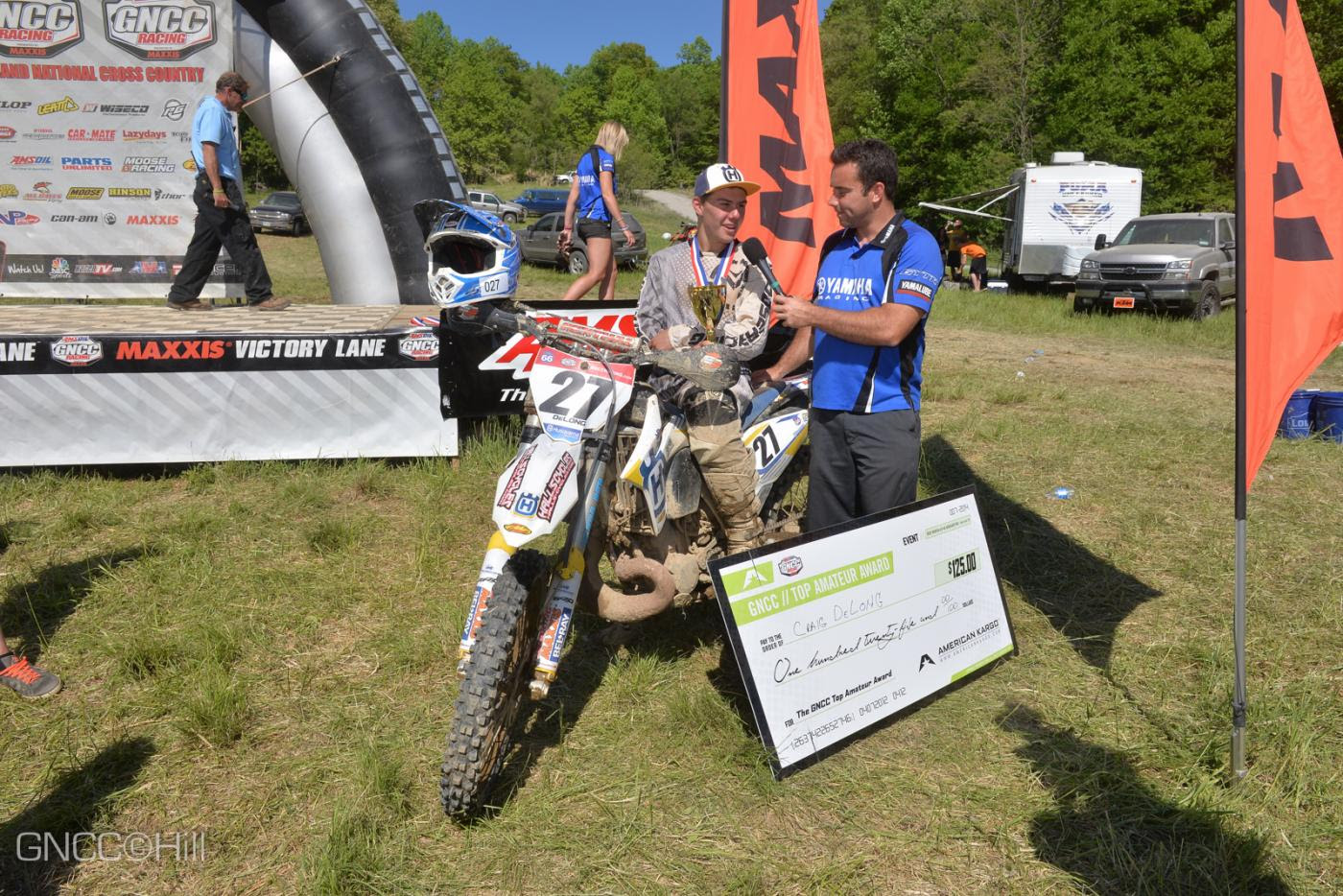 Craig Delong with yet another $125 American Kargo Top Amateur Award Photo: Hill
Pennsylvania's Craig Delong captured another win in the 250 A class, while earning the $125 American Kargo Top Amateur Award with eighteenth overall for the day.
Factory FMF/KTM's Kacy Martinez grabbed yet another win in the WXC Class, followed by Mandi Mastin in second and Sarah Baldwin rounded out the WXC podium with third for the day.
XC2 Podium: (left) Trevor Bollinger, Ricky Russell, (right) Grant Baylor Photo: Hill
In the 8 a.m. Youth race, South Carolina's Cole Mattison secured his fourth consecutive victory, grabbing yet another Super Mini (14-15) class win along the way. Tennessee's Sam Thurman captured second place, while Alabama's Kyler Godwin rounded out the overall podium with third place in the Super Mini (14-15) class.
The 2014 AMSOIL Grand National Cross Country Series resumes June 7 and 8 with the Wiseco John Penton GNCC in Millfield, Ohio. For more information on the series, visit www.gnccracing.com.
Stay up-to-date with exclusive content from the AMSOIL GNCC Series by following the series Facebook, Twitter and Instagram.
Rocky Mountain ATV/MC Mountaineer Run GNCC
Masontown, West Virginia
Round 7 of 13
Sunday, May 25
XC1 Event Results:
Kailub Russell (KTM)
Charlie Mullins (KTM)
Josh Strang (YAM)
Jordan Ashburn (YAM)
Andrew Delong (HSQ)
Chris Bach (HON)
Jason Thomas (KTM)
Paul Whibley (YAM)
Ryan Sipes (KTM)
Tom McCormack (YAM)
*Overall National Championship Standings:

Charlie Mullins (180)
Kailub Russell (173)
Josh Strang (132)
Jordan Ashburn (111)
Paul Whibley (99)
Grant Baylor (91)
Ricky Russell (89)
Andrew Delong (86)
Steward Baylor (71)
Chris Bach (65)
*Indicates that the Overall National Championship Standings will determine the 2014 National Champion.
XC2 Event Results:
Ricky Russell (YAM)
Trevor Bollinger (HON)
Grant Baylor (KTM)
Nick Davis (KTM)
Jesse Groemm (KTM)
Jedediah Haines (YAM)
Kevin Benavides (KTM)
Travis Teasdale (KTM)
Kenneth Gilbert (YAM)
Chris Douglas (KTM)
XC2 Series Standings:
Ricky Russell (178)
Grant Baylor (172)
Trevor Bollinger (142)
Layne Michael (100)
Shane Hufford Jr (96)
Callan May (91)
Jesse Groemm (86)
Sam Evans (73)
Chris Douglas (72)
Jedediah Haines (64)