Glen Helen Raceway
San Bernardino

,

CA
Glen Helen
Lucas Oil AMA Pro Motocross Championship
Jason Weigandt: The day was strange as soon as a few laps of the first 250 moto had clicked off. Tell me that you had Jeremy Martin, Zach Bell, Cole Seely, Matt Bisceglia and Cooper Webb alone up front and battling for the top five spots? Where were all the champions?
This was just the beginning of a rough day for the expected contenders and a banner day for the darkhorses, with Wilson's late crash and injury sealing the deal. There's no chance that anyone had a podium bet that involved Martin, Webb and Seely. They're good riders and all, but up until the race none had ever won a National or even a moto, and even their total podium haul was tiny compared to the likes of Wilson, Blake Baggett, Marvin Musquin and Christophe Pourcel. And even the two new supercross champs didn't have things go their way.
There's a chance the favorites come back, so it's a bummer that Wilson won't have a chance to do it. But overall yet another hard-luck-not-his-fault setback for Dean highlights the story with the 250 Class this season, indoors and out. Expect the unexpected.
David Pingree: It's tough to keep your head up when things don't go your way again and again. It's even more difficult when it isn't your fault. Dean has been having issues with his bike cutting out on him all year and from what I understand this was another case of the same issue. He handed a supercross race win to Jason Anderson earlier in the year when his bike faltered before a triple and many questioned if his trip over the bars on a simple little double in San Diego was caused by the bike cutting out again. This time it happened in the worst possible place and Wilson's title hopes are dashed. Thankfully his leg injury isn't worse. I think at this point Dean is just looking to get this season over with and start over fresh on a 450 team.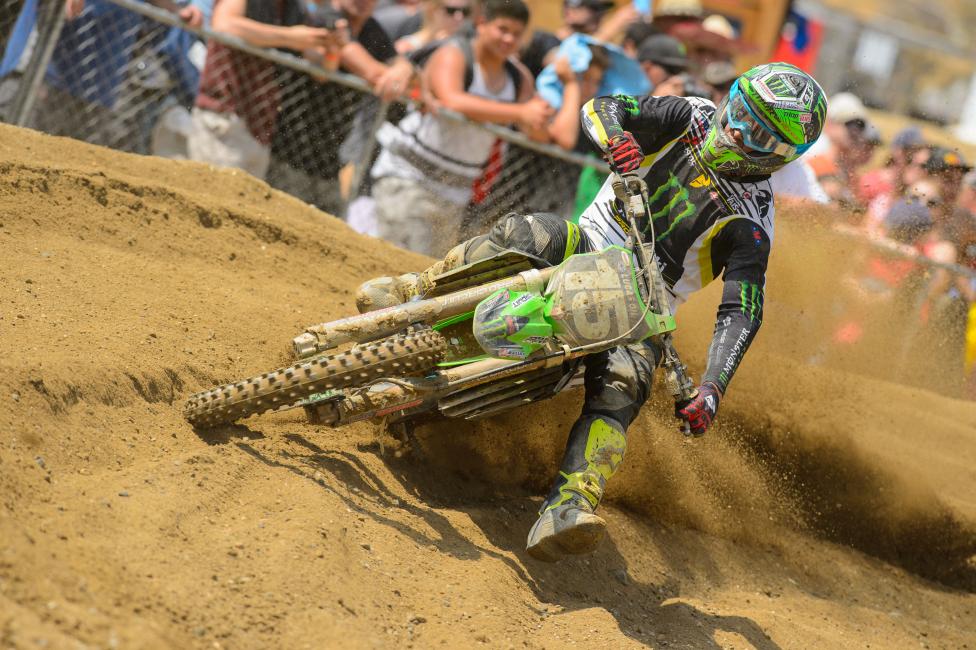 Chase Stallo: Someone needs to give Dean Wilson a rabbit's foot. Or a horseshoe. Or some other object signifying good luck. Stat. Since winning the 2011 250MX Championship, Wilson has raced a grand total of six motos in Lucas Oil Pro Motocross. Six motos in two years is not something Wilson wants to hang his hat on. Luckily this injury wasn't worse—have you seen the photos? He has a Grand Canyon size hole in the back of his leg. Luckily he didn't tear a tendon, or an artery for that matter. Luckily he will return 100 percent. But we have to chalk up another lost year for Wilson. Even though he can—and probably will—win races upon his return, his ultimate goal—the championship—has been lost before it every really began.
Aaron Hansel: Dean Wilson's spectacular crash wasn't captured by the TV crew and as far as we know there aren't any pictures of it either. I happened to be standing right there when it happened though, so I'll do my best to recreate it for you. If you've got the race recorded, find the spot in the broadcast where Wilson is laying on the ground. When the camera starts to zoom out you'll hear Grant Langston saying, "That's not good because that probably got ugly way before, way up the hill." He was right.
Pause it right when Langston says "because." Near the top of the screen, above the flagger wearing the yellow shirt, there's kind of a ledge, and Wilson was right above that when he caught a bump and was ejected over the bars. Now look where he came to rest—he flew, then tumbled, a serious amount of distance!
To get even a tiny idea of what it must have felt like for Wilson, you have to understand just how steep that hill actually is. It's far, far steeper than it appears on TV, and you'll struggle for traction just walking up or down it. When Wilson launched over the bars and flew headfirst down the hill he must have felt like he was plummeting down an elevator shaft. His bike bounced, flipped and tumbled violently, finally coming to rest upside down way down the hill. You're probably bummed you didn't get to see it, but I almost wish I hadn't. It was that ugly.