In The Mag, On The Web is an online feature where we take a behind-the-scenes look at one of the print features in Racer X Illustrated. Check out some more information on "#PrivateerLife" by Andrew Fredrickson.
Throughout the supercross season we have been running photos of many privateers on our Instagram account (@racerxonline) to shed some light on the guys who don't always get the most coverage. Race wins and podiums aside, there's a lot of privateers every year contesting Monster Energy Supercross, and we thought this would be a cool way to showcase those riders. With that in mind, we did a similar look with the design of this feature in the magazine. Our Creative Director, David Langran, mimicked the look of Instagram for this and I think it turned out awesome.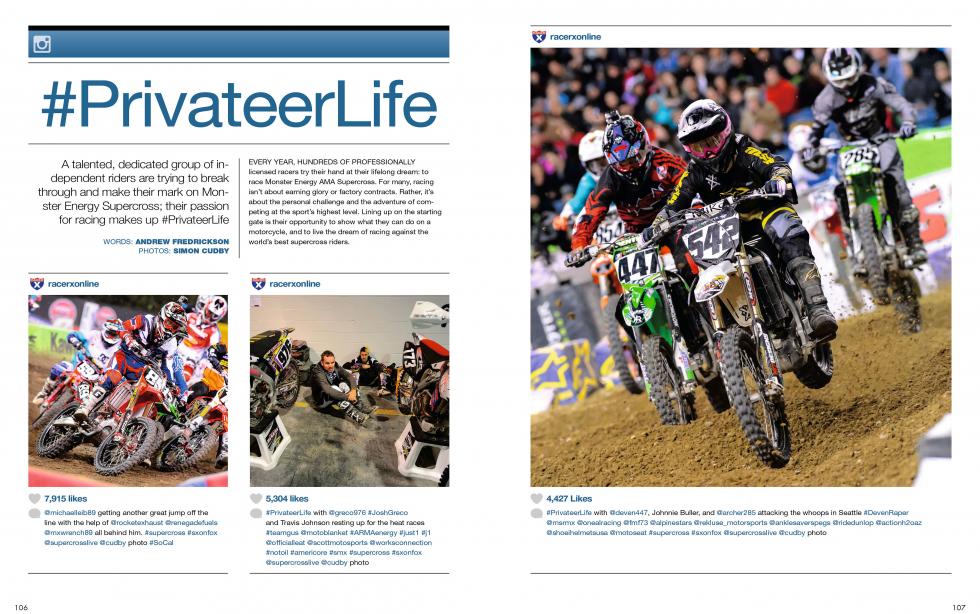 Aside from doing a few stories on select privateers and our weekly Privateer Profile online feature, it was a good opportunity to give some love to riders who might not otherwise get coverage. I went and found all the riders' Instagram accounts, and a majority of their sponsors (I apologize in advance for missing some) to include in the captions. I really like how this piece turned out. To check out more #PrivateerLife photos, just search Instagram for #PrivateerLife and you'll see a lot of photos from our account this year and many from the riders themselves.
Read the entire "#PrivateerLife" feature in the July '14 issue of Racer X right now or look for the cover below on Newsstands to pick up the issue in person.