Glen Helen Raceway
San Bernardino

,

CA
Glen Helen
Lucas Oil AMA Pro Motocross Championship
While the 2014 supercross season combined victories, mistakes, and bad luck for Dean Wilson, it did help bolster the Scotsman's confidence. The 250SX West Region Championship wasn't in the cards for #15, but the wins came and so did an encouraging cameo appearance in the 450 class.
Which brings us to Glen Helen and the Racer X Pro Ride Day. While the bolts were being tightened and the finishing touches applied to his KX250F, Wilson was ready to get going with the 2014 Lucas Oil Pro Motocross Championship. Just before suiting up and heading out to do reconnaissance work on the nearly complete Glen Helen Raceway circuit, we sat down with Wilson to get his take on the upcoming season.
Racer X: Dean, what's going on today?
Dean Wilson: Well, we're pretty much a week out from the national and everybody is just trying to get their time in on the track and getting their settings in early and getting motos in. It's going to be a big day for everybody and they're all here. And it's hot, so it should be good.
As far as both the track and weather conditions are concerned, they should be pretty close to what you will see come race day.
Yeah, for sure. We get to run the full race-day layoff today, which is awesome. That'll give us an idea and that'll be good, so yeah, I think this will be good training for next weekend.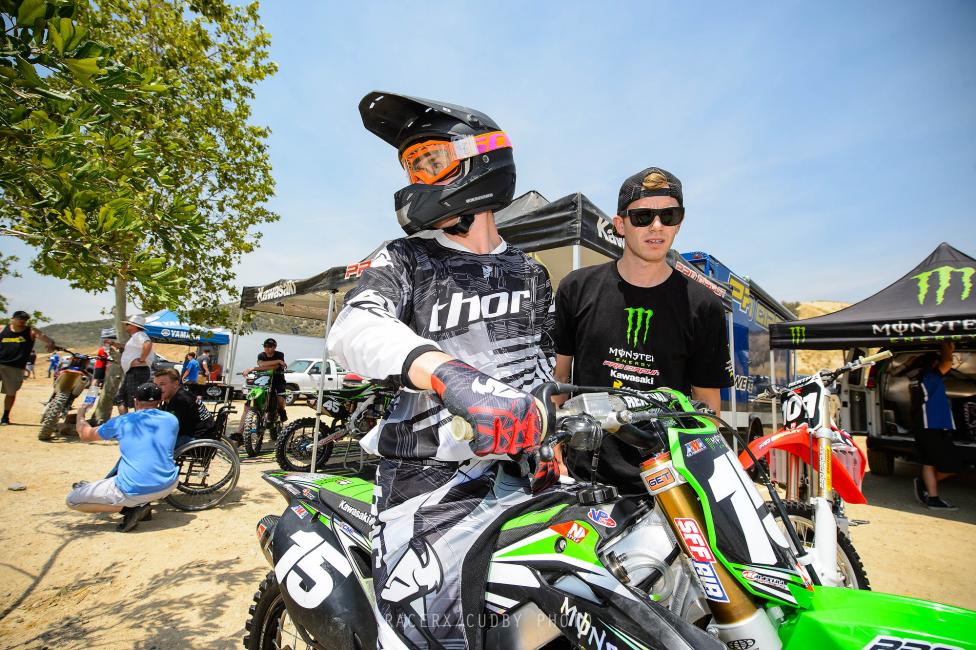 Your first year as a pro was 2010, so I don't think you've even done an AMA race here, have you?
No, I've never raced a Glen Helen National before.
What do you think? Did you grow up watching or seeing photos of it in the magazines?
Yeah, I grew up watching it, and my first year pro was the year they took it off the schedule. I don't know—it's always looked like a crazy track on steroids! Everything is big and crazy. I think it's going to be fun, as a lot of races don't really have the hills, and Glen Helen is known for its hills, so that's definitely a different obstacle that you don't get at many races.
I spoke with your dad a bit earlier, and at one point he said, "Dean's been pretty nervous about this series. I think he really wants to get going." Is that true? It seems like quite a few people are picking you to win this thing.
I don't know. I just think the week before, you know? All that tension builds up and I just get pretty grumpy. Anything my dad says seems to annoy me! Poor guy. He's been catching a lot of flak. It's just, like, a week out and I just get more focused. As it gets closer, a lot of things annoy me.
You stamped your name on the supercross finale at Las Vegas, but the supercross season was a mixed bag for you. Were you happy with it?
No, I wasn't happy with it. I mean, I think Vegas ended well and it was good to get that last win. Obviously, I wanted to win that championship, but it just didn't work out. Yeah, I'm happy to get a fresh, clean slate again. Everybody starts at the bottom and hopefully I can make it happen. I won it in 2011. I just want to stay healthy and win. There are a lot of fast guys. Obviously, consistency is the key, but you have to have the speed as well. Riding outdoors, after I got back to it after supercross, I was just like, "Man, outdoors. This is a man's sport!" Supercross is clean and anybody can almost kind of do it, but outdoors, to go fast you have to be pretty gnarly. Outdoors is a whole other animal.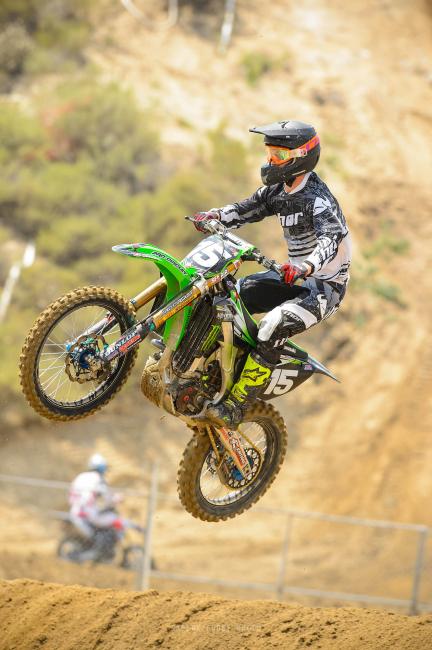 Do you consider yourself more of an outdoor guy?
I think so. I think I'm just as good in supercross, but I always put myself in bad positions. I always put myself in bad positions in supercross where in outdoors I don't think things can go as wrong as fast because there aren't as many obstacles and stuff like that. I've rode outdoors my whole life. I'd have to classify myself as a little bit better of an outdoor rider, but I do feel like I'm pretty good at supercross.
We spoke prior and you said your plan was to drop back down to the 250F and to hit the reset button, trying to get your speed and confidence back. Do you see this outdoor season as a continuation of all that?
Yeah, I do. I still believe in my decision. I feel that I made the right decision because I could have been 450 this year but I chose not to. I think sticking to the 250 was the best decision for me to rebuild myself. In supercross, I ultimately didn't win the championship, but it still went well. I think another season outdoors on the Lites bike is going to be good for me. I'll make the transition next year.
Do you feel good about the bike you'll start racing here on Saturday?
My bike for outdoors, so far it feels awesome. Bones is always just an animal on suspension, and he's been working real hard on it to get it the best it can be. The engine feels strong and I think it's up to us now.
For fans reading this who may be really into the technical side of the sport, is it a pretty major feat to transition a stadium bike into an outdoor bike?
Oh, yeah, we change a lot of things. Obviously, we change suspension. In most cases you don't want your outdoor suspension to be as stiff as it is in supercross. You have to change a lot of things for outdoors, like the bar settings—I tend to roll my bars back quite a bit. The engine is different as well. In supercross you want a lot of bottom end, whereas in outdoors you want mid- to top.... I'm just trying to give my fans a lot of perspective here, but I really don't know what my outdoor engine is!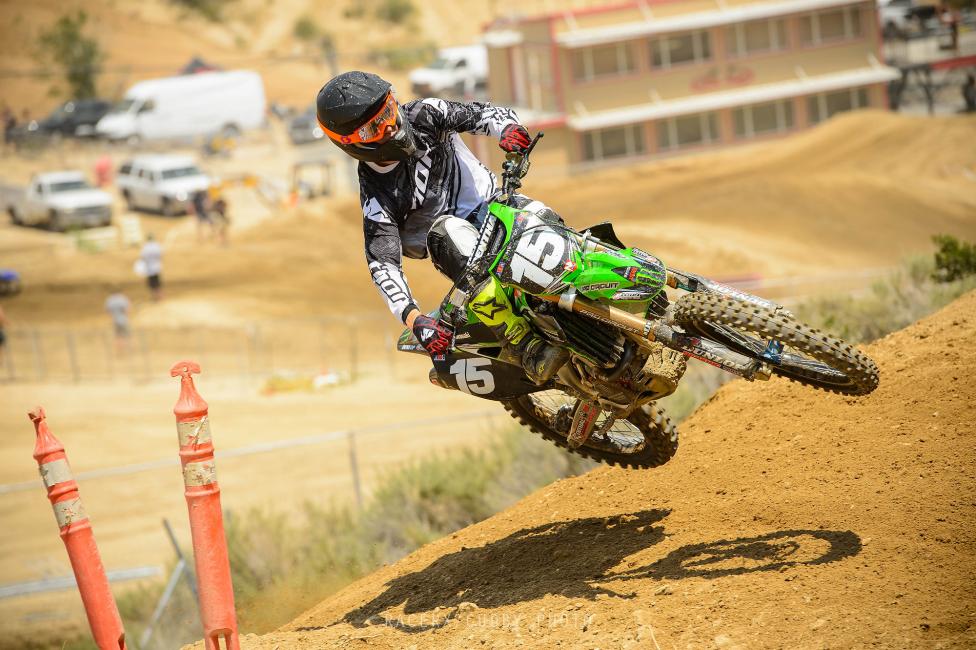 You just take what they give you, eh?
[Laughs] Yeah, I just run it.
How do you want to approach this series? Do you want to attack right away or are you going to try and warm into it?
I'd like to just start winning right away and get that confidence up and see where I belong. In 2011 I won the first moto of the outdoors, and that went well and got me off on the right foot. I think winning would definitely be the right way to start out the series.
Who do you see as your competition? And I don't want you to say something easy like "everyone is my competition."
[Laughs] Well, I think my teammate Blake [Baggett] is going to be good, and I think Jason Anderson is going to be really strong. Marvin Musquin is going to be good—I just don't know how well off he is after surgery. Zach Osborne is going to be good. Justin Bogle is going to be good. Jeremy Martin is going to be good....
Pourcel?
Obviously Pourcel!