San Bernardino, CA
Glen Helen
Lucas Oil AMA Pro Motocross Championship
Hello, everyone, and welcome to the Rev Up. Last week I took a swing at choosing the 450 Class champion for the 2014 Lucas Oil Pro Motocross Championship, and was actually surprised at the reaction readers had in its wake. In a good way. There could really be four or five guys that come out on the sweet end of the fight in that class, but I stand by my convictions.
Picking a favorite in the 250 Class is usually more of a shot in the dark, but there is a guy that I think is going to be a man among boys this summer. Again, I may be setting myself up for some salty critique as a plethora of contenders, young and old, will be vying for moto wins, O/A's and the title belt. There are the powerhouse organizations; Monster Energy/Pro Circuit Kawasaki being the wolf pack, of course. With four riders capable of winning motos and snaring the lion's share of the holeshots this summer I highly doubt Mitch Payton's wrecking crew is going to be denied the 2014 title. I think they're back on top on the horsepower category again, as well. I spoke with Mitch way back at the Arlington SX and he said he had some things they were testing that would be ready for the track "a couple months down the road." He was smiling pretty big as he said it.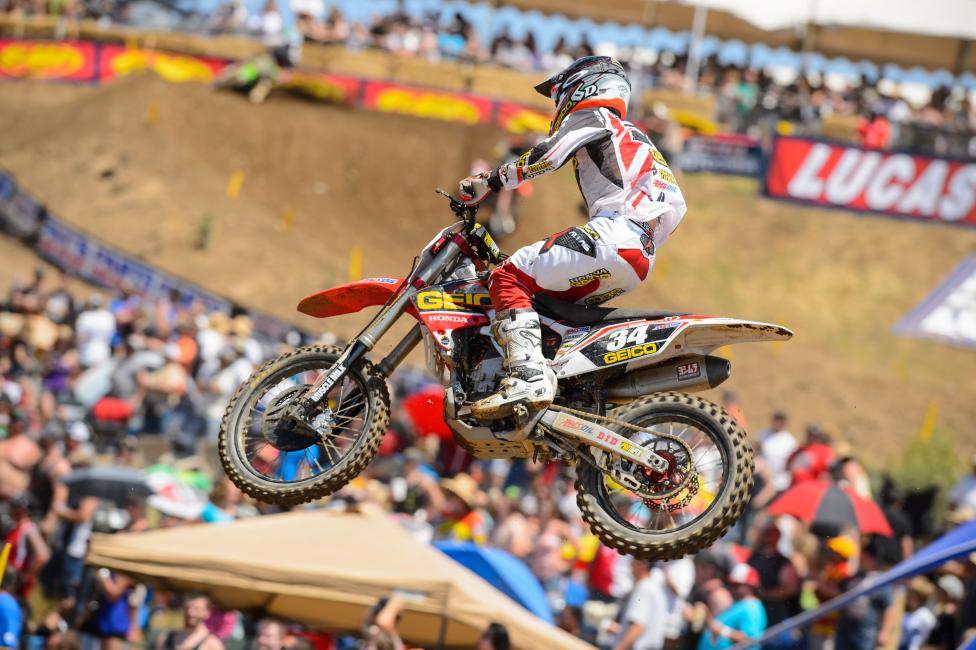 Unlike the 450 Class where all the bikes have more than enough power, horsepower reigns supreme in the 250 division. All the tracks in the Lucas Oil Pro Motocross Championship are cut deep and have long starts, and the talent level is so evenly matched that having proper steam within the frame rails is paramount. For some of 2013 and most of this winter, it seemed like the Hondas and KTMs, most notably Lucas Oil/Troy Lee Designs Honda and the factory KTM ride of Rockstar Energy Racing's Jason Anderson had the advantage. The pendulum swung—actually right around the onset of the 250E championship—and all the sudden the PC guys were banging every holie and yarding guys out of the corners. Let's just put it this way: Pro Circuit certainly certainly won't LOSE any power by the time the gate drops at Glen Helen.
There is a sleeper in this division that will be heard this summer. The blue bikes of Yamalube/Star Racing and Valli Motorsports will have Bob Oliver-tuned power plants and they will be a surprising force. A lot of people are pumped on the potential of the new YZ250F motor once unleashed on the faster tracks of the outdoors. As a rookie, Cooper Webb turned in some eyebrow raising motos last summer and it just seemed like supercross was holding him back. Coop hasn't learned the flow under the lights (yet), but in the wide-open spaces of the great outdoors I think we are really going to see him shine. It's the same story with Jeremy Martin, who simply ghost rode his SX championship, but did come back to win the last main event of the East Coast season. Martin is super fast and very fit. If he can get his starts under control he'll be a top five stalwart. As for Christophe Pourcel, heck I don't know. I remember watching him at High Point years ago and his riding was just a masterpiece. He hit the tunnel double in practice like it was as simple as pulling a tear-off, and he can put together technical sections as good as any rider in recent motocross history. However, and this is a big however... the man hasn't raced. He's been out of the fire for a long, long time. I don't think he is just going to jump in with these cats and win like he did three years ago. But, he could. He's that talented.
Last but certainly not least we have the GEICO Honda crew of newly crowned 250E champ, Justin Bogle, fast rookie Matt Bisceglia, veteran globe trotter Zach Osborne and returning holeshot master Zach Bell. Bogle can surprise on the outdoor tracks and he is on a really good roll. It will be interesting to see if he stays hungry after landing the big cheddar with that title, but I'm going to keep my eye on the perennial one-legger master. Osborne can get the job done, and the young guns on that outstanding team will be fast.
This class is pretty amazing when you mesh them together. Lest we forget that Justin Hill won the Dave Coombs Sr. East/West Shootout, which makes him another guy that can come out and put it down. Wow, there's also the 250W combatants Jason Anderson and Cole Seely, and big talent like Dean Wilson, Shane McElrath, Kyle Cunningham, Jessy Nelson and many more.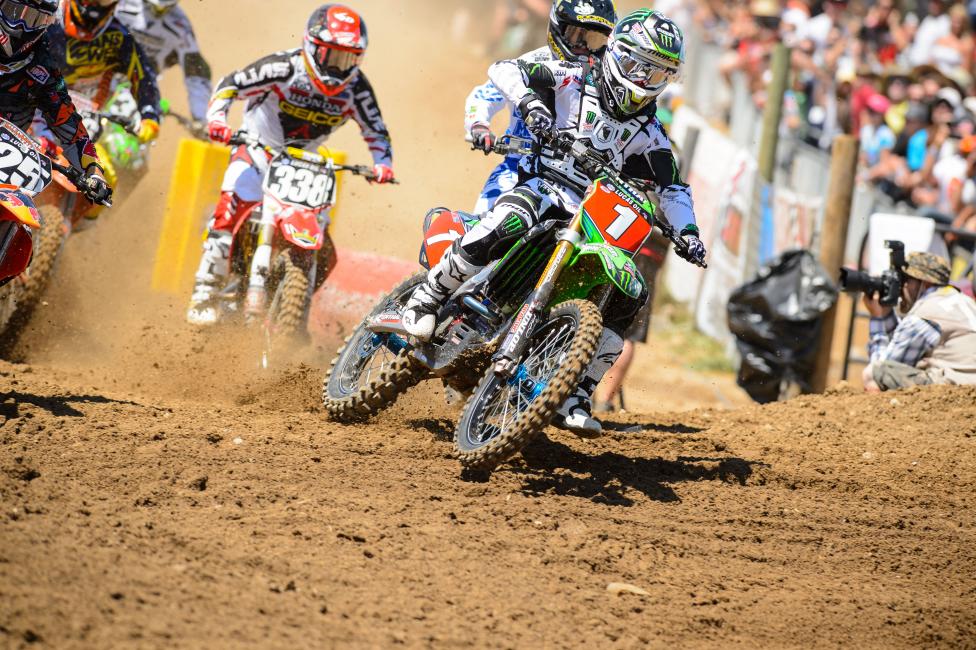 This is all well and good, but I truly expect Blake Baggett to stomp a mud hole in the class this summer. The 2012 250 National Champion is primed and ready to be the guy right off the bat, and stay to the wood all summer long. There is something about this racer that is hard to pinpoint, and I can't really compare him to anyone I've ever seen race the Nationals. He isn't a horrible starter, but doesn't exactly have a garage wall full of Happy Gilmore holeshot checks. The thing is, he doesn't need good starts. Blake comes alive around the 15-minute mark, and in the waning moments of the moto he simply clicks into another dimension of gnarly. If you are leading, even by a comfortable margin and he gets you in his sights, it's over. He just switches to beast mode and you are milk toast. Ken Roczen felt it; Justin Barcia felt it; and many more. Baggett has the ability to throw on the late moto charge like no other. In either class. Just look at what he did to the field at the Daytona Supercross.
Again, it's hard to predict anything in the rough and tumble world of the outdoor nationals. There are typically DNF's in the tiddler class series, with mechanical gremlins and crashes dashing valuable points. There is so much talent and I think we'll see at least seven different moto winners. But, in my opinion, one man has this class by the short and curlies.
250 Class: Blake Baggett #4
Thanks for reading. Next week we'll prepare for the beginning of the summer storm.