By Jason Weigandt and Aaron Hansel
When it comes to Monster Energy Supercross, there are some nights that stand head and shoulders above others in terms of tight racing and edge-of-the-seat thrills. The finale in Las Vegas this year was not one of them, but that doesn't mean the night didn't have its moments.
By far and away the most exciting racing of the night came in the Western Regional 250SX main event—and most of the action didn't involve title fighters Cole Seely and Jason Anderson. Cooper Webb holeshot and immediately built a big lead, but Dean Wilson, who was racing his final supercross race aboard a 250, was able to reel him in and make the pass. But Webb wasn't done yet and came back on Wilson to retake the lead, only to have Wilson pass him back shortly after. Webb kept Wilson honest the rest of the race and showed the veteran a wheel here and there, especially during a strong charge on the final two laps. It was was a fantastic finish to the season for the rookie—easily his best supercross performance yet--and a great way for Wilson to close the door on his 250SX career.
Webb narrowly missed the 250 West win but his Yamalube Star Racing Yamaha teammate Jeremy Martin completed the task by winning the 250 East main. We all know Justin Bogle was going to be East champion, and when Bogle jumped out front early in the race he looked like he'd go out a winner. But Martin was darned determined and shadowed Bogle for a bit, then pulled the trigger. He was determined! Again, we must ask—where was this Jeremy Martin all season long? Bring on the outdoors for him!
As for that 250 West title race, there was some extra drama, though not so much of it on the track. Anderson admitted after the race that he crashed about two weeks ago and tweaked a rib and partially collapsed a lung. He wasn't able to do much more riding besides starts and donned a chest protector for the race—but as he has been all year, also seemed to have a calm confidence about how it would work out, despite the relative seriousness of the injury. Then things got a little scarier when he started poorly in the 250 West main, but luckily for him, Seely also off poorly. On the first lap Seely made a block pass that could have been ugly, but he decided to keep it clean and go around Anderson without contact. At first Anderson, who was right behind Seely, was matching Seely pass for pass, but once Anderson got into sixth he relaxed and let Seely go. For a moment it looked as if Seely would catch Justin Hill for third, but he didn't quite make it. Seely fans were no doubt watching the race for first between Wilson and Webb and waiting for the two to take each other out, which would have presented a real chance for Seely to take the title, but there was no such luck for the faithful Seely congregation.
Seely also got a bad start in the Dave Coombs Sr. East/West Shootout. Those bad starts prevented him from contending for either race win.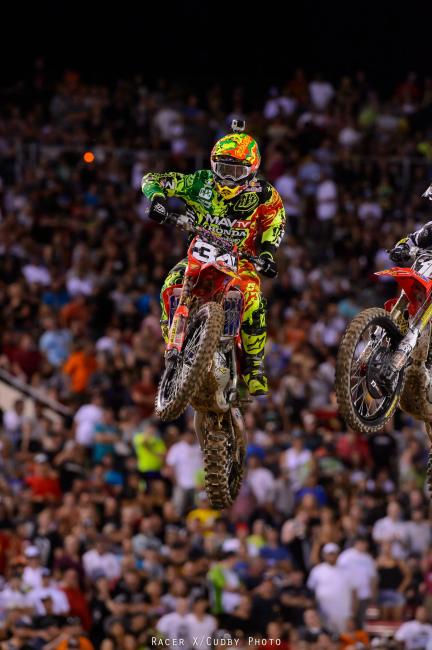 Bogle took second in the east final and then was battling in the top five in the Shootout when he cross rutted and crashed. Even though he already had the title in hand, he said he came back to the GEICO Honda rig pissed off because he didn't ride well! Then finally it all started to sink in and he felt better. Bogle was also stoked on the sweet gold wheels that he ran in the Shootout. He also threw a nac-nac during the night. "Yeah, gold wheels and a nac-nac, I was feeling kind of 90's out there."
Great night for Matt Bisceglia, who took the first podium of his career with a third place. The GEICO Honda rider looked to keep his momentum going in the Dave Coombs Sr. East West Shootout by holeshotting and initially leading, but Justin Hill, who finished third in the West main, and Wilson got by him. When Wilson went by him the two made contact and Bisceglia went off the track, ruining his chance at making it a double-podium night.
The Sam Boyd Ninja (the term assassin is overused, we're going to start spicing it up with Ninja), Kyle Cunningham, had a bittersweet night. He always goes fast in Las Vegas, and after getting a good start in his East main was reeling in Bisceglia for third until washing out and taking a handlebar to the gut. The crash took the wind out if KC's sails, and he settled in for a fourth, and after the shootout, was dry heaving inside back in the pits. Still, a fourth place is a great result, but a heartbreaking one when he was so close to a podium finish.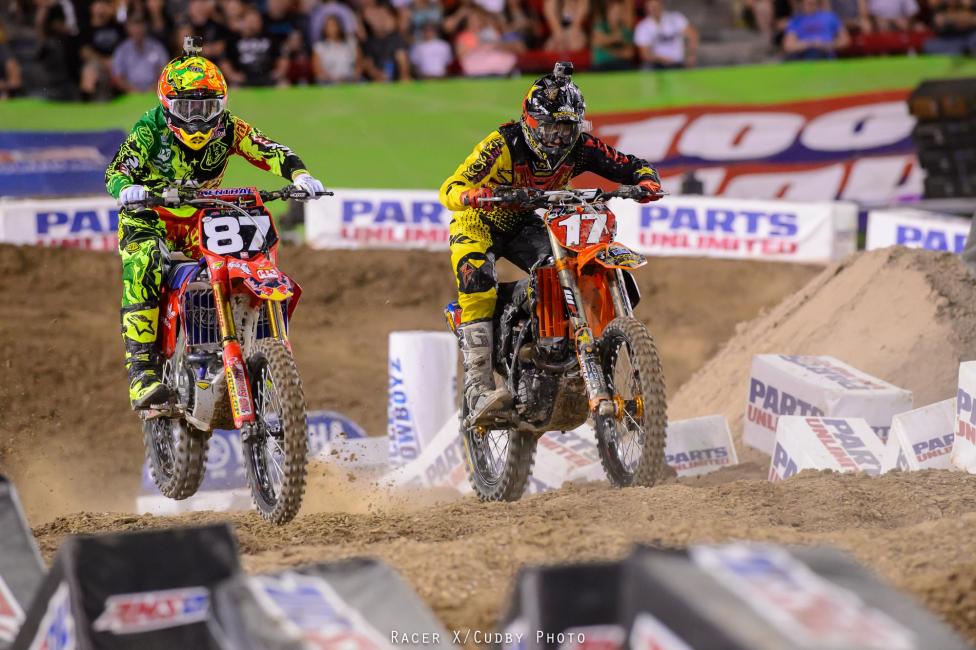 Some theorized the Lucas Oil Troy Lee Designs Honda riders would try to help Seely on Anderson, but they, like Seely, played nice (Anderson did have to pass Shane McElrath on his way through the pack). And Anderson never got to Malcolm Stewart in the West main. In the Shootout, Stewart was on the gas early and charging from third until he endoed huge and went down hard—and Anderson very nearly landed on him. Malcolm was eventually able to get up and walk off.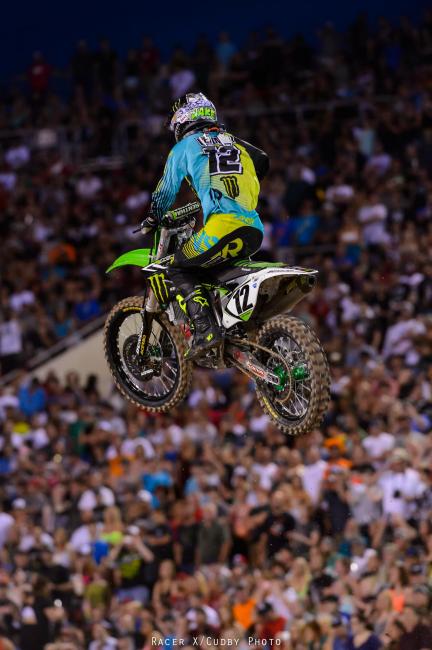 Oh, the 450s? What's there to talk about? Ryan Villopoto positively destroyed the competition to end the season, with four-straight wins and 80-straight laps led. Jeez! The Dunge and Kenny KTM tandem rode well but was never in striking distance. Really, no one was in striking distance of anyone—this race was really, really boring. Mostly you can blame the fact that everyone's points positions were set, and no one had an incentive to push. Blame the typically slick Vegas dirt also. "It makes it really hard to push," explained Honda Muscle Milk's Trey Canard. Canard, for example, got a great start in his heat and battled Villopoto the whole way. But when he gated poorly in the main event, he struggled to make up any ground—most riders noted that pushing harder to make up large chunks of time wasn't worth the risk.